Huntley, after playing mostly teams in the Fox Valley Conference during the first month of the season, emerged stronger and more confident after facing nationally-ranked teams at Mother McAuley's ASICS Challenge last weekend in Chicago.
After winning both of its matches in pool play on Day 1 to advance to the gold bracket, Huntley (16-3) took MaxPrep.com's No. 12-ranked team in the country, Assumption (Ky.), to three sets before falling 25-15, 23-25, 28-26.
Huntley, which won its first 15 matches this season, ended its tournament run with losses to Marist 25-23, 25-15 and Hamilton (Wis.) 26-24, 26-24.
"When you're in the gold bracket at ASICS, every game is going to be a great match," Raiders coach Karen Naymola said. "Against Assumption, we gained a lot of confidence just by being right there with them. We had [match] point three times and a couple of calls could have gone either way. I think three out of five times, we would have beaten them. It was a great match."
Naymola said the loss to Assumption Saturday morning took a lot out of the team.
"The rest of the day I think we were a little bit deflated," Naymola said. "That was our first tournament of the year. It's a real tough surprise because you're playing the best teams."
Despite losing its last three matches, Huntley gained some valuable lessons.
"It was crazy," senior outside hitter Ally Panzloff added. "That second set [against Assumption] we came out and we were so fired up. We were up 18-1 at one point and it felt great knowing we can do that to a team that is so historically powerful.
"It really makes you excited for those bigger games like sectionals. It really showed how good we can be."
Raiders lose Acevedo to injury: Huntley senior libero Luma Acevedo tore her MCL during the Raiders' nonconference victory against Barrington on Sept. 21, a big blow for a team with state title aspirations. Naymola said Acevedo is likely out for the rest of the season. Acevedo broke the school record last fall with 681 digs and is one of the team's best servers.
Sophomores Mari Rodriguez and Alex Goritz have filled in at libero since Acevedo has been out.
"There are so many things that Luma brings that you might not always see watching her play," Naymola said. "She's one of our biggest vocal leaders. She's doing a good job on the bench telling our liberos what to do, where to go and kind of helping them out that way. She's still a great leader for us, but we'll definitely miss her leadership on the court."
Panzloff said Acevedo has still played an important role.
"I see her pulling girls aside and talking to them and she's doing a great job of scouting for us," Panzloff said "She's always telling me where to swing, so I feel like she's still a court presence, even if she's not on the court. We've had some younger girls step up and I'm really proud of them."
Historic start for the Thunder: Woodstock North is off to its best start in program history at 19-2 and has a good chance of breaking the school record for wins in a season, which was set last fall when it went 26-7.
North's record is even more impressive when you consider the Thunder graduated nine players from last year's Kishwaukee River Conference champion, including four starters.
Senior setter Kylie Schulze, a Loyola commit and four-year starter, said this year's team has a special connection.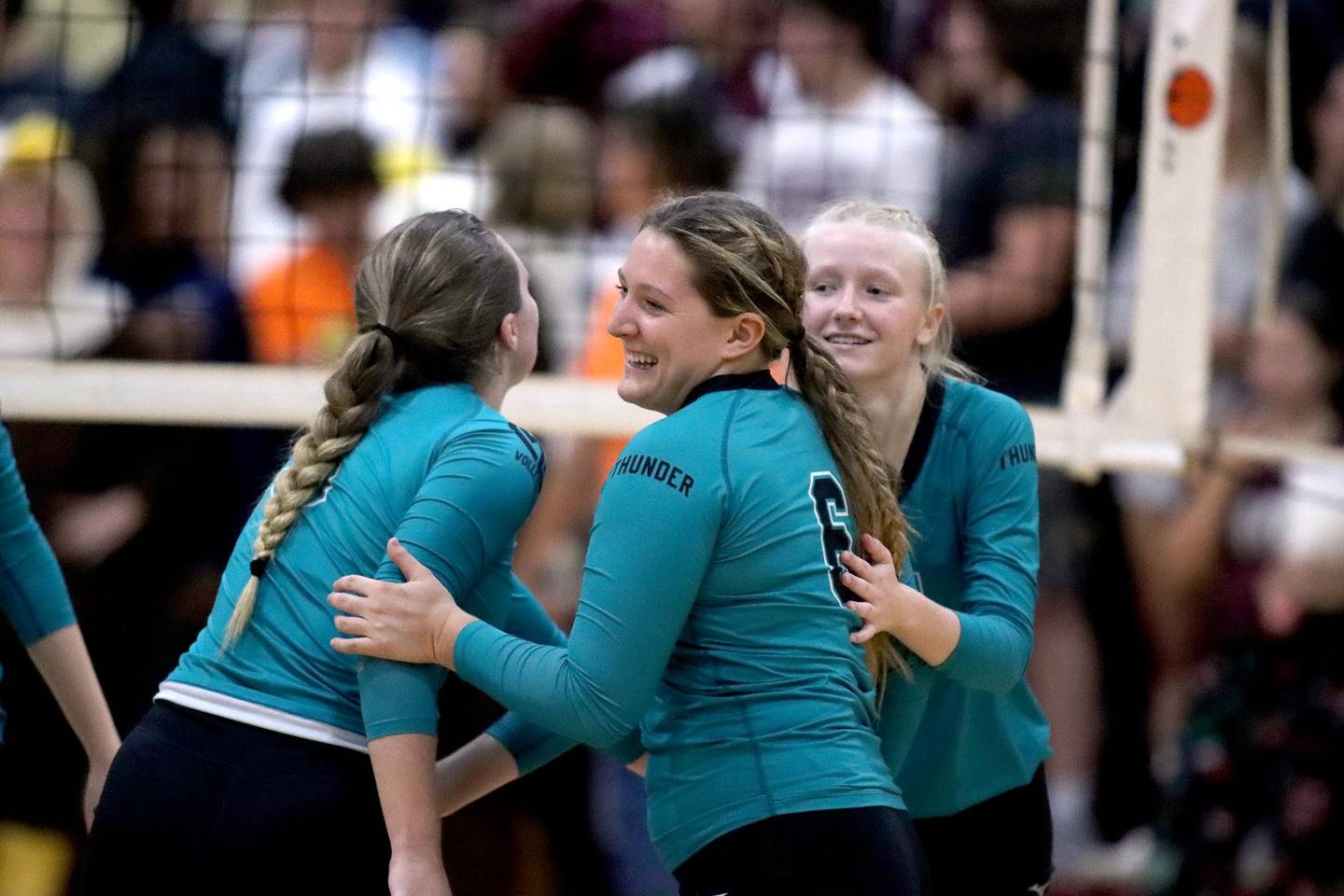 "Honestly, it's just based on chemistry, which is crazy because we have so many new girls to the team this year and you wouldn't expect it," Schulze said. "This is some of the best chemistry I've felt in the program, and that's what I think is keeping us together, even though sometimes we go through some tough matches or when we're down in some sets.
"I think having that connection is what really pulls us together."
North and Richmond-Burton entered Thursday tied for first in the KRC at 6-1. The Thunder have won the past two KRC titles.
Wizceb breaks Skyhawks' kills record: Johnsburg senior outside hitter Emmy Wizceb became the program's all-time leader in kills Tuesday in the Skyhawks' loss to Grant. Wizceb recorded 13 kills to surpass 2018 graduate Abby Wemple, giving her 375 kills for her career. Wemple had 362.
Hoffman, Freesemann lead Rockets: In an up-and-down season, the consistent play from Burlington Central senior Brooke Hoffman and sophomore Leah Freesemann has been a big boost for the Rockets (14-10) and first-year coach Julia Smagacz.
Hoffman paced Burlington Central against Huntley on Tuesday with five kills and seven digs, while Leah Freesemann chipped in with four kills and seven digs.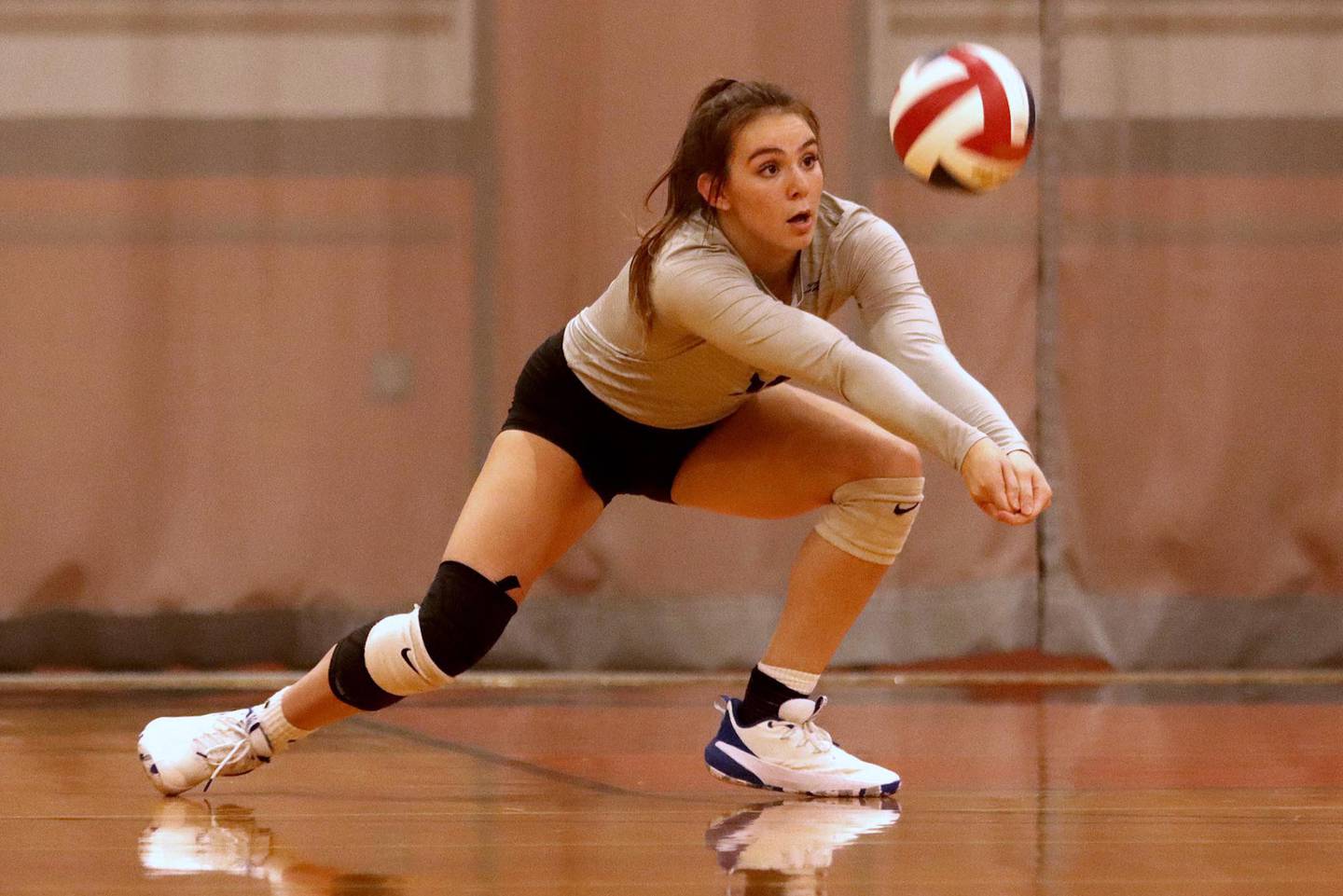 "Brooke is just an emotional leader, a vocal leader, a powerful leader," Smagacz said. "She's really embodied that role for us on the court and off the court. With Leah, it's just such a good feeling to have younger players on the court who are able to be that power hitter as well. Both of them were adjusting really well to gigantic blocks from Huntley today. I just think both of them were really on their game today."
The Rockets are a game under .500 in the FVC with five matches left. Smagacz feels the Rockets aren't far away from breaking out.
"I'd love to see us be able to speed up our game a little bit, so we are able to compete with big teams like [Huntley]," Smagacz said. "Tonight was a really good step in that direction."