The number of children in the hospital with COVID-19 is surging and has been since the start of December, Chicago area hospital officials said Thursday, urging parents to vaccinate their children in light of the omicron variant of COVID-19.
Vaccinations could slow the spread of the new variant, but in the meantime, the surge is still present and will affect those unable to be vaccinated, Advocate Children's Hospital Chief Medical Officer Dr. Frank Belmonte said.
"That increase started in early to mid-December," Belmonte said. "We're tracking anywhere from 25 to 38 patients a day on the in-patient side. These are all patients with respiratory symptoms from [COVID-19]. With this surge, it's really affected young children, so 50% of those kids are less than five years of age. Of course, they are not eligible for the vaccine yet."
Measured on a seven-day average, 27.7 new cases were reported for Wednesday in McHenry County among children newborn to 5 years old compared with an average of 12.3 new cases per day two weeks earlier, according to Illinois Department of Public Health data. Among 5- to 11-year-olds, 42.7 new cases per day on a seven-day average were reported Wednesday compared to 28.3 new cases in one day two weeks prior.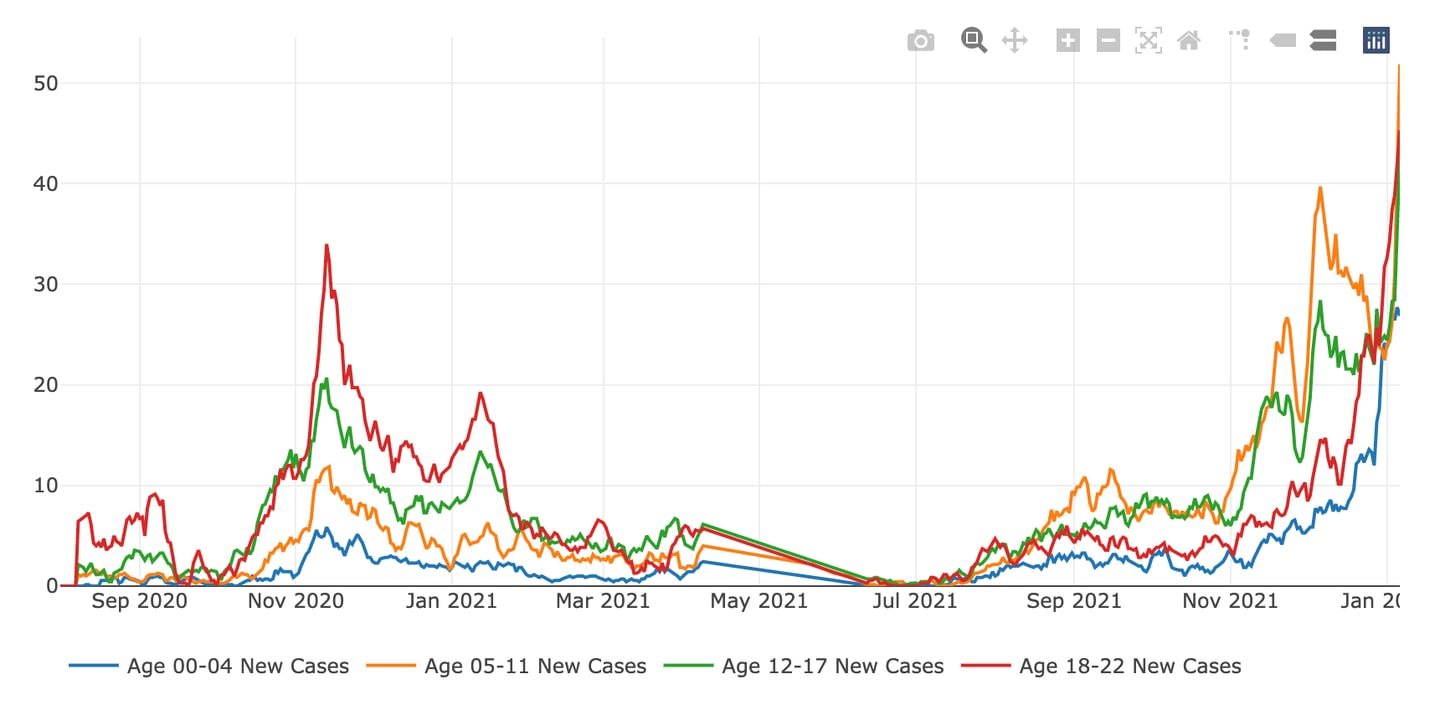 The state does not release how many of these cases led to hospitalizations, but Advocate Aurora Health said its pediatric cases have been rising.
In order to reduce the number of hospitalizations, doctors are urging for kids to be vaccinated. Vaccinated children have experienced breakthrough cases, however the symptoms for them have been less severe and have not needed as many hospitalizations, Belmonte said.
The common myth that children don't experience COVID-19 as severely as adults is untrue, said Dr. Nekaiya Jacobs, a pediatric critical care physician at Advocate Children's Hospital. Some children become so ill, they require ventilators to support their hearts and lungs.
"Some of these children were previously healthy and without prior risk factors," Jacobs said.
At the beginning of the pandemic, many of the COVID-19-related cases Advocate Children's Hospital saw were connected to multi-system inflammatory syndrome, rare but serious condition where different body parts become inflamed, Jacobs said. The hospital still sees those cases but is also seeing more respiratory issues, even among infants.
Children's mental health has also been impacted by the COVID-19 pandemic, said Dr. Yahr Nelson, a pediatric psychiatrist at Aurora Children's Health.
"The underlying themes are the impact of isolation, the disruption of normal routines and a world of grief," Nelson said. "Children really do their best when there's predictability and connectedness in their world. They've lost loved ones, but they've also lost out on experiences."
Some of the symptoms included depression, anxiety and psychosis. Because it still is early in the pandemic, Nelson said she thinks that it still is too early to tell the long-term toll this will have on the psyche of children.
She recommended parents check in with your child to see how they are doing. If the response isn't as long-winded as the parent would like, she said to not worry. The important thing is making sure the child knows the parent is there for them, she said.