Hospitals are once against filling up with COVID-19 patients in McHenry County.
Most of the patients are unvaccinated, hospital officials said, even though vaccines have been available for a year, straining health care workers and leaving few, if any beds, available for new patients.
"Our health care team in some ways feels a little bit abandoned. In the beginning, they were the heroes. And here we are two years later in this war and our health care team feels like, 'What is going on?'" said Kim Armour, chief nurse executive at Northwestern Medicine Huntley Hospital.
Northwestern's McHenry County hospitals have reached capacity, Armour said. Emergency rooms are full as patients wait for beds to open in other units. And almost every person hospitalized for COVID-19 is unvaccinated or not fully vaccinated.
"We've been creating a lot of alternative care spaces to really address the volume surge," said Catie Schmidt, chief nurse executive at Northwestern's McHenry campus.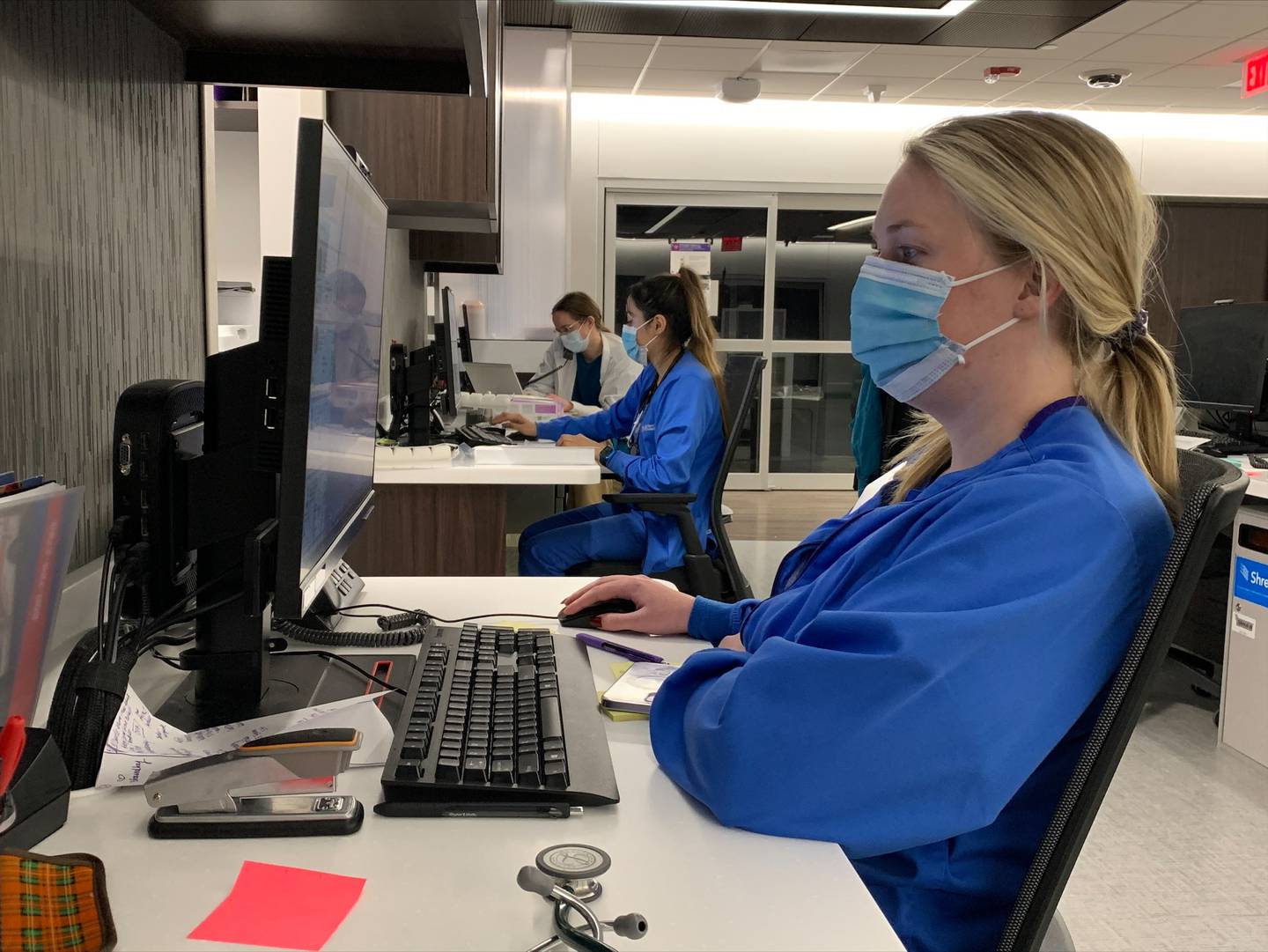 Hospital capacity across McHenry and Lake counties dropped to 12% Tuesday, the lowest of the pandemic, according to Illinois Department of Public Health data. The counties had, on average, 235 people in the hospital for COVID-19 as of Tuesday as well, which is the most since Jan. 21. Data from the McHenry County Department of Health shows medical and surgical bed availability was at 2.3% as of Wednesday.
"Nine out of ten [hospitalized] are non-vaccinated people," Advocate Aurora Healthcare pulmonologist Raul Mendoza said.
Advocate Aurora spokeswoman Kristen Johnson said the number of people hospitalized at Advocate's Illinois hospitals, which includes Condell Medical Center in Libertyville and Good Shepherd Hospital in Barrington, has increased by 176% in the last month.
The latest surge is not entirely unexpected, said McHenry County Department of Health's director of public health nursing, Susan Karras. As the weather turned colder, people in northern Illinois are gathering indoors where the virus spreads more easily, one reason cases are up, she said.
"People are wanting to get together and celebrate. It's the COVID fatigue. They want to get back to normal, we all want to get back to normal, but when we start loosening up on these things, we see these [increases]," Karras said.
McHenry County is seeing 25.7 new cases per 1,000 residents since Oct. 15, according to health department data. Cases have risen faster in McHenry County than any other county in the Chicago region.
Karras said she isn't sure exactly why this is the case, but notes cases and deaths are down from this time in 2020, which is a sign the vaccines have made an impact.
"We're not at the level we were in 2020. The number of cases are peaking, but we haven't reached the high point compared to last holiday season," she said.
In the hospitals, capacity is also down because of staffing issues, Karras said. Besides dealing with a shortage of nurses, hospitals also are losing employees because they also have COVID-19 and must stay away from work for 10 days.
"It's a concern because people expect when they go to the hospital, you're going to get good treatment," Karras said.
With more people to treat and less space, it takes longer for people to get care. That is why Northwestern is asking people who have illnesses or injuries that can be treated at their doctor's office or an urgent care center to go there to keep more hospital beds open.
"My biggest concern is our community's access to care. As we're seeing the numbers go up, we want to make sure we're able to care for everyone," Schmidt said.
"We really need to preserve the emergency department right now for patients with those life-threatening illnesses," she said.
The amount and pace of the work is also taking a toll on employees.
"We are very concerned about our team. They're exhausted," Armour said.
Armour also is worried about handling even more patients in January from a combination of more COVID-19 cases because of holiday gatherings plus flu cases, which she said typically increase in the first two months of the year.
"We're concerned about what's going to happen with [Christmas] and [New Year's] going into those next two weeks in January when the flu could also start showing up," Armour said.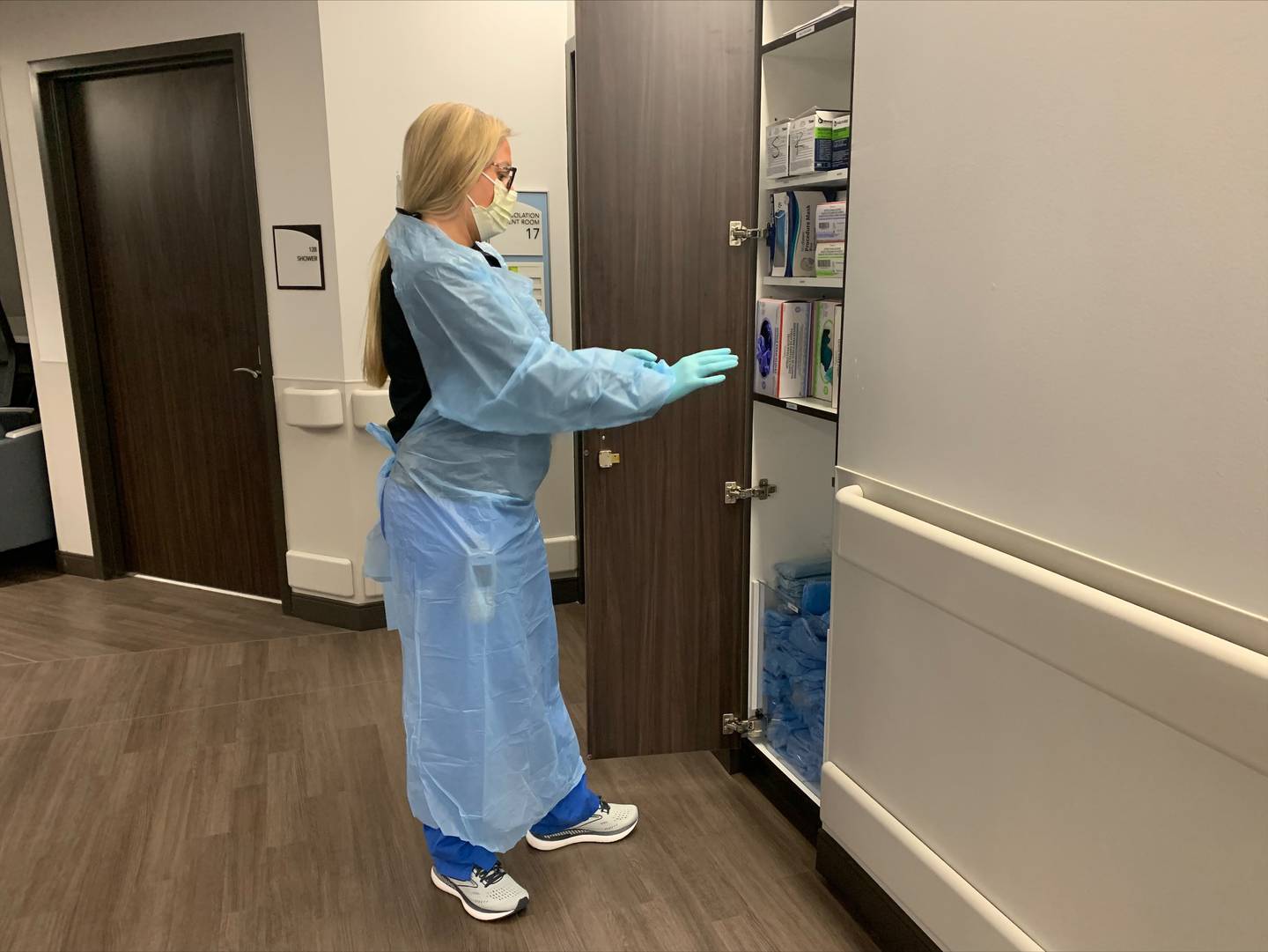 Health officials say there are solutions to reducing the number of hospitalizations, and Karras said it starts with common sense.
"Think before you do things," she said, saying it is easy to get a COVID-19 test if you feel sick and stay home if you're under the weather.
To keep from getting hospitalized with COVID-19, get vaccinated, health care workers said.
"That's the hardest part for all the health care workers right now. I could get emotional thinking about it. We don't want to see anyone this sick and people dying. I don't understand why the public doesn't understand this is real. There's a way to reduce it and pull itself back: we've got to get to herd immunity," Armour said.
People also need to get their booster shots and get their children vaccinated to continue reducing the spread and severity of the virus, she said.
"We could stop a lot of this if we could just get more people vaccinated and those that are vaccinated have got to get in and get their booster. ... If you go too long and your antibodies drop too much without that booster, just like a flu vaccine, you'd be at risk of getting a bigger case of it," Armour said.