Staff at McHenry County long-term care facilities are, in the vast majority of cases, less vaccinated than the residents they're caring for, data from the Illinois Department of Public Health shows.
The release of the data earlier this month comes amid a new surge of COVID-19 cases driven by the more contagious delta variant and as federal health officials call for booster shots eight months after the second dose of the Pfizer or Moderna vaccine.
Residents and staff of long-term nursing homes were among the first groups eligible to receive the vaccine, primarily a result of how hard hit nursing homes were by the virus. Just more than half of McHenry County's 329 deaths from COVID-19 were connected to long-term care facilities, McHenry County Department of Health data shows.
Despite being first in line, at least seven of the 11 McHenry County long-term care facilities that data is available for had less than 75% of their staff members vaccinated as of Aug. 1, according to IDPH. All but the Fair Oaks Health Care Center in Crystal Lake had vaccinated at least 75% of their residents.
The data from IDPH includes only 11 of McHenry County's long-term care facilities, of which there are at least 26. IDPH spokeswoman Melaney Arnold said the state receives vaccination numbers from the Centers for Disease Control and Prevention, which are self-reported by nursing homes.
"Our hope is that by showing a facility is not reporting data as required by the federal government, it will compel them to report," Arnold said in an email.
Leaders at facilities not listed by the state did not return calls requesting comment on their vaccination rates.
Valley Hi Nursing Home, the county-run facility in Woodstock, has vaccinated 94% of residents – which along with Florence Nursing Home in Marengo, is the highest rate in the county – and 68% of its staff so far.
"We had just come out of having some residents with COVID when the vaccine became available to us," Valley Hi administrator Tom Annarella said.
Valley Hi suffered an outbreak at the end of December 2020, one week before vaccines were set to be available to staff and residents.
Annarella said he thinks having a recent wave of the virus sweep through the building had residents ready to get their shot as soon as they could.
Valley Hi had 49 residents get the virus through outbreaks at the facility and 11 die from the infection, according to recent IDPH data, though earlier data showed Valley Hi had 15 deaths related to outbreaks between the start of the pandemic and June 2021.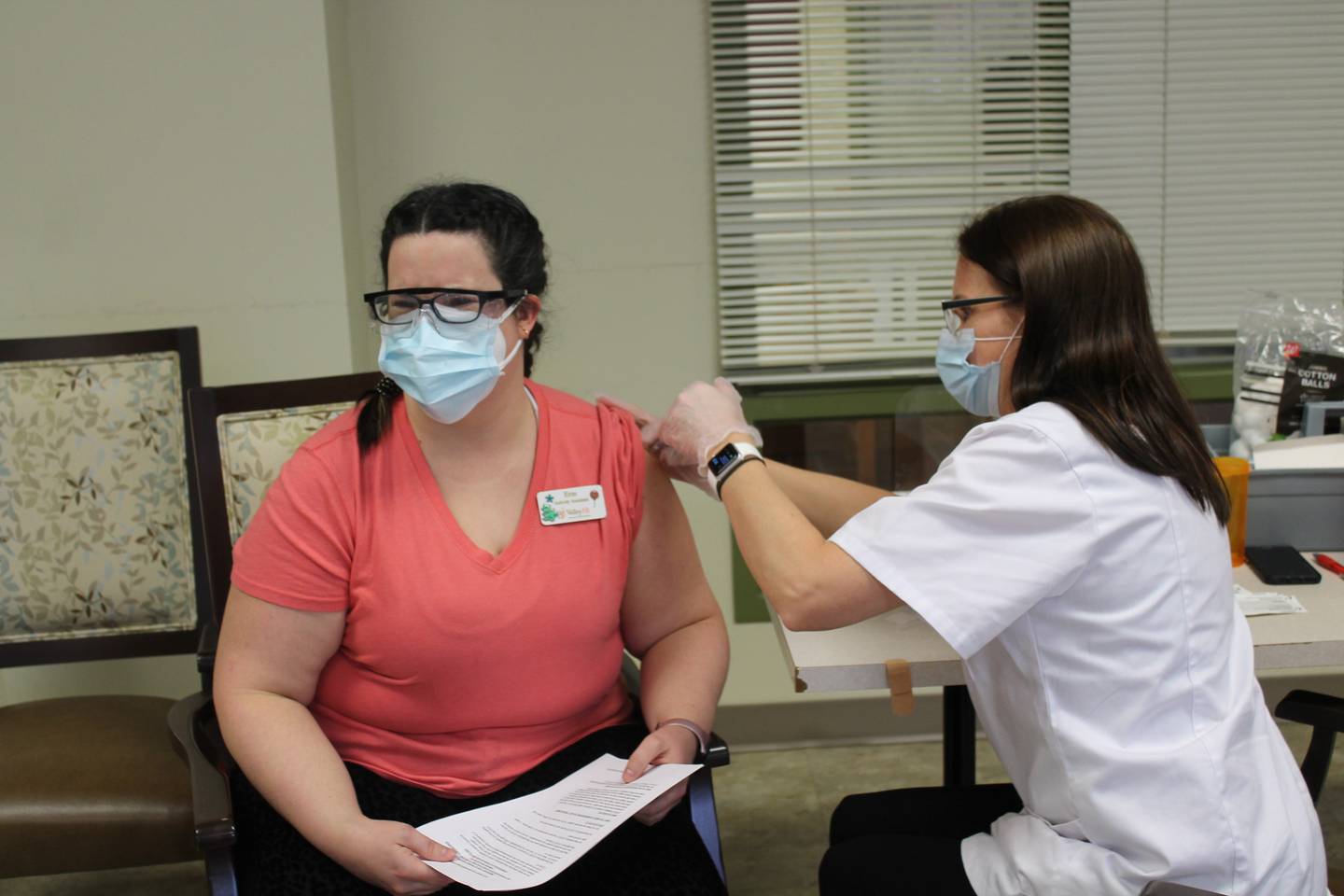 Valley Hi is working to get more of its staff vaccinated, Annarella said.
"The biggest thing is trying to educate them on the benefits of the vaccine and getting them over the hump," he said.
Unvaccinated staff have cited a variety of reasons for not getting the shot, including not believing in the vaccine, Annarella said. But he said hesitancy has also been declining through education and hosting easily accessibly vaccine clinics.
"I think they were waiting to see what the reaction to the vaccine would be," he said. "We immediately followed up with another round [of clinics], and we were able to get people who were on the fence about it."
Valley Hi hosted another vaccine clinic for employees Tuesday, however, and only two of the remaining 32% of unvaccinated employees signed up.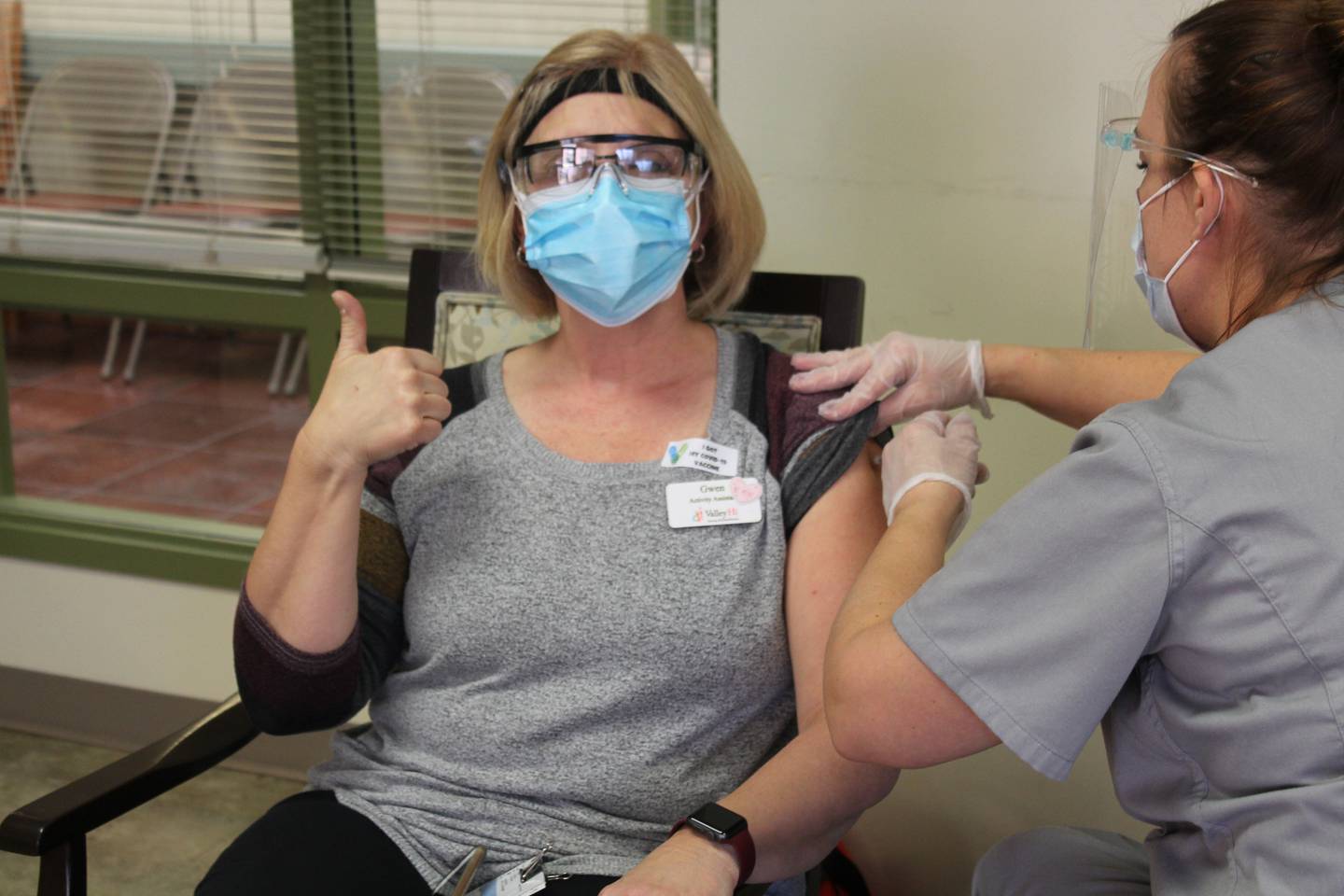 Pushing staff members to get vaccinated has also been a challenge at Hearthstone Manor in Woodstock where 86% of residents are vaccinated compared to 51% of staff members.
Hearthstone Manor's vaccination rate for staff is the lowest in the county while The Springs at Crystal Lake has the highest at 88%, state data shows.
"It's a personal choice," said Jeremy Rutter, the chief clinical officer. "We do the same education with staff and residents, and we honor our staff and residents and their ability to make their choice."
Rutter said the vaccine is available on the spot whenever any staff member wants it, but the facility is letting staff members decide when they are ready.
"I feel like a lot of them are living through it and question why get a vaccine now after working through it for months," Rutter said.
Hearthstone Manor had 84 outbreak-related cases along with seven deaths during the pandemic, state data shows.
Rutter said the spread of the delta variant has helped encourage some people to get vaccinated recently, but there still is work to do.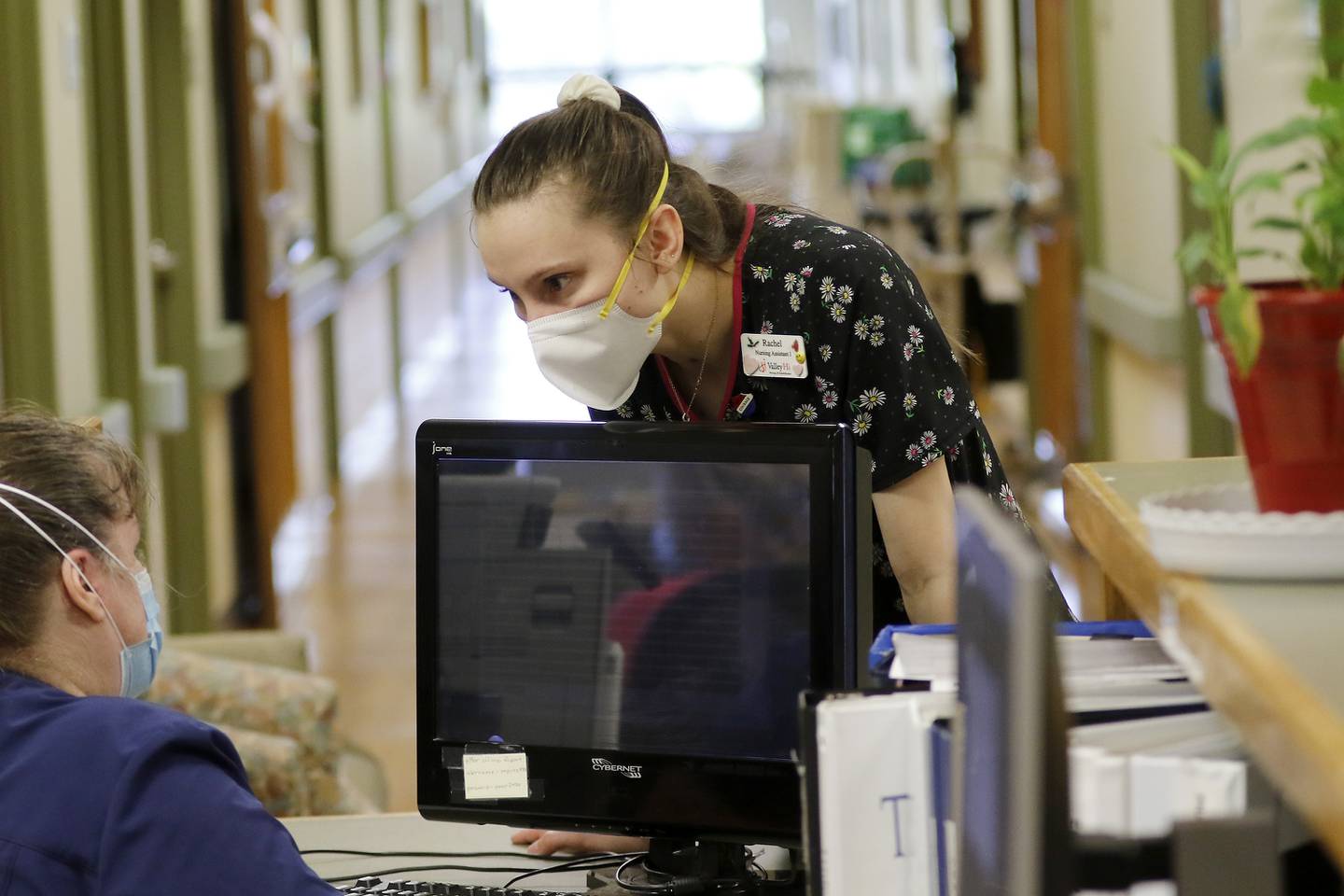 "I'd like to see more staff get vaccinated. Any community of anyone who is caring for the elderly should educate themselves," he said.
Hearthstone Manor is a religious organization associated with the Free Methodist community, Rutter said, but that has not been a factor in encouraging vaccines.
Both Fair Oaks Health Care and Ignite Medical in McHenry have vaccinated more staff members than residents, appearing to be an outlier in the data. Neither facility returned requests for interviews.
Both Rutter and Annarella said they are doing more to keep residents and visitors safe than just getting people vaccinated. They argue other precautions like masking and cleaning keep people safe too.
"There is a lot more to infection control than vaccination," Rutter said. "When you're in the building, we have a lot more control over masking, gloves, cleaning and air flow."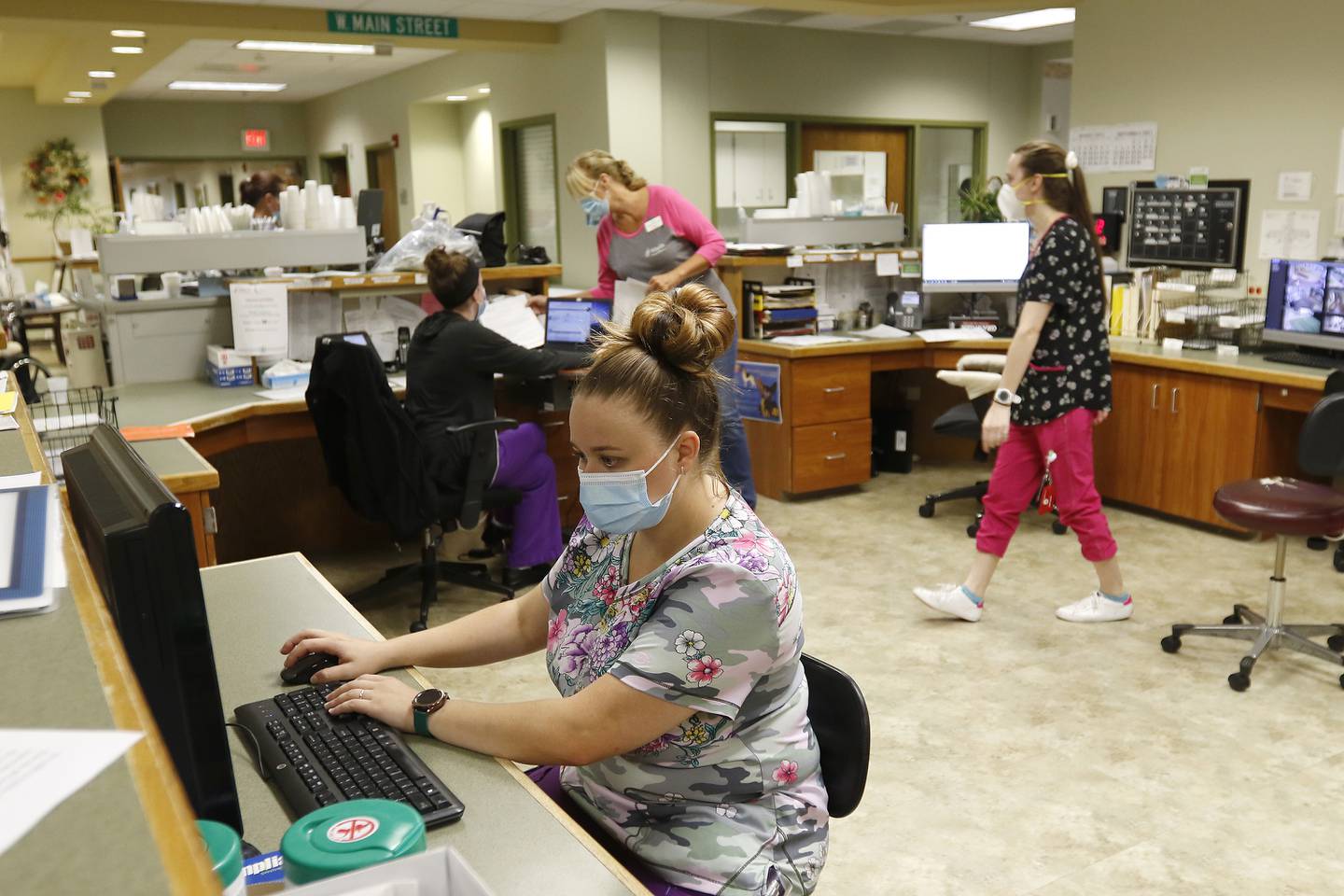 One tool the state is deploying to deal with the lack of vaccinations among staff members at state-run long term care facilities is a vaccine requirement.
On Wednesday, the Biden administration announced nursing home staff members be vaccinated as a condition for facilities to receive Medicare and Medicaid funding from the federal government.
The Biden administration recently required federal workers to get vaccinated or be subject to strict testing and masking requirements. The Associated Press reported vaccination rates across the country have nearly doubled in the last month, a sign mandates could be helping to encourage unvaccinated people to get their shots.
Gov JB Pritzker also announced a vaccine requirement earlier this month for state employees who work in congregate facilities, including veterans homes, corrections facilities and Department of Human Services' developmental centers and psychiatric centers.
The state's requirement, which takes effect Oct. 4, does not apply to facilities that are not operated by the state, but Rutter and Annarella said they have had discussions about mandates of their own.
"We've discussed it at our organization," Rutter said. "It is certainly a discussion we've had, but we don't at this point see us mandating the vaccine."
Annarella was more open to the idea.
"I'm a little disappointed we didn't fall into [the state mandate]. The only way to get all long-term care facilities vaccinated is through a mandate," he said.
Annarella isn't ready to require the vaccine at Valley Hi, however. He's worried workers who want to avoid getting the vaccine will leave and find employment somewhere that does not require workers to be vaccinated, leaving Valley Hi understaffed.
"It would be much easier if the state mandated it because everyone is in the same boat," Annarella said.