Anna. Elsa. Olaf. Kristoff. If those character names ring a bell, and especially if you have children or grandchildren of a certain age, you may well have tickets for the latest Disney film-to-stage hit, "Frozen," which runs through Jan. 22 at Chicago's Cadillac Palace Theatre.
If, like me, you don't have kids or grandkids, though, and you have any qualms about seeing "Frozen" live: Let. It. Go.
I don't use those words just because of the Oscar-winning song ("Let It Go") from the original animated film that's used here as a big Act I finale. I use it because anyone in search of a funny, romantic, magical musical – whether 7, 27, 47 or 67, or somewhere in the vicinity of those ages – will find that there's a lot to like here.
A quick plot summary: As the musical opens, Elsa and Anna are young sisters who love each other dearly; they are the daughters of the queen and king of Arandelle, a Norwegian-like kingdom. Elsa has a secret, though; she can create ice and snow with a flick of her hand. When Anna accidentally gets a horrible "brain freeze" of sorts because of playing with Elsa, their parents decide that Elsa needs to "conceal it, don't feel it" lest this gift hurt anyone else. As the years pass, Anna's "Do You Want to Build a Snowman?" and other requests for her sister to emerge and resume their close relationship are unsuccessful, even after their parents pass away.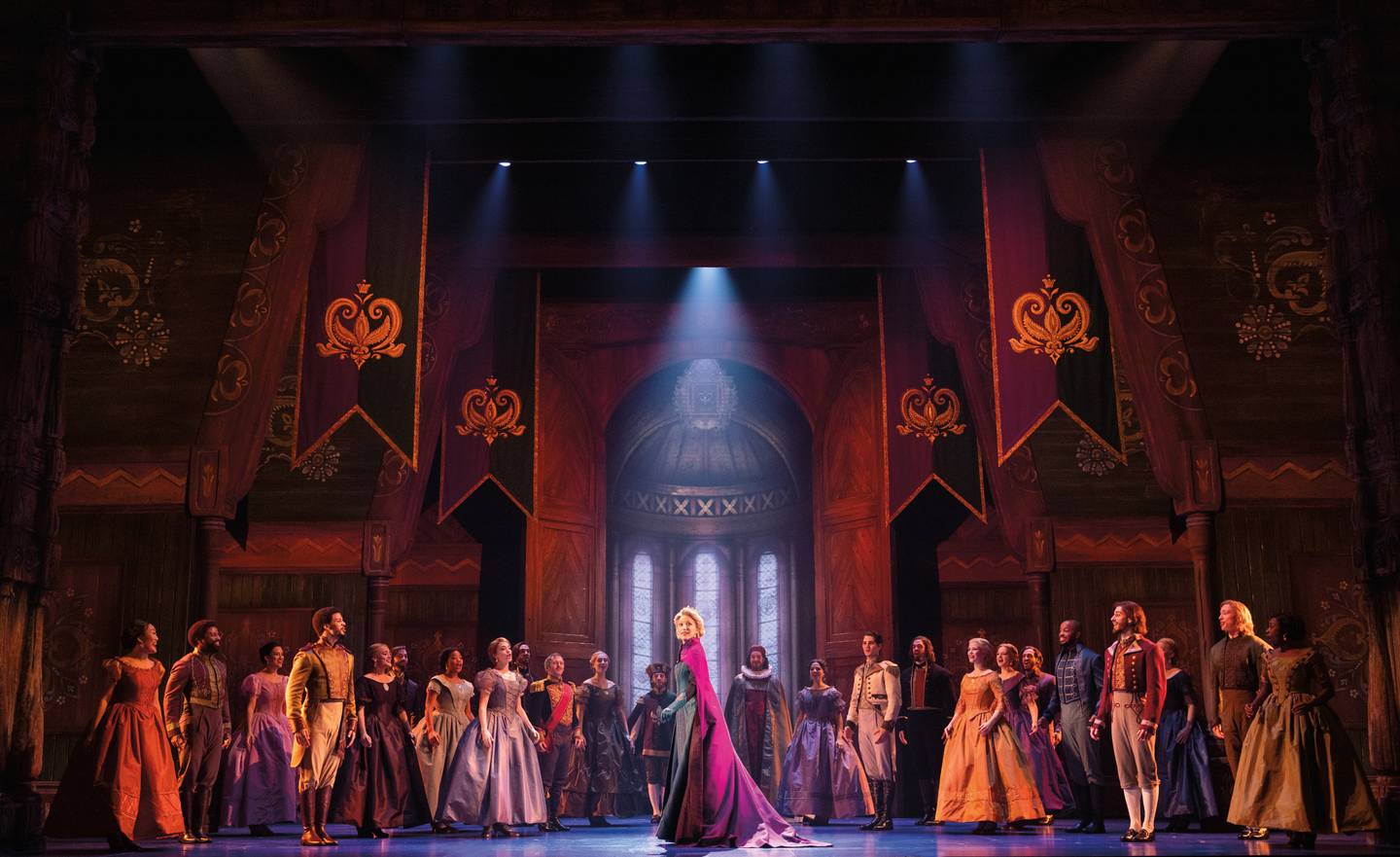 When Elsa is old enough to become the new queen, and the castle must be opened for a public coronation, Anna (Caroline Innerbichler) is excited because "For the First Time in Forever," " … there'll be magic, there'll be fun … I could be noticed by someone." On the other end of the spectrum is Elsa (Caroline Bowman), who's worried that she won't be able to control her feelings in a stressful public ceremony.
When Anna has a meet-cute with a handsome prince, Hans (Austin Colby), who might be that "someone," Elsa's powers are indeed unleashed, causing her to flee to the mountains. Anna pursues her sister, eventually aided by Kristoff (Mason Reeves), an "ice guy" who may be a nice guy, and Kristoff's reindeer friend Sven (Collin Baja in the four-legged costume on opening night). Yes, there's also a talking snowman, Olaf (F. Michael Haynie voicing and manipulating the puppet), whose heart melts at the idea of summer, seemingly unaware of what else could melt.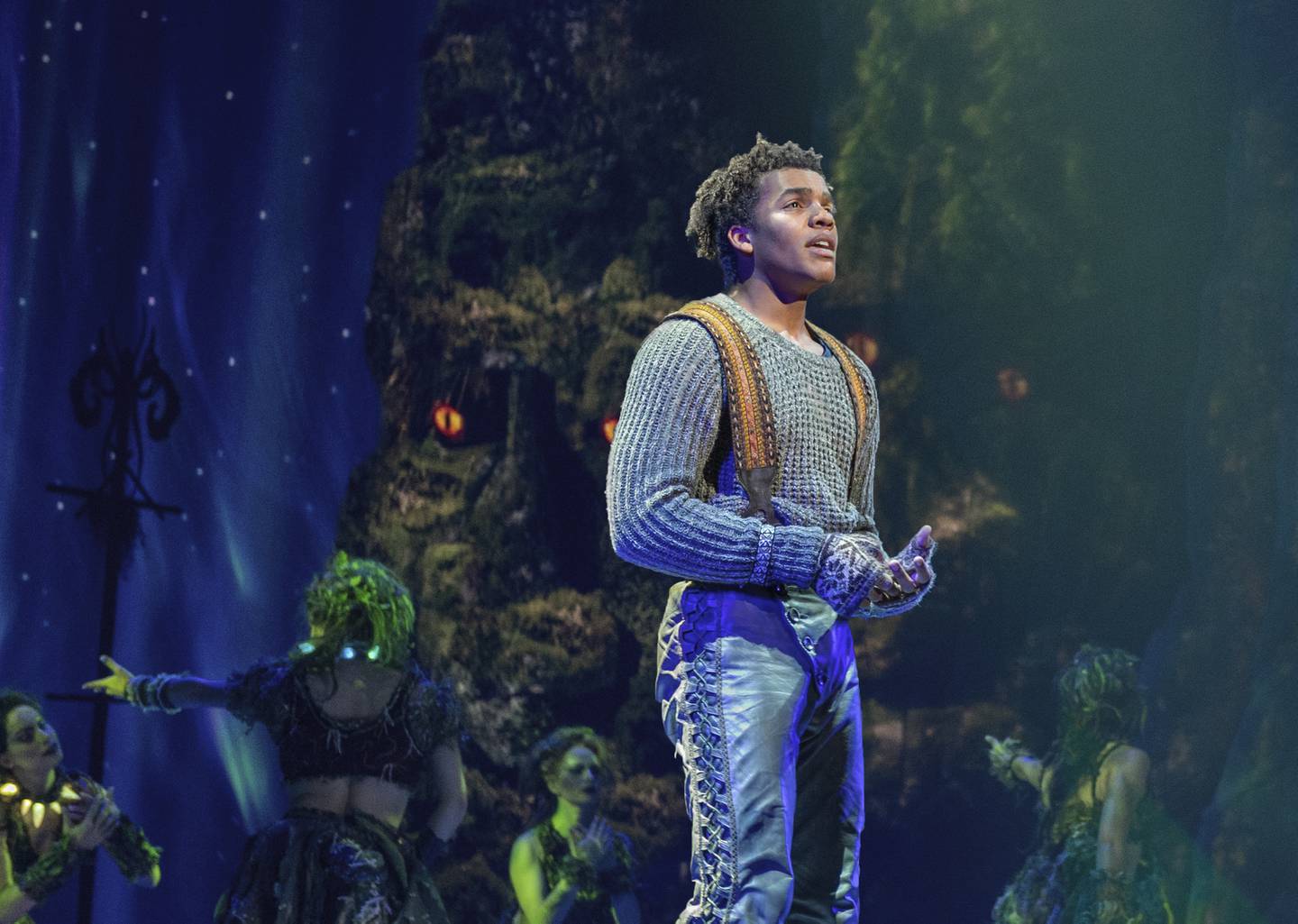 While I saw many young audience members costumed as Elsa or Anna, it's the latter of the two – played with exuberance, love and fearlessness by Innerbichler – who truly warms our hearts. Anna's three-pronged mission (help her sister, save Arandelle from eternal winter, and maybe experience a "sign of true love") is what propels the storyline; the songs that feature Innerbichler – ranging from "For the First Time in Forever" to "Love Is an Open Door" (with Colby) and "What Do You Know About Love?" (with Reeves) – show a character wanting to embrace life after being shut off from the world. We all want this hero to succeed in the three parts of her quest. (Side note: the enthusiasm of the younger version of Elsa, played on opening night by Natalia Artigas, is endearing, but some lyrics and lines need to be enunciated more clearly.)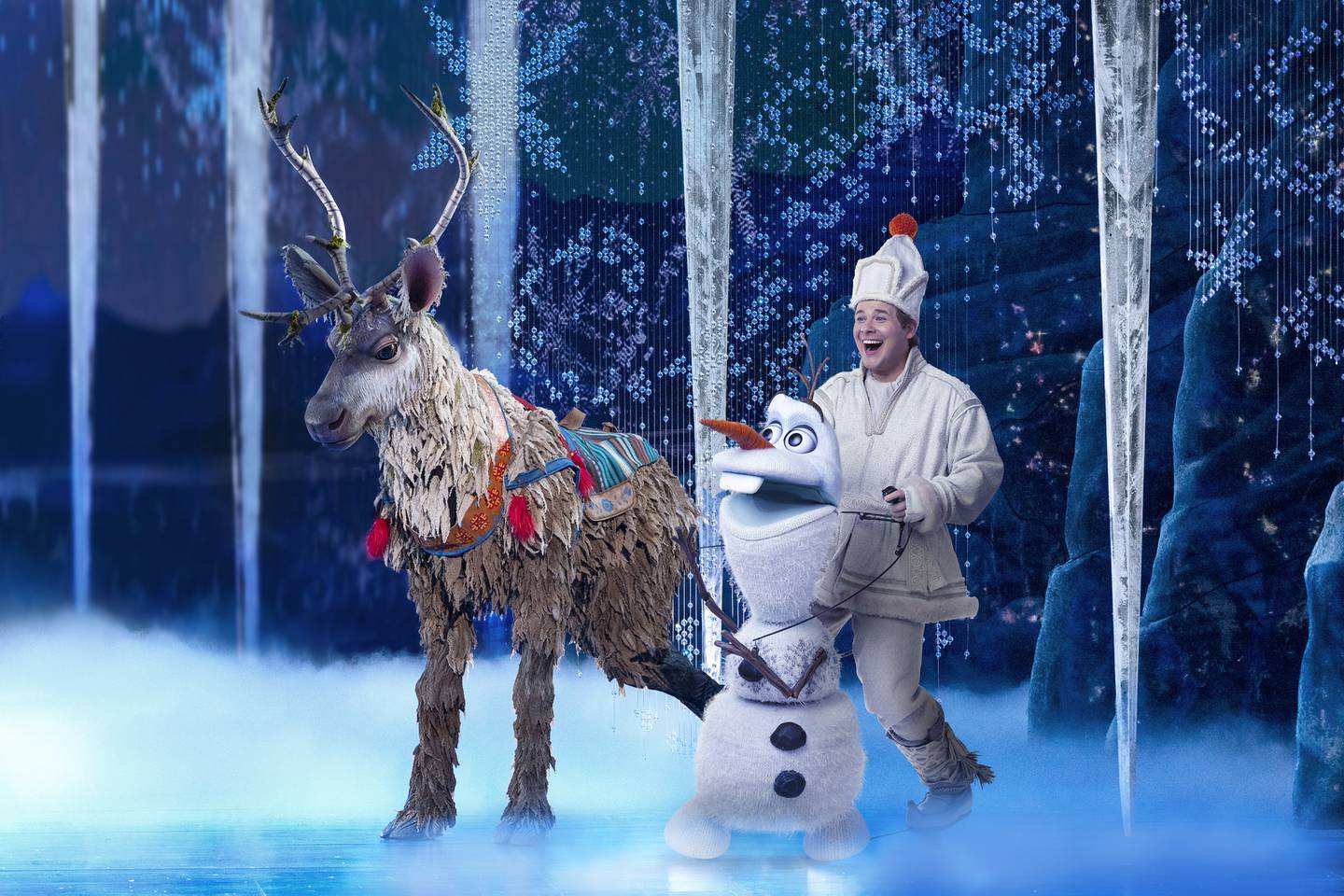 The humor, which I particularly loved, is verbal (e.g., a duke named Weselton having his presence announced at the coronation with a mispronunciation ["Weaseltown"], and almost everything uttered by Olaf), musical (e.g., the hilarious if unnecessary Act II opening song, "Hygge"), and physical (e.g., the wide variety of awkward dance moves and shy glances during "Love Is an Open Door").
"Frozen" was nominated for three 2018 Tony Awards: Best Musical, Best Original Score Written for the Theatre (Kristen Anderson-Lopez and Robert Lopez), and Best Book of a Musical (Jennifer Lee). Combine that story and music with amazing special effects (even costume changes), video design, and impressive sets, plus a well-tuned company of actors, and you have an excellent show.
"Frozen" was on Broadway for two years, and would have run longer were it not for the pandemic. With this North American tour no longer on ice, so to speak, this is just the treat for families and anyone shivering through a Midwest winter. From the laughter and applause on opening night, it was ice-crystal clear that "Frozen" thawed our hearts.
(COVID-19 protocol: Audience members must be masked and show proof of vaccination. Children ages 5 to 11 can be admitted with one vaccine administered 14 days before the performance. For those with exemptions (including children), proof of a negative COVID-19 test is required.)
• Paul Lockwood is an enthusiastic singer, frequent local theater actor (including Theatre 121′s Storybook Players repertory group), Grace Lutheran Church (Woodstock) and Toastmasters member, occasional theater reviewer, columnist, and past president of TownSquare Players.
IF YOU GO
WHAT: "Frozen"
WHERE: Cadillac Palace Theatre, 151 W. Randolph St., Chicago
WHEN: Through Jan. 22
INFORMATION: 800-775-2000 or ticketmaster.com