This isn't going to be a puff piece, but it is quite definitely going to be a piece about a Puff. McHenry County College's Black Box Theatre in conjunction with RCLPC Theater offers "Puffs, or Seven Increasingly Eventful Years at a Certain School of Magic and Magic." Under the direction of Jay Geller, "Puffs" is a fast-paced, irreverent and witty parody of the Harry Potter books and movies. But you don't have to be that much of a follower of the infamous boy wizard (or Potterphile) to enjoy this play.
Written by playwright Matt Cox, "Puffs" began in 2015 at the Peoples Improv Theater, a small comedy venue in New York City. It soon broke records off-Broadway, and holds the distinction of being the longest-running play in Melbourne, Australia.
"Puffs" is the story of 11 kooky characters over a seven-year period. There are four magic school houses: the Braves, the Smarts, the Snakes and the Puffs. The Puffs are members of the least consequential house and the biggest losers. Despite being the geeks and the nerds, the Puffs are given their 15 minutes of fame as they try to learn magic, deal with silly takes and events, earn points for the school's house cup, and deal with a revolution caused by a certain boy wizard.
Geller has cast well, and ensures the play is clever, inventive and just plain fun. It may be the classic story reimagined with Potter nuances and tongue-in-cheek references (I personally will never forget mop Ron and the puppet founders), but for those outside the fan culture, there are jokes, puns and cheeky wordplay that keep the pacing and physical comedy delightful. We also get to see the evolution of the Puffs as they progress from "we are not a threat, please be our friend" and strive to be third, to becoming heroes.
There are three things to be aware of. First, this production is not in MCC's Black Box Theatre – it's at the Ridgefield-Crystal Lake Presbyterian Church, as MCC has temporarily utilized the Black Box as a COVID-19 center. Second, this is not a show for children, as it contains adult language and innuendo. And third, masks are required for the audience, and the cast is masked, as well. Fortunately, the actors can be understood vocally, and have very expressive eyes.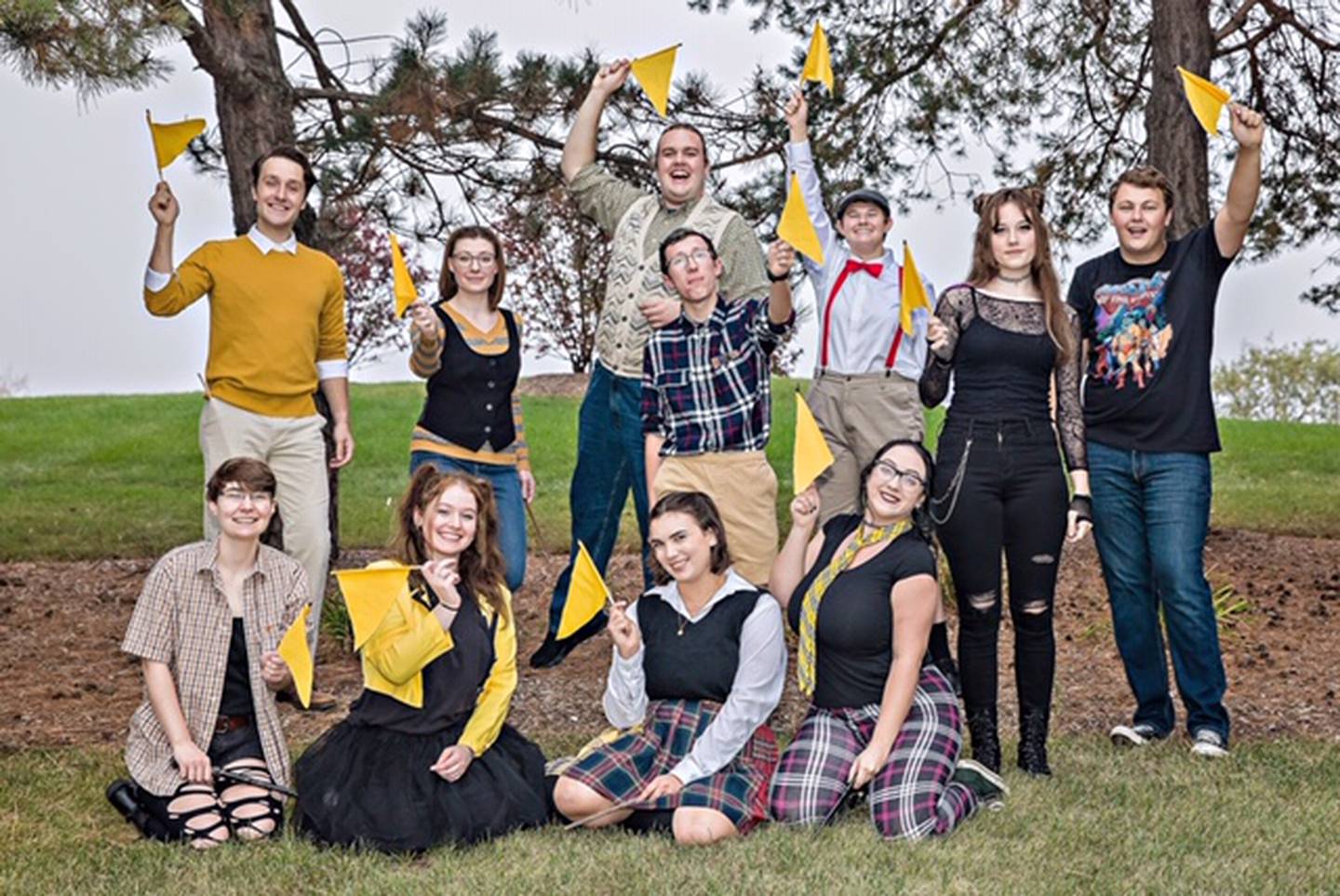 This is an enthusiastic cast; clearly they worked hard and are having a ball onstage. Many of the ensemble play multiple parts, and do it admirably with panache and quick costume changes. Ember Thoreson of Crystal Lake, Ashton Miller of Huntley, Annastasia Correra of McHenry, and Alexis Stone of Huntley drive home the Puffs' mantra: You may fail a lot, but you're getting a lot of practice and, eventually, you'll get better.
There are three outstanding supportive members. Dan Cosgray of Woodstock very capably portrays several instructors at the magic school: Mr. Moody, the headmaster, Professor Turban, not to mention a mean imitation of Alan Rickman.
McKenna Montgomery of McHenry is Xaviera Jones, Megan's mom (a wink to "The Mummy Returns"), and is resplendent in black feathers, evilness and even humorous blunders. Matt Stewart of Crystal Lake shows his strong acting abilities as he portrays two characters: the good-guy Puff leader, Cedric – he's an upstanding rock star - and the flip side of the coin, the very evil Mr. Voldy, aka "what's his name who we don't try to say."
There are four main characters. Fallon Knaak of Union as the narrator is the glue that holds the show together as she exposes us to the unfolding story of Wayne and friends. Knaak is articulate, expressive and a natural on stage who engages us from start to finish. Jackson Nielsen of Woodstock is Wayne, and he's a charming actor; he's loyal, eager, enthusiastic and believable in his quest to be important. Nielsen has definite chemistry with Angelina Smith of Wonder Lake and Cody Klimek of Richmond, who play Megan and Oliver, respectively, and I do believe they are good friends. Smith starts as a defiant Megan who resents being a Puff, believing she should be a Snake; she enjoys all things evil, but she showcases an evolution to a much nicer character. Klimek's Oliver is adorable; he's the brilliant math genius who doesn't get to shine – math just isn't required in magic school. He's devoted to Wayne and crushes on Megan. These four bring their characters to life and are very appealing.
Eric Luchen's set design is reminiscent of the hallowed halls of old English academia: marbled arches, heavy wooden doors, and books on pillars. It's simple and works very well for the continual cast exits and entrances. Kathleen Bruhnke's costumes colorfully dance on the cast. The tutus, capes, feathers, plaids, shimmers and spiderweb shirts are all outfits you pleasantly expect at a magic school. And Maxwell Roby's lighting design illuminates the cast, costumes and set.
Playwright Cox grew up with the Potter books, and claims he was not one of the "really cool kids." He says he came up with the idea for "Puffs" on a subway ride home one night. You have to hand it to him; in "Puffs," he gives the geeks and nerds center stage and isn't afraid to kill off main characters in his piece. There is a feel-good theme woven throughout, and as the narrator says, we're all Puffs: loyal and true who remain fair when life isn't. And you have to hand it to Geller; this is his 48th production for MCC, and he's adapted well to staging the entertaining "Puffs" at a space other than the Black Box Theatre. And that's real magic.
• Regina Belt-Daniels was teaching when "Harry Potter" books and movies hit, and along with her students grew to appreciate the boy wizard. Although she is not a wizard at much, she does know how to make chocolate disappear and knows the magic of theater. When not writing reviews, she loves to teach, direct, act, and travel with her husband.
IF YOU GO
WHAT: "Puffs, or Seven Increasingly Eventful Years at a Certain School of Magic and Magic"
WHERE: Ridgefield-Crystal Lake Presbyterian Church, 8505 Church St., Crystal Lake
WHEN: Nov. 12 to 14 and 18 to 20, with curtain at 7 p.m., except a Nov. 14 matinee at 2 p.m.; two acts with one intermission
COST: $15 for general public, $10 for seniors, students, veterans, MCC employees and alumni
INFORMATION: 815-455-8746, jgeller@mchenry.edu for reservations; space is limited