Village Vintner Winery, Brewery & Restaurant may be known for house-made wines and beers, but its menu of upgraded bar food is a reason to visit all on its own.
The destination is located in Algonquin at 2380 Esplanade Drive. It has a warm and cozy atmosphere with a secluded outdoor patio.
My partner and I decided to sit on the patio since it was shaded, and there was a cool breeze on that August afternoon. The menu has classic American fare like pizza and burgers with enticing ingredients to make each dish seem exciting to try.
We selected potato skins ($15.99), which were on the "weekly specials" menu. Potato wedges were topped with bacon, scallions and three different types of cheese. It was melty and flavorful, so it didn't need a dip of sour cream, but it was a nice touch.
Cheddar, Merkts cheese spread and Chihuahua cheese were blended on the potato skins, giving it a creamy texture and tang. Being a big Merkts cheese fan, I was addicted after the first bite.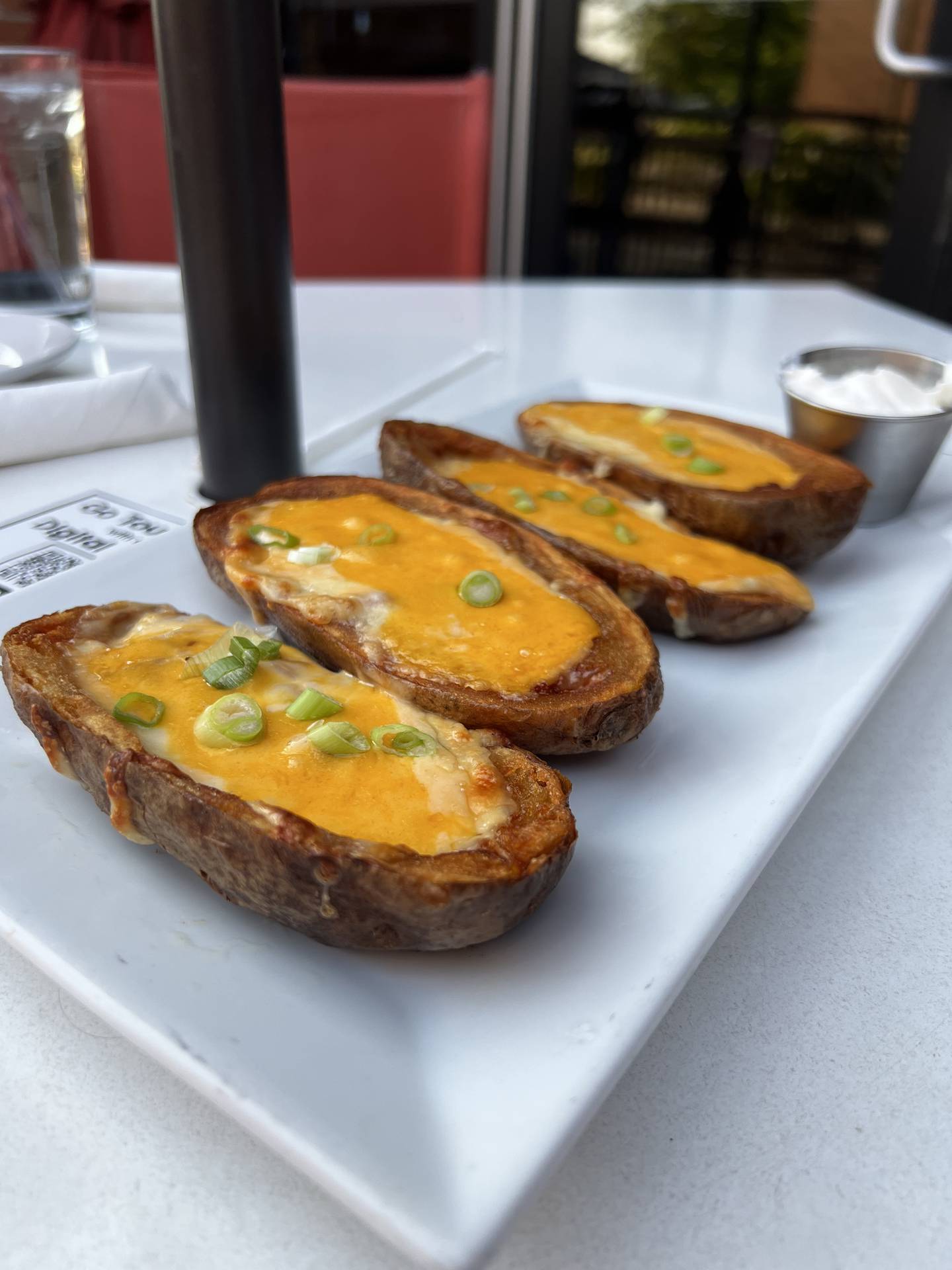 My partner picked the seafood Alfredo ($27.99), featuring angel hair pasta with a garlic-and-wine Alfredo sauce topped with sautéed Gulf shrimp and fresh bay scallops. The dish definitely wasn't shy with the garlic flavoring, but we see that as a good thing.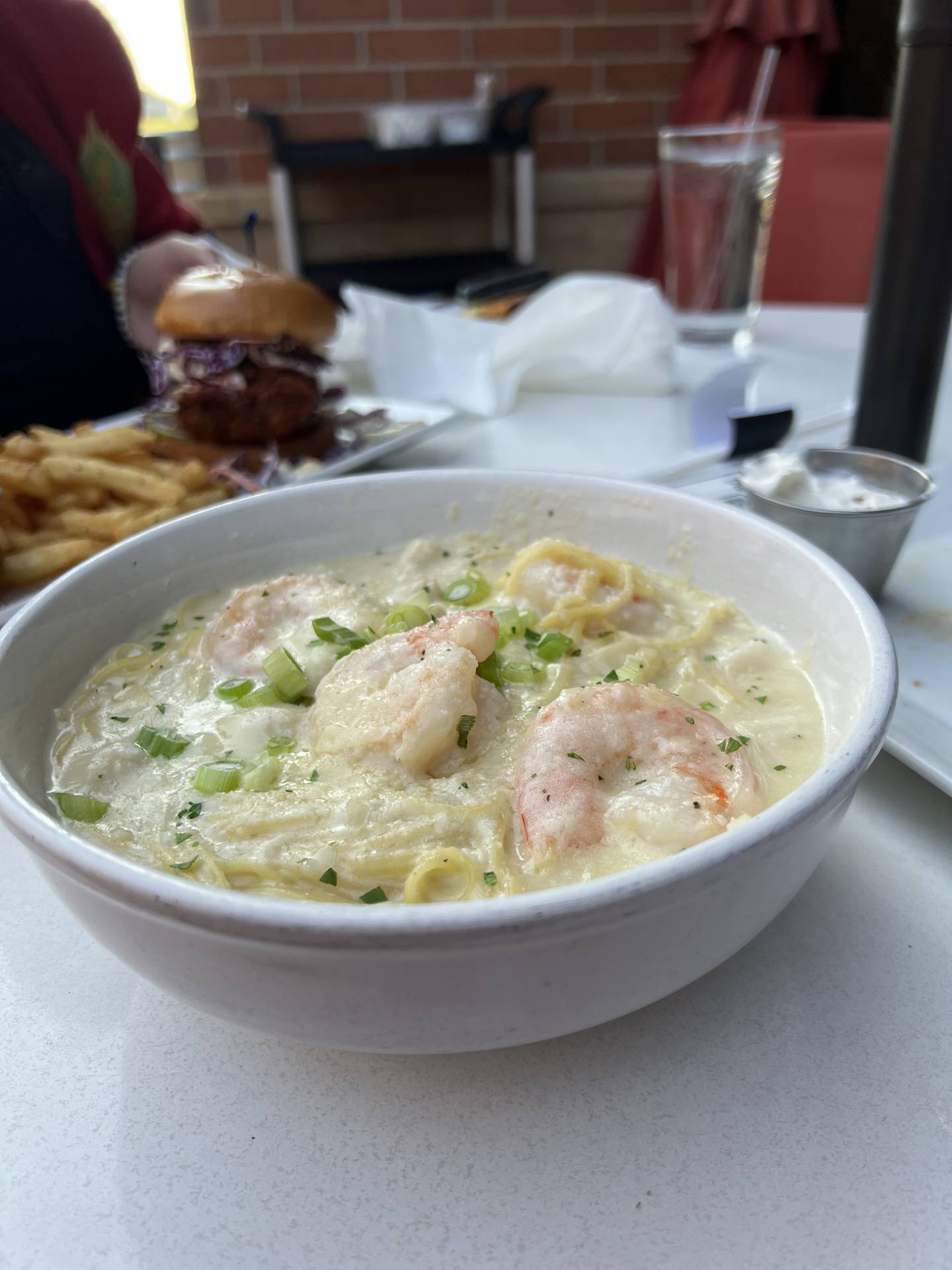 I chose the Nashville hot chicken sandwich ($17.99) with a side of black truffle Parmesan fries (an extra $3). The chicken was fried, coated in hot sauce and topped with pickles and blue cheese coleslaw on a brioche bun.
The sandwich surprised me with how delicious it was. The blue cheese coleslaw gave a fun spin to an otherwise traditional dish. The chicken was juicy on the inside and crispy on the outside.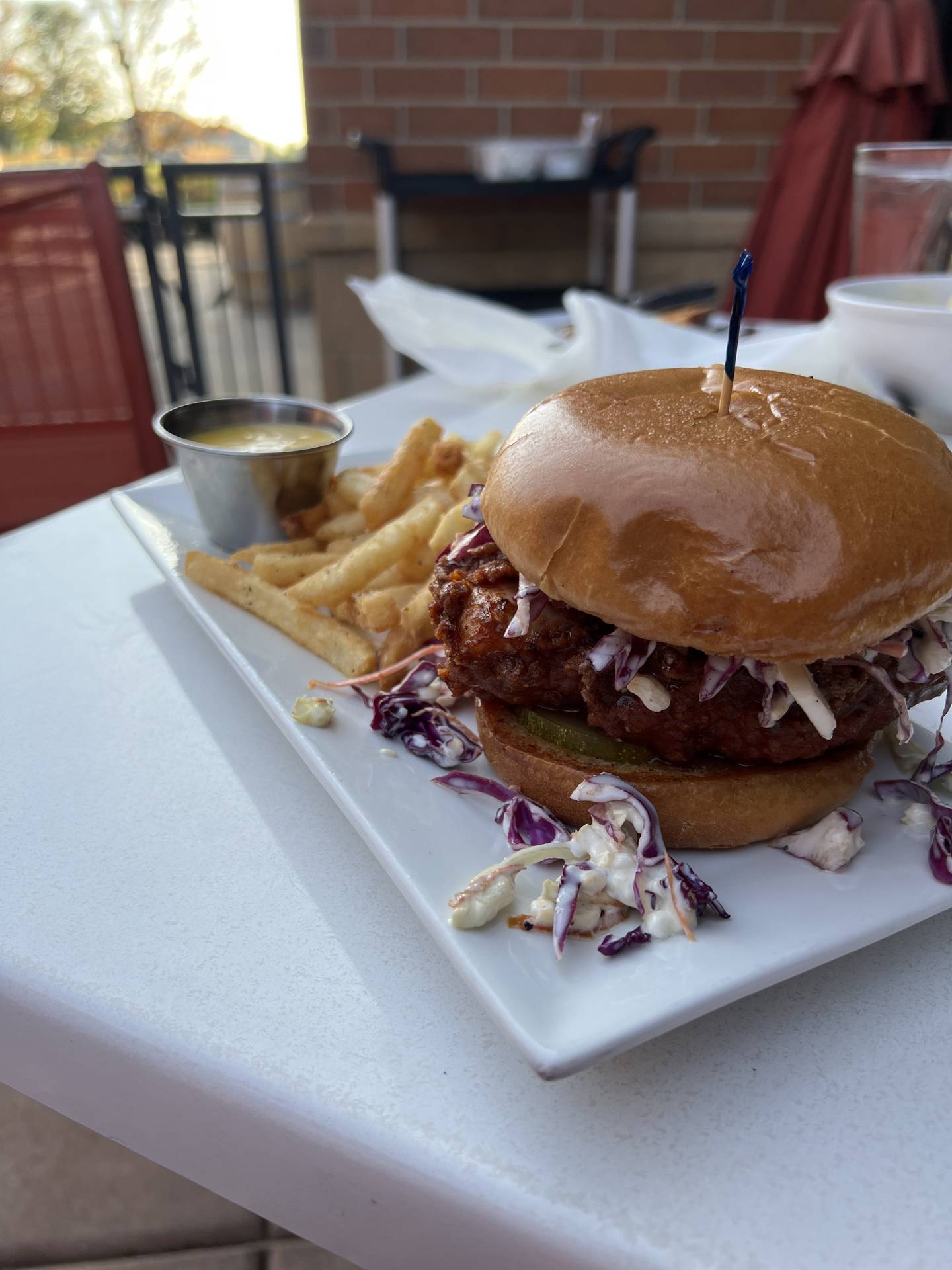 I had to try the upgraded fries since I love truffle-flavored anything. They were sprinkled with Parmesan and perfectly fried. I did wish there were a garlic aioli to dip them in, but the kitchen knows how to flavor its dishes so they don't need to rely on dipping sauces.
If you're looking to try their wines and beers, they have an extensive list for both. There is also a tasting room where you can try seven, 1-ounce samples of wine for $10. The selection changes monthly.
We were too full to eat dessert, but our waiter said the lava chocolate cake topped with vanilla ice cream is "dangerous" because it's so good.
Next time, I would like to try a wood-fired pizza or the pulled pork mac and cheese. They also have dishes that look like perfect partners with a glass of wine, such as the bone-in pork chop or the Atlantic salmon.
Village Vintner knows how to switch up American classic recipes with exciting twists of flavors. It's a great place to satisfy a comfort food craving, while trying something a little bit new.
• The Mystery Diner is an employee at the Northwest Herald. The diner's identity is not revealed to the restaurant staff before or during the meal. If the Mystery Diner cannot recommend the establishment, we will not publish a review.
Seeking reader suggestions: We welcome readers to share their recommendations of places they would like the Mystery Diner to visit. Email ideas to tips@nwherald.com.
IF YOU GO
• WHAT: Village Vintner Winery, Brewery & Restaurant
• WHERE: 2380 Esplanade Drive, Algonquin
• PHONE: 847-658-4900
• INFORMATION: thevillagevintner.com