The National Weather Service said snow, freezing rain and rain were in store for areas of northern Illinois as it adjusted its forecast for Saturday night.
The heaviest snowfall rates of one inch per hour are still expected in the counties that border Wisconsin east from Winnebago to Lake counties.
The revised forecast said that snow north of Interstate 88 would redevelop farther south and east through the evening.
Rain or freezing rain will cover an area along and south of Interstate 80.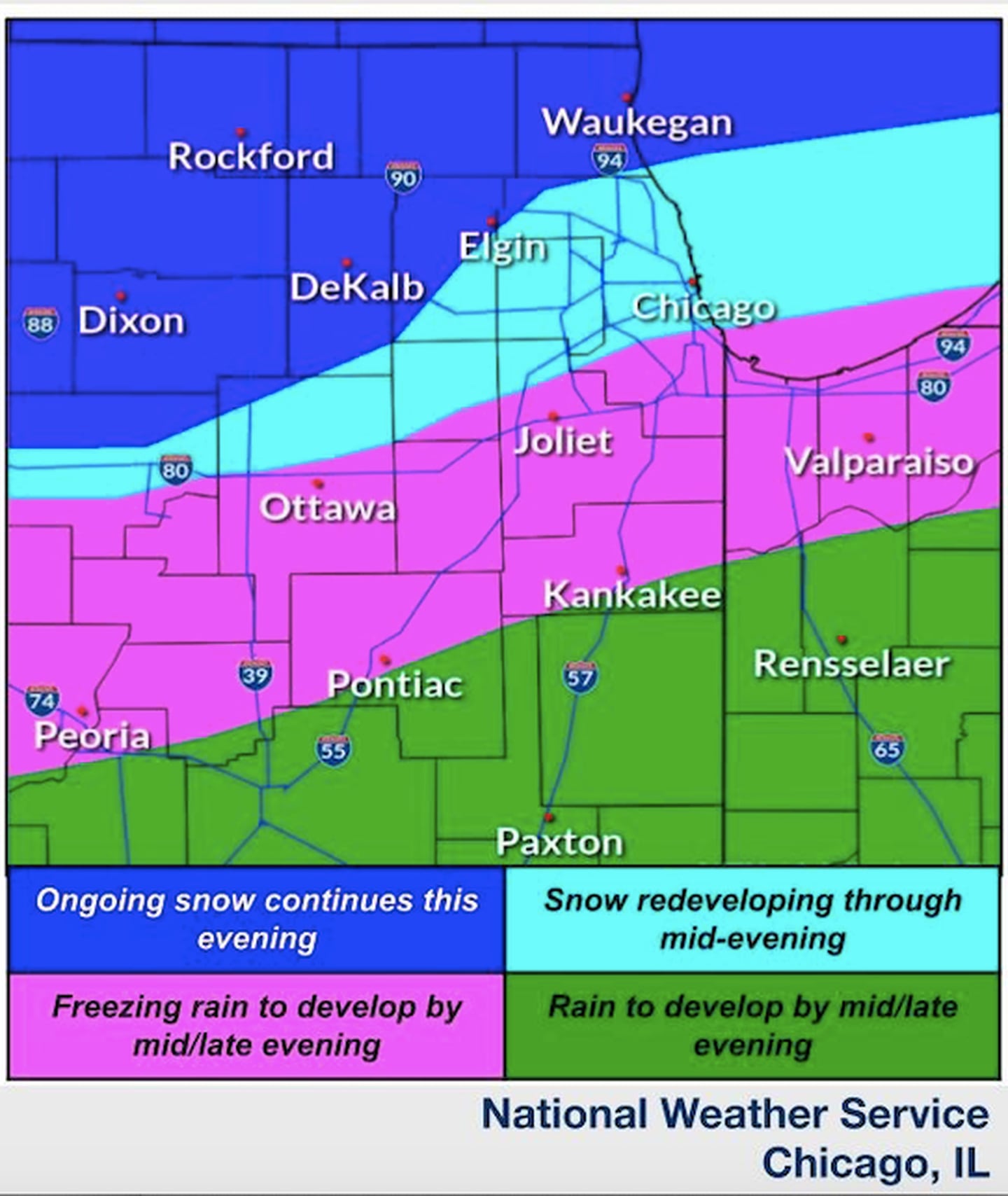 Since early Saturday, a winter storm warning will remain in effect until the early morning hours Sunday for Winnebago, Boone, McHenry and Lake counties
Schools across the region started to post cancellations on their social media accounts for sporting events and other activities scheduled for Saturday evening.
The Illinois Department of Transportation's https://www.gettingaroundillinois.com/winterconditions/ map showed by 6 p.m. most major roads in northern Illinois — with the exception of the Chicago area — were either covered or mostly covered with ice or snow.
[ Travel will be hazardous across region, weather service says ]
During the storm, northeasterly winds will gradually increase to gusts of 25 mph.
Accumulations of four to seven inches are expected. If the snow is dry and fluffy, blowing and drifting on east-west roads is possible, the service added.
The heaviest concentration will be areas near the Wisconsin state line.
Motorists are advised that roads will be snow covered and slippery and they should keep an extra flashlight, food, and water in their vehicles in the event of an emergency.
Other parts of northern Illinois are under a winter weather advisory, stations in Romeoville and Davenport, Iowa, reported.
The advisory is in effect until 3 a.m. Sunday and includes Whiteside, Carroll, Ogle, Lee, Bureau, Putnam, DeKalb, Kane, DuPage and Cook counties.
Jo Daviess, Stephenson, Rock Island, Henry, Mercer, Henderson, Warren, Hancock, McDonough, Scotland, and Clark counties also fall in the advisory zone.
In those counties, accumulations of snow are in the range of two to five inches. Snow will fall at about a rate of one-half inch per hour.
Motorists are advised that wintry mix is likely in a band between Interstate 88 and Interstate 80 and in areas south of Interstate 290, resulting in a light glaze of ice on roads.
Even before evening, school districts in the affected areas were beginning to pull the plug on their interscholastic contests.
In the Sauk Valley, for example, boys basketball contests between Dixon at Oregon and Winnebago at Rock Falls were postponed. A girls game with Rock Falls at Freeport was also called off.
In Whiteside County, teams from Monticello, Iowa and East Dubuque, Iowa, pulled out of the Eric Ottens Invitational tournament because of the weather, prompting a revised schedule, Fulton Athletics Director Jeff Parsons tweeted on his account. He announced later that the 3 p.m. and 6 p.m. games were called off because of travel concerns.