ROCKTON - DeKalb County's regional fire fighting strike team headed to Rockton Monday evening to aid more than 150 firefighters in battling a blaze at the Chemtool Inc. plant on the Illinois-Wisconsin border.
An explosion at the chemical plant around 7 a.m. Monday sparked massive fires that sent flames and huge plumes of thick black smoke high into the air and debris raining onto the ground Monday morning, prompting evacuations.
Emergency crews rushed to the scene of the 7:30 a.m. fire near Rockton, northwest of Chicago, at Chemtool Inc., 1165 Prairie Hill Road, a company that manufactures lubricants, grease products and other fluids, and is, according to the company, the largest manufacturer of grease in the Americas.
Smoke from the fire reportedly showed up on radar.
Fire crews from several local agencies responded to calls for mutual aid to the fire, which is expected to burn for several days and spurred an evacuation for residents in the 1-mile radius of the plant in Rockton, with those within a 3-mile radius currently being urged to wear a face mask or covering when outdoors as officials from the Illinois Environmental Protection Agency continue to monitor air quality from plumes of smoke wafting south through the region.
The plumes can be seen for miles, including in DeKalb County, with many parts of the county nearly 50 miles south.
In an effort to rotate out firefighters battling the blaze, crews from across Illinois' Mutual Aid Box Alarm System (MABAS) have been called in, including DeKalb County's MABAS Six strike team, which includes an ambulance from DeKalb and Sycamore fire departments, along with engines from Genoa-Kingston, Maple Park, Shabbona, Malta and Cortland, which was called in to replace Somonauk's engine which was unable to respond, according to area traffic scanners.
Kirkland Fire Chief Chad Connell said the department went early to the scene, sending five firefighters with Fire Engine No. 2 around 7:30 a.m., when the blaze had just begun.
"They pulled us right away, and we were able to send an engine which can also act as a tender," Connell said, referencing the mechanism by which fire engines are able to fill up vast tanks which can hold anywhere from 2,500 to 4,000 gallons of water at a time to bring to the crews fighting the flames.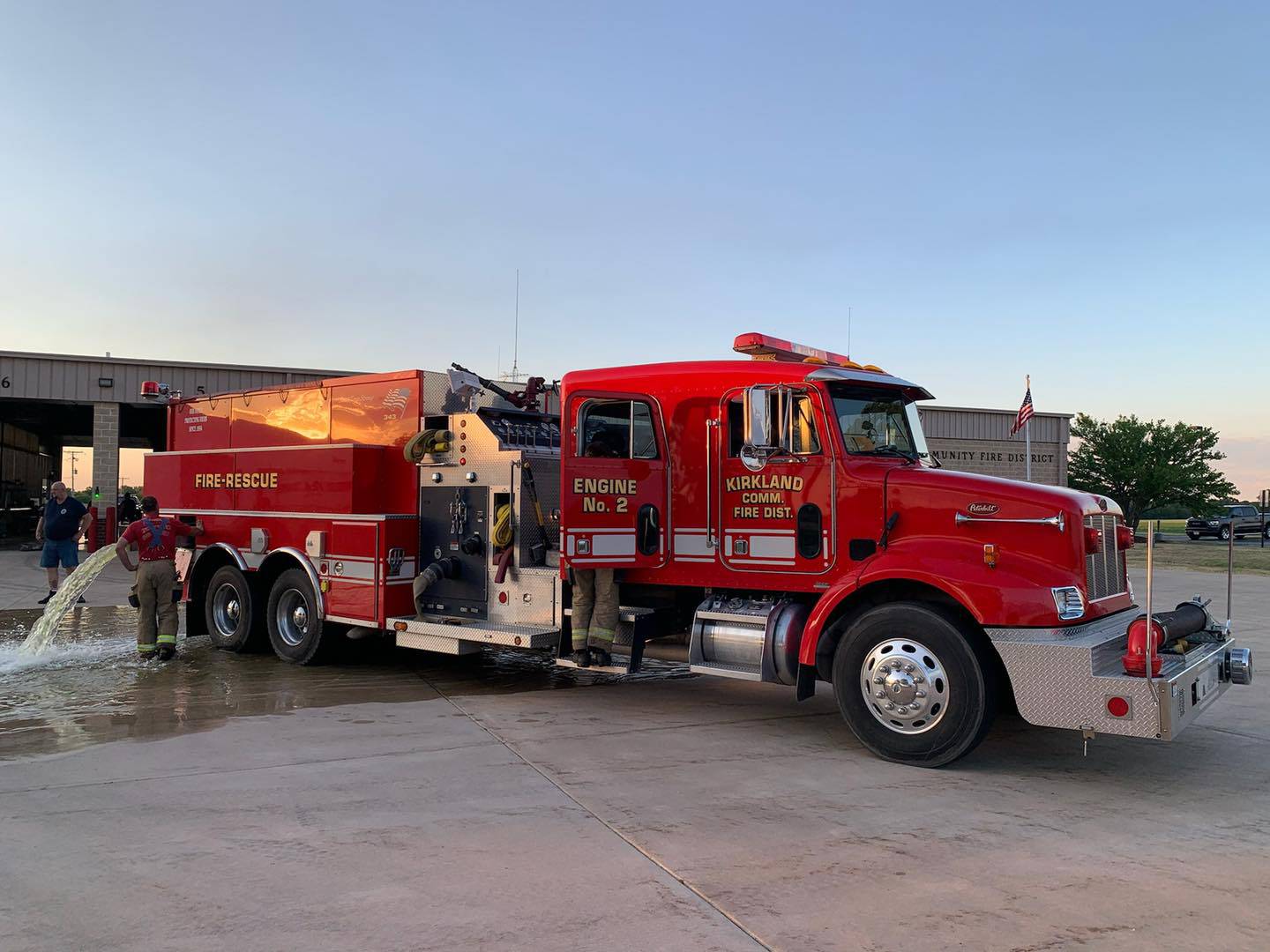 Connell said the Kirkland's tender set up shop by the nearby Rock River by the plant and pulled directly from the river.
"When our guys got there, they were still in a defensive mode and setting up different trucks to aggressively fight the fire," Connell said. "Then our crew actually went to the river and set up one of the dry hydrants. They were filling two to three tenders at a time."
He said in his time with the department, his crews have never fought as big a fire as the one at Chemtool, and they're biggest disaster event was the Fairdale tornado in 2015.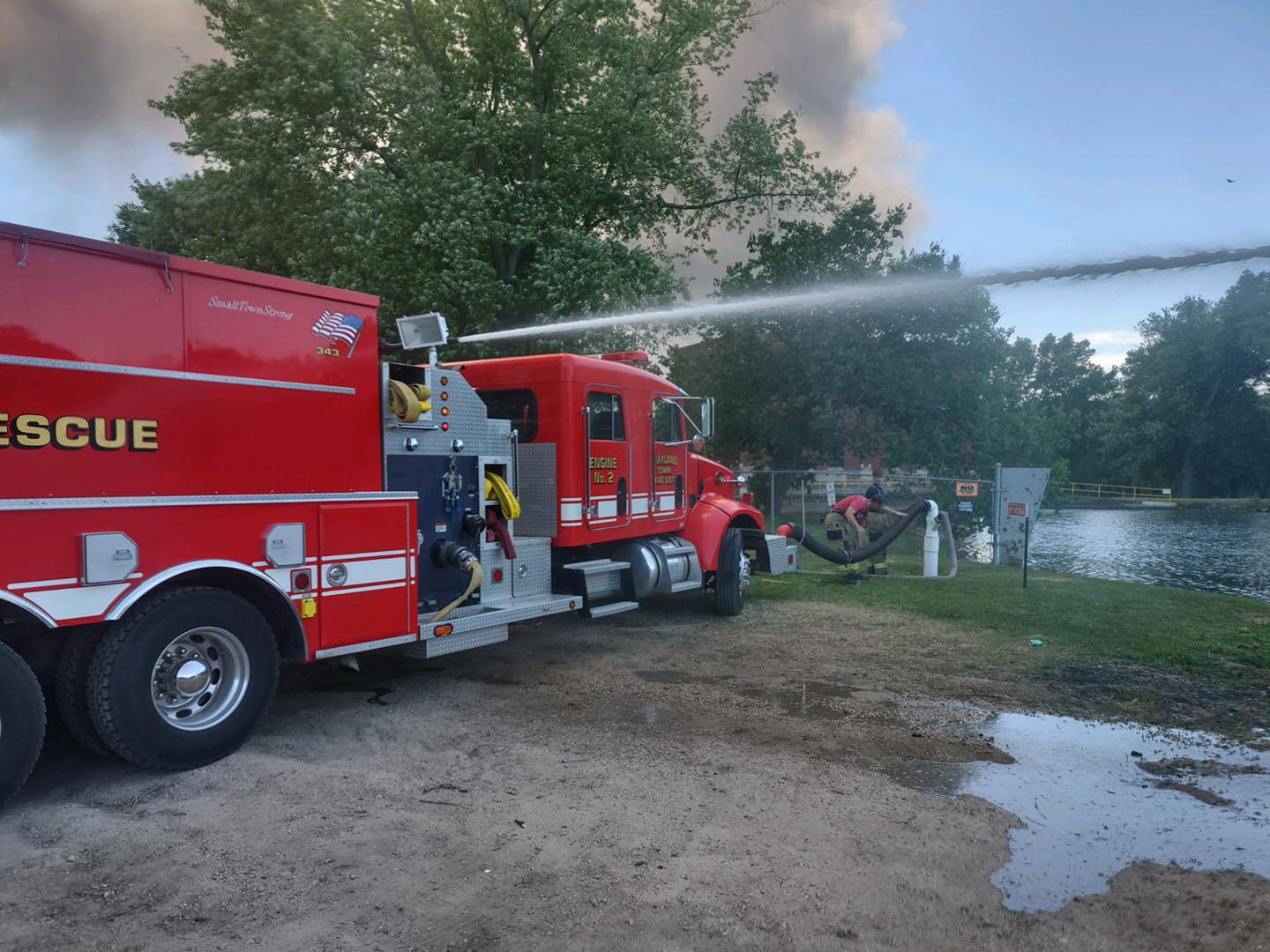 The Kirkland crew spent about 10 hours on scene Monday, and returned before a quick rest and a new rotation team headed back north at 11:!5 p.m. Monday, Connell said. They'll go for an eight-hour shift beginning at midnight.
The chemical fire is expected to burn for several days.
"That's what MABAS is about," Connell said. "Getting help from where you can, helping your neighbors."
DeKalb Fire Chief Jeff McMaster and Sycamore Fire Chief Pete Polarek confirmed the agencies sent an ambulance, with McMaster saying the blaze "looks horrible."
In a press conference Monday evening, Rockton Fire Chief Kirk Wilson of the Rockton Fire Protection District said there are about 150 firefighters on scene at the fire utilizing the MABAS network, with about 40 fire apparatus units on scene.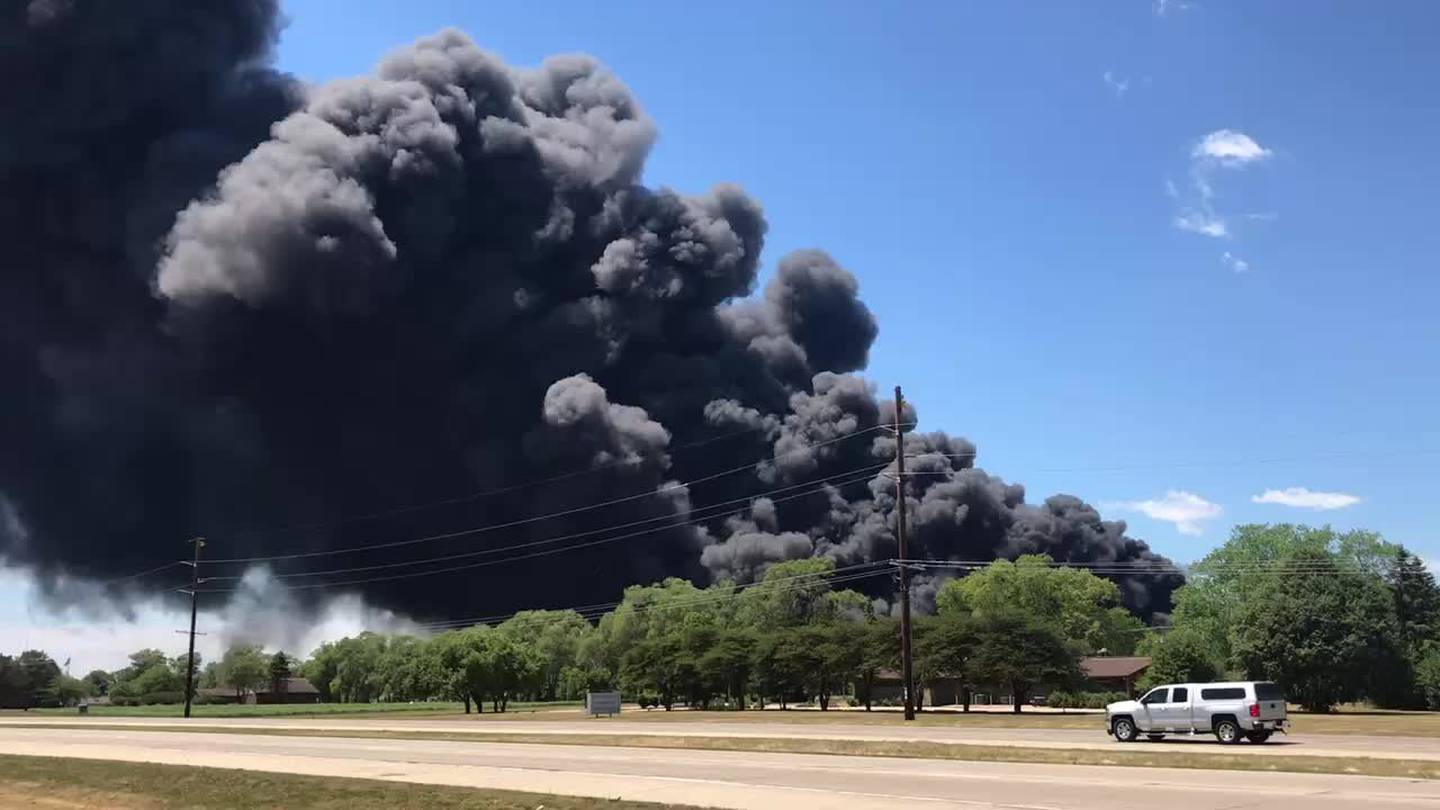 Wilson said teams are attempting to mitigate water use to avoid potential runoff from the chemical plant which could carry chemicals into the nearby Rock River. Officials said they checked a list of self-reported chemicals used by the plant, and that includes lead, antifreeze, nitrogen and sulfuric acid, among others.
"After an eight hour period, those firefighters will be able to go home, take a break, be replaced," Wilson said.
As crews headed out Monday, many posted to social media as they responded to the call for aid.
Wilson called it "a very catastrophic day" for the Rockton community, having lost a well known business, employees now out of work and families temporarily displaced.
He said fire crews have eased up on water suppression tactics to avoid water runoff, and instead are letting the chemical product burn off.
"We were extremely concerned that that would turn into an environmental challenge later on down the road," Wilson said.
Representatives from the Illinois Environmental Protection Agency said they've set up sites across the area to continually survey air quality, and will take samples throughout the night to determine safety measures needed if necessary.
This video from Blackhawk Blvd. and Prairie Hill Road in South Beloit, Illinois, shows the aftereffects of the smoke from the fire.
The Associated Press contributed to this report.