Two of the three candidates for mayor showed up Saturday at a Joliet forum sponsored by pastors and Black organizations.
Mayor Bob O'Dekirk, who was at the forum with candidate Tycee Bell, said he believed D'Arcy did not come because it was the first event in which mayoral candidates did not get to see questions in advance.
A D'Arcy spokeswoman said he needed to attend to a personal matter and could not make the forum, which was held at New Canaanland Christian Church.
D'Arcy's absence went largely unmentioned until the end of the forum.
"I think when you are running for office and particularly the highest office in the city you have an obligation," forum moderator Al Penn said at the conclusion of the event in response to a question about D'Arcy's absence.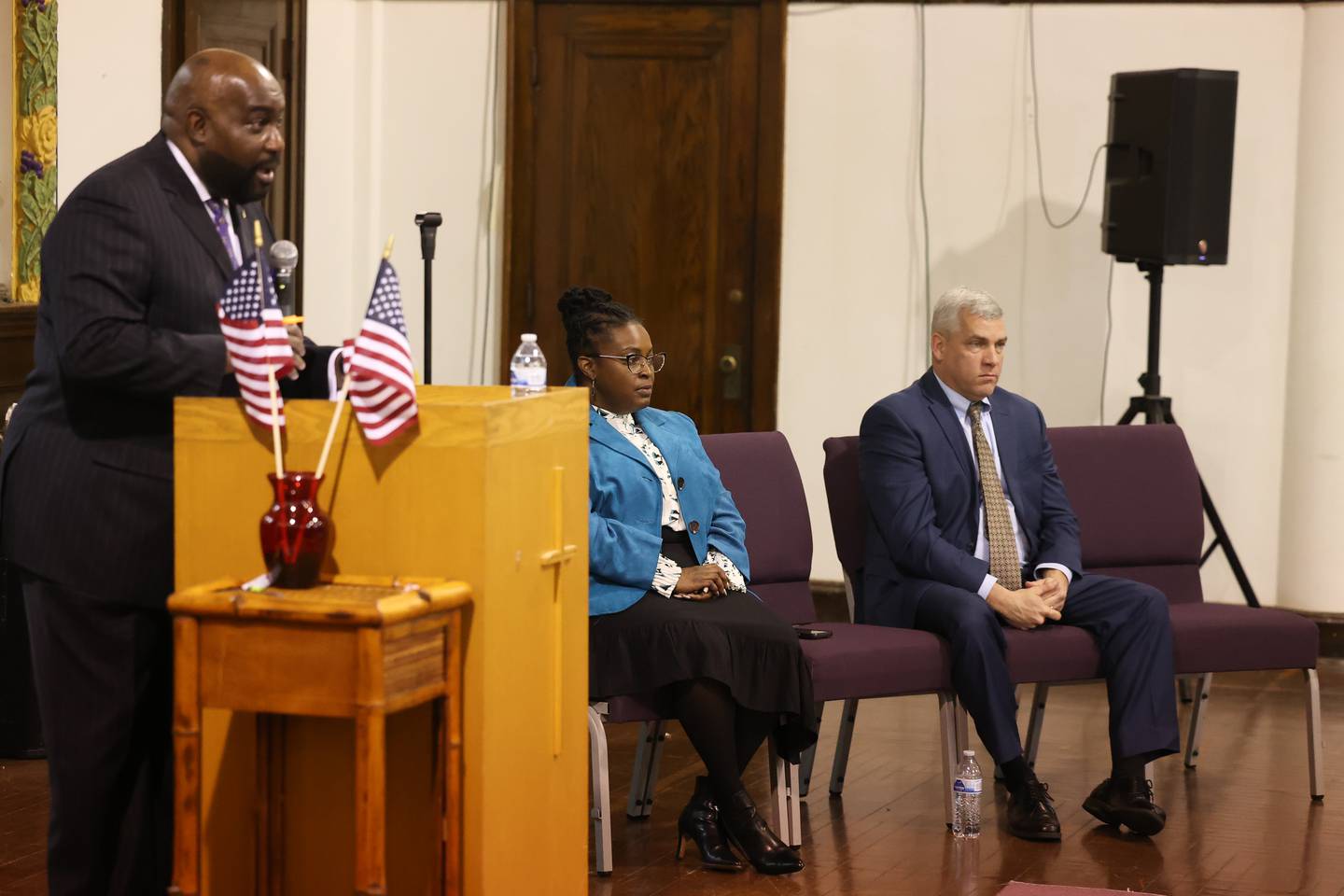 Penn said forum organizers were notified an hour before the event that D'Arcy would not be there.
D'Arcy spokeswoman Rosemaria DiBenedetto said an email was sent Friday afternoon to notify forum organizers that D'Arcy would not attend. When there was no response to the email, she followed up with phone calls Saturday morning, DiBenedetto said.
"He had a personal matter," DiBenedetto said Saturday. "We contacted them yesterday and confirmed it this morning."
DiBenedetto noted that D'Arcy did take part earlier Saturday morning with candidate Bell in a mayoral forum on Zoom organized by Illinois Democratic Women of Will County.
She said O'Dekirk did not attend that forum.
O'Dekirk made a veiled reference to D'Arcy's absence during opening remarks at the forum when he commended Bell for participating.
"I think it's important that candidates come to meet the people in every environment, not just where they feel comfortable," O'Dekirk said.
O'Dekirk later told The Herald-News that he believed D'Arcy did not attend because it was the first mayoral forum in which candidates were not provided questions in advance.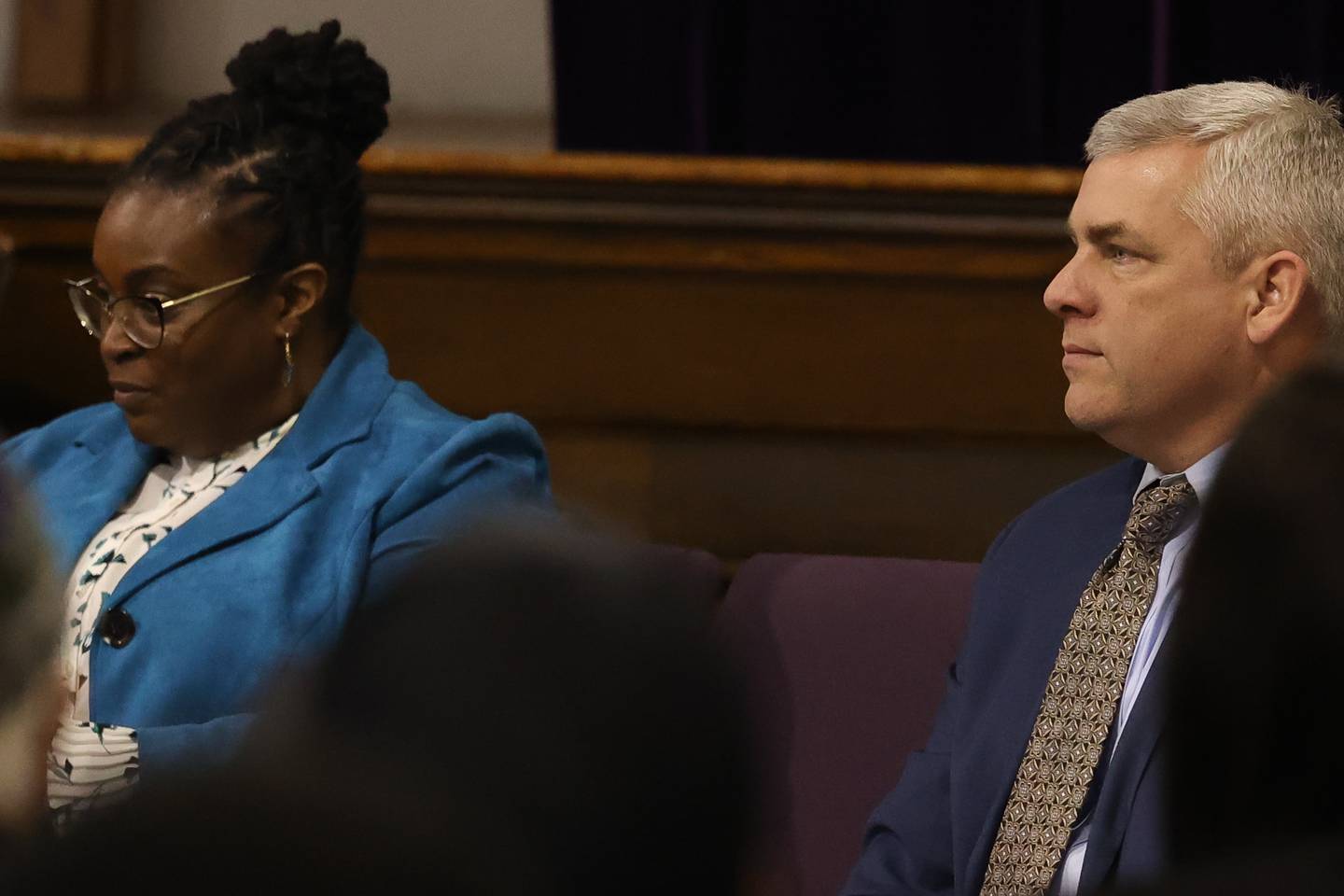 "I've pointed out in the campaign that Mr. D'Arcy brings a binder with him and responds to questions from the binder," he said. "You're not getting honest answers. You're getting scripted answers."
D'Arcy, a Joliet car dealer, is making his first run for public office.
Willie Sellers, president of Black Contractors of Will County, one of the sponsors for the forum, said he was disappointed with D'Arcy's absence.
"We have some concerns," Sellers said. "We wanted to hear what he has to say about our community."
The forum included questions about a long-running issue in Joliet concerning minority participation in city-funded contracts.
O'Dekirk said the city is wary of setting minority-participation standards that would lead to more work going to contractors who are not local.
"You hate to be in a situation where you're looking at a percentage, and Cook County contractors are getting ahead of local contractors," he said. "That's always been the issue."
Bell repeated a theme of her campaign that the city needs to engage people who feel they are left out of the governmental process.
"We really need a plan," she said. "We really need a call to action. That's what I'm talking about – civic engagement."
Bell had planned to skip the forum at New Canaanland Church.
Bell said she was concerned that some organizations sponsoring the event had already made endorsements, including the Black Police Officers Association which has endorsed O'Dekirk.
After talking with event organizers Saturday morning, she decided to participate.
"I am glad that I came," Bell said.