Joliet mayoral candidate Terry D'Arcy is citing a recent poll conducted for his campaign showing him with an 18-point lead over Mayor Bob O'Dekirk.
The numbers suggest a different outlook for the April 4 election that is generally seen as a tight contest between D'Arcy, a prominent businessman with a track record of community involvement, and O'Dekirk, who has won two mayoral elections and a previous Joliet City Council election.
Also in the race is Tycee Bell, a community advocate who has support from Joliet Progressives and is making an appeal to voters who feel neglected by city government.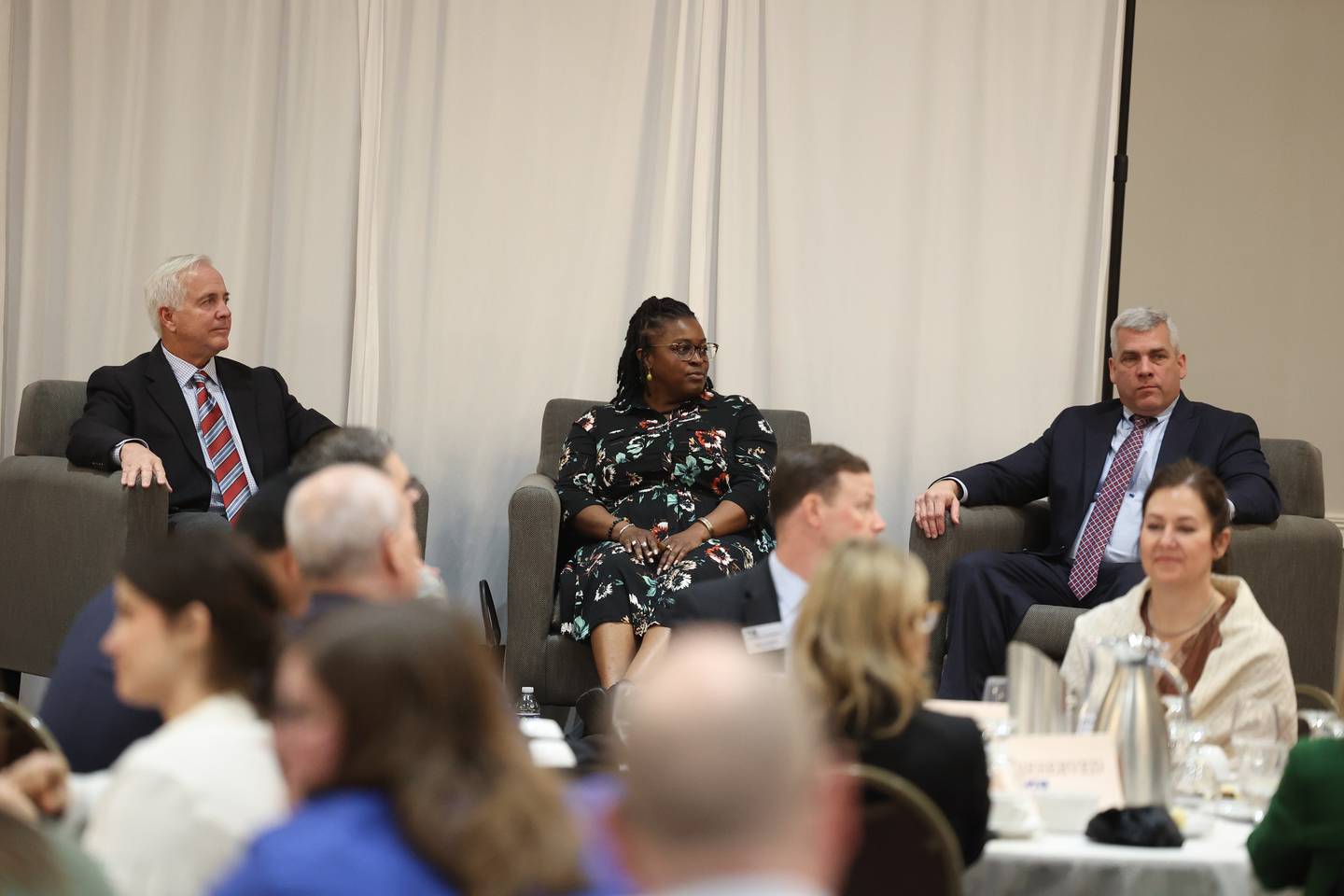 D'Arcy said he considered it to be a "neck-and-neck" race between him and O'Dekirk until seeing the recent poll results.
"I didn't think we were that much ahead, but I'm delighted to see that we are," D'Arcy said. "This is our second poll, and it's improved from the first one. I think that knocking on doors and holding events has brought a light to what we're trying to do for the city."
The poll also shows nearly a third of the voters are undecided with the election approaching on April 4.
O'Dekirk laughed when asked Monday about the poll and said his own numbers "show nothing like what they're reporting."
"That's a sign of desperation," O'Dekirk said. "They're re-polling again today, so that shows they don't believe the numbers."
"We are not polling today," D'Arcy spokesperson Rosemaria DiBenedetto said.
She said the campaign has conducted two polls. The poll announced Monday was conducted March 9 and 10, at a cost of $7,000. The earlier poll was conducted in August, at a cost of $7,500, according to the Illinois State Board of Elections, showing D'Arcy with a 6-point margin lead over O'Dekirk, according to D'Arcy's news release issued Monday announcing the latest poll results.
D'Arcy would not provide the questions of the latest poll.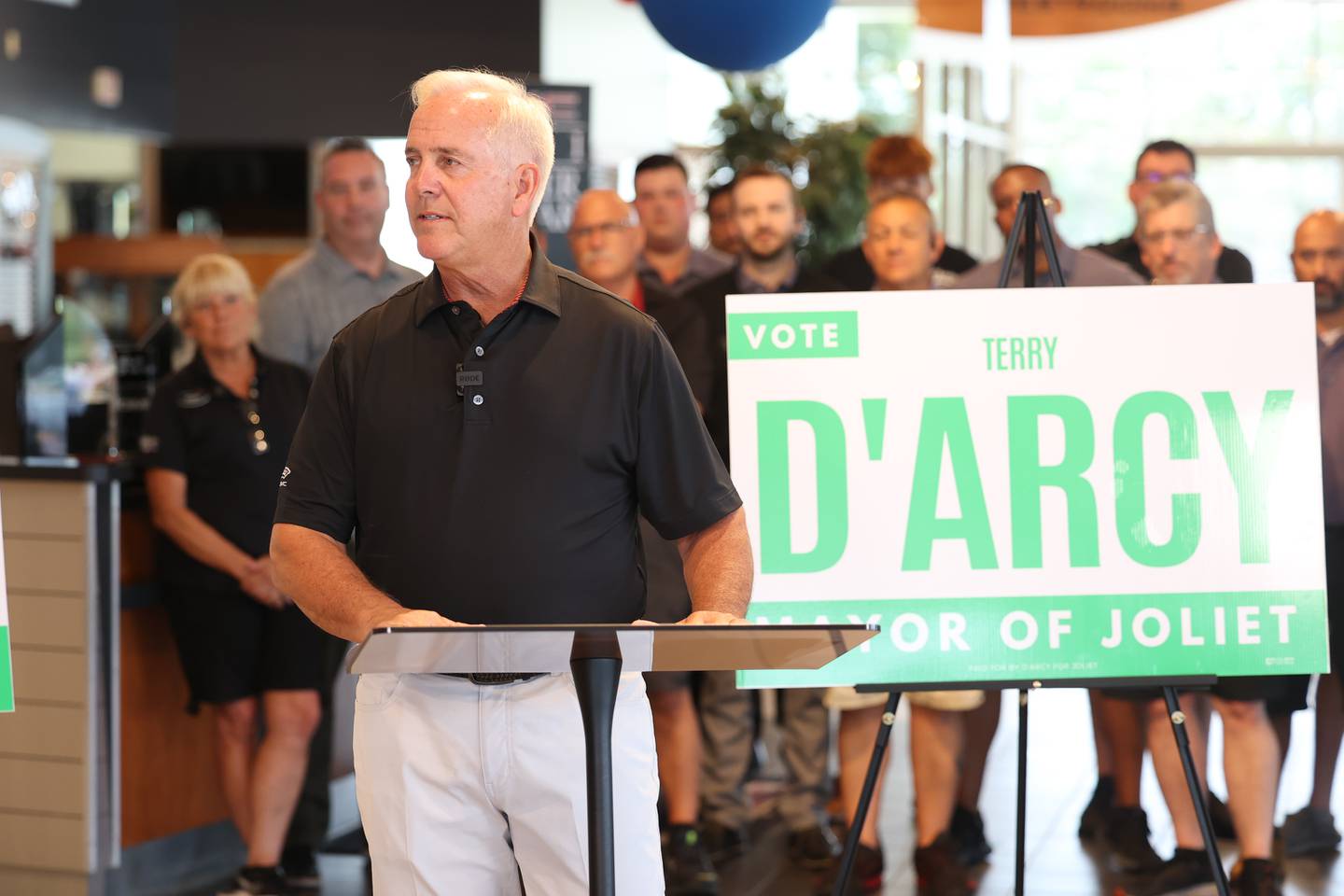 According to the release, D'Arcy has 39% of the vote, O'Dekirk has 21% and Bell has 10% among likely voters in a poll conducted by text messages and telephone. Another 30% among likely voters remain undecided.
Both O'Dekirk and Bell said that the poll itself was not made available.
"I have not seen the poll, and I don't comment on things that I have not seen or have no evidence of being factual," Bell said.
The polling company, Public Policy Polling, is based in Raleigh, North Carolina, and has conducted polling in a wide variety of elections across the country.
"We poll from presidential elections to school board elections and everything in between," Public Policy Polling analyst Jim Williams said Tuesday.
Williams also provided an emailed statement describing how the D'Arcy poll was conducted.
He said "563 unique, randomly selected registered voters throughout Joliet" were polled.
Those polled included 67% of registered voters contacted by text messages and 33% were contacted by phone.
"The text messages were sent out to registered voters with a unique code embedded to avoid any duplicate responses," Williams said in the statement. "No voters were able to participate in the survey more than once."
The margin of error for the poll was set at plus or minus 4.1%.
The poll was conducted about the same time that O'Dekirk issued a mailer criticizing D'Arcy for moving into Joliet just a couple of years ago in time to run for mayor.
"I don't think residency is an issue," D'Arcy said. "I think most people thought I lived here because of all the help and work and investment I put into the community.'
D'Arcy has been a car dealer in Joliet for 31 years and has supported a number of organizations and causes over that time. He has spent most of his life as a resident of Plainfield and Shorewood, although the D'Arcy family first moved into Joliet in the mid-19th Century.