Five of seven candidates running for two seats on Joliet Junior College's Board of Trustees said they plan to support more mental health services for students and work to expand partnerships with other organizations in the community.
JJC Board Trustee candidates Krystal Garcia Centeno, Diane Harris, Kevin Kollins Hedemark, Richard Davis and Alicia Morales met on Tuesday for a candidate forum that was hosted and moderated by students at the college. Two other candidates, Judy Medvid, and Carole Lee, were not at the forum.
Among the topics discussed were the expansion of JJC's partnerships with other organizations, increasing student mental health services, fostering better communication with the community and making sure students were finding success after their college career.
Morales, an incumbent running for reelection, said JJC is a "huge economic driving force" and one of the biggest employers in the area. The college has opportunities to help small businesses and entrepreneurs, she said.
"We have the resources to offer workshops to do this," Morales said.
Hedemark stressed the importance of trustees building better communication with each other and the community. He said trustees should not just go to board meetings but get out into the community and meet with students and staff.
"It all starts out on the frontlines with the students and with the staff and taking what they're giving you, bringing it back to the board, sharing that information with the board and really working towards a common goal," Hedemark said.
Each of the five candidates agreed on prioritizing mental health services for students and ensuring they have better access to those services.
"Our students, the safety of them, their emotional wellbeing, it affects their entire education journey," Centeno said.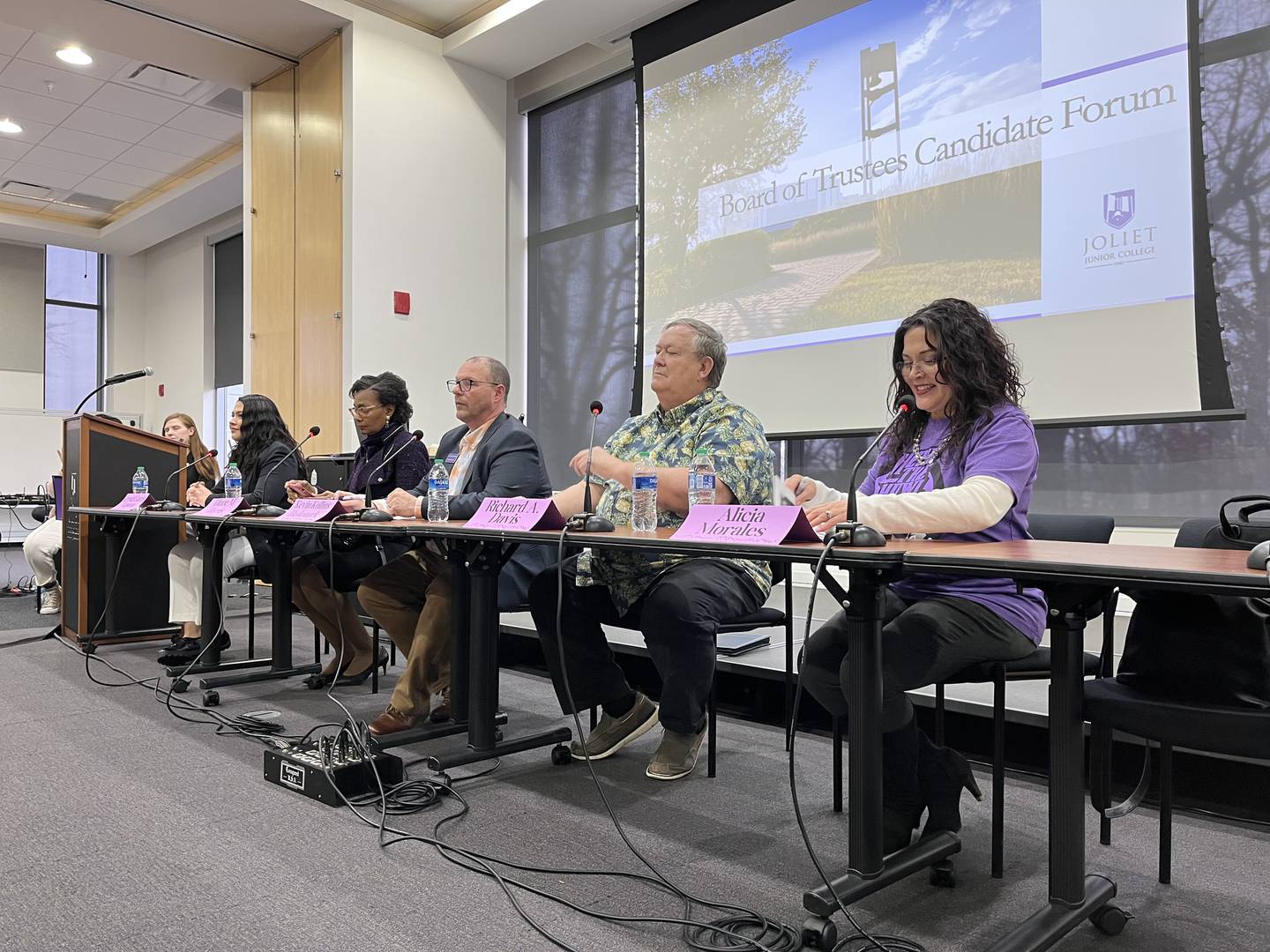 Hedemark added that addressing food deprivation among students should be a concern as well. Morales said JJC should offer more child care at all of its campuses as well.
When it came to the issue of building trust and respect, Davis said trustees should remember they are role models for students and staff.
"When we're out in the public, we are representing our community and communities," he said.
When candidates were asked about their skills, Harris highlighted her skills as a business owner who oversees staff and manages budgets. She also cited her experience doing investigations for her previous employer, ComEd.
"My skill with investigative services is really, really strong," Harris said.
Davis said the college needs to make sure they are providing students "opportunities that mirror industry, mirror the careers that they're going to be going to."
"They need the great opportunities and instruction and guidance that we can provide them for a great career," Davis said.
Centeno said her campaign outlines the importance of leading a movement for a tuition-free college, mental health wellness, elimination of transportation barriers and housing insecurity for students and expanding child care.
"I don't think a lot of these changes I'm proposing are radical. I think they're actually obtainable," Centeno said.