ROCK FALLS — If Congressional candidates Eric Sorensen and Esther Joy King have anything in common, it's the shared understanding that after months of fundraising, campaigning and PAC-funded attack ads, it'll come down to volunteers and activism to get across the finish line.
King, a Republican, said she's gained ground: "We're literally neck and neck."
Sorensen, a Democrat, told supporters he was optimistic: "We have the wind in our sails."
[ Analysts see Illinois 17th District as a tossup. ]
Their appearances across the 17th District this weekend were about shoring up their bases of support.
The 17th District is one of 30 U.S. House races across the nation that political pollsters and forecasters say is a dead heat. It went for Donald Trump in 2020, but was redrawn by the Democratic-led state Legislature the following year.
With that many seats in play for the midterm general election on Tuesday, majority control of the U.S. House is at stake.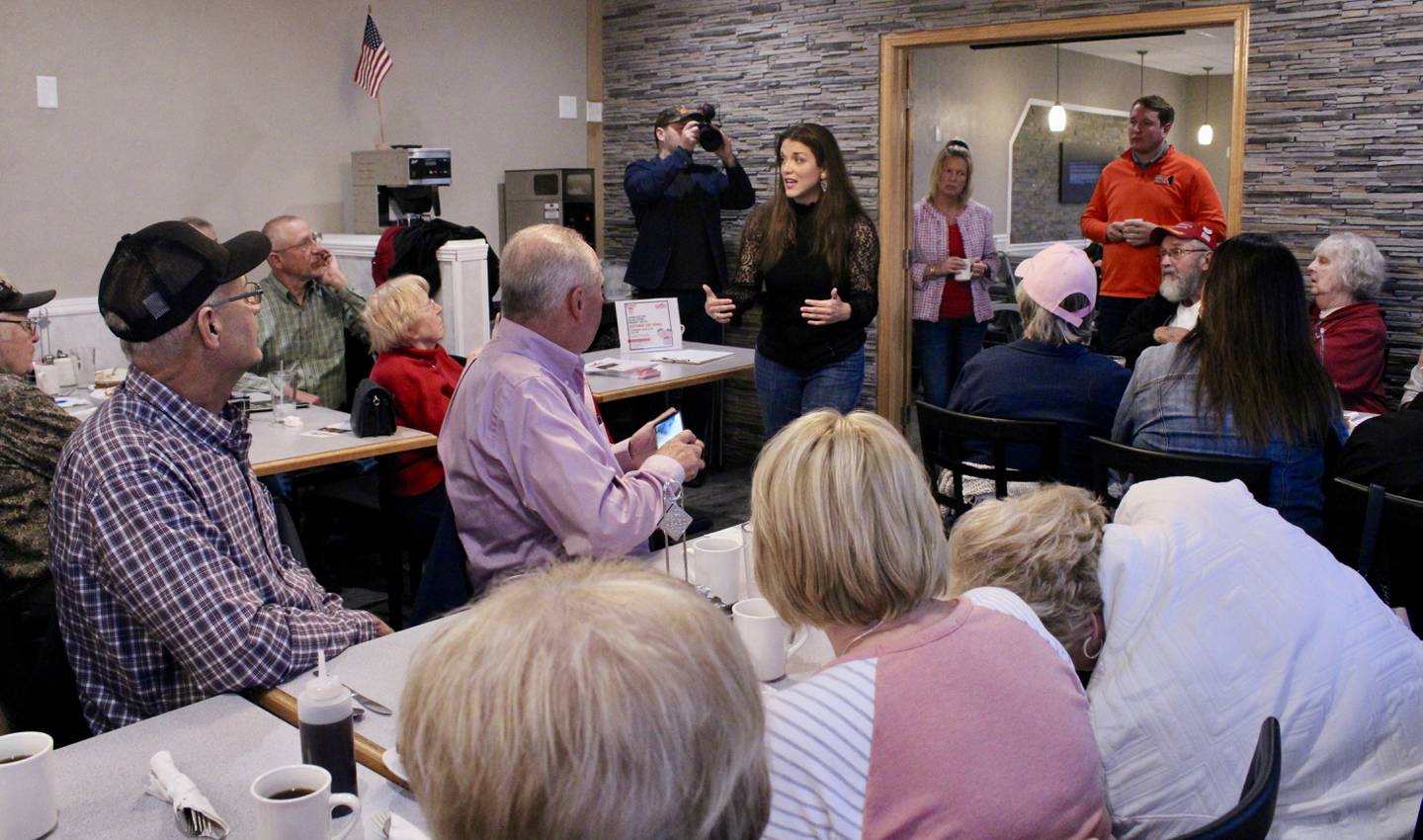 King is an Army JAG officer who is making her second bid for the seat after narrowly losing to five-time incumbent Cheri Bustos in 2020. Sorensen has name recognition as a longtime TV weather forecaster now making his first run at public office.
They are vying to represent a geographically far-flung district that strings together Rockford, the Quad Cities, Galesburg, Peoria, Normal and all the rural communities in between.
In Rock Falls on a blustery and stormy Saturday morning, the politics were conversational.
It was about hugs and handshakes with acquaintances old and new, about appearing confident, and about encouraging partisans to reach out to neighbors and undecideds and get both to the polls, whether that means taking advantage of early voting opportunities or going out on Election Day.
Both emphasized the urgency of the moment without resorting to bombast.
[ Candidates will continue their tour of the district through the weekend. ]
King addressed the banquet room at A's Kitchen, packed with more than 50 people for a meeting of the Twin City Conservatives. She paused good-naturedly as waitresses with coffee and breakfast trays repeatedly passed by, then resumed her discussion on key issues: inflation and public safety.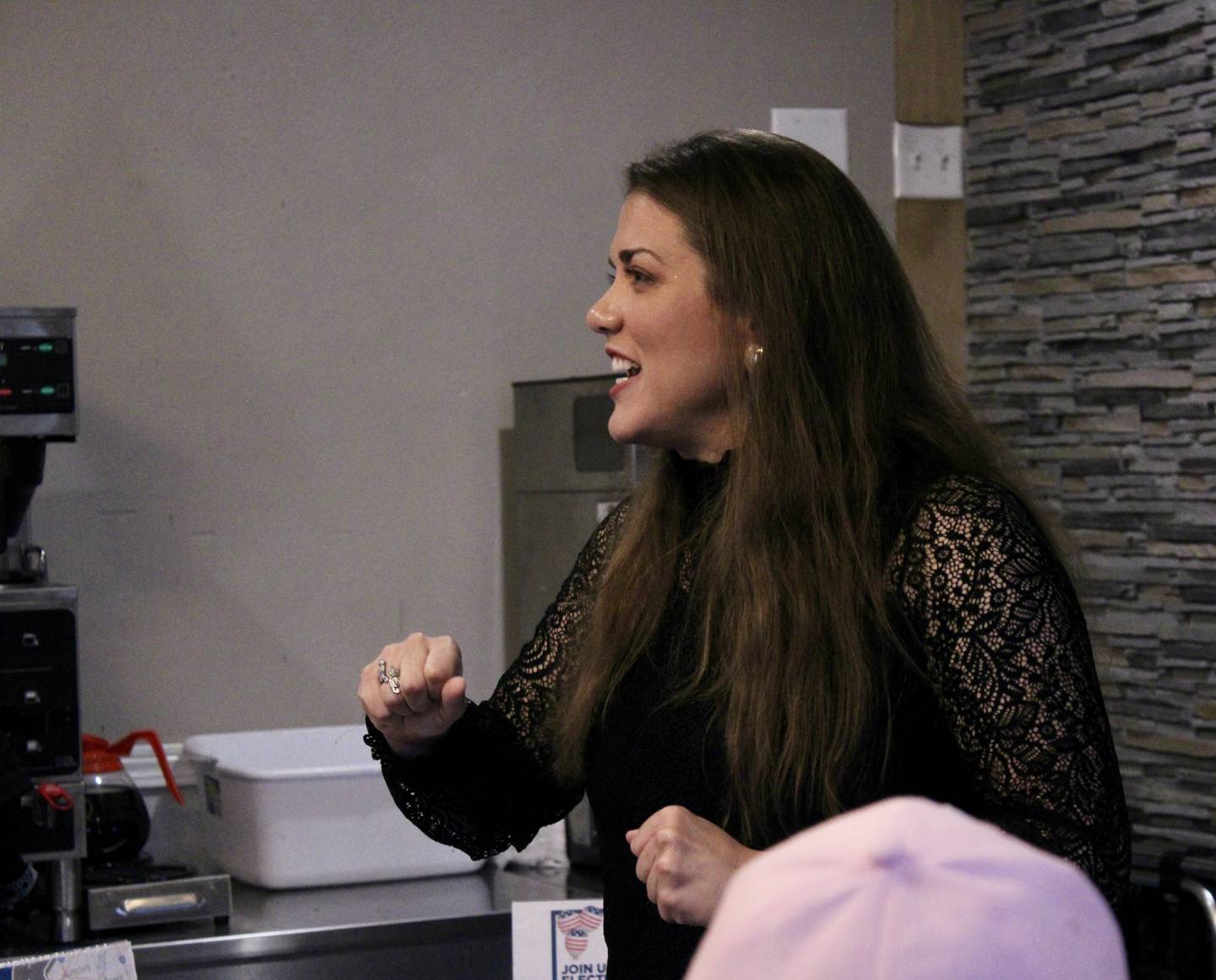 "And this is my message for every single one of you," she said. "We are the ones that we have been waiting for. We can work together to improve our community, to get our state back on track, and to help save the United States of America. It's up to us to make that difference.
"Every single one of us has the capacity and the ability to make a difference by being engaged by doing a little bit extra by volunteering, by telling your friends. So I say, 'On your mark, get set, let's go!'"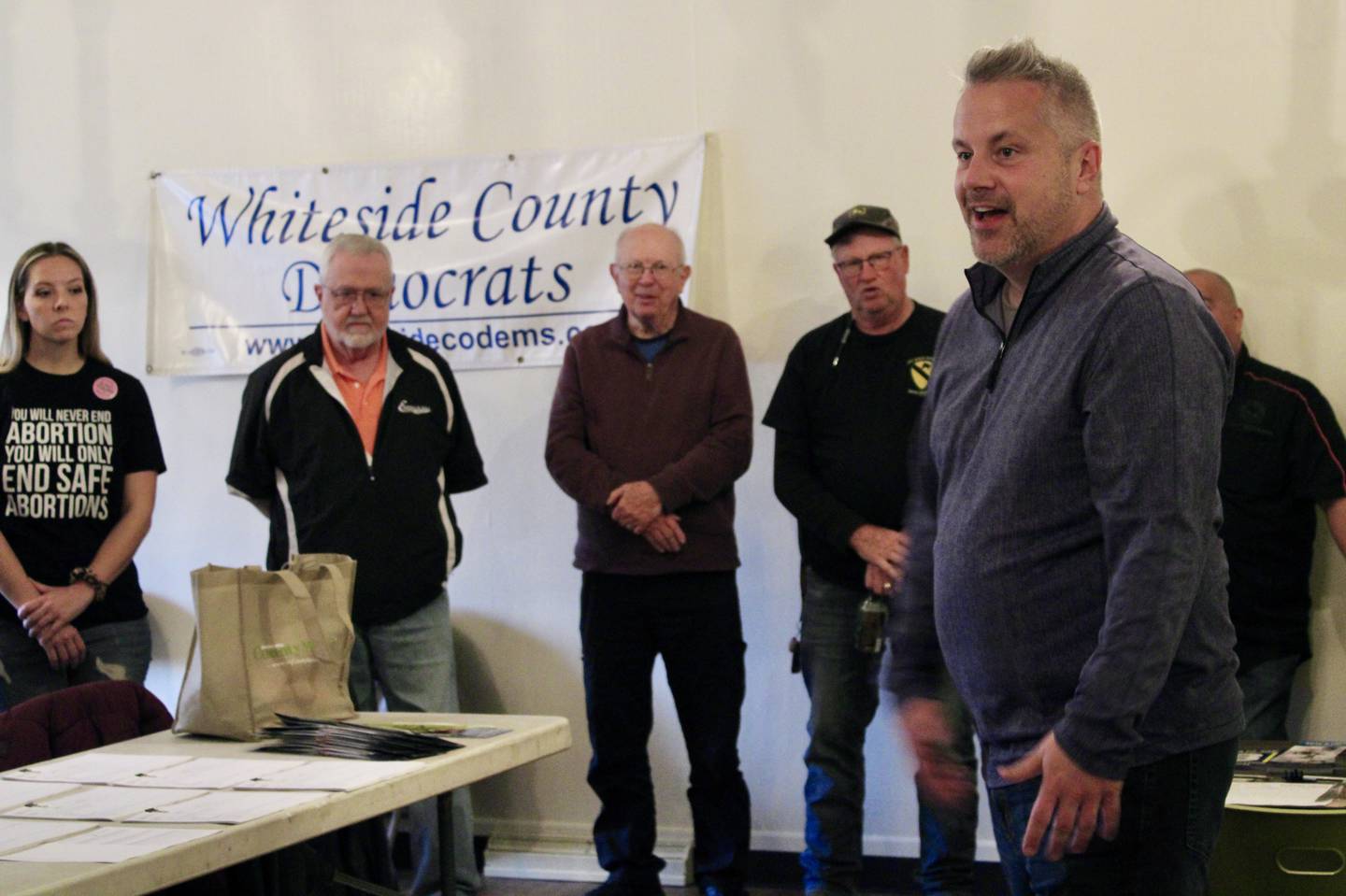 Sorensen gave his pep talk at the Whiteside County Democratic Headquarters to a canvassing crew of 16 before it ventured out into the elements.
Sorensen called up the weather radar on his phone to assure them they wouldn't be in the dark and wet all day.
"See this," he said, "we've only got about 30 more minutes of rain, then it'll clear. There will be sun today."
The task ahead, was to amplify his campaign's message of LGBTQ inclusion, women's reproductive rights and climate change, said Sorensen, who is gay.
"That's why we have to band together and we have to go door to door," Sorensen said. "We're here to talk to our neighbors and our families and make sure that that our votes count, because that's the most important thing today."