If you can stand on a hard surface for a few hours and are able to smile, you're good to go as a volunteer for the Northern Illinois Food Bank.
That help always is needed because demand for food has not subsided.
That was the takeaway Wednesday for a couple dozen newcomers preparing for a two-hour shift at the food bank's north suburban distribution center in Lake Forest.
Volunteerism has about doubled since the operation relocated from Park City and almost tripled in size at a repurposed building in a business park just east of Interstate 94 at Route 176.
There's plenty of room for more, U.S. Rep. Brad Schneider said during a brief orientation before the shift as the center marks its anniversary.
"This is a big deal. With this center, more people can volunteer," Schneider said.
The Highland Park Democrat secured $750,000 for the new facility, which serves Lake and McHenry counties.
The Northern Illinois Food Bank in total serves 13 counties, which also includes Ogle, DeKalb, Kane, DuPage, Kendall, Grundy and Will.
Schneider and others said the food insecurity spike prompted by the coronavirus pandemic hasn't dropped in Lake County or across the country.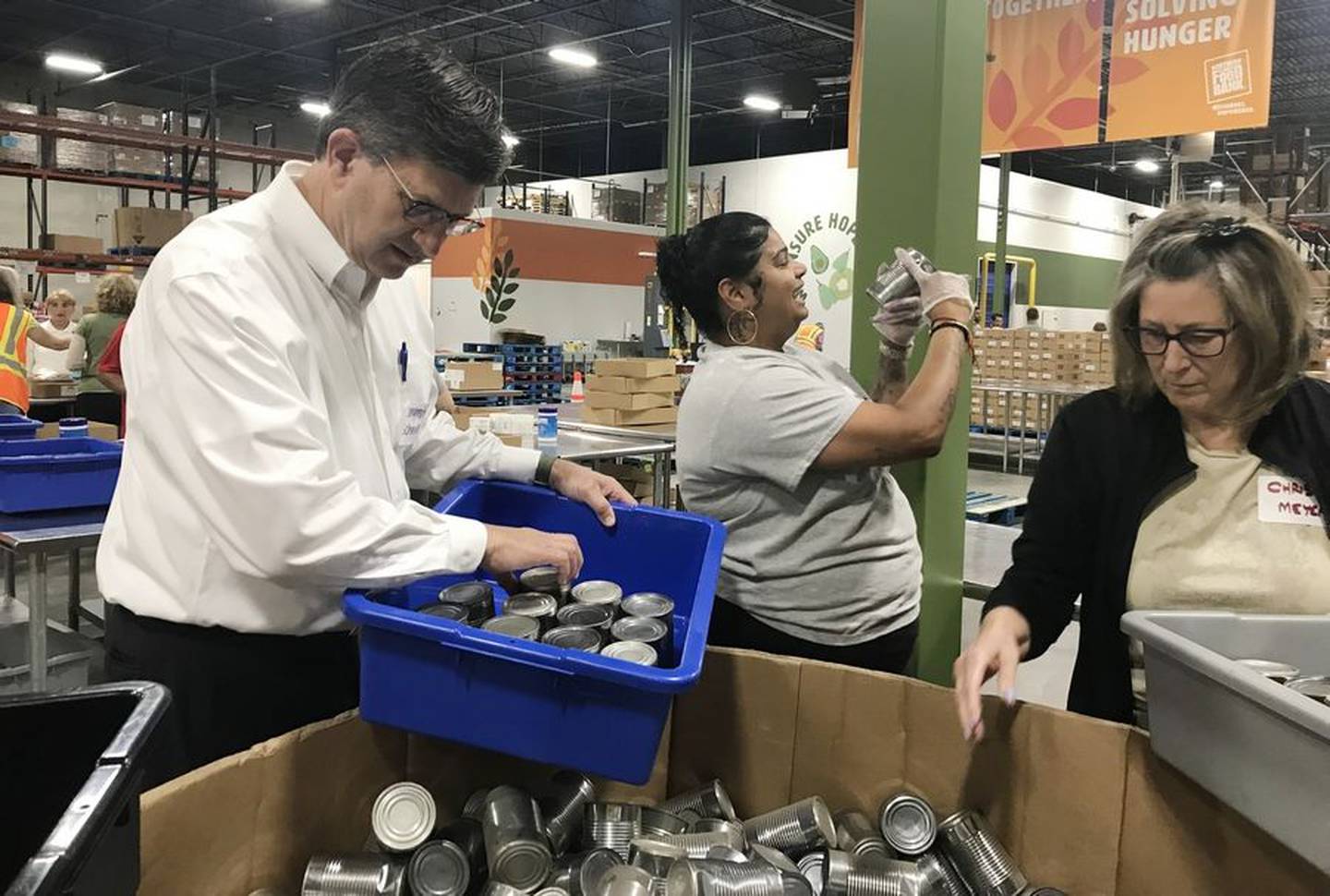 Contributing factors include a decrease in government emergency benefits; those with long-term COVID-19 who may not have returned to work; inflation; and rising prices for food, gas and other necessities.
The center in Green Oaks is a distribution hub where a variety of food, including meat and fresh produce are prepared for food pantries, mobile markets or pop-up facilities.
In the first year, 3,800 volunteers at the Green Oaks center helped process 1.2 million meals, and local agencies picked up more than 1 million meals for neighbors in need, said Julie Yurko, president and CEO of the Northern Illinois Food Bank.
Last year in Lake County, the food bank served 13.3 million meals and on average served 100,000 residents monthly. About 15% of 82 million meals distributed last year to families, seniors and kids facing hunger throughout the system were processed by volunteers.
In McHenry County, 4.9 million meals were distributed last year, according to the food bank's annual report. Another 16.4 million were distributed in in DuPage County, 11.8 million in Will County, 10.3 million in Kane County, 2.3 million in DeKalb County, 1.4 million in Kendall County, 671,000 in Ogle County and 519,000 in Grundy County.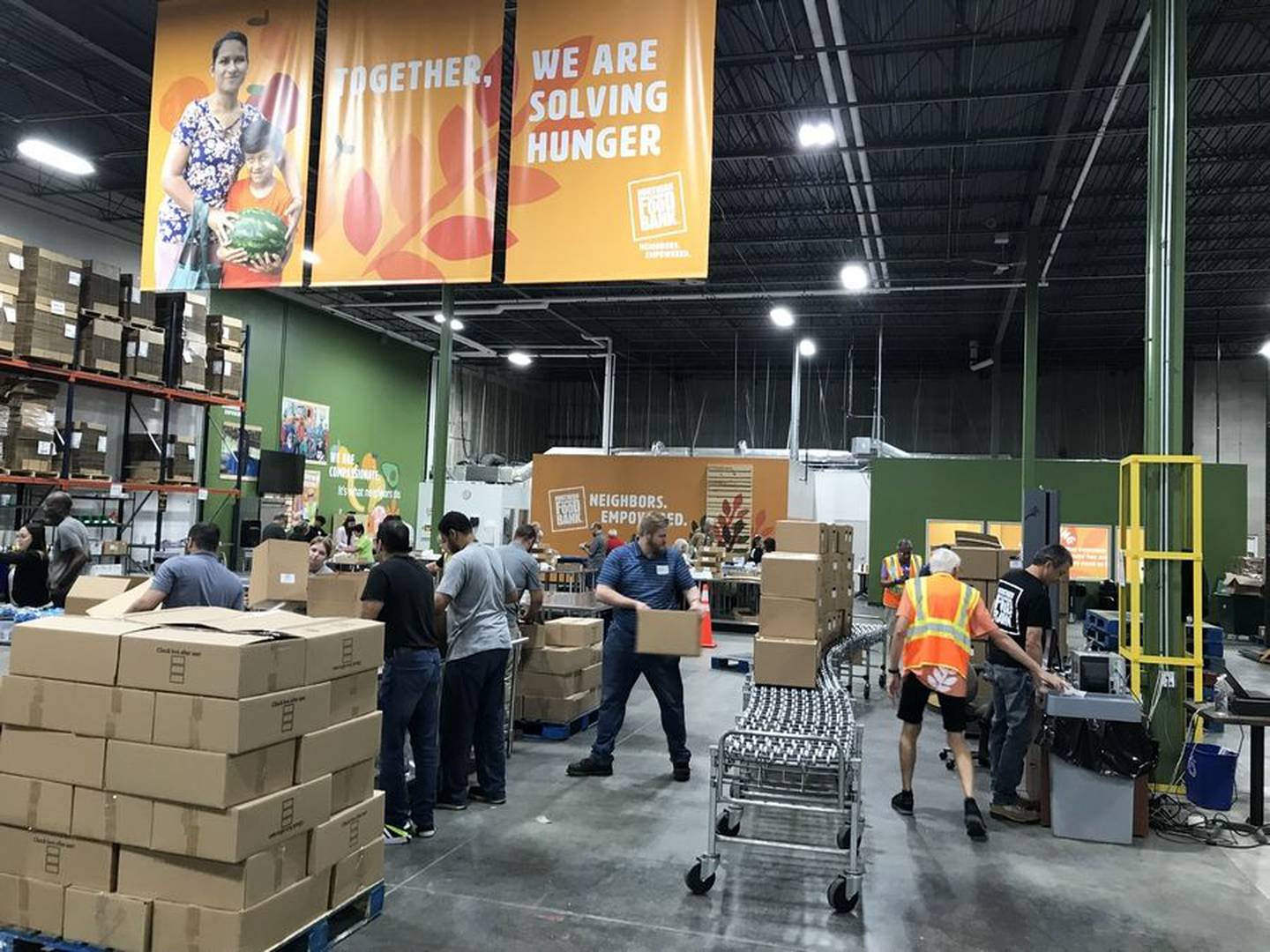 On Wednesday, rookie volunteers from Plexus Corp. in Buffalo Grove and Ascension of Our Lord Greek Orthodox Church in Lincolnshire inspected the packaging of energy bars and unmarked cans of peas and corn, then prepared them for distribution.
Movement was continuous, and a Spotify playlist of '80s and '90s hits boomed throughout the facility.
"It's nice to help out," said Antioch resident Danielle Barber, who has been volunteering for several weeks. "It makes you feel good."
Ascension has donated money, but it was the first time volunteers were hands-on contributors.
"We look forward to getting groups [here] on a regular basis," parishioner Anna Duros said.
https://www.dailyherald.com/news/20230817/why-the-northern-illinois-food-bank-has-not-seen-demand-subside-since-pandemic