How did you learn Shakespeare? Did your teacher make you read it aloud in iambic pentameter? Or did you have to peek at Cliffs Notes while wrestling with "Hamlet" at home?
Brittany Rynkewicz has taken a different approach: The students at St. Bede Academy in Peru act out scenes and ponder aloud what makes the characters tick. Rynkewicz is an English teacher, as well as chairwoman of the St. Bede English Department, and she believes drama and literature are supposed to be fun and relatable.
Her teaching style isn't all fun and games, though. While she's got a knack for getting her students engaged in the subject matter, she brooks little patience for feeble excuses and has been known to push when her students won't give it their all.
"And that is something I've had to learn to navigate," Rynkewicz said. "I struggle with making my content significant when kids have bigger things going on in their lives outside of our classroom."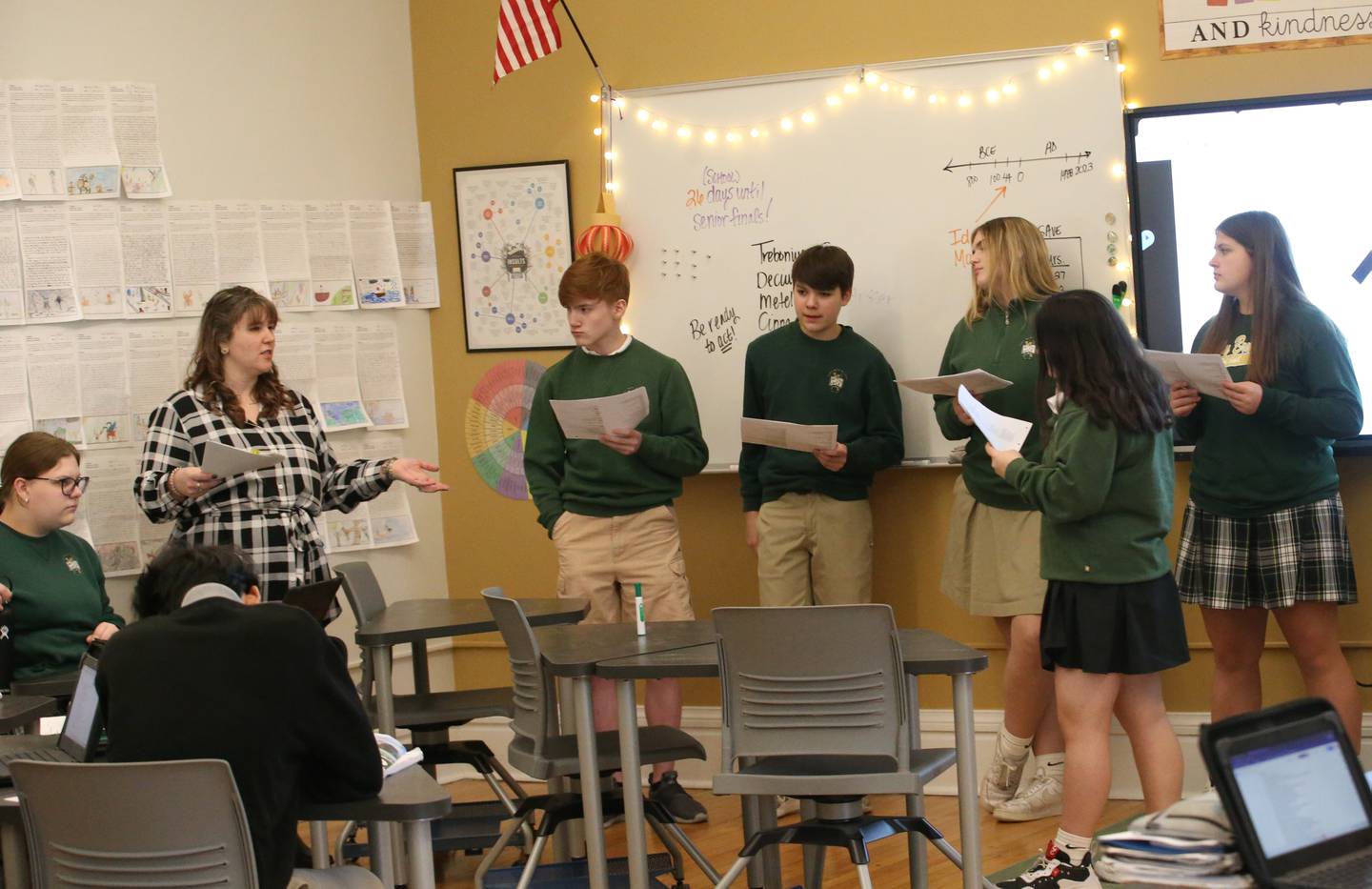 Brittany is a no-nonsense teacher, so from day one students know that their grade is 100% their responsibility."

—  Kari Gaviña, St. Bede Spanish teacher on Brittany Rynkewicz
If it's a struggle, it's one she's concealed well from her peers. Kari Gaviña is a Spanish teacher at St. Bede who, during her first year, was assigned a mentor and was paired with Rynkewicz. They became fast friends and Gaviña was impressed with Rynkewicz's "inspiring" command of the classroom and ability to get everyone involved.
"She knows that all students are capable of doing the work, but (some) just choose not to," Gaviña said. "Brittany is a no-nonsense teacher, so from day one students know that their grade is 100% their responsibility."
Rynkewicz was herself a give-all student, though her mom at one point was unsure whether a career in education was in the cards. Had Donna Schueler been asked what career lay ahead for her only daughter, Donna might have flipped a coin.
Heads, and it'd have been veterinary medicine; Brittany always had loved animals. Tails, teaching. Brittany had "played school" with the neighborhood kids and, except for a little junior high basketball, her preferred hobby was reading.
"One of the first things my mom did when we moved to Seneca was get me a library card," said Rynkewicz, who was born in New Jersey but graduated from Seneca High School in 2007. "I spent a lot of my summers walking the block and a half from my grandparents' house to the library and carrying back however many books I was allowed to check out at the time."
It was one of her teachers at Seneca High that left the most lasting impression. Marilee Applebee taught English and found a most willing student in Rynkewicz, who was so diligent she kept color-coded notes.
"The expectations she set before us were clear and challenging," Rynkewicz said. "The encouragement she gave us was genuine and constant."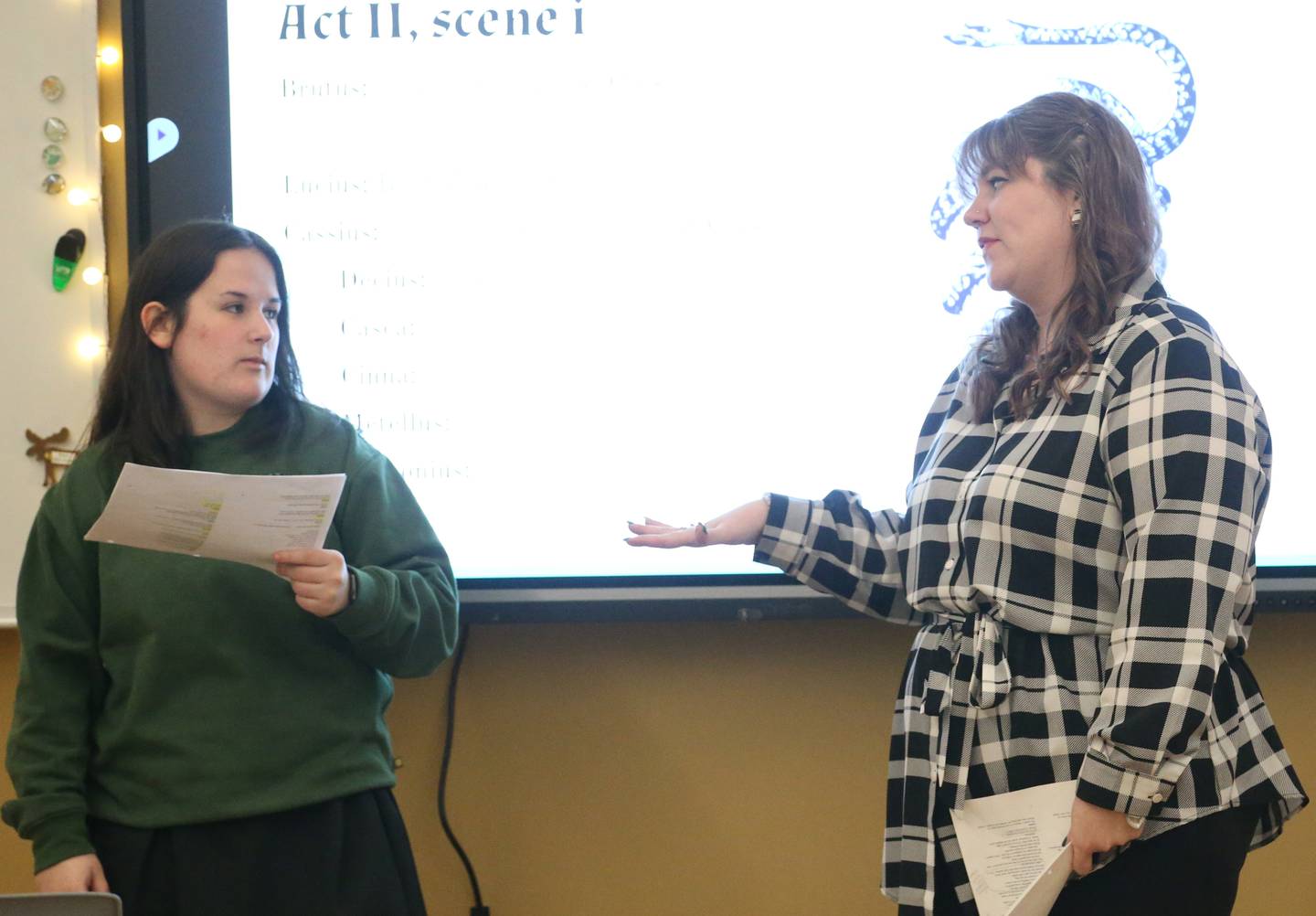 By graduation date, Rynkewicz had firmly ruled out being a veterinarian – "The love for animals is definitely still there but not the love of science" – and had been accepted into Illinois State University, her first and only choice.
Rynkewicz earned a bachelor's degree in 2011 in English education with a minor in Spanish from ISU, where she also earned a master's in teaching and learning (formerly Curriculum and Instruction) in 2016, she said.
She taught English at La Salle-Peru High School (she transferred to St. Bede in 2015), where she immediately adopted Marilee Applebee's credo of challenging and encouraging her students. Rynkewicz still is remembered warmly at L-P.
"Brittany was funny and often fearless as a teacher at L-P. She loved to laugh and share stories of students learning and surprising her," English teacher Tracy Boylan said. "Her students adored her and she adored them."
Retired English teacher Jill Hoelzer recalled Rynkewicz served as an assistant debate team coach who was equally encouraging and demanding as in the classroom.
"She encouraged her team to try new things, work hard, and develop life-long skills they would use in the future," Hoelzer said.
Rynkewicz might have stayed on at L-P but St. Bede was closer to home and enabled her to attend her children's games, shows and activities after school.
"On a good day, my classroom is lively, and every kid learns something," she said. "Ideally, the kids are working together with energy and intention or we're having a meaningful discussion about literature and its application to their lives.
"I also like having kids pop back in my room even when they aren't in my class that year, but I think that's more so for the Lifesaver mints on my desk than to see me."