MINONK –Two of Class 2A's top girls basketball teams met Saturday afternoon in Minonk in a potential, perhaps probable, preview of a Coal City Sectional showdown in a few weeks.
Although the previously undefeated Peotone Blue Devils had the upper hand early, leading by as many as nine points in the second quarter, it was the Fieldcrest Knights who came away with a convincing 60-42 victory in front of a large and loud crowd by any measure, not just for a Saturday afternoon girls basketball game.
"They were 23-0, they had a lot of size and length, and we definitely don't, but I knew it was going to be that type of game the whole time," Fieldcrest coach Mitch Neally said. "I felt like if we continued to play our game into the fourth [quarter], we hoped to separate ourselves, and that's what we did.
"We hung tough at the start when they had a run ... and I said, 'We'll continue to work on things on defense, and our shots will start to fall.' "
Led by a 10-point first quarter and 16-point first half from forward Jenna Hunter, Peotone (23-1) led 20-11 early in the second and 26-20 with three minutes left before halftime.
From there, the game started to turn.
Bolstered by sharper, more purposeful passing against the Blue Devils' zone and noticeably fresher legs than a Peotone team that substituted less often and was playing its fifth game in eight days, the Knights (23-3) didn't just chip away at their guest's lead. They flipped it, beginning a 12-2 run with a Kaitlin White bucket 2:58 before the break and led by by four at the half, 32-28.
Carolyn Megow scored eight of the Knights' 21 second-quarter points.
"We're really conditioned," Megow said. "And I think we could keep up with a fast-paced game, push the ball up the floor and keep being aggressive. We definitely were able to find holes in their 1-3-1 down low, and the block-to-block passes were open."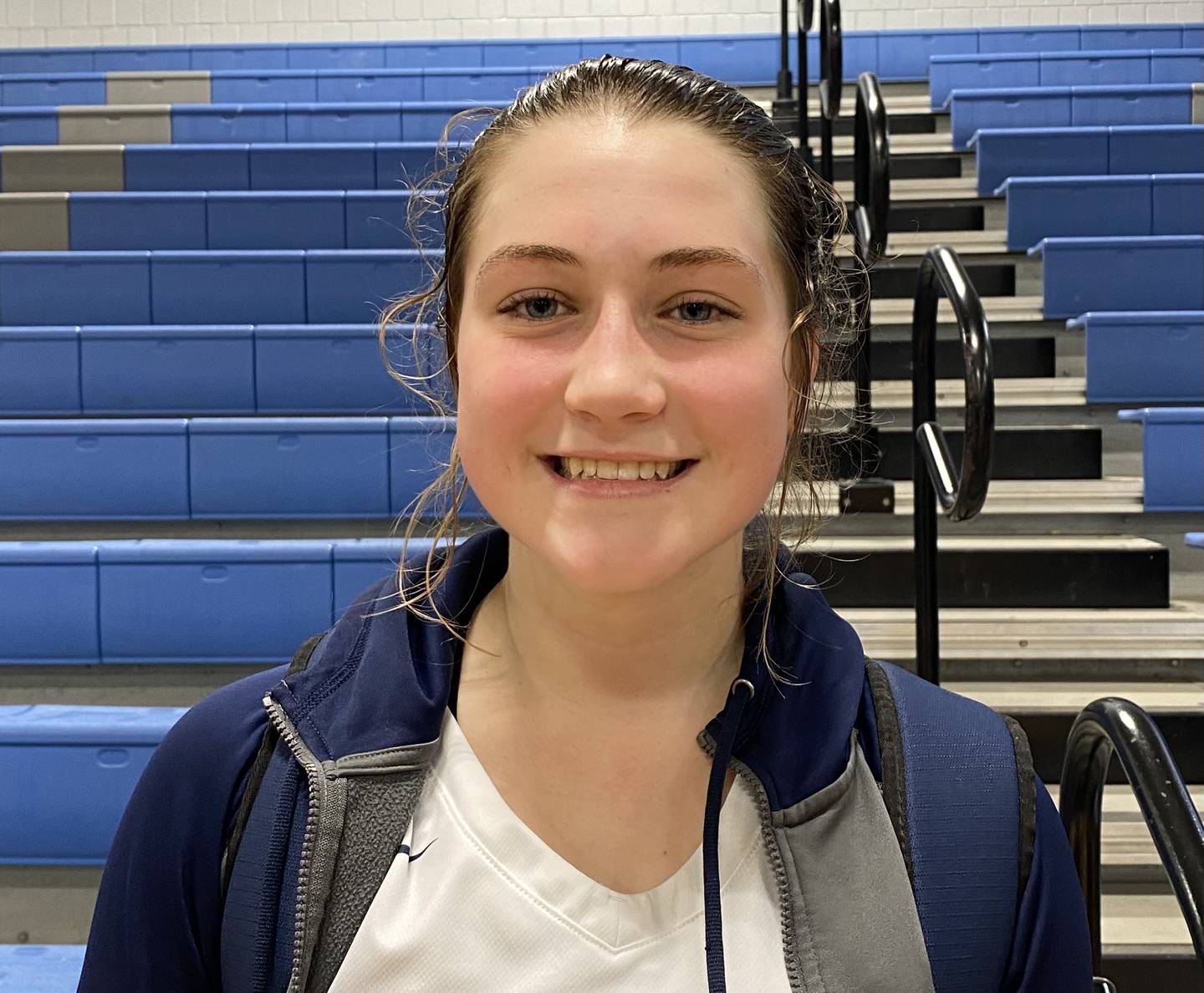 Peotone cut it down to a three-point deficit, 40-37, by the close of the third, but two separate 9-0 Fieldcrest runs in the fourth – a period in which seven different Knights scored – put an exclamation point on the victory.
"I thought it was a really great game," Peotone coach Steve Strough said. "This was exactly what we expected and exactly the kind of competition we needed to play. [Fieldcrest] executed well throughout, and it just kind of spiraled out of control late there for us.
"But again, a quality game between two quality teams. Their energy level that [second] quarter just kind of overwhelmed us."
Megow's 15-point, seven-rebound, three-assist, six-steal performance and White's 18-point, three-assist, three-steal afternoon led the attack.
The Knights also received key contributions from Haley Carver (11 points, including three key 3-pointers), Riley Burton (eight points), Ashlyn May (four points on a day she starred with her ball-handling and defense with six assists, two steals and many more deflections) and from Aliah Celis' three clutch points and five rebounds.
For Peotone, Hunter finished with 19 points and three assists before leaving early in the fourth with what looked to be a left ankle injury. Marissa Velasco (a double-double of 12 points, 10 rebounds and four blocked shots), Madison Schroeder (two points, five assists) and Madyson Kibelkis (six points, four rebounds) also led the Blue Devils, who in a potential sign of fatigue were outscored 41-17 during the game's even-numbered quarters.
Peotone held a 31-27 rebounding edge, but trailed the Knights handily in turnovers forced (21-13) and free throws both attempted (19-10) and made (15-6).
The Blue Devils are back in Illinois Central Eight Conference action Monday at home against Lisle and Thursday at Manteno.
Fieldcrest has games at Olympia on Monday and at home Tuesday versus Henry-Senachwine before a Thursday night Heart of Illinois Conference visit to one of the three teams that has beaten the Knights, Deer Creek-Mackinaw.