SPRING VALLEY – With each team coming off playing a handful of matches in Saturday tournaments, things were a bit slow going for both Marquette Academy and host Hall in Monday's match at Red Devils Gymnasium.
The Crusaders were able shake off the early first-set struggles and then were strong in the second set to improve to 17-4 overall on the season with a 25-17, 25-12 triumph over the Red Devils.
"We were slow out of the gate tonight, and I thought that might be the case after playing five back-to-back matches on Saturday in the Harvard Tournament with a couple of those going three sets," Marquette coach Mindy McConnaughhay said. "We looked dazed and confused a lot of the time. We also missed a couple serves and hits in key times, but finally we were able to find ways to put multiple points together and keep [Hall] at arm's length."
Marquette was led by seven kills each from Eva McCallum and Mary Lechtenberg, with Avery Durdan adding four and Lilly Craig three. Kaylee Killelea had 11 assists and seven service points, while Maera Jimenez posted 10 assists, eight points and three aces. Libero Lindsey Kaufmann had six points, four aces and four digs.
"I told them heading into the second set that we needed to wake up a little bit, clean things up, and everything needed to be faster," McConnaughhay said. "The second set we looked like us, good in serve receive, good passing, good setting and hitting plus solid defense. We also served well in the second set, I thought, and kept Hall out of system.
"It wasn't the prettiest match by any means, but it's a win that we'll take."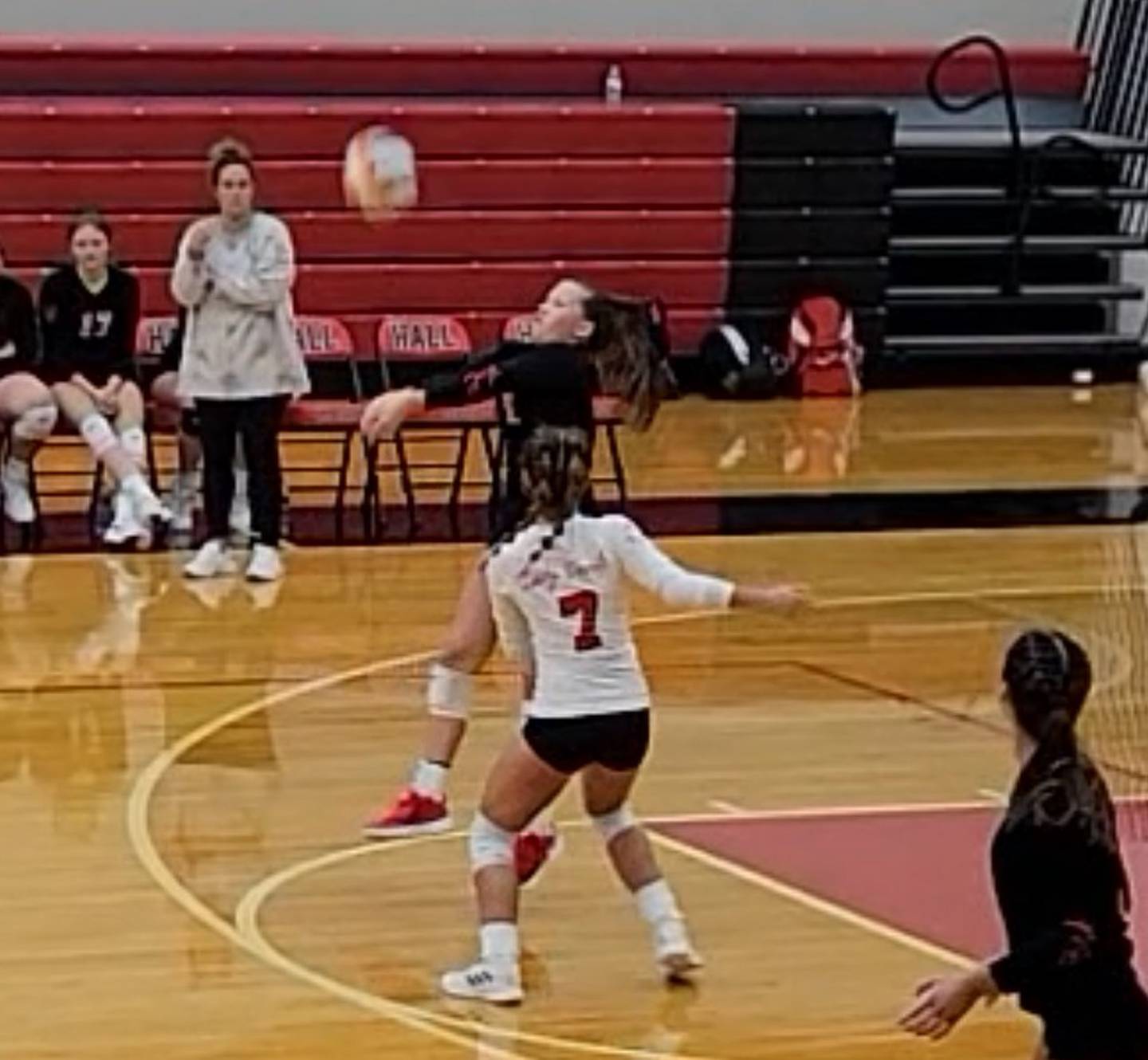 Hall (4-14-1) was paced by two kills each from Kennedy Wozniak and Jennifer Casford, a serving ace each from sophomore Morgan Hoscheid (seven assists), who started at setter because of an injury, and Haylie Pellegrini. Liliana Heredia had five points, Hoscheid and Evey Meyer three each.
"I thought we played OK tonight, but we are still struggling to get over the hump where we fight like crazy until point 15 or so and then we just can't finish strong," Hall coach Carolyn Bryant said. "We've already had the speech, now it's up to the girls to believe in themselves and their abilities.
"We were missing our starting setter Taylor Coutts tonight, which made things tough. She suffered an injury on Saturday at the Reed-Custer Tournament, and we had to bring up Morgan. We run a 5-1 offense at the varsity level, while the sophomores run a 6-2. She was at the tournament and played in one match, but that is the only chance she had to adjust to the varsity offense.
"Morgan did a great job for us tonight trying to adjust to the different speed of the game as well as the new offense. She really stepped up, and we are going to need her to as we move forward until we can get Taylor back."
Hall used a five-point run by Heredia, including a kill by Wozniak, to hold a 9-7 lead early in the first set. Marquette responded with a five-point burst by Jimenez, including two aces and kills from McCallum and Craig, to hold a 13-9 advantage. Hall closed to within one point on a pair of occasions from there, but the visitors closed out the set with winning swings from McCallum and Craig, plus an ace by Kaufmann on set point.
In the second set, a pair of kills and an ace by McCallum put Marquette up 13-5. Later, Durdan and Lechtenberg each collected two kills on four consecutive points to expand the lead to 20-8. A kill by Maisie Lyons closed out the set and match for the Cru.
Hall is back in action on Tuesday with a Three Rivers Conference match at Mendota. Marquette is off until Thursday when it travels to take on Serena.