OREGON — In the final mile or so of Saturday's Class 1A Cross Country Sectional at Oregon's Park West, Amboy-LaMoille-Ohio senior Brock Loftus used a interesting strategy as he battled Port Byron Riverdale junior Tommy Murray for the lead.
Loftus played a little bit of possum.
The game plan worked to perfection as Loftus out-kicked Murray down the final stretch to capture the individual title by three seconds in a time of 16:19.
"I've raced against (Murray) four times this season and he'd beaten me all four times," Loftus said. "The first half of the race (today) he let me lead, but he was right on my heels. We traded spots a couple times, but I let him lead toward the end of the race and actually gave him a little bit of a lead. There was a point going down the last hill where he looked back and I was still right there. That was when I said to myself, 'You've got him.'
"The final couple hundred yards I thought 'If I can sprint faster than he can these last 20 seconds I've got this,' and that's what I did. I've ran so much smarter the past couple weeks and that's really paid off. Running smarter won the race for me today."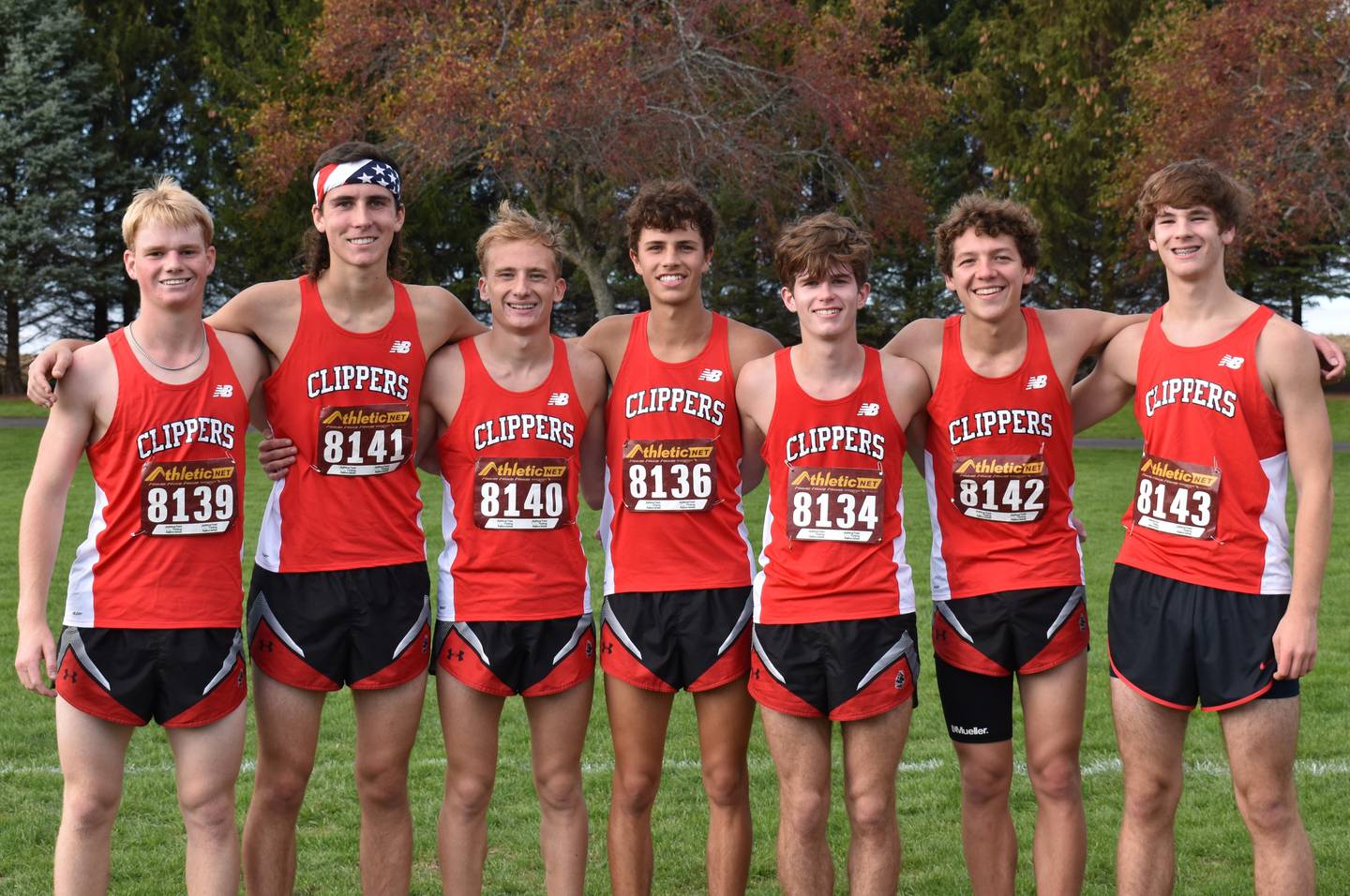 The Clippers — also with solid runs from Kyler McNinch (7th, 17:13), Ian Eller (9th, 17:18), Charlie Dickinson (33rd, 18:11) and Wyatt Lundquist (61st, 18:51) — finished third as a team with 100 points, behind champion Rockford Christian (49) and Riverdale (66). It's the first time any cross country team from any of the three schools or the co-op has qualified for the state meet, which will take place on Saturday at Detweiller Park in Peoria
"Since we were freshmen, Ian, Wyatt, Andruw (Jones) and myself, this was our goal to advance to the state meet. We would have made it last season without COVID, but I'm so happy for us right now," Loftus said.
Sandwich finished with 130 points, good for fourth place, and a first trip for the Indians to state as a team since 2003.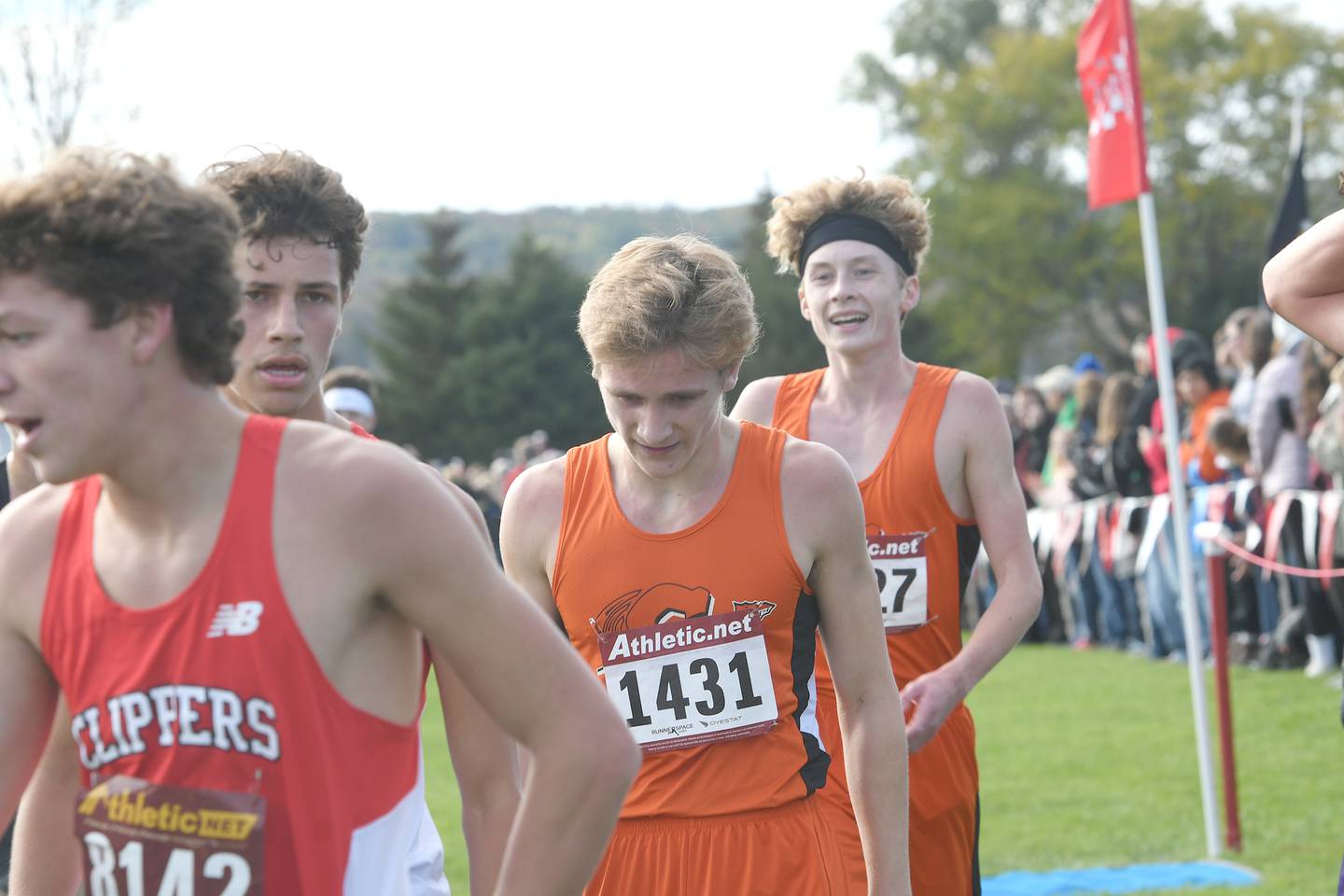 Wyatt Miller (11th, 17:25) and Max Cryer (13th, 17:27) led the way for Sandwich, followed by the trio of Josefh Hernandez (39th, 18:24), Dayton Beatty (40th, 18:25) and Hudson Wills (42nd, 18:26).
"I was happy with how a ran today," Miller said. "I wasn't really focused on a time, to be honest, but I did want to finish in the best spot I could. I felt like I ran at a comfortable pace and did what I could to help the team. I think we all felt if we all ran the way we are capable of we'd have an excellent chance to advance as a team."
"My game plan was pretty simple, I guess, I just wanted to stay with (Miller)," Cryer said. "We have both been pretty even this season, so I thought if we could do that again today and stay with the lead pack we'd be good. Like Wyatt said, I just wanted to run the best I could with the hope we all would and be able to make it to state."
Seneca finished 11th, Mendota 18th, Bureau Valley 19th and Henry-Senachwine 21st.
Seneca's Austin Aldridge (19th, 17:44) and Bureau Valley's Elijah House (25th, 17:54.6) advanced to state as individuals.
Anthony Kelson (29th, 18:06) led the Trojans and Preston Rowe (69th, 19:01) paced the Mallards. Marquette's Jimmy Lawsha (18:47) placed 58th, while Newark's Logan Pasakarnis (19:41) finished 91st.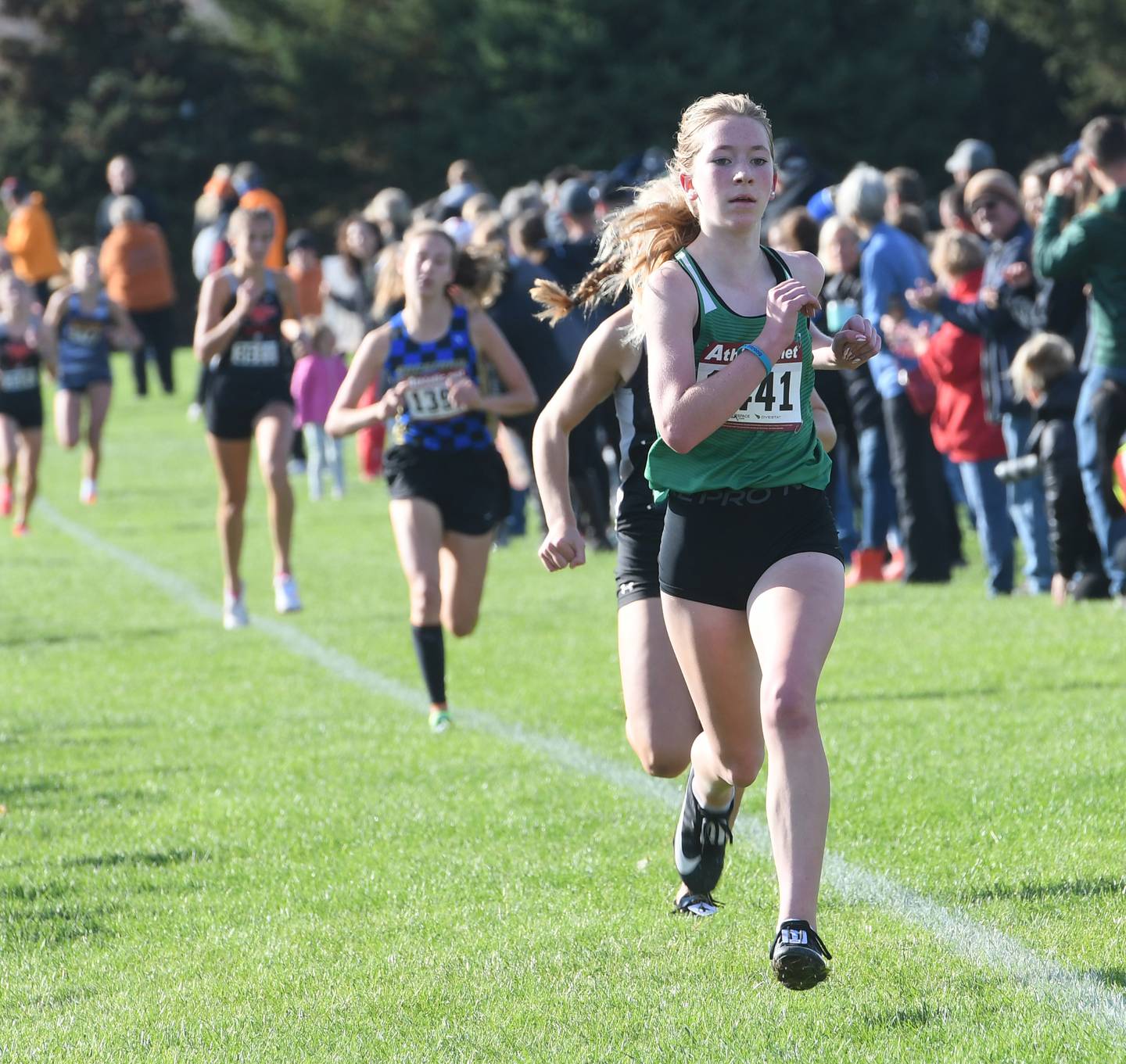 In the girls race, Seneca freshman Evelyn O'Connor (19:47) helped the Irish advance as a team by finishing runner-up, 19 seconds behind behind champion Grace Erb of Winnebago, while junior teammate Ashley Alsvig (20:58) finished 17th.
"I didn't really have a game plan other than stay with the lead pack," O'Connor said. "I got off to a good start. The girl from Winnebago broke away from the lead pack about midway through and there was a lot of places changing hands in the lead group, but I was able to get the second spot and hold on to it until the end. I was shooting for a place more than a time today so I'm pretty happy."
"I was in the second pack almost the whole race and just tried to stay at a good pace," Alsvig said. "I wanted to make sure I didn't go to hard at the start and I did that. Toward the end or the race I was still feeling strong, so I was able pick up my pace a little and passed a couple other runners. Today was perfect conditions to run in, in my opinion."
Audrey Jenkins (39th, 22:02), Gracie Steffes (42nd, 22:02), Natalie Misener (59th, 23:01), Lauren Cronkrite (68th, 23:27) and Keeli Pumphrey (77th, 23:53) also contributed to Seneca's 10th trip to state.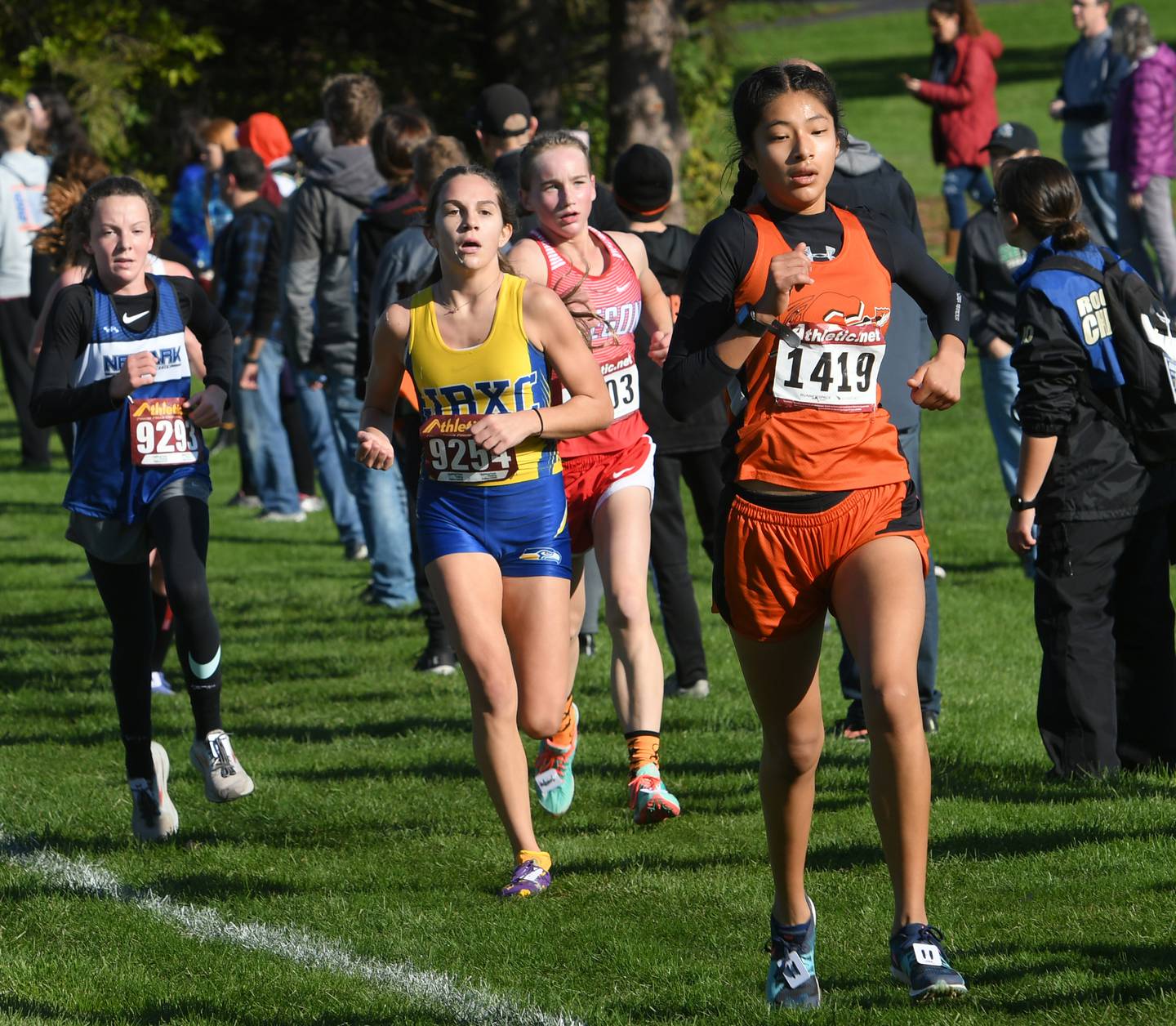 Sandwich finished 11th as a team, but freshman Joanna Rivera will be heading to state as an individual after placing 20th in 21:02. Also for Sandwich, Hannah Treptow (22:10) was 43rd and Grace Anderson (23:29) was 69th.
"I really just came into today's race wanting to have fun, focus on my race and I think I did that," Rivera said. "I'm pretty proud of my performance. I felt like I was running at the pace I wanted and was comfortable with. I was able to settle in with what I knew was the group behind the lead pack, so I just wanted to stay with them, which I did. "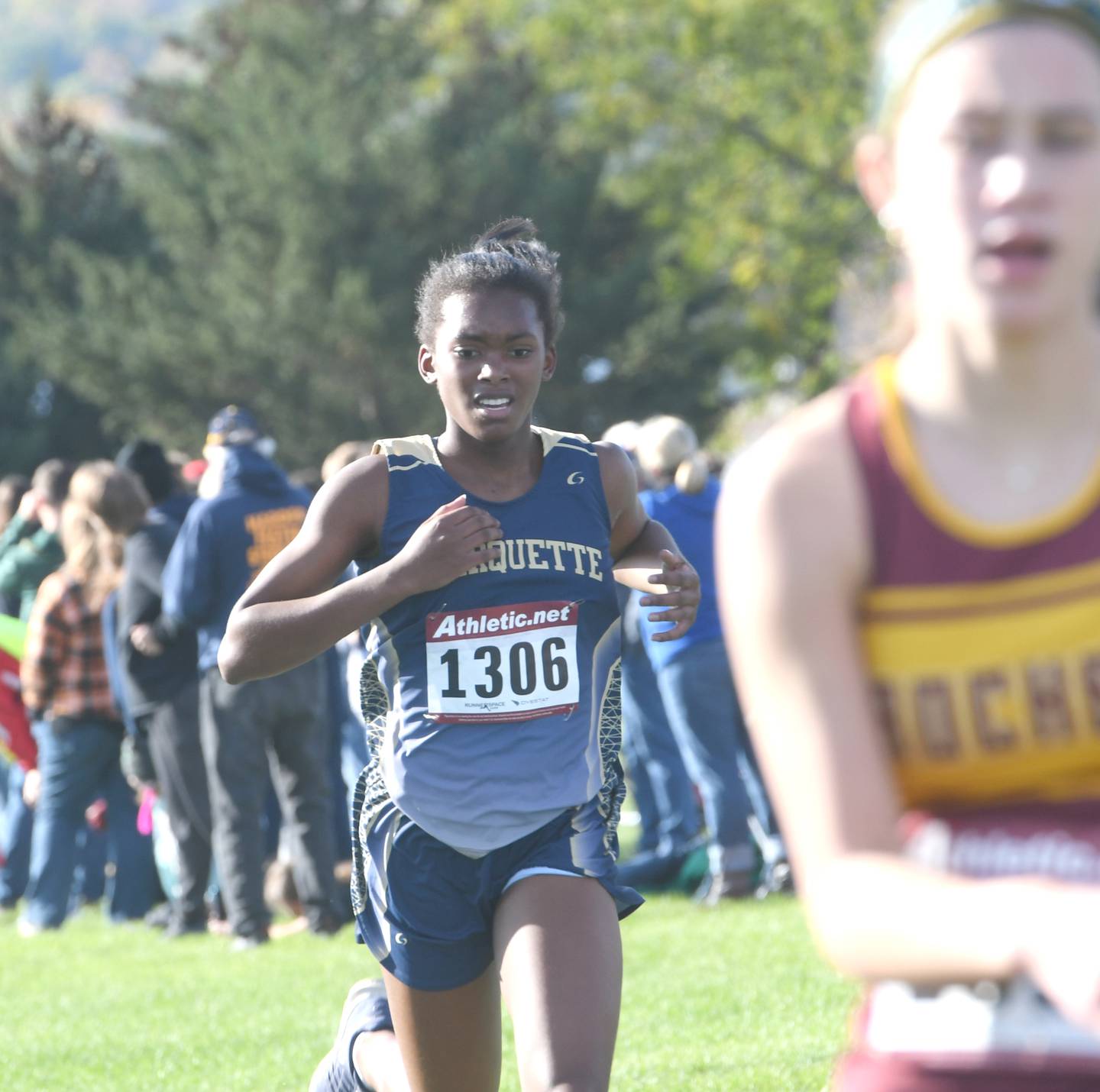 Marquette freshman Maggie Jewett will also be heading to Peoria after a 16th-place finish in 20:49.
"I was pretty comfortable right from the start and I feel I did a good job of staying at the pace I wanted to be at," Jewett said. "I didn't really have any set time or place today, I just wanted to run the best I could. I was able to find one of the girls from Seneca that I know runs about the same times I do, so I just tried to stay with her."
Princeton finished 15th, but junior Lexi Bohms placed 18th in a time of 20:59 to punch her ticket to state, while Kiana Brokaw (23:09) finished 62nd and Hannah Muehlschlegel (23:37) 72nd.
"I wanted to get a time under 21:20 and to keep up with a runner from Kewanee that I normally run with. I was able to both, so I'm very happy," Bohms said. "Once I finished I really had no idea where I had placed, but my coach came up to me and told me I had a great shot for state. This was so unexpected, but I'm so excited."
Newark's Gwyneth O'Connell (24th, 21:18) was just two spots and nine seconds from advancing as a individual. Amboy-LaMoille-Ohio's Elly Jones (22:53) placed 55th, while Henry-Senachwine, which placed 16th, received solid efforts from Hope Self (45th, 22:15) and Nakeita Kessling (54th, 22:52).