OTTAWA – Joe Schrader had waited for his opportunity to get a start on the mound for the Hall baseball team, and when he finally got it Tuesday, he and the rest of the Red Devils were ready.
Schrader, a senior right-hander, pitched five full innings of four-hit baseball, striking out only one but also walking just one. His teammates backed him not only with nearly flawless defense, but a barrage of 19 hits, six of them coming in a 10-run top of the seventh inning, leading to a 19-3 victory over the Pirates at the King Field diamond.
Ashton Pecher collected five hits and four RBIs; Kyler Lapp had four hits, four runs and five RBIs; and Mac Resetich added four hits, five runs and three RBIs for the Red Devils (4-0).
"I basically came in with the mindset to just throw strikes, backed up by my defense. … Getting the lead helped me relax, for sure."

—  Hall's Joe Schrader
That top three in the Hall order combined to go a sizzling 13 for 15 with 10 runs scored and 12 RBIs against four Ottawa pitchers.
"First and foremost, I'm happy for Joe Schrader today," Hall coach Tom Keegan said. "He hasn't had a lot of innings, he only got a few last year when we were deeper on the mound than we are now, and I don't know how much more efficient a kid could be out there. He got outs, quick outs, and there wasn't a whole lot squared up against him, while we made some plays behind him. And the bats woke up today too."
"It helps that the bats came alive today too, just a little bit," Schrader said with a joking smile. "I basically came in with the mindset to just throw strikes, backed up by my defense. … Getting the lead helped me relax, for sure."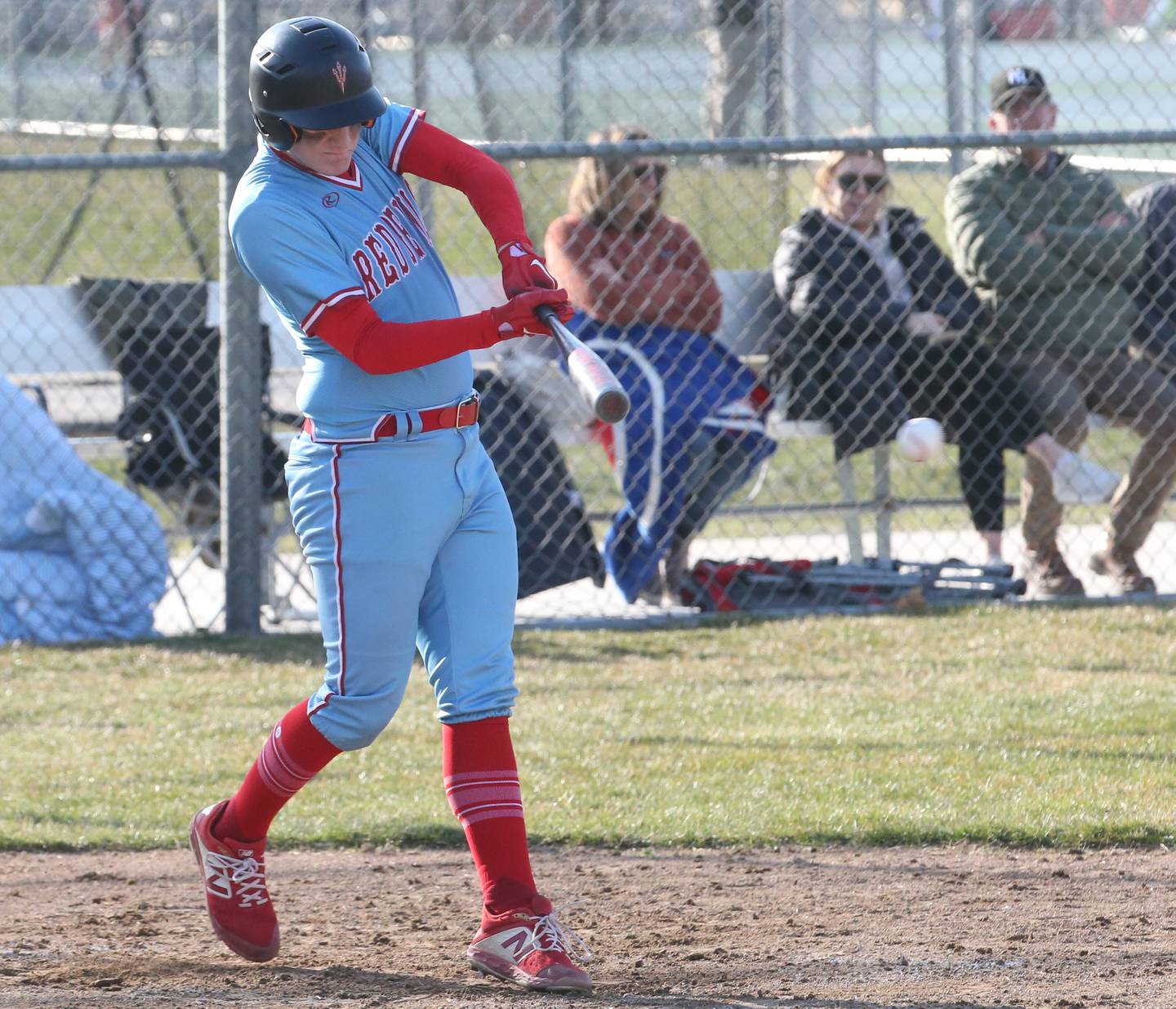 The Pirates (4-2) managed only seven hits – two of them by Connor Price – off Schrader and reliever Dom Galetti, who threw the sixth and seven innings and was touched for three of those hits.
Hall's offensive onslaught started with the first pitch from Ottawa starter Payton Knoll, one that Resetich ripped to right field for a triple before scoring on Lapp's first hit of the day.
The Devils tacked on four more in the second on a double by Hunter Meagher, a run-scoring hit by Payton Dye, a two-run double by Lapp and an RBI single by Pecher. Hall added four runs in the fifth to make it 9-0, the key hits a run-scoring single by Resetich and an RBI triple by Lapp.
That gave Schrader plenty of breathing room, and he made the most of it, allowing back-to-back singles twice, to Aiden Mucci and Ryan Chamberlain in the second and Price and Branden Aguirre in the fifth, but escaping unscathed.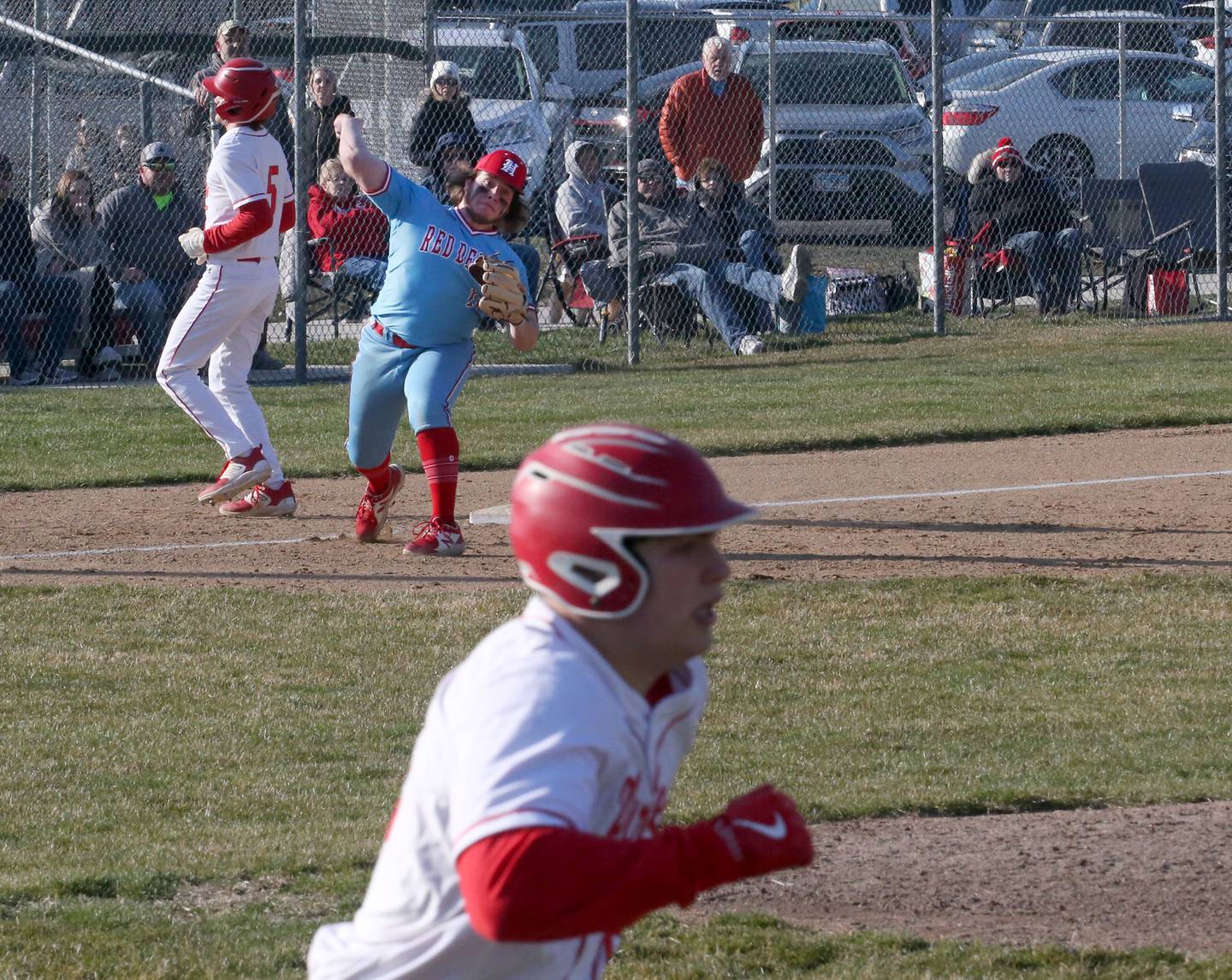 The only blemish against him came when his walk to Daniel Bruner leading off the seventh came around to score on a single by Rylan Dorsey.
His teammates answered that with the 10-run seventh, which included three runs driven in for Pecher, a two-run hit by Resetich and RBIs for Joel Koch, Elliot Quartucci, Galetti, Evan Stefaniak and Lapp.
Payton Knoll suffered the loss, with Garrett Cupples, Alex Billings and Cooper Knoll following him to the bump.
"It was an all-around disappointing day for us," Ottawa coach Tyler Wargo said. "This is a tough one, because we had a tough game yesterday, and we talked afterward about it not being the loss necessarily, but how we attack it the day after, how we respond, and we were not mentally ready to go today, and it showed.
"Give them credit. Obviously, they hit the heck out of the ball from the first pitch, but from the start, we just weren't ready to play. We know that happens. It's hard to be locked in for 30 games, but when you aspire to be a good team, you have to be in every moment, and we weren't that team tonight."