STREATOR – The host Streator Bulldogs committed the same 24 turnovers as the visitors from Flanagan-Cornell/Woodland in a meeting of three-win girls basketball teams early Tuesday evening at Pops Dale Gymnasium.
Streator, however, did more with its takeaways, leading the Bulldogs to a 42-27 win over the Falcons on Streator's senior night.
"I think tonight we really worked well as a team and were really good making that extra pass to get the open shot," said Bulldogs senior Ellie Isermann, who was the game's no-doubt standout performer with 13 points, nine rebounds, three assists and four steals. "We did really well tonight working together.
"It feels good to win. It feels good to be on the other side of things, work together as a team and get a win on senior night."
All five of Streator's seniors contributed. In addition to Isermann's strong all-around performance, Charlee Bourell had nine points, six rebounds, one steal and one blocked shot; Cailey Gwaltney provided six points, a rebound and an assist; Monserrat Gonzalez had two points on a crowd-pleasing fourth-quarter bucket to go with two rebounds; and Marisa Vickers scored the game's first two points before heading to the bench with a lingering leg injury, returning only briefly in the fourth to receive one final senior night ovation.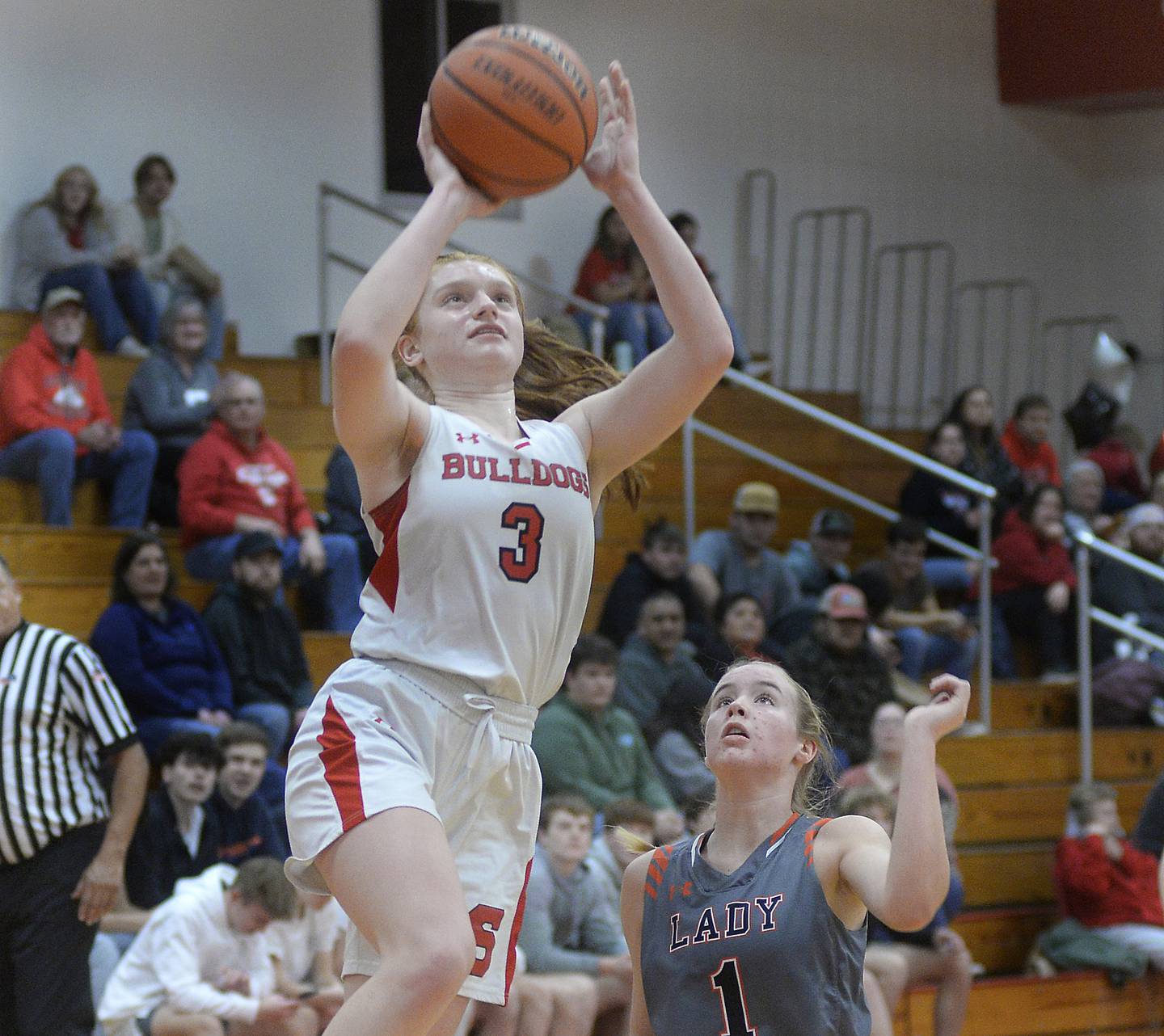 "I know it's been a slow process, and our record really doesn't show it, but I've thought in the second half of the season our seniors have really stepped it up," Streator coach Jacob Durdan said. "Individually skill-wise they've really bought in, and they're doing some great things with our underclassmen, showing them that they're on the right path."
An early 5-5 tie was broken 5 1/2 minutes in on the first of three Isermann steal/layup combos on the night. Streator (4-21) led FCW (3-18) from that moment onward, using an Isermann-led second quarter to build its one-point lead at the end of one quarter to a 10-point advantage, 25-15, by the halftime break.
"It's been a big difference for us, our conversion percentage on turnovers," Durdan said. "We've been working on finishing at the basket, so I'm very proud of that."
The Falcons came out of halftime with renewed energy, holding the Bulldogs scoreless for the opening 6:44 of the third quarter. The problem was, for almost the first 6:15 of that time Streator was holding Flanagan-Cornell/Woodland scoreless until a pair of Emme Wallace free throws with 1:45 left in the period.
Turnovers, including nine in the third quarter alone, hampered FCW all night.
"That's probably the biggest thing," Falcons coach Danielle Edens said. "I tell them to value the basketball, and when we have 20-some turnovers in a game, we're not taking care of the ball, and we're not taking the ball hard to the hoop.
"That's probably been our biggest downfall: We play hard, but we beat ourselves."
Ella Derossett scored eight late points to finish with an 11-point, six-steal performance for the Falcons. Raegan Montello added seven points and three steals, Wallace finished with five points, Kaylee Delheimer came off the bench to add four points, and Kora Edens led FCW in rebounds with seven to go with her three blocked shots.
Kiley Rhodes tallied six points, and Kora Lane pitched in six rebounds and four steals to help Streator's seniors secure the win.