DEPUE – Charity begins at home and no one knows that better than Paul Bosnich III.
Bosnich, who was involved in a life-threatening crash during the 250cc Runabout class Saturday, bounced back with the help of some retired members of the Prop Riders racing team and captured second place in the 350 runabout class on the final session of the APBA U.S. Title Series PRO national championships Sunday on Lake DePue.
Bosnich, in third at the time, was driving his boat between the two leaders down the backstretch during the Saturday event when it hit a hole between waves, breaking his steering cable. That caused his boat to swerve left into the path of the boat driven by Rich Krier of Indianola, Iowa, and with no safe place for Krier to swerve the two collided. The incident ripped a hole in the bottom of Krier's boat, but tore virtually the entire side off of Bosnich's, eliminating him for the rest of the heats.
Krier was able to finish the race, and with a FlexSteel patch covering the hole eventually finished second in points to the class winner Jackson Hall of DeKalb, MO.
"Luckily, we'd implemented some new safety features, including a kind of shock absorber that kept my boat straight if that happened, and that probably saved my life," Bosnich said. "Thankfully, Rich swerved left, but he had nowhere to go. It was nobody's fault, but it could have been a lot worse. God was looking out for me."
Knowing that Bosnich had the 350 Runabout on Sunday, his team called retired racing legend Todd Brinkman. Although he was in North Carolina at a go-kart race, arrangements were made for team members Lisa and Mark Stahl to drive to Springfield to pick up and return with a replacement, then they spent half the night installing Bosnich's equipment.
That allowed Bosnich to race in the 350 class, earning enough points to place second to Rich's brother, Mike Krier, of Ollie, Iowa.
"We had several offers of boats here, but we knew Todd's was set up the way ours were, so it was an easy set-up," Bosnich said. "I can't say enough about this team. It's pretty awesome."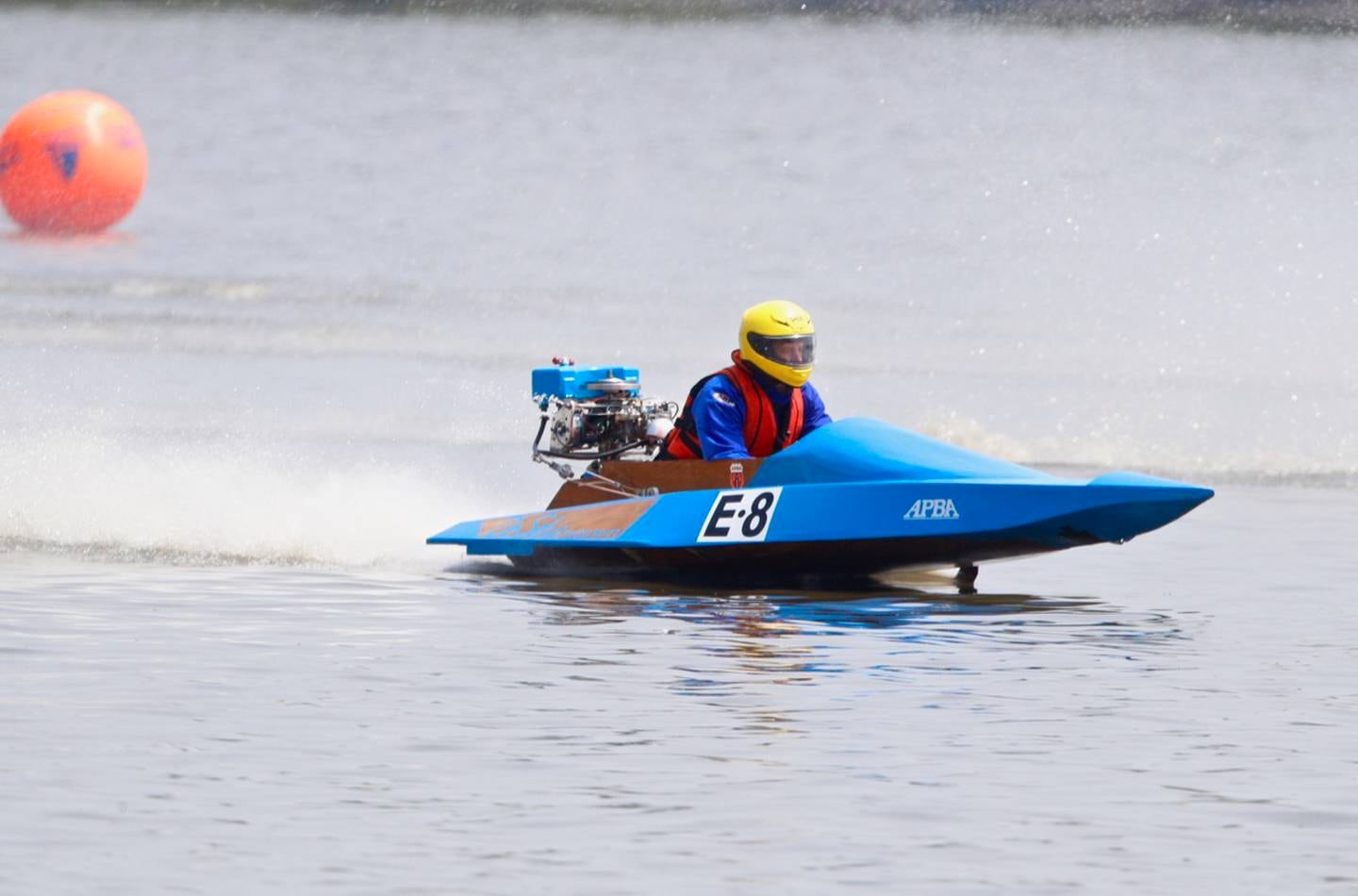 Also Sunday, Pete Kelly of Lakeland, Fla., captured his second national title of the weekend in the 125 Hydro division in much the same way he won the first in the 175 Hydros on Friday. This time, Kelly was tied with John Palmquist of Boca Raton, Saturday's 350 Hydro champ, heading into the last of the three heats. Despite other drivers charging to start line to coax him, Kelly kept his head, hit the start just right and burst into the lead at the first turn, then held it. Palmquist ran third most of the way, but when his boat rolled over just before the final lap, Kelly had his title.
"I've never done that before, winning two in the same weekend," Kelly said. "I knew going into the third heat I couldn't jump the gun because there were three other guys who could have won if I did. I ran the numbers and knew what I had to do. The gun jumpers tried to draw me in, but I knew to be careful because it happened to a member of my team, Ben Thompson, once before. It was fun being able to pass them on the first straightaway."
Also Sunday, Crawfordville, Indiana's Marty Thayer won the only two heats of the EMH-750 Modified Hydro class, with Austin Vanover, of Berea, Ind., and Richard Baze, of West Point, taking the next two slots. Thayer won the SEH-850 Modified Hydro class Saturday over Josh Kimble, of Danville, Iowa, and Baze.
In the 250 Hydro class, Kurtis Nydahl, of Bristol, Wis., claimed the championship, edging out runner-up Chris Hellstenm, of Lakeland, Fla., and his own father, Pete Nydahl, in third.
Finally, in the the two-person 1100 Runabout division, Vanover and his deckrider and fiance, Erin Pichman, both took home the big trophy. John Peeters, of Arlington, Wash., and deckrider Kelsey Egan placed second and Andrew Thirlby, of Interlochen, Mich., and deckrider McKenzie Hellsten took third.
On Saturday, Jason Sailer, of Hamilton, broke through to the 500 Runabout championship ahead of Andrew Kirts of Clio, Mich., and Thirlby.
Jack Campbell, of Culver, Ind., outscored Jonathan Nilsen, of Ellensburg, Wash., and Justin Gibson, of Washington, for the title in the C Service Hydro class. Campbell was also the winner in the C Racing Runabout event, in that one besting Nilsen and Tim Weber, of Atlanta.
In the CMH/500 Modified Hydro division, Braxton Miller of Grove, Okla., edged Will Augustine of Alexandria, Va., and Shlena Marie, of Arkansas, for the first-place trophy.
In the youth class, K-Pro Hydro, the winner was Ashten Cafarelli, of Champaign, with Cooper Thompson, of Ft. Pierce, Fla., right behind and Madden Henshaw of Everett, Wash., in third.