LELAND – Back in the late 1920s, many baseball fields, especially those at the professional level, around the country started to look different.
The once barren outfield walls began to be covered in advertisements, from cleaning products to tobacco and everything in between.
A similar change started to take place to Matthew Clifford's decaying fence surrounding his backyard in Leland in May 2020.
Clifford has been a contributing writer and researcher for more than a decade for The Society for American Baseball Research, which is a membership organization dedicated to fostering the research and dissemination of the history and record of baseball primarily through the use of statistics.
It was his research into the last MLB pitcher to strike out Babe Ruth and after hours of looking at old photos of stadiums during his research that he came up with an idea to give life to his enclosure.
"The fence was faded and looked rickety," Clifford said. "My father was a painting contractor for years, so I know how to paint, but that's painting walls and not artistic work. But I was pretty good in art in high school, so I thought I could replicate the sign."
That first sign was Lifebouy, which nearly completely covered the right field wall at the Baker Bowl, home of the Philadelphia Phillies during the 1930s.
"Once I put it up, my kids loved it and asked, 'What now?' " he said.
The "What now?" has turned into about 50 more signs that have turned his backyard – where he says his sons, Jacob, Thomas, and Joseph, their friends and he have spent countless hours playing catch or hitting the ball around – into an eye-catching sight to behold.
"If I hadn't have seen that box of baseball cards that day, my fence would look a whole lot different."

—  Matthew Clifford
So why Lifebouy for the first sign?
"The sign read, 'The Phillies Use Lifebuoy,' and the Phillies' fans would joke, 'The Phillies Use Lifebuoy … and they still stink!' That story and the look of the sign was just something that I couldn't stop thinking about after I came up with the idea for this," said Clifford.
Clifford has written biographies for SABR on six players plus seven other articles dealing with baseball history, including discovering and correcting a misidentification on an important "League Leaders" baseball card that existed for many years regarding the Tigers' Harry Heilmann and Larry Woodall. He also still is working on a few more projects to come in the future for SABR.
"Most of the pictures I saw during my research on the Ruth strikeout for SABR were in black and white," Clifford said. "I did a ton of research and found a guy, another SABR member, who is a fanatic for old baseball parks. He has so many photographs and also has digitized many of them with color. He was asked to help out with the backgrounds in the movie "42″ because of his knowledge of the old parks.
"He gave me the exact color scheme for the Lifebouy sign, but we went around and around about it when I showed it to him," Cifford said. "He said, 'That's not the right package,' but like I told him, the original sign had the soap sideways, and I struggled to replicate it, so I got it close enough for my liking."
Some of the signs are exact, while others are a mix of different eras and depictions in a company's advertising or Clifford's own spin on things.
The ads adorning Clifford's fence also include Cracker Jack, Planters Peanuts, Bazooka Gum, Chicago Dogs, Vienna Beef, A&W Root Beer, Good n' Plenty, Blackjack Gum, Lucky Strikes, Budweiser, Big League Chew, Spalding baseball gear, Klondike Bar, Louisville Slugger, Lemonheads candy and Crosley Radio. Others are Charleston Chew, Genco Olive Oil, Affy Tapples, Mallo Cup, Geno's East Pizza, Ball Park Hot Dogs, Cock Robin Drive-In, Gem Razor Blades, Tootsie Roll, Nuts On Clark, Gatorade, Heinz Ketchup, Mountain Dew, Maurice Lenell Pinwheel Cookies and Coca-Cola.
Clifford, a huge Cubs fan, also has painted red bricks all the way around the fence and has fake ivy hanging to give his work that Wrigley Field feel.
So what about the last MLB pitcher to strike out Babe Ruth?
A number of years ago, Clifford bought a box of baseball cards at a garage sale. While going through the cards, he found a signed Si Johnson card. At the time he (and many other baseball fans) believed Johnson – who lived many years in nearby Sheridan – to be the last MLB pitcher to strike out Babe Ruth. He took it to a card show in Chicago, and he said everyone was impressed by it except one guy.
"He says to me, 'That card ain't worth a thing, because he's not the last guy to do it,' " Clifford said. "I was really upset, and I was going to make sure I was right."
Clifford said he called the Baseball Hall of Fame that night to get the last five box scores of games Ruth appeared in. The facts weren't what he was expecting to hear.
"On May 29, 1935, three days after Cincinnati Reds starter Si Johnson fanned Ruth playing for the Boston Braves three times, Philadelphia Phillies reliever Sylvester Johnson struck him out twice," Clifford said. "Just a few days later, Ruth retired."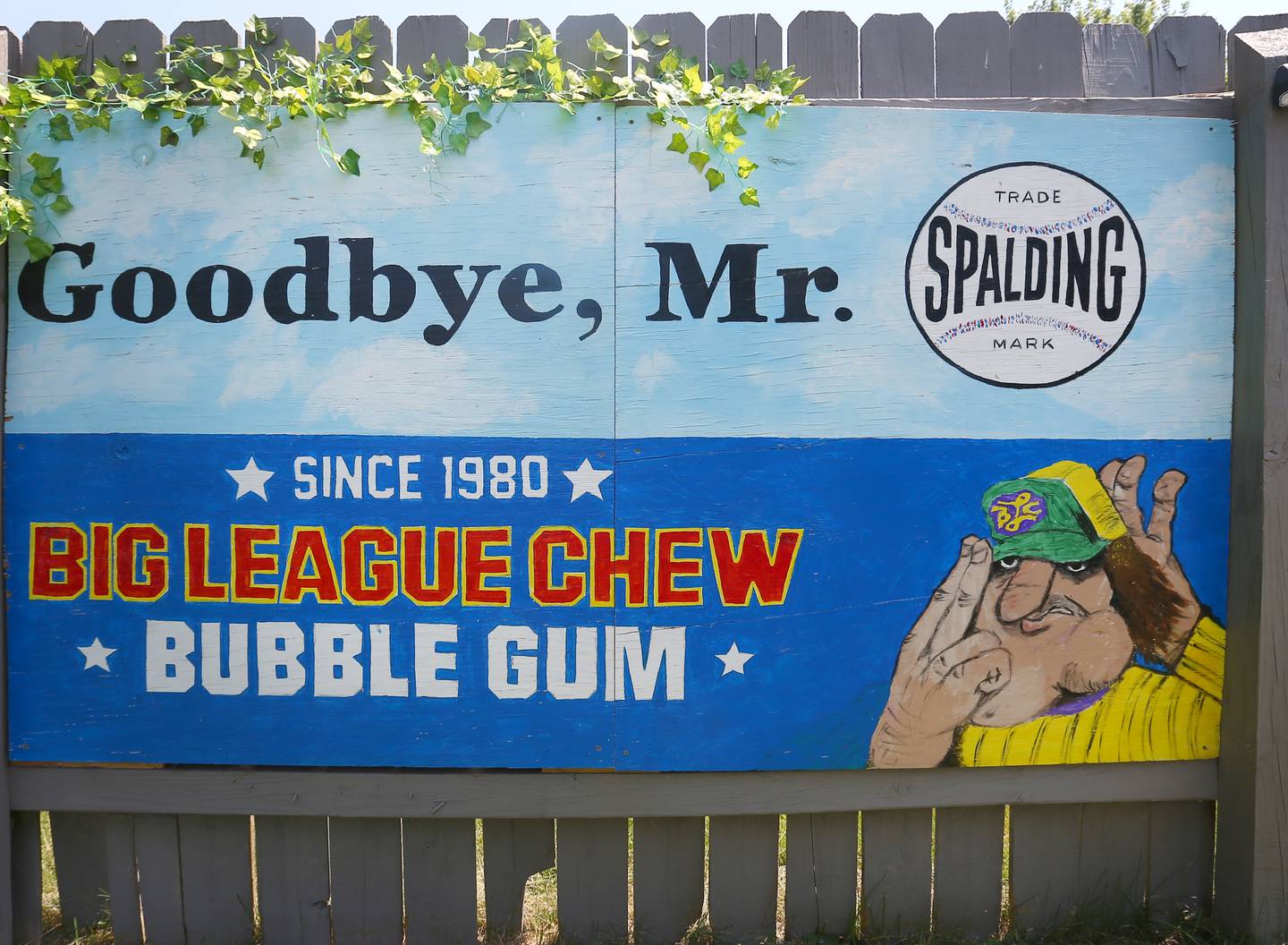 Clifford says he is a believer in fate and that in a crazy sort of way his finding that baseball card of Si Johnson many years ago led him to the project that has turned his once barren, crumbling backyard fence into a colorful and trip down memory lane" sight to see.
"You can connect my insanity of the fence with my research into Si Johnson, Syl Johnson and Babe Ruth," Clifford said. "If I hadn't have seen that box of baseball cards that day, my fence would look a whole lot different. I wouldn't have met the guy that said I was wrong, and I wouldn't have done any of the research I've done over the past decade or more.
"I love digging through the dust of baseball history and finding more of the story than you can get looking on the back of the baseball card.
"I couldn't be happier with what I've created."
• Read up on Clifford's research on SABR at https://sabr.org/authors/matthew-clifford/.