RURAL STREATOR – When her Warriors were done celebrating their 25-21, 25-22 title-match win over Seneca in the Tri-County Conference Volleyball Tournament with each other Thursday night, Woodland coach Michelle Pitte sent her players into the Warrior Dome stands to thank and celebrate with their parents and classmates.
This championship was, in Pitte's estimation, a community effort.
"It's home," Pitte said. "This is home. The parents, every kid in the stands, they've done so much for these kids – the parents getting them to practices, washing the jerseys, getting them here, making sure they're healthy, making sure homework's done; and the fans making sure it's loud and everyone's appropriate and doing the right things.
"If it wasn't this program, I probably wouldn't coach. But the people in this gym, that's the heart of the program."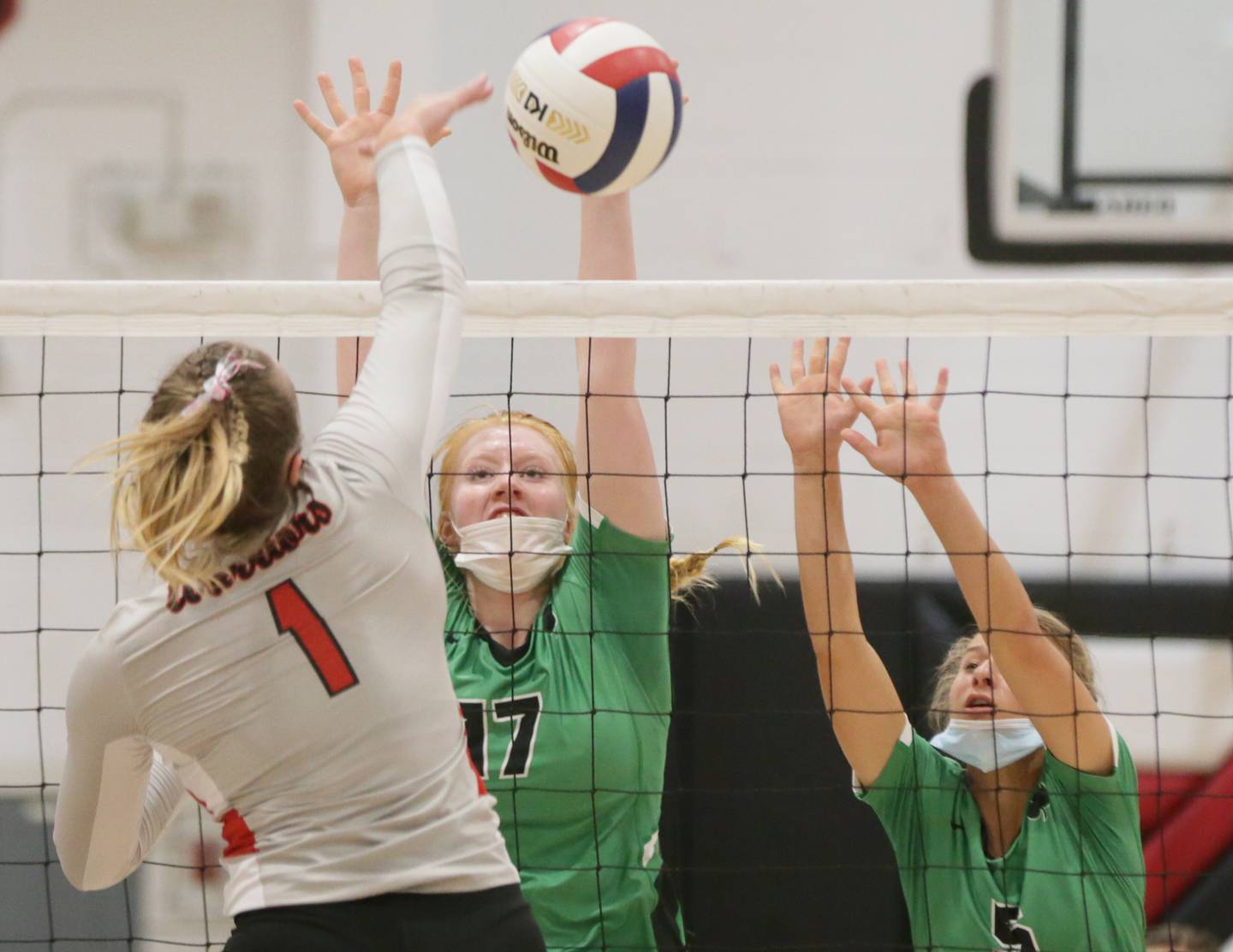 The Warriors (18-8) never held a giant lead in either set, their largest advantage the entire night five points – 20-15 in the opening set and 24-19 in the second. They seemed, however, to be in control the entire match, eventually putting away the opener on a soft Clara Downey kill to the center and the match with Kaleigh Benner's rocket off the hands of a Seneca defender and out the back of the court.
To capture its first TCC Tournament title since 2012, fourth-seeded Woodland had to upset both No. 1-seeded Roanoke-Benson and second-seeded Seneca, the defending champion.
"We've all worked together, and this is by far the best team we've had that I've been on. I'm so glad I got to win this here tonight. It's just perfect."

—  Woodland senior Jena Easton
"It's been nine years since we've won this. I'm glad it happened my senior year," Warriors setter Jena Easton said. "We've all worked together, and this is by far the best team we've had that I've been on.
"I'm so glad I got to win this here tonight. It's just perfect."
The Fighting Irish (16-6) never led in the opening set but were up a good chunk of the second before Woodland caught them for good at 18-all. The Warriors then pulled away on three-point service runs from both Ella Sibert and Shae Simons punctuated by two Downey kills to set up Benner's match-winner.
"More energy," Seneca coach Noah Champene said. "[Woodland] brought the energy, they brought the will to win, and I don't think we were ready from the start. Mentally, we were not focused on the game plan, and I told the girls, I'm not disappointed we didn't execute the game plan, I'm disappointed we didn't attempt to execute the game plan.
"There were some times when we built up [momentum], but then one mistake would deflate us. But watching another team celebrate on their home court is good for us. If you don't get a sick feeling in your stomach watching that, then you're not competitive and you shouldn't be playing sports.
"Take from that loss, 'I don't want to feel this way again. I want to be the one celebrating,' and that's what we hope to be doing [when regionals arrive] in a few weeks here."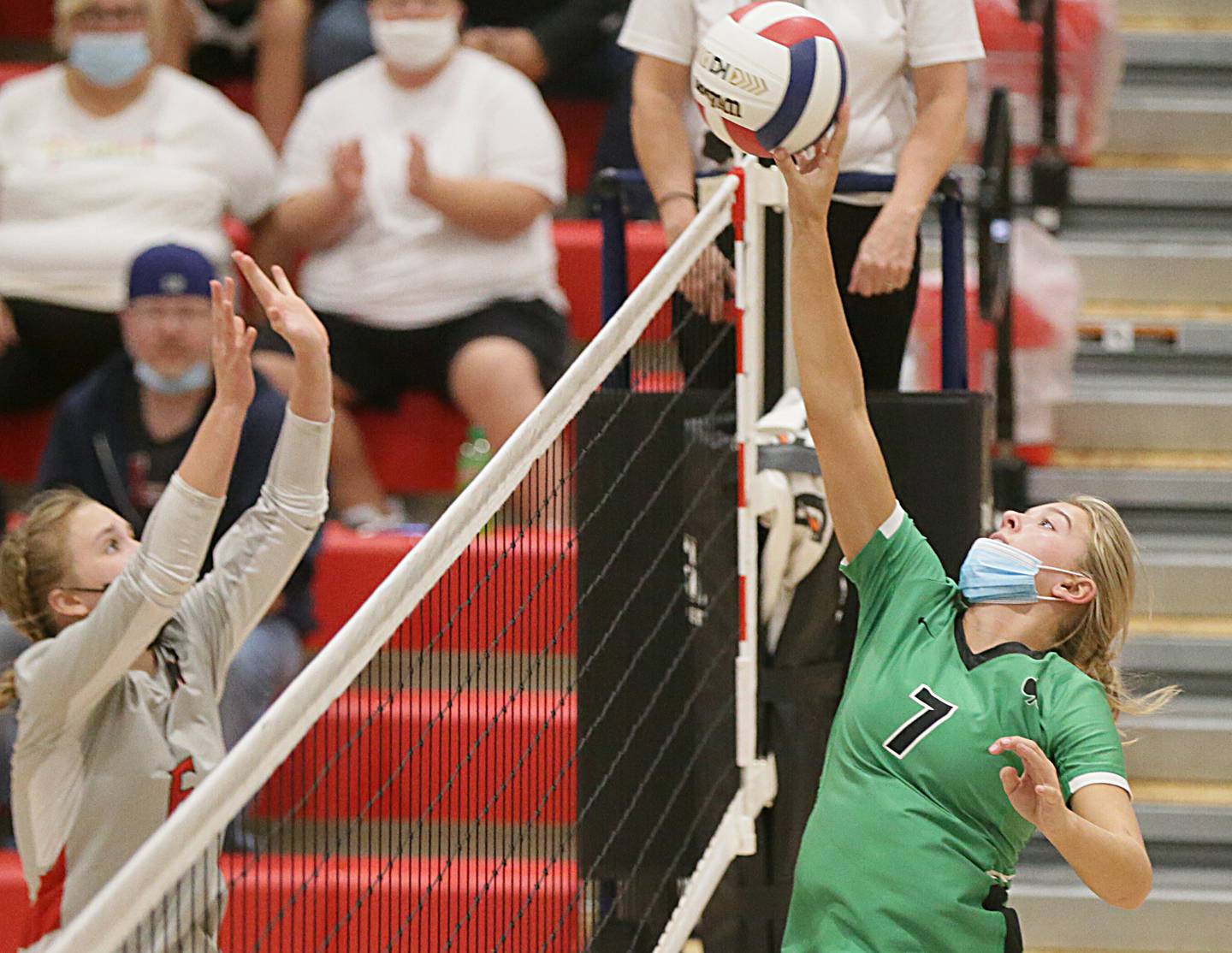 Taylor Draves (11 digs), Leslie Klicker (five digs), Madi Mino (eight assists), Sophie Cato (two stuff blocks) and Emma Smith (eight kills, one block) led the Seneca statistically.
Sibert's dominance in the middle – putting down nine kills plus a pair of stuff blocks – was a problem the Fighting Irish never really solved despite Smith's strong play. Benner added four kills and Downey three, with setters Easton and Simons evenly splitting 18 assists. Downey added a team-best 10 digs, Lexi Struble and Emma Highland dug up five apiece, and both Sibert and Easton served up a pair of aces.
"In practice we've done so many drills, watching the film and filling those holes, how can we improve," Pitte said. "And the kids, they wanted this so badly. I can't coach that. That's all internal.
"That drive, that desire to win, that's all them."