DWIGHT – Seemingly done for during the Class 1A Dwight Sectional final, the Newark softball team summoned up some late game resolve against its Woodland/Flanagan-Cornell.
The seventh-ranked Norsemen, down to their final three outs in the top of the seventh inning and trailing by two runs, tied things up to send the game into extra innings.
[ Photos: Newark vs. Woodland/Flanagan-Cornell ]
From there Newark scored three runs in the top of the 10th to come away with a scintillating 6-3 victory over WFC Saturday afternoon.
It is the second sectional title in Newark softball history – the first since 2004.
"It got real quiet for a while where I thought the girls were pretty down on themselves," Newark coach Tim Schofield said. "I just said in the seventh inning 'do not stop,' that we've been behind in tough situations before this season and they responded in some big ways down the stretch.
"We did it with some key hits from a bunch of different players. It's just amazing and I'm so proud of this group after beating a very well-coached team from Woodland that really put us to the test today."
The Norsemen (30-3-1) move on to face Heyworth (20-8) in the Class 1A Bloomington (Illinois Wesleyan University) Supersectional Monday morning at 11 a.m. for the right to move into the small school final four next weekend in Peoria.
WFC (23-7), meanwhile, just couldn't find a way to close out the contest when it seemed theirs for the taking.
"We had only three outs to get in the seventh but we didn't and you're going to get a lot of three outs to get in a lifetime but yet you move on and are proud of what you've accomplished," WFC coach Jordan Farris said. "I'm certainly proud of my girls and what they've accomplished this season even though we lost today against one of the best 1A teams in the state. My hats off to Newark for coming back to win a great ballgame. But my heart is also very full for having coached a team I will never forget."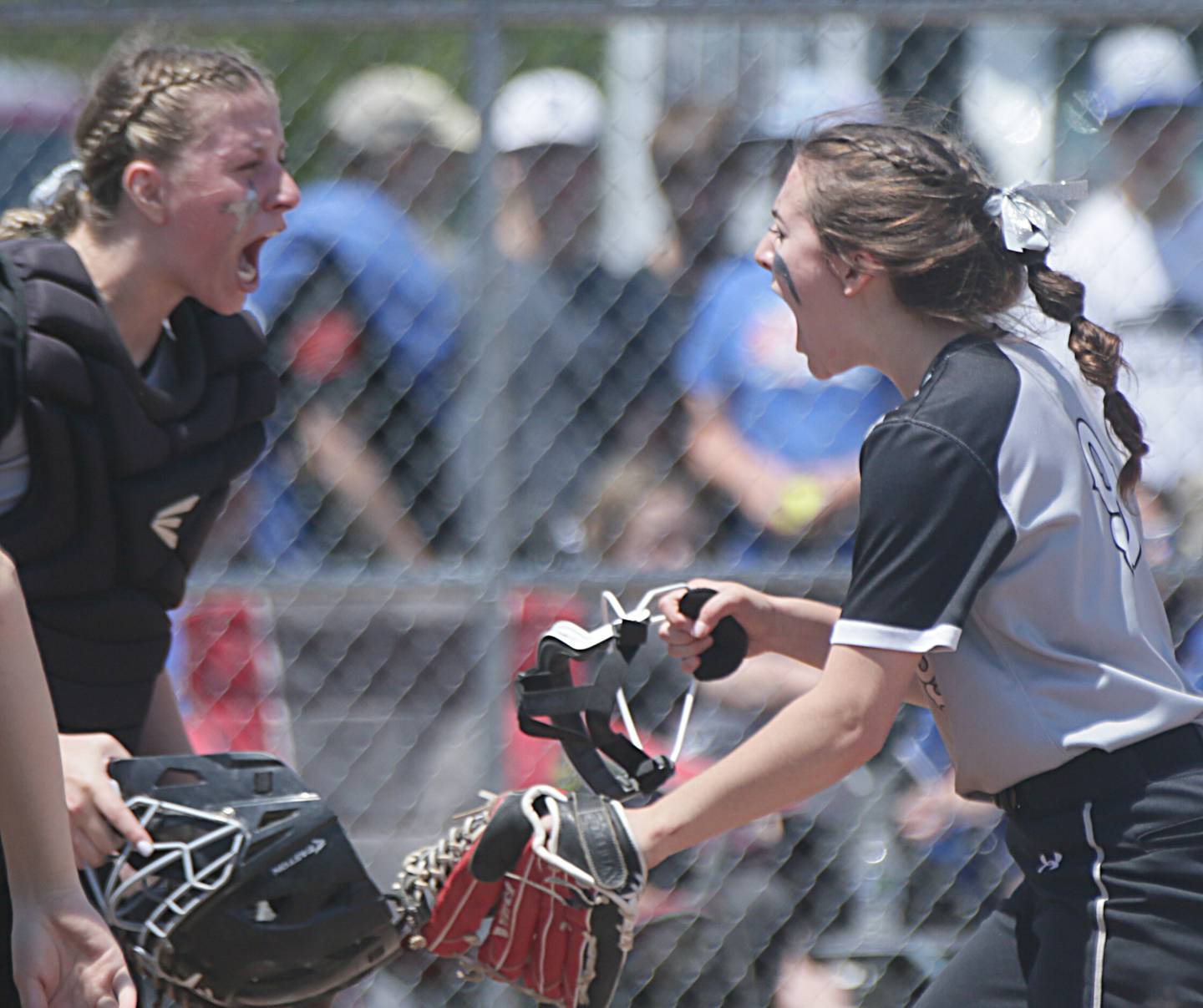 The Norsemen struck first in the top of inning one against hard-luck starting and losing sophomore pitcher Shae Simons, who pitched the whole game. Junior Kaitlyn Schofield led off and singled to right, went to second on junior Taylor Kruser's sacrifice bunt. One out later, sophomore Danica Peshia plated Schofield with a run scoring single down the line in left to give Newark an early 1-0 lead.
The Warriors finally dented Newark starter Kaitlyn Schofield, who struck out eight over six innings, for a run in the bottom of the third to tie things up at 1-1. Simons walked with one out and eventually scored on an RBI groundout by freshman Ella Derossett.
WFC then took the lead 3-1 in the bottom of the fourth after two Norsemen errors led to a pair of Warrior runs culminating in an RBI infield hit by sophomore Emma Highland.
It looked bleak for Newark entering the top of the seventh with Simons cruising along in the circle.
But Schofield led off with a walk, Kruser reached on an infield error and both advanced into scoring positions with nobody out.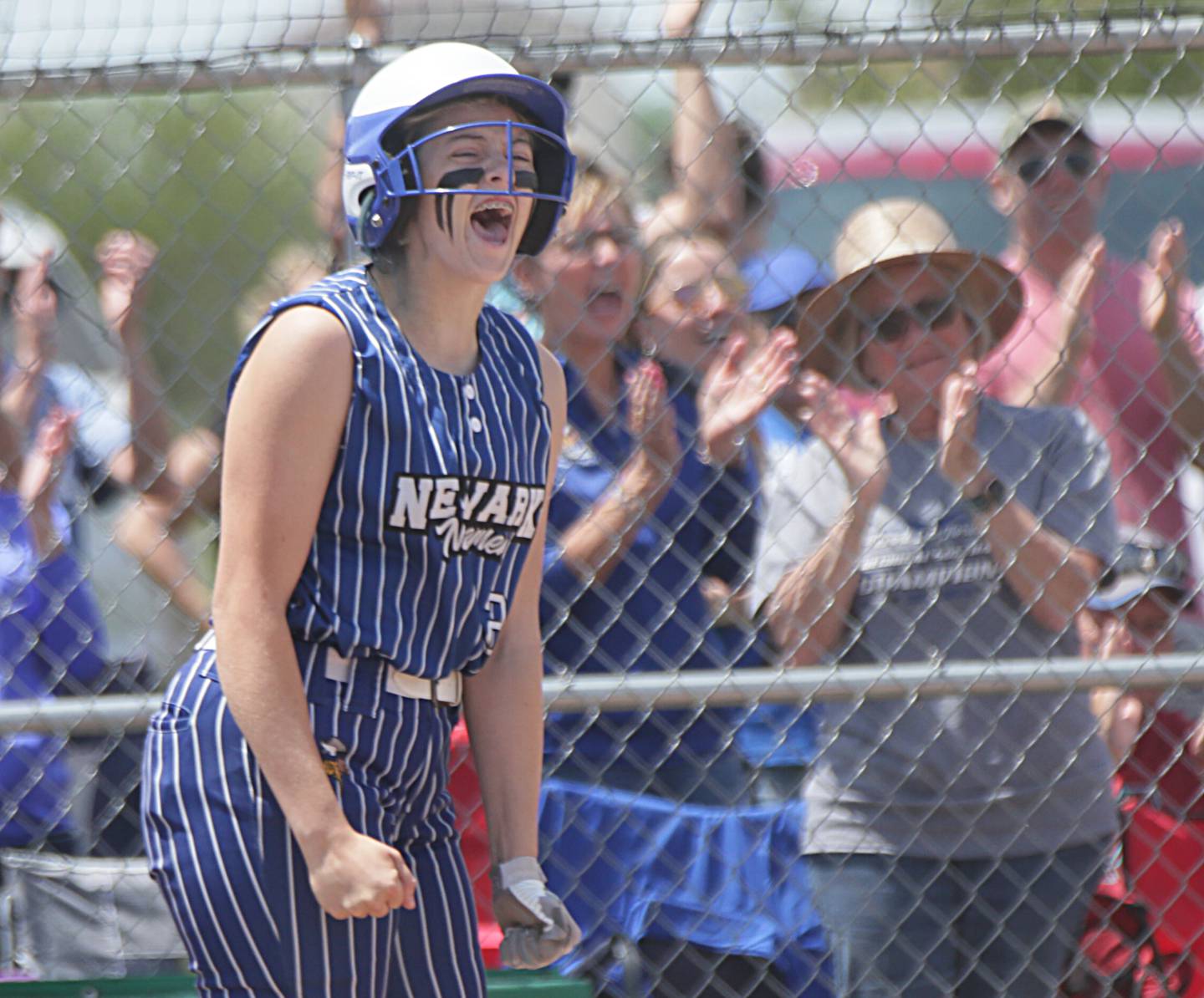 There, sophomore lefty Ryan Williams blasted a two-run double off the fence in left to tie the game up 3-3 which gave the Norsemen new life.
"I was bad in my first two at bats and all I wanted to do was just like our last game here in the semifinals was to put the bat on the ball and bring the tying runs home," Williams said. "I needed to do that more than ever knowing we might not advance if I didn't come through. I knew we had to hang on after that."
Sophomore pitcher Kodi Rizzo – who was a tremendous key in William's vein of thinking – came on in the circle relieving Kaitlyn Schofield in the bottom of the seventh after Newark had tied things up.
Rizzo (10-2) retired nine batters in a row before Newark struck gold with two out in the top of the 10th.
Junior Bre Dixon doubled to left center. Senior Kailey Wohead then blistered a Simons pitch to center scoring Dixon to give the Norsemen a 4-3 lead which would prove to be the game-winning hit.
"Coach Schofield pulled me aside and told me to just keep my mind clear," Kailey Wohead said. "It couldn't have been better with bang-bang hits like my senior teammate K.J. Friestad and I had back-to-back."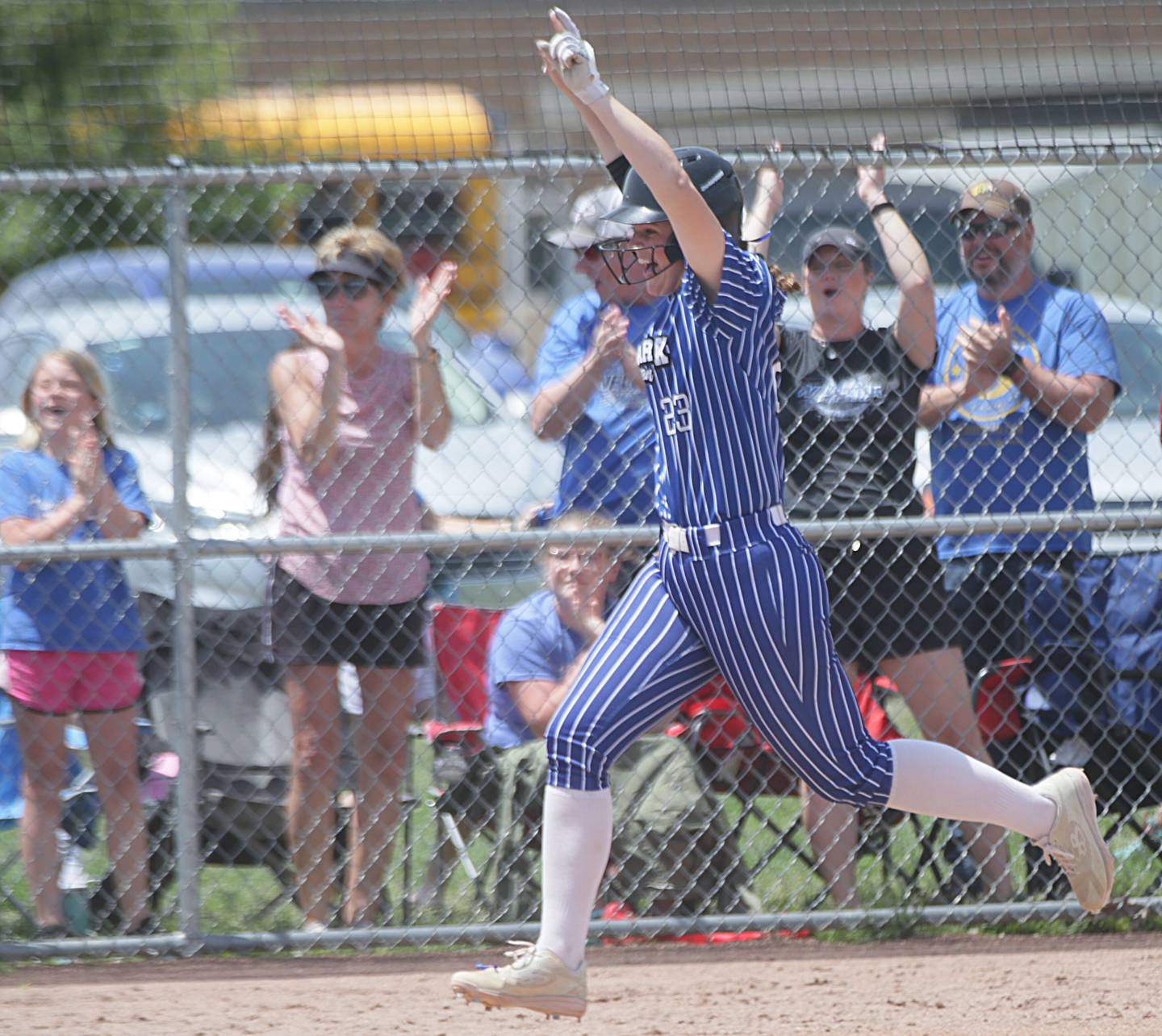 Bang it was for Friestad, who followed her classmate with a two-run insurance homer to left on an 0-1 pitch for her second round-tripper of the year and Newark's whopping 37th of the season to put the Norsemen up 6-3.
"I was telling myself just to hit the ball the best I could," Friestad said. "Apparently I did and I thought the ball got up there in the wind and just carried. It was an amazing moment for me in my senior year."
All that was left was for Rizzo to retire the Warriors in the bottom of the 10th as Newark advanced to the Class 1A Elite Eight when Rizzo punched out the last batter she faced.
Rizzo struck out seven in four shutout innings of relief.
"Kaitlyn (Schofield) was amazing starting for us today and I just wanted to finish what she started," Rizzo said. "I'm used to pressure situations like this and I wanted the ball when coach gave it to me. Now we're one win from going to state. It's the most unbelievable feeling in the world."