STREATOR – On the proverbial list of games where the final score isn't indicative of the actual game itself, Friday's championship match of the Class 2A Streator Regional would be way, way up there.
Metamora and the host Bulldogs played 90 minutes, 57 seconds of dead-even soccer at the Streator Family YMCA before the regional top-seeded Redbirds struck not once, not twice, not three times but for four times during the second period of the 20-minute overtime to advance and end Streator's season by a 6-2 final.
"Even if we didn't come out with what we wanted in the end, it was still a game we'll never forget."

—  Anna Russow, Streator girls soccer
As might be expected given what was at stake, the match grew increasingly physical and emotional as time ticked down.
A foul 30 seconds into the second overtime period called on Metamora freshman Ava LaFollette – who scored four of the Redbirds' six goals, including both in regulation to put the visitors ahead 2-0 – turned into a red card issued to celebrating Streator junior midfielder Bridget McGurk. The Bulldogs got possession, yes, but in the exchange lost their starting center midfielder and had to play a girl down for the remainder.
"That red card broke our spine," Bulldogs coach J.T. Huey said. "We pull our top center-mid out, have to make a bunch of adjustments on the fly ... and they got one, and then it was just a trickle effect after that. We were in desperation mode, pushing people up trying to get one. What are you going to do?
"But we battled. We knew right off the bat that we could rise to the challenge to a team we lost to earlier in the season, and we did. We didn't back down."
The savvy Redbirds (13-4-3) wasted no time finding the resulting hole in the Streator (17-5) defense. Using cross-field passing, Metamora struck three times in the next four minutes. Caylee Duncan's ricochet shot 27 seconds after the red-card call proved to be the game-winner, turning around the momentum the Bulldogs had carried the entirety of the second half.
"I think just sticking with it and our [conditioning] helped us out there," Metamora coach Elizabeth Gualandri said. "And just sticking with our game plan. We got away from it a little bit and played a little bit of kickball. Playing back to people's feet made a difference with that.
"A red card makes a huge difference. In that kind of a game, I wasn't surprised there was something that came out. I didn't know when that was going to happen. I got a yellow [card] as well. It was a crazy game, but once that happens you have to know, 'Yeah, we have 11, and they have 10," and we just had to play to the open man. The girls did a great job of not holding the ball."
While LaFollette was putting in most of Metamora's goals, senior Anna Russow put in all of the Bulldogs'.
Her first came off a fantastic Bella Dean throw-in and McGurk header assist, Russow finishing it with an acrobatic kick to cut the deficit to 2-1 11:57 before halftime. She added the equalizer with about 16 minutes to go in regulation off an Alyssa Arambula assist, outracing Metamora keeper Mariah Quinn (16 saves) to the leading pass by a half-step.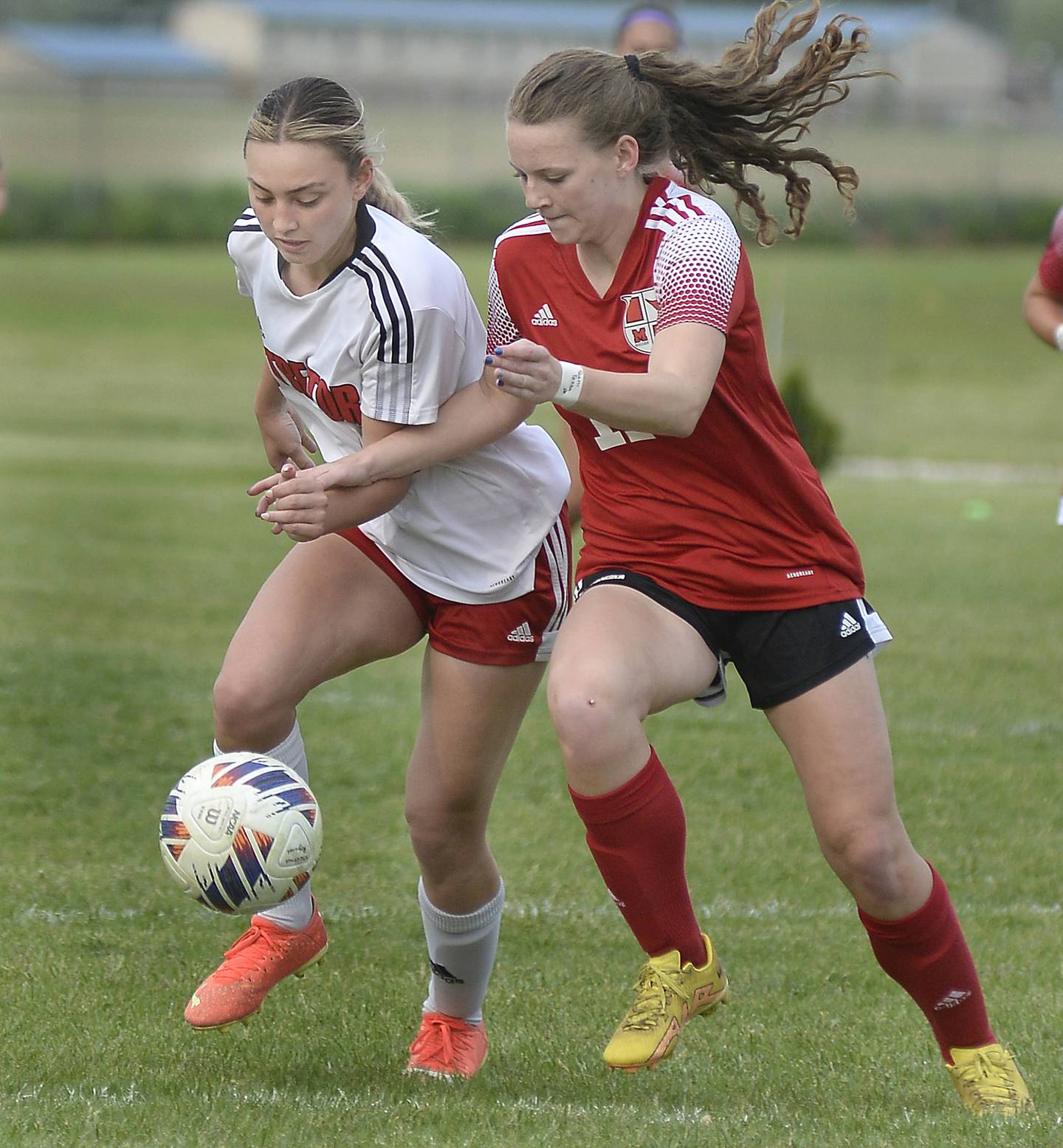 The first tied Russow for the school record of goals scored in a season. The second, her 22nd, made the record Russow's own, surpassing Jobey Smith's 21 in 2017.
"It was a goal of mine, and to feel the energy — our fans' energy and the girls' energy and the coaches' positivity with us — it was a really good thing," Russow said. "Even if we didn't come out with what we wanted in the end, it was still a game we'll never forget."
Streator keeper Monse Gonzalez (18 saves), defenders Josie Goerne and Joey Puetz, midfielders McGurk and Arambula, and up front Russow and Bella Dean had standout efforts to make the 2023 Bulldogs' final match a memorable one.
"I know it sounds so stupid," Dean said, "but this team really does feel like family. We just have a very close bond, and J.T. and [assistant coach Ethan] Koncor have just built an amazing culture and program.
"We've just made something really special ... and I'll come back next year to watch their games."