In delivering consistent quality and fast service, the Four Star Family Restaurant in Peru doesn't have many peers.
Four Star Family Restaurant moved about a year ago from 1340 May Road (soon to be QuikTrip service plaza) to 1270 May Road, the former Pine Cone Restaurant.
The environs are pleasing in the eatery's airy, spacious new home. Barely a year after the old Pine Cone was retrofitted, the Four Star Family Restaurant virtually shines, completely refreshed throughout.
Service was prompt, and the servers are necessarily patient, as it takes a bit of time to explore the sprawling menu. Brimming with tempting choices, the laminated tri-fold features breakfast options all day, plus an array of salads, cold sandwiches and entrees ranging from burgers and hot sandwiches to fried chicken, as well as fish, steaks and chops.
Serving beer and wine, the restaurant recently highlighted everything from fish tacos and its signature beer-battered cod to grilled salmon and shrimp skewers, and crabmeat Alfredo for pasta lovers.
Selecting our meal was made a tad easier by the board listing specials. My dining partner sampled one of them, a baked mostaccioli dish with sausage, which was served in a handled, ceramic skillet to maintain its warmth. The Mystery Diner opted for a tried-and-true classic, the hot, open-faced turkey sandwich.
Entrees come with soup or salad, and we picked both a chicken and dumpling soup and a cauliflower soup. These were out in a flash, and we barely had finished scraping our spoons against the bottom when the entrees arrived. The timing was perfect.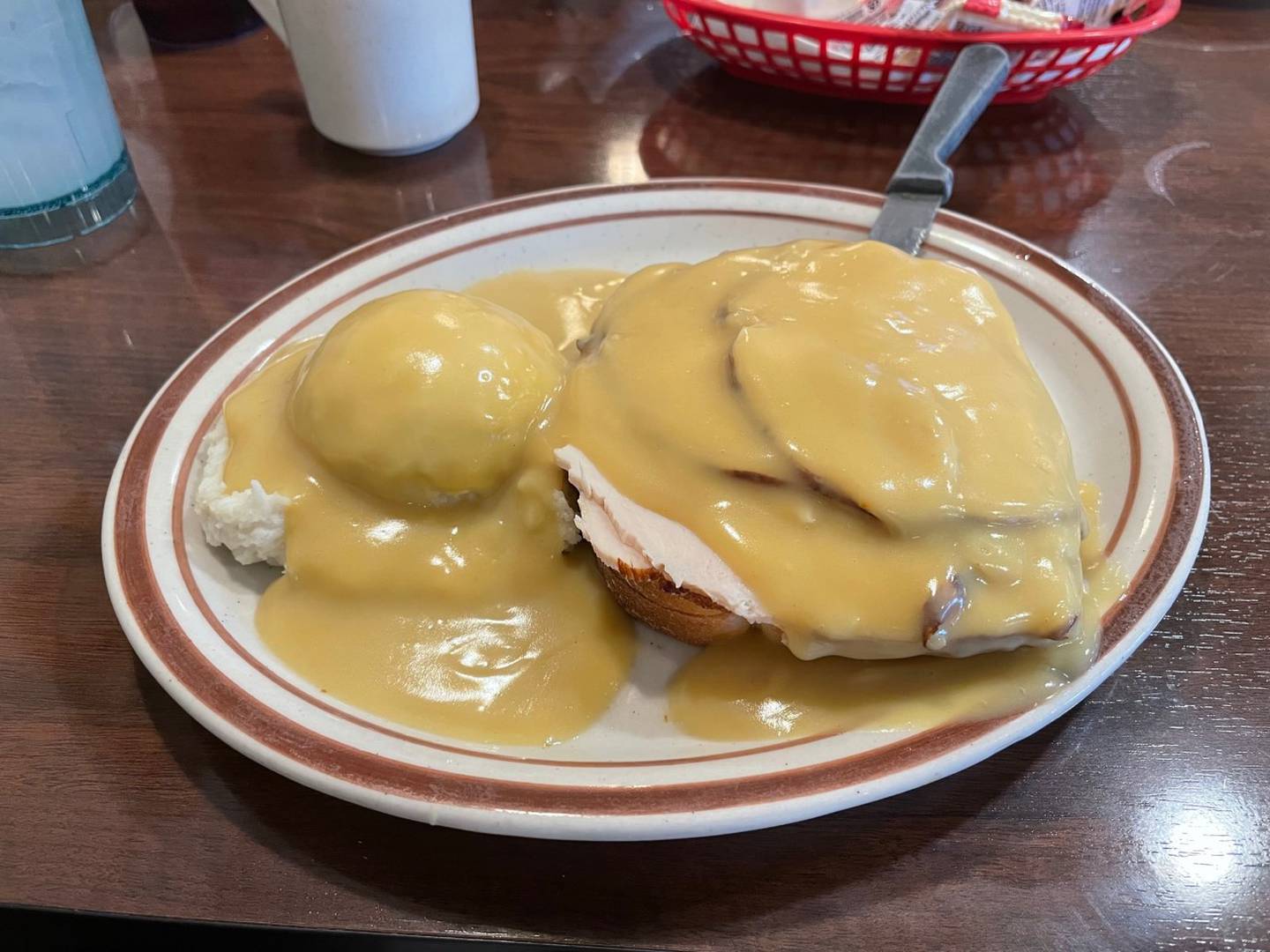 Bonus point for the server: Rather than repetitively ask how we were doing, she eyeballed our table and judged for herself when we needed refills. The Mystery Diner, often caught off guard and with a mouth full of food, much appreciated the discreet surveys.
And while Mystery Diner could stand to lose a few pounds, the refrigerated dessert case is cunningly located by the front door, ensuring that hungry diners must at least savor a glimpse of the sweet treats on display. We yielded to temptation – oh, those crafty sneaks behind the counter – and tucked into carrot cake and chocolate layer cake.
The Four Star Family Restaurant is across from Kohl's, and can be reached at 779-601-2998. The eatery is open for breakfast, lunch and dinner from 6 a.m. to 9 p.m. seven days a week. To reserve seating for large groups, call the venue.
• The Mystery Diner is an employee at Shaw Media. The diner's identity is not revealed to the restaurant staff before or during the meal. The Mystery Diner visits a different restaurant and then reports on the experience. If the Mystery Diner cannot recommend the establishment, we will not publish a story.
IF YOU GO
WHAT: Four Star Restaurant
WHERE: 1270 May Road, Peru
PHONE: 779-601-2998
INFORMATION: www.fourstarfamilyrestaurantil.com