At Princeton, the Streator and Princeton girls tennis teams were tied with a marathon match at No. 1 doubles set to decide the team winner Tuesday. Streator's Syria Zuniga and Charlee Bourell won that tiebreaker, closing out a 6-4, 6-7 (5), 10-2 win at No. 1 doubles and a 3-2 victory for the Bulldogs over their former conference rival.
Streator's other two victories also came in doubles play – Marisa Vickers and Franchesca Rodriguez 6-1, 6-1 winners at No. 2, and Maddie Wahl and Mina James 6-3, 6-1 victors at No. 3 doubles.
Ottawa 5, Rochelle 0: At Rochelle, the visiting Pirates scored the varsity sweep.
In doubles, that included a 6-0, 6-1 victory at No. 1 from Jenna Smithmeyer and Rylee O'Fallon, a 6-0, 6-2 win at No. 2 courtesy of Isabel Heimsoth and Emma Walker, and a 6-2, 6-1 triumph at No. 3 from Mika Moreland and Makenzie Eichelkraut.
In singles play, Ottawa's wins came off the rackets of Emma Cushing at No. 1 (6-0, 6-2) and Layne Krug at No. 2 (6-1, 6-0).
GIRLS VOLLEYBALL
IMSA def. Somonauk, 25-16, 25-19: At Somonauk, the host Bobcats (3-6 overall, 1-2 Little Ten) were defeated despite 13 digs from Ali McBride, eight digs from Amelia Grace, eight digs and seven assists courtesy of Riley Snyder and five kills apiece off the hands of Haley McCoy and Josie Rader.
Kaneland def. Sandwich, 25-19, 25-11: At Maple Park, the Indians (6-10 overall, 0-3 Interstate 8) were dealt the loss despite leading efforts from Alexis Sexton (11 assists), Claire Allen (three kills, two blocks) and Breanna Sexton (six digs).
Streator def. Manteno, 25-15, 29-27: At Manteno, the visiting Bulldog Spikers (8-10-1 overall, 3-2 Illinois Central Eight) notched the road win led by Alexa Jacobs (two kills, six blocks), Devin Elias (three kills), Bella Dean (three kills), Sophia Pence (three kills, seven digs) and Rilee Talty (26 digs).
Flanagan-Cornell def. Fisher, 25-16, 25-17: At Flanagan, the host Falcons (10-9 overall, 2-1 Heart of Illinois) topped the Bunnies, paced by Kortney Harms (15 digs, seven kills), Grace Zimmerman (eight kills), Raegan Montello (nine digs), Kalynne Kindermann (nine digs) and Cameran Corrigan (eight assists).
CROSS COUNTRY
Ottawa girls, L-P boys winners at Baker Lake: At La Salle-Peru's eight-school invitational at Baker Lake, the Ottawa girls captured the team title with 17 points, followed by L-P (74) in second, Marquette (87) in third, Fieldcrest (104) in fourth and Streator (140) in sixth.
Ottawa scored four of the race's top-five finishes – Grace Carroll (1st, 22:00), Eva Heimsoth (2nd, 22:43), Addyson Miller (4th, 23:04) and Kendra Martin (5th, 23:08), with Morgan Stone (9th, 25:15) next.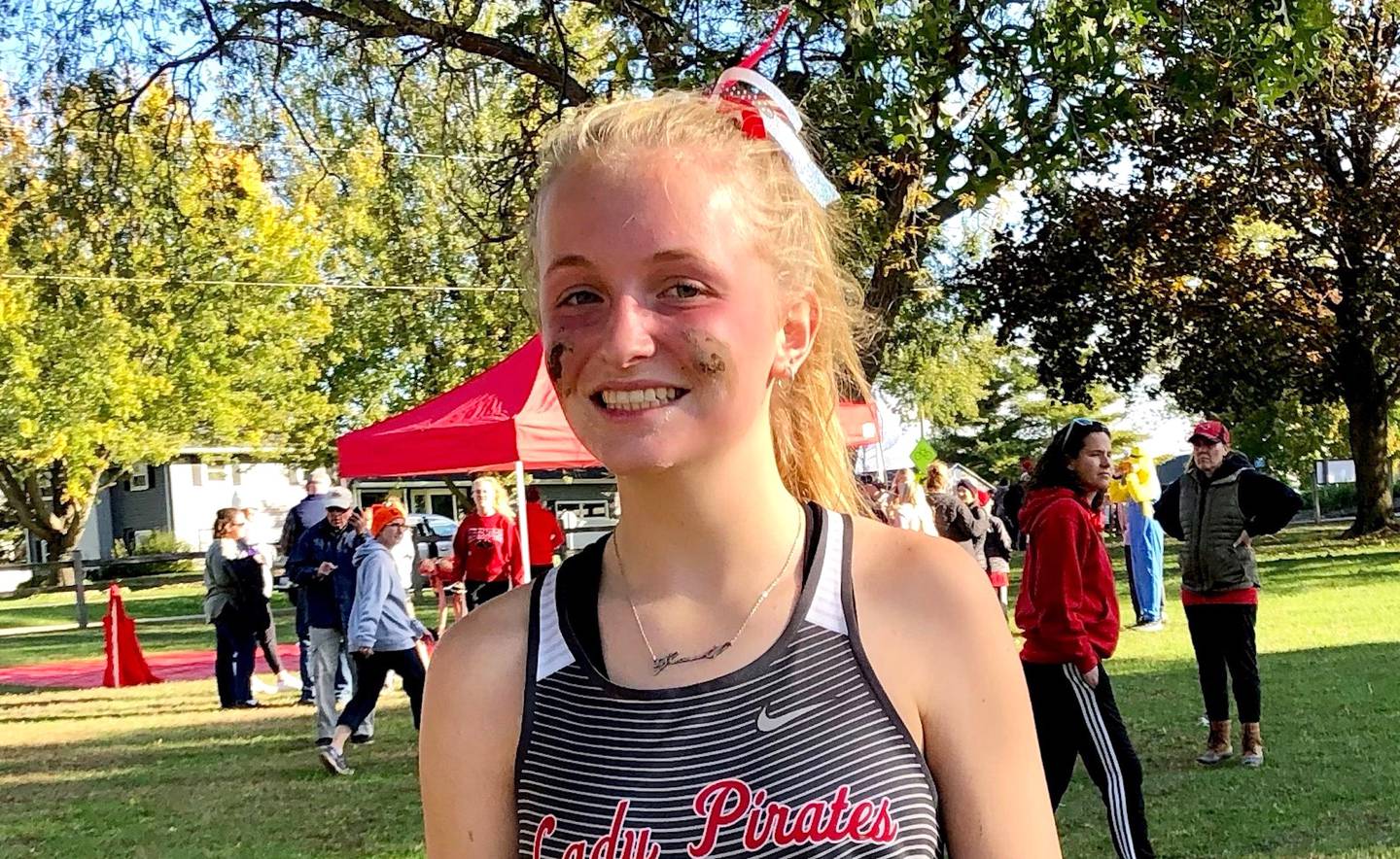 Maggie Kewett (3rd, 22:50) led Marquette, Claie Phillips (8th, 24:27) paced Fieldcrest, and Abby Pierce (10th, 25:19) led Streator.
L-P (47) won the boys meet, followed by runner-up Ottawa (74), fourth-place Streator (88) and fifth-place Fieldcrest (89).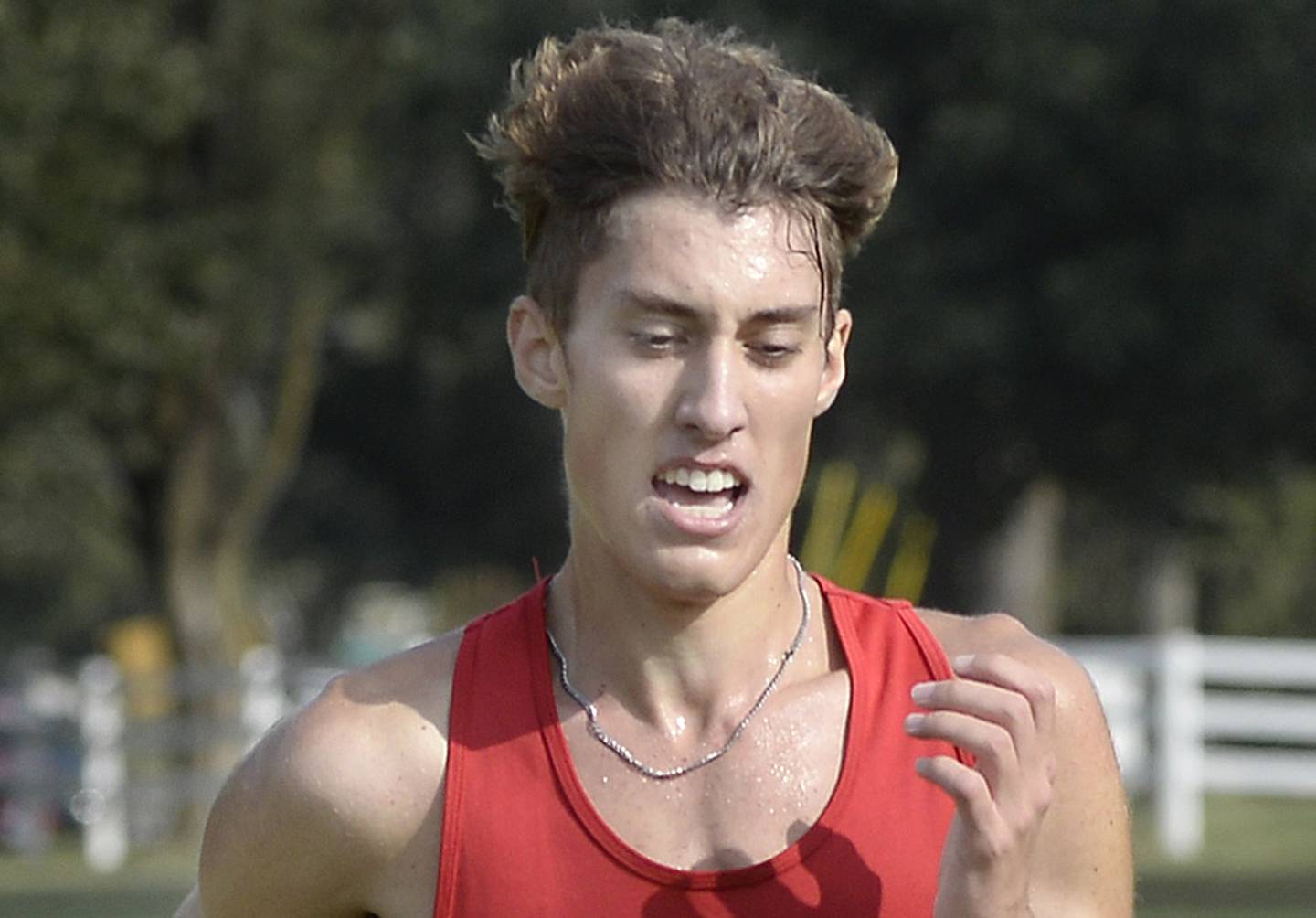 Streator's Kody Danko won the boys event with a run of 16:55. Fieldcrest's Caleb Krischel (4th, 18:37) and Landin Wright (10th, 19:48) and Ottawa's Liam Tiiple (9th, 19:41) also scored top-10 finishes.
BOYS GOLF
Lockport 147, Ottawa 148, Morris 185: At Morris Country Club, the Pirates (7-1 overall, 7-0 Interstate 8) split, defeating their conference hosts but falling by one stroke to Lockport. Jonathan Cooper and Drake Kaufman tied at 35 for Ottawa's best score, followed by Chandler Creedon's 38 and Jacob Armstrong's 40.
Streator 170, Wilmington 216: At The Eastwood, Streator (8-1 overall, 4-1 Illinois Central Eight) celebrated seniors Kylen Krasnican (48) and Cooper Spears (48), and were led to the ICE victory by Cole Park's 34, Jaydon Nambo's 41, Nolan Ketcham's 47 and Drew Donahue's 48.
La Salle-Peru 164, Sycamore 171, Sandwich 181: At Oak Ridge, the Indians (8-8 overall, 1-6 Interstate Eight) dropped a league triangular despite a 43 from Noah Campbell and 45 off the clubs of Kai Kern.
Prairie Central 163, Seneca 188: At The Creek, host Seneca fell to 7-10 on the season.
GIRLS GOLF
Seneca 239, Watseka 249: At Dwight Country Club, Seneca improved to 6-5 overall and 2-2 in Tri-County Conference competition.
JV GIRLS TENNIS
Ottawa 4, Rochelle 1: At Rochelle, the Corsairs received wins from Gabby Cooper (10-8) at No. 1 singles, Zulee Moreland (10-5) at No. 2 singles, and via default at No. 1 doubles from Rylee Harsted and Delayne Harsted and No.2 doubles from Yaquelin Hernandez-Solis and Selena Gomez.
JV/SOPHOMORE GIRLS VOLLEYBALL
Manteno def. Streator 25-9, 19-25, 25-22: At Manteno, Aubrey Jacobs (12 assists, eight digs), Shaelyn Groesbeck (five kills), Mya Zavada (five kills) and Kenna Ondrey (eight digs) led Streator.
FRESHMAN GIRLS VOLLEYBALL
Manteno def. Streator, 25-20, 25-18: At Manteno, the Bullpup Spikers were paced by Maya Lansford's two aces, Ava Gwaltney's four kills and Cyra Tupayachi's four assists.