There are plenty of skills considered the toughest things to do in sports – say, hitting a 90 mph fastball or stopping a penalty kick in soccer to name a few.
Completing an Ironman Triathlon race most certainly would be at the top of the list.
An athlete must swim 2.4 miles, then bike 122 miles before running 26 miles – all within 17 hours.
It's a pretty daunting task to say the least.
Since the first Ironman race held in 1999 in Lake Placid, New York, Streator native Jeff Gura is the lone athlete to compete and finish all 23 races at the event, most recently crossing the finish line on July 24 in 15 hours, 51 minutes, 43 seconds.
"In 1999 I saw an advertisement in the newspaper that there was going to be an Ironman Triathlon in Lake Placid," said the 62-year-old Gura, a three-sport athlete and 1977 graduate of Streator High School. "I knew what an Ironman was from seeing it on television on "Wide World of Sports," and I remember thinking to myself, 'Man, those guys are crazy. They'd have to be insane to do something like that.'
"I knew I could run marathons, so I figured all I needed to do was get a bike and learn how to swim a little bit. So I kind of signed up on a whim. It's funny of the timing, because I was actually looking for something more challenging, and there it was in an ad in a newspaper."
Gura said he has spent most of his life living in the Washington, D.C., area and is a retired software engineering manager now residing in Ponte Vedra, Florida.
In the early 1990s, Gura lost 30 pounds after jaw surgery required his mouth to be wired shut for eight weeks. He said he weighed only 120 pounds.
"I knew the weight would come back but wasn't sure where it would go, other than creating a beer belly," Gura said with a chuckle. "I decided in 1993 to run the Marine Corps Marathon even though I'd didn't know where to start or anything about what it entailed. Once I started training, I found I just liked running and found I was kind of a fast runner as far as endurance."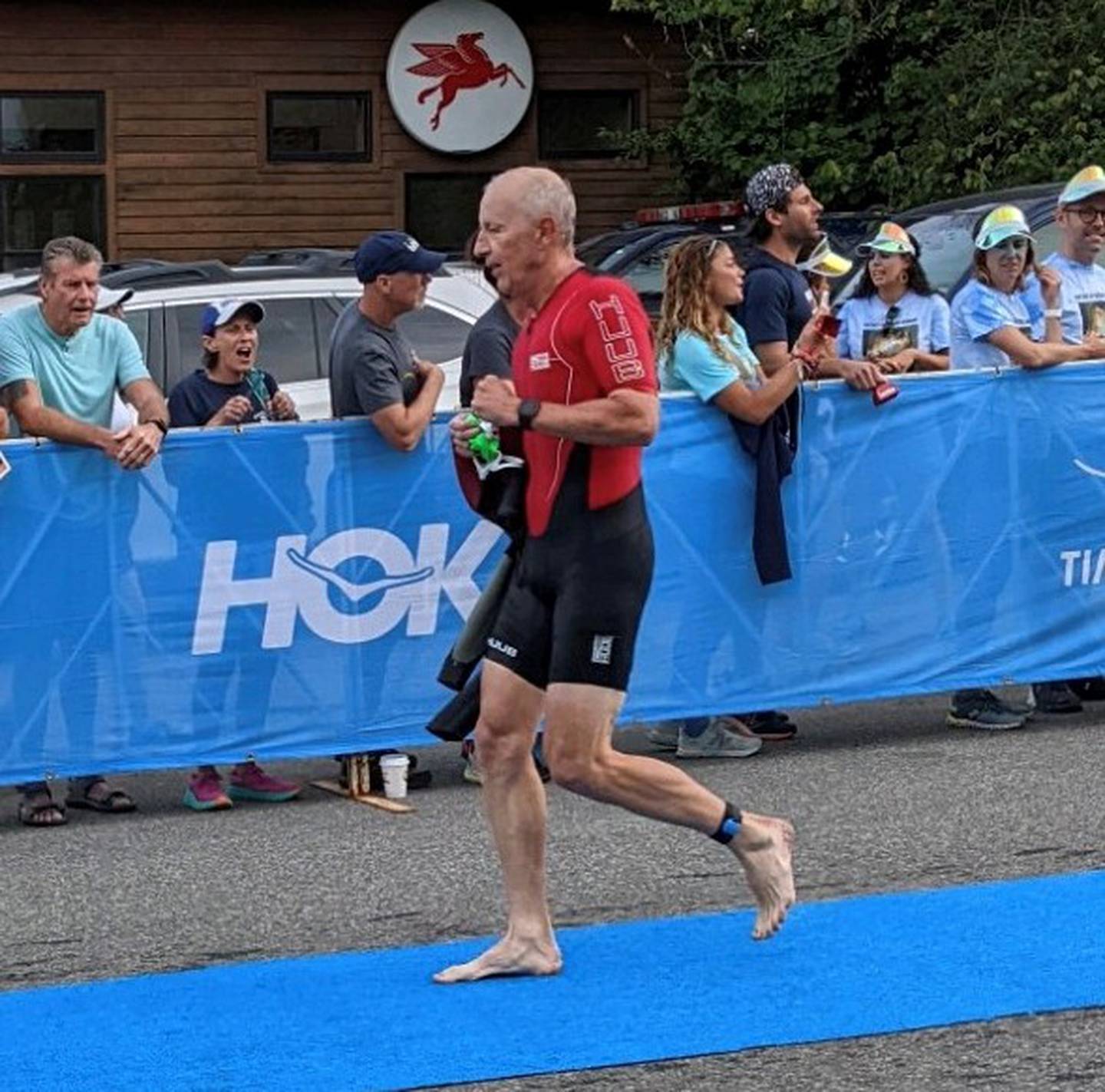 In 1996 he qualified and ran in the 100th Boston Marathon (and nine more times after, as well as 48 total marathons), but a few years later he was looking for another challenge. That's when that ad for the Lake Placid Ironman caught his eye.
"After I signed up, they sent out a list of contestants and where they lived," he said. "I then reached out to people entered that lived in Maryland. I'd ask them if they knew what they were doing, because I didn't, and see if they wanted to train together. I've gained many friends and knowledge from those phone calls and emails."
Besides the 23 events at Lake Placid, Gura said he's completed 10 other Ironman races to put his total at 33.
What keeps him coming back for more?
"I would say that's a three-fold answer," Gura began. "The first thing that inspires me is that I helped a lot of other people do their first Ironman. I'm not an official trainer, but I've gone out on workouts with them, answer questions they have and just help them any way I can. Then around the time my son, Colin, turned 16 years old, he told me when he turned 18, he wanted to run in one with me. I had a training buddy, and we ran in the race four years in a row. I also had a co-worker say to me that there is no way she could do it, but I just kept encouraging and helping her. She eventually did it, and I don't know if there is any greater feeling or anything more rewarding than seeing someone do something they thought was possible. Seeing something like that is more gratifying than crossing the finish line yourself.
"Second is the environment in Lake Placid. Although the city itself has only two stoplights, it's been the host city of the 1932 and 1980 Winter Olympics, and still is an Olympic training ground. The combination of the small-town atmosphere, the Adirondack Mountains and multiple rivers along the course is so scenic, and it's just a wonderful place to be.
"Third, being retired, I need something. My training each day only takes up a small portion, so I have time to spend time doing other things. It's a healthy lifestyle, and I kind of like that."
Gura said his training regimen is swimming four days a week, running three times a week and biking three days a week. He has monthly goals set, because as he points out there needs to be rest and recovery days built in. Those goals are 150-200 miles running, 30 miles swimming, 500 miles biking.
As it gets closer to the event, Jeff says while maintaining high-intensity workouts he steps down his weekly training goals leading up to the race.
So how many more events does he plan on competing in?
"I'm the only person to have finished every Ironman in Lake Placid for the past 23 years, and I'm pretty proud of that," Gura said. "And yes, I am signed up for 2024 too.
"I really don't have a goal of how many more I want to do. For me, if I can do the race and finish it, I'll sign up for the next year. When my body tells me I can't finish in 17 hours, then I'll have to look for another challenge.
"If there is anyone in the Streator or Ottawa area that is interested in triathlons, I would be happy to be their free coach. I feel like through my experiences I would be able to help get someone on the right path.
"It's definitely been the right path for me."