ROCKFORD — Having one of a team's best players return from injury can work wonders for a team's morale, but when that guy actually contributes to the effort at hand in a big way, that can really get the ball rolling.
All the way to Peoria.
Marquette pitcher Taylor Waldron returned from a two-week absence from the mound to take the ball for Monday's Rockford Class 1A Super-Sectional contest at Rivets Stadium against Sterling Newman and looked like his old self.
The junior right-hander allowed just one run on four hits and no walks while striking out five — including the side in the bottom of the fifth — to lock up a 12-1 victory and send the Crusaders to the IHSA State Finals at Dozer Park in Peoria Friday and Saturday.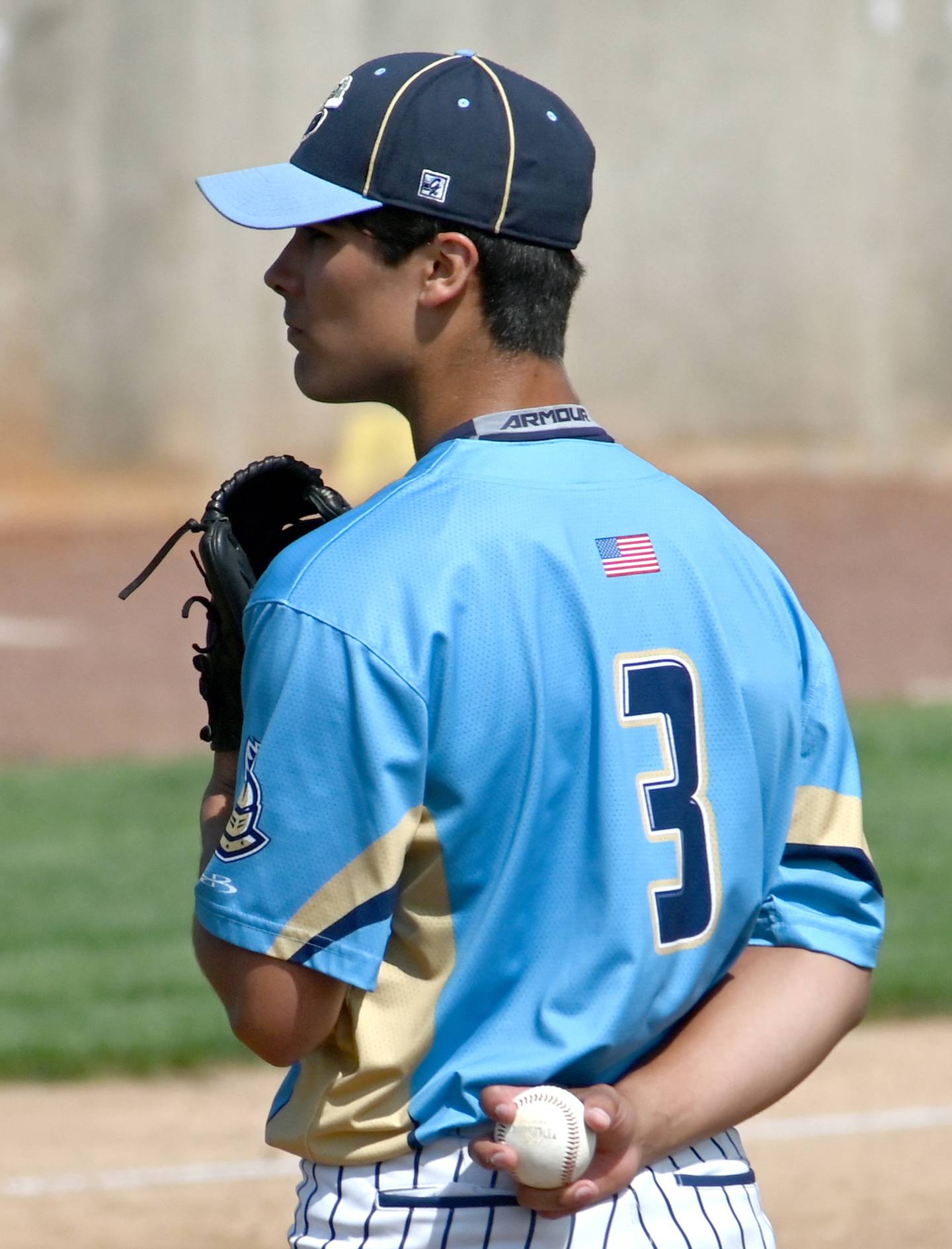 It was Waldron's return to the mound that also in part sparked the MA offense, which erased a 1-0 deficit with four runs in the fourth and another eight in the fifth, in each frame getting a key two-RBI hit from sophomore Charlie Mullen.
Marquette (31-3) in the 1A semifinal at 10 a.m. Friday will take on Mt. Sterling Brown County, which defeated Carrollton 4-3 at the Springfield Super-Sectional.
"We knew [Newman] can swing it, putting 27 [runs] up in the sectional, and they have a great program, but they hadn't seen Taylor Waldron," Marquette coach Todd Hopkins said. "I talked to T last night and told him he was getting the ball. … [Newman] was in a bind for pitching because of the rain, then we get Taylor back, and he just did his thing. He may not have had the strikeouts he normally has, but he hit spots and did a hell of a job.
"I think it fired the guys up and they hit the ball — our two-strike swings were great today — but Taylor going through the first, second and third innings and holding them to just one was huge. …
"I'm just very proud of the effort. They keep fighting. Today, they really wanted it."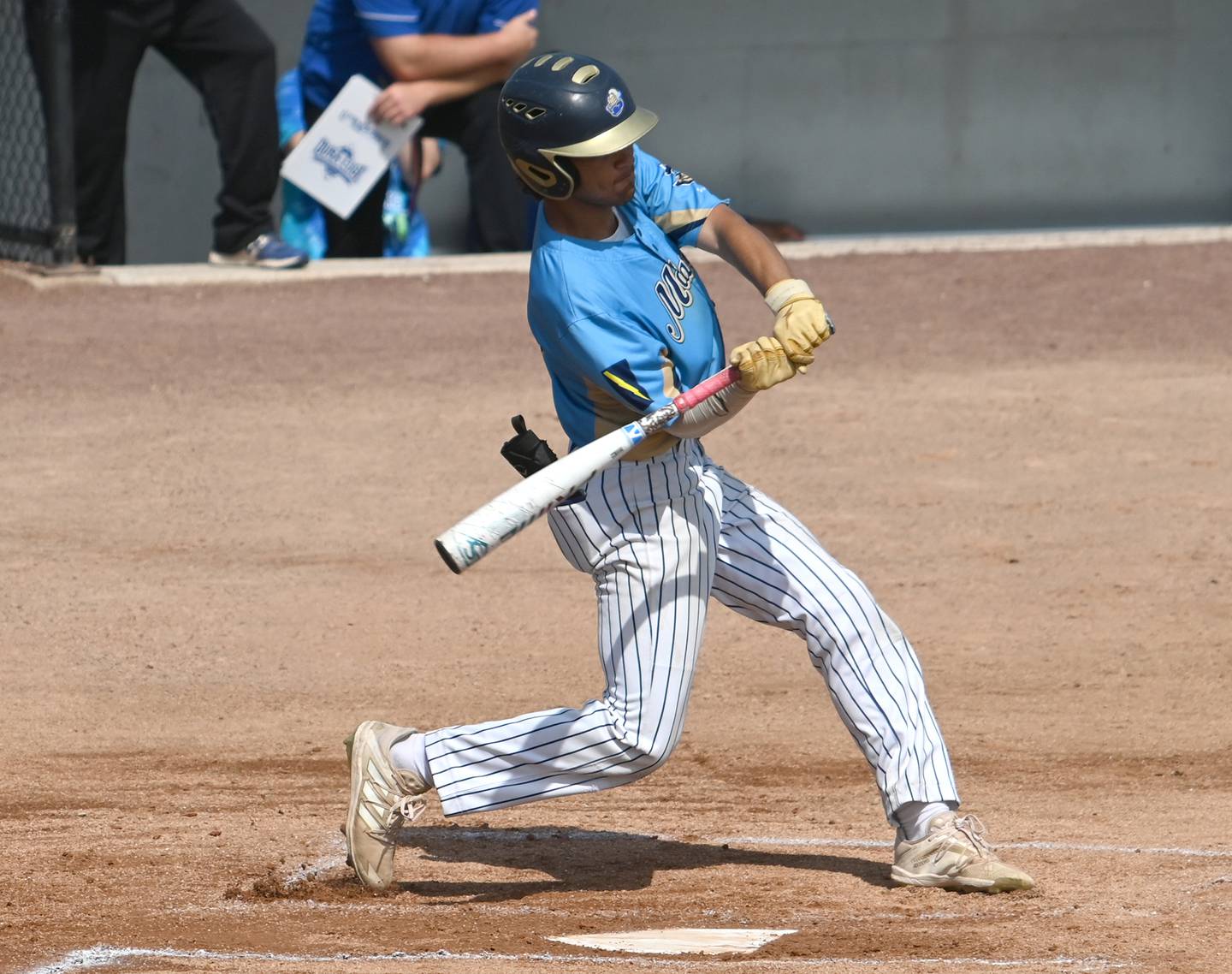 Waldron held off Comets threats in the first and second innings, but he couldn't in the third when with two outs Brendan Tunink slammed a deep fly ball the wind blew away from center fielder Julian Alexander for a triple. Newman starting pitcher Ethan VanLandiut then gave himself the lead with a single up the middle.
To that point, MA hadn't done much offensively, but Hayden McKenna started the go-ahead rally by getting hit by a pitch. Next, Tommy Durdan hit a line drive that handcuffed center fielder Kory Mullen, and Keegan Davis hit what should have been a force at third, but no one covered the bag.
That loaded the bases for Mullen, who with two strikes shortened up on the bat and drove the ball to the track in center, plating two runs. Davis and Mullen later scored on wild pitches to make it 4-0 Cru.
"The first at-bat, [the umpire] was calling them high, and I popped up," Mullen said, "but the second, I choked up like the coaches tell us to and got a hold of one. … I had a few games when I wasn't really hitting, but I kept at it."
The real explosion came in the fifth. Singles by Brady Ewers and Durdan around a misplayed fielder's choice loaded the bases again for Davis, who doubled to the wall in left-center for two runs. Mullen followed with a two-run single and, after a walk to Carson Zellers, Alexander drove home two more with a triple to left.
A walk to Logan Nelson and two-RBI single by Sam Mitre capped the outburst.
"They did exactly what we did in the regional and sectional, death by a thousand paper cuts," Newman coach Kenny Koerner said. "You just get a guy on and you get a blooper and a nice kind bounce, and then somebody finds a gap. We've done it for two weeks, and they did it today.
"I tip my hat. That's a good baseball team over there."
Waldron fanned the side in the home half to send Marquette to the 1A State Finals for the third time in the last four seasons.
"I knew they'd been scoring a lot of runs, but I came in wanting to keep the ball in on their hands to jam them and keep it low whenever possible," Waldron said. "I wanted to hit my spots, and once I settled down, I was able to. … It's a relief to have things back to normal.
"I can't wait to get to Peoria. We're on a mission."