At Flanagan, the Flanagan-Cornell Falcons boys basketball team never played better Friday than it did over the opening two minutes and change ... and didn't have to.
The Falcons came out soaring on the night the 2007-08 Class 1A state champion Flanagan-Woodland-Cornell girls basketball team was inducted into the Illinois Basketball Coaches Association Hall of Fame (story in a future edition of The Times), scoring the night's initial eight points and leading throughout a 60-45, Heart of Illinois Conference triumph over visiting Gibson City-Melvin-Sibley.
"It was a good two minutes, yeah," FCHS coach Brian Yoder said of the early barrage. "It set the tone for the rest and was just enough. We pressured and rebounded the ball well, didn;t turn it over too many times. Good combo.
"We're playing pretty tough. Couple big ones next week, conference games, but we're ready to go."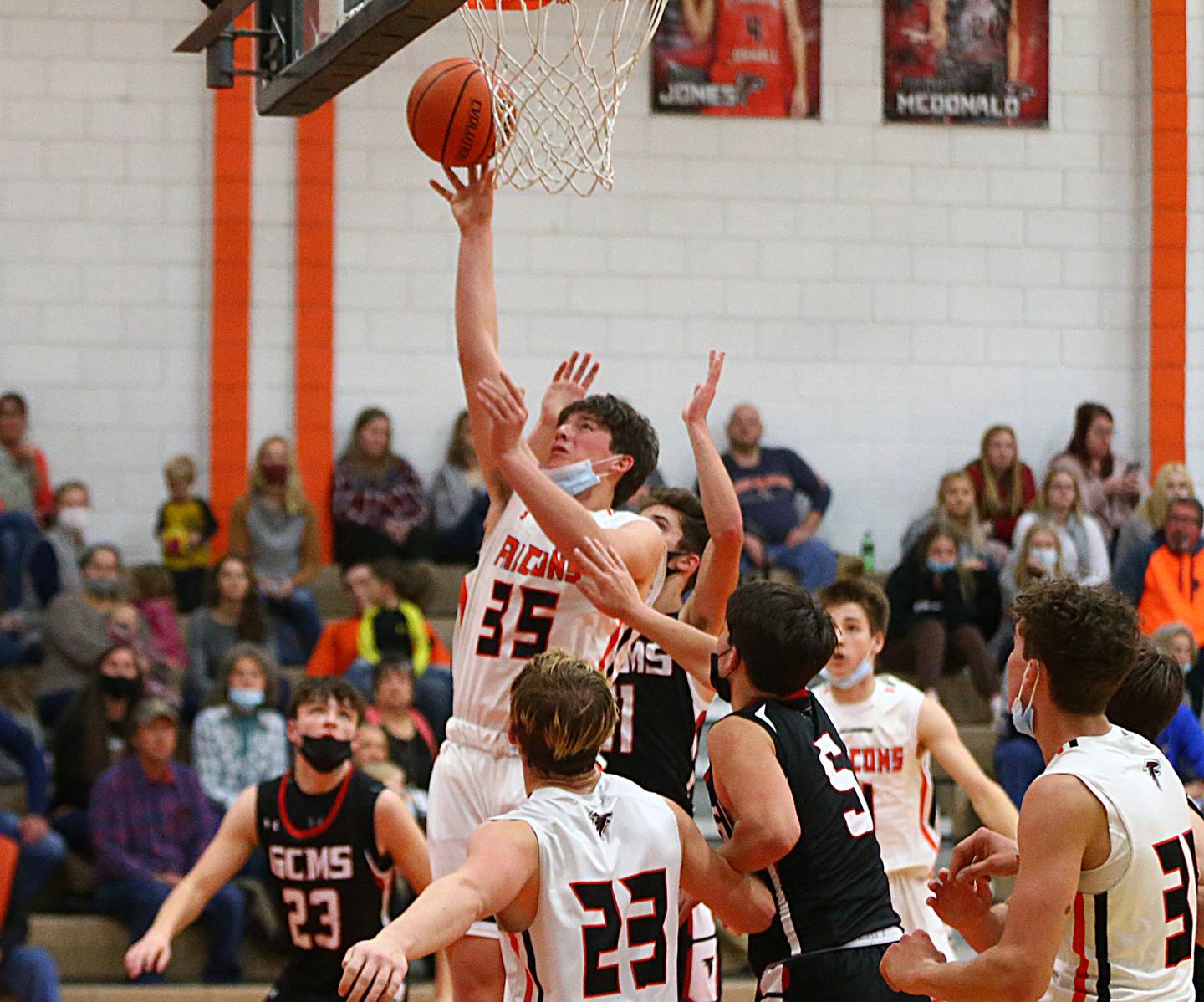 The closest the HOIC's other Falcons were able to get to Flanagan-Cornell after the fast start was five points, at 19-14, three minutes into the second quarter. By halftime, though, Flanagan-Cornell (4-1, 1-0) led 32-18, and the host Falcons' lead stayed in that 9- to 16-point range for the remainder of the night.
On a rare off-night shooting for Tyler Pfaff – who finished with eight points, draining his first two shots but missing all but one of his final 13 tries from the field – the Falcons had a balanced attack led by 14 points and nine rebounds from William Weber, 13 points courtesy of JD Ruddy and a 12-point, four-assist performance from Sam Jones. Dallas Hamilton also had eight points to go with five steals and three assists.
Awstace Grauer posted a double-double of 16 points and 10 rebounds to lead GCMS (3-2, 0-1).
Tri-Valley 39, Fieldcrest 35: In HOIC action at Downs, the Knights suffered the road defeat.
Marquette 80, Ashton-Franklin Center 38: At Ashton, the visiting Crusaders raced out to a 21-8 lead after one quarter and never looked back on their way to a 42-point nonconference road victory Friday. The win brings Marquette to 3-0 on the season.
Aiden Thompson poured in 24 points for Marquette to lead all scorers. Beau Ewers (15), Tommy Durdan (13) and Logan Nelson (10) also scored in double figures for the Cru, who head into Hall's Colmone Classic, opening pool play at 7 p.m. Monday against Pontiac before playing the host Red Devils at 8 p.m. Tuesday.
Midland 65, Woodland 28: At the Warrior Dome, shorthanded host Woodland fell in Tri-County Conference competition.
Freshman Connor Dodge scored seven points, Keegan Boldt six, and both Phoenix Cooper and Jon Moore five for the Warriors (2-4 overall, 1-1 TCC), who trailed 22-5 after one period and 38-22 at halftime.
Earlville 64, Serena 62: In Little Ten Conference play, the Red Raiders rallied from a three-point deficit at the end of the third quarter to claim a close one with the Huskers.
Ryan Browder scored 29 points with Griffin Cook adding 20 for Earlville (2-3, 1-0). As for Serena, Camden Figgins poured in 25 points, with Ben Shurgrue adding 17.
Both teams shot an even 50% from the field, each 23 of 46, with the Red Raiders making two fewer 3-pointers but five more free throws.
Sycamore 63, Sandwich 29: At Sycamore, the visiting Indians (0-5 overall, 0-1 Interstate Eight) were outscored 36-16 in the game's middle quarters.
Austin Marks posted eight points and seven rebounds to lead Sandwich, with Jacob Kuntz adding seven points.
GIRLS BOWLING
Ottawa 2,348, Rochelle 2,337: At Rochelle, the Pirates triumphed paced by McKenzie Lewis' 528 series (206 high game) plus high games off the hands of Laura Pool (156) and Ana Zeglis (151).
WRESTLING
Yorkville 47, Sandwich 13: The Indians' strong start to the season hit a hiccup against powerhouse Yorkville, with Sandwich's wins all coming in the middle weights thanks to Aidan Linden (9-1 major decision), Sammy Dale (6-1 decision) and Alex Alfaro (pinfall, 1:27).
SOPHOMORE/JV BOYS BASKETBALL
Ottawa 36, Morris 33: At Morris, the Corsairs were led to victory by 12 points from Cooper Knoll and 11 put in by Jordan Schiltz.
Streator 38, Lisle 34: At Lisle, the Bulldogs led 20-16 at halftime in their Illinois Central Eight Conference win over the Lions. Cade Peterson led Streator with 15 points, followed by nine points from Landon Muntz and seven from Matt Williamson.