HINCKLEY — Those who have followed either the Somonauk or Earlville soccer programs over the years know they've had some classic, hard-fought contests, especially the previous six times they have met for the Little Ten Conference Tournament championship.
It was much of the same during Thursday's title match between the second-seeded Bobcats and fifth-seeded Red Raiders at the 40th annual event.
After surviving a pair of great early scoring chances from Earlville, Somonauk found the back of the net three times in the opening half and eventually secured a 3-1 win to capture an eighth tournament title, its first since 2015, and snapped the Red Raiders' streak of four consecutive banners.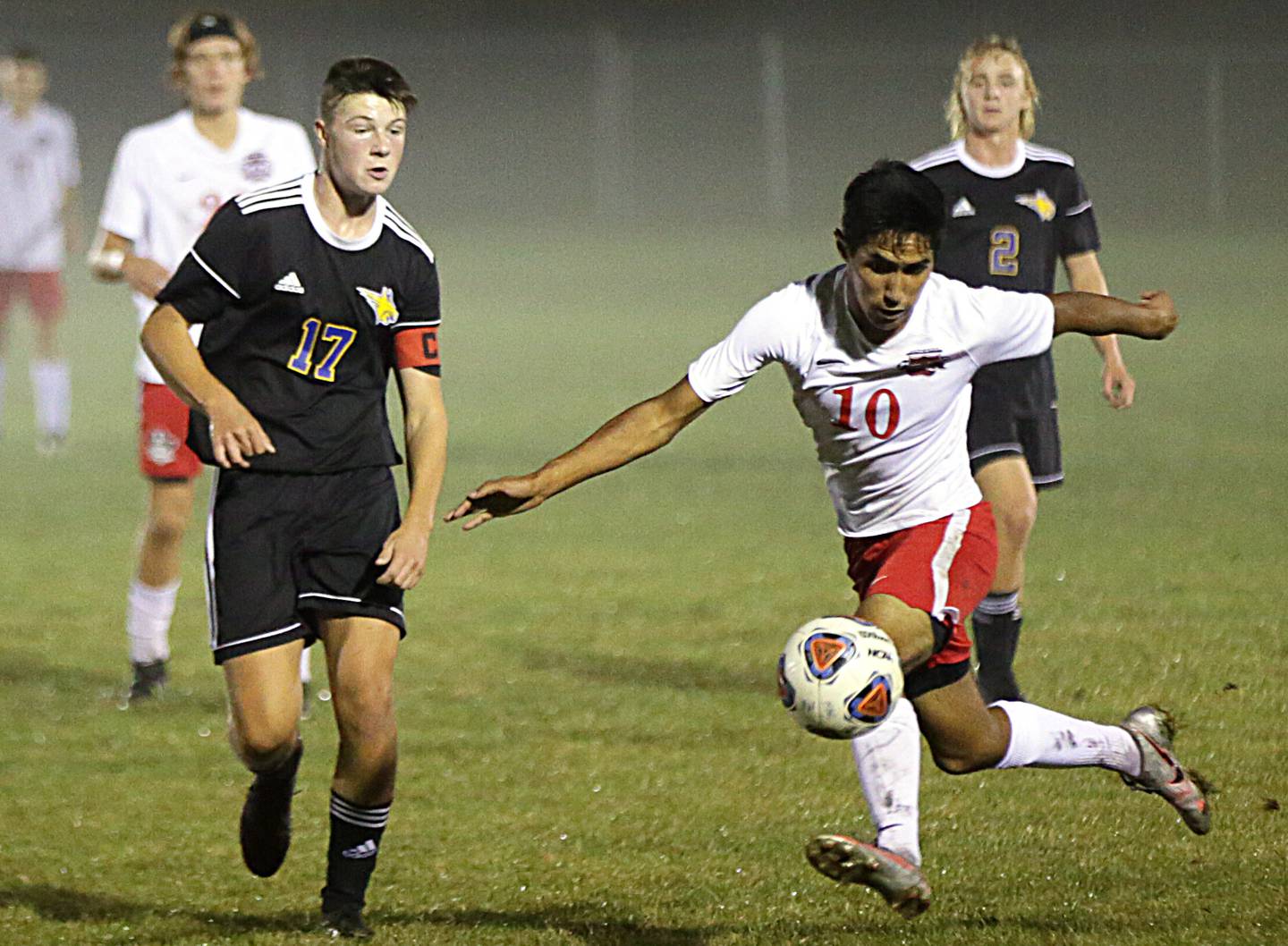 The Bobcats (18-2) used a pair of goals from senior Carter Andrews, a tally from sophomore Lance Grandgeorge and two assists from sophomore Luke Rader in the victory. Earlville (13-6) received its lone tally on a second-half goal by sophomore Ryan Browder off an assist from junior Diego Vazquez.
"I couldn't be happier with how my guys came out tonight ready to go and focused from the get-go ... they battled," said Somonauk coach Jonathan Liechty. "I tell the team all the time, you're going to end up playing like you practice. This team is such a fun group to coach and one that has practiced so hard from Day 1. I'm just so happy for every kid on this team, because tonight they were able to see the fruit of their labor."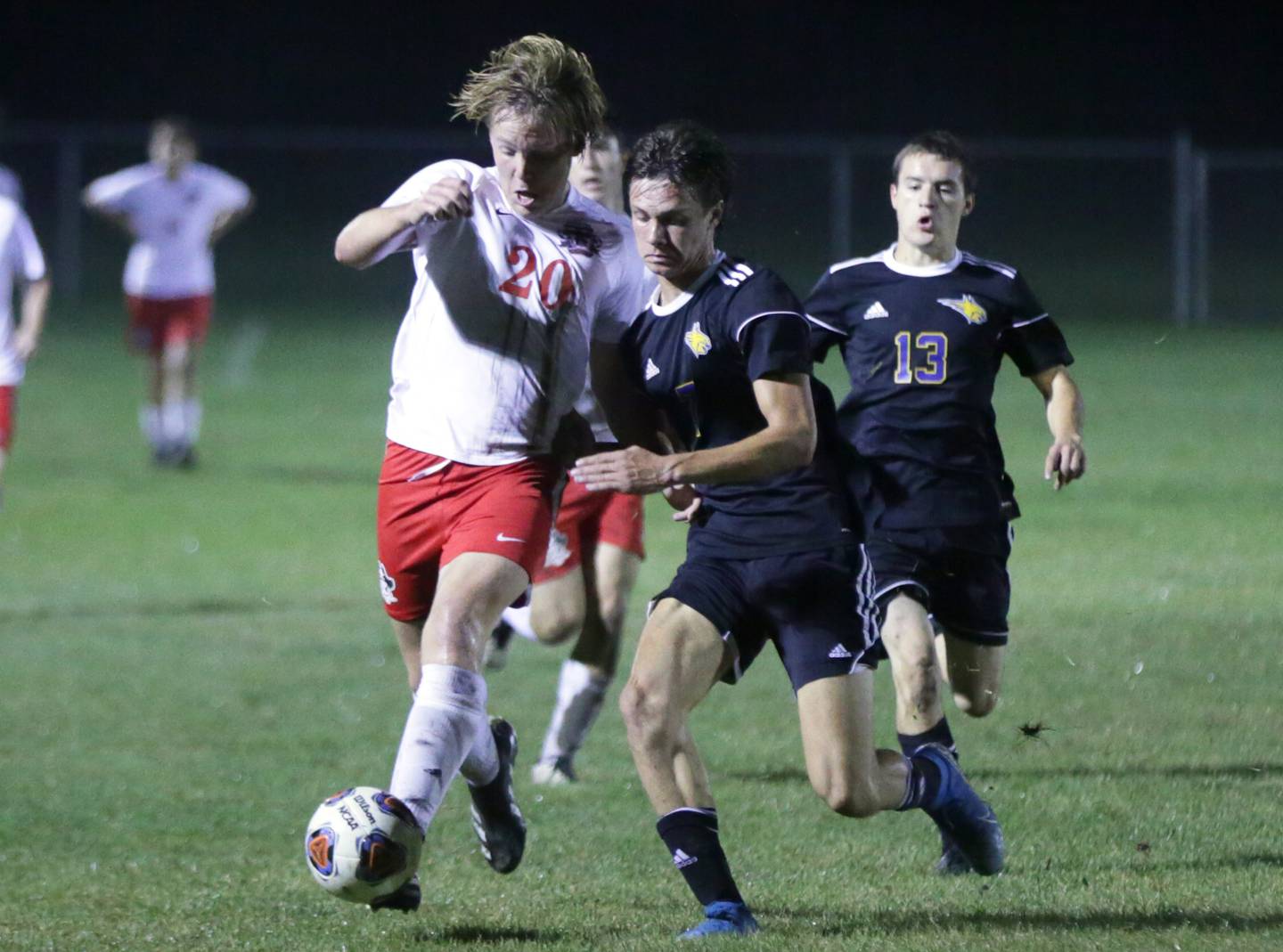 Earlville's first of the aforementioned great chances happened just two minutes in, when Bryar Keller's header from 12 yards out off a crossing pass deflected off the post. Then, just over a minute later, a Vazquez blast from 18 yards out on the left wing was stopped by Somonauk keeper Colten Eade.
"We had opportunities early in the first half, including hitting the crossbar a couple minutes in, but weren't able to take advantage of them," said Earlville coach Larry Heiden. "The first 10 minutes were even, then we give up a goal off a corner kick that we shouldn't have let happen, another off a scramble in front where we couldn't clear the ball out, and another off a corner."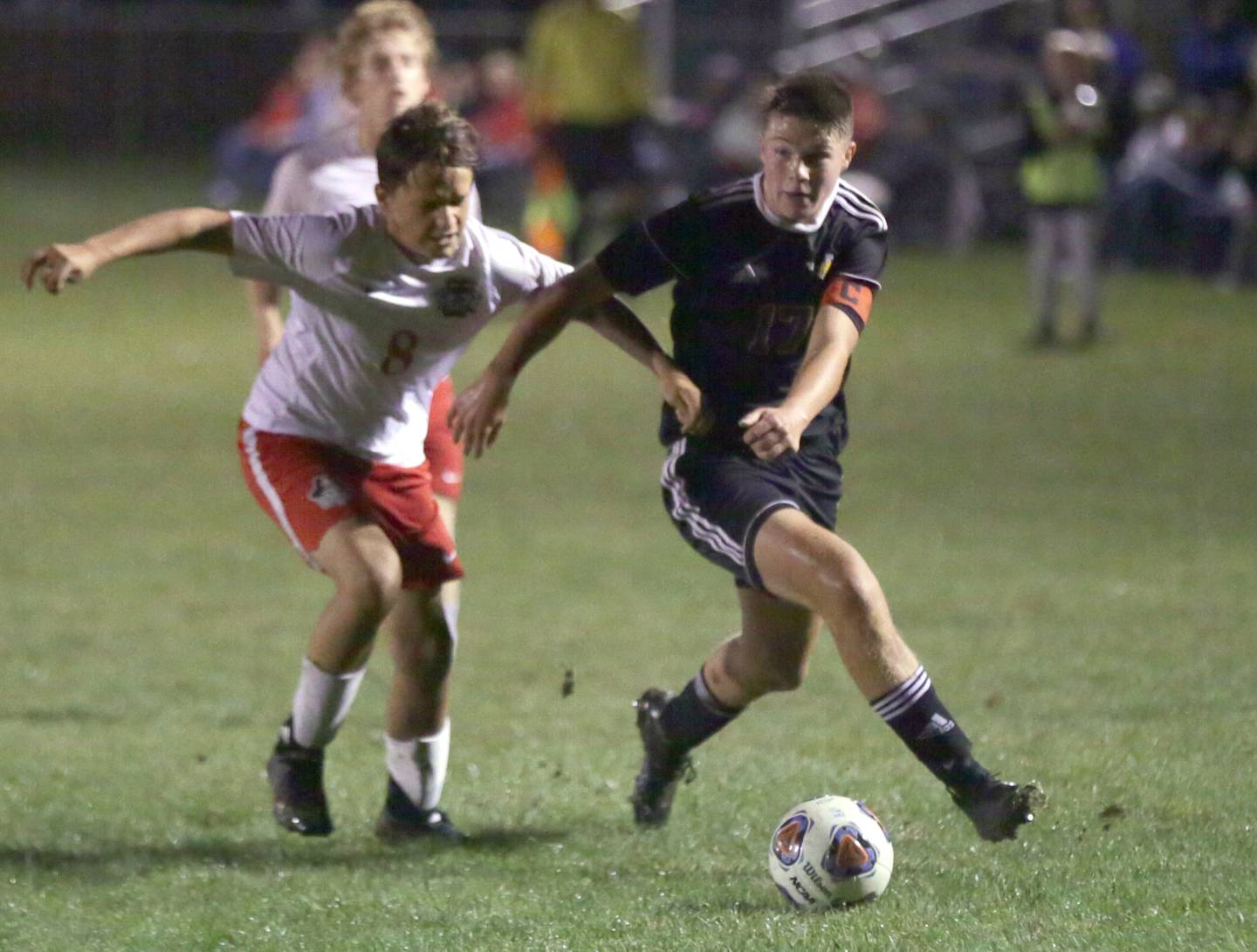 The Bobcats opened the scoring in the 11th minute when, on the second of back-to-back corner kicks, Rader's volley in the center of the box was headed in past Red Raiders' keeper Garett Cook (nine saves) by Grandgeorge from point-blank range. It was Grandgeorge's 33rd goal of the season.
In the 27th minute, Somonauk took advantage of a scramble in front of the net, with Andrews booting home a rebound to make it 2-0. Then just over two minutes later, Andrews headed home his 21st of the season off another perfectly placed corner kick from Rader.
Somonauk held an 11-4 margin in total shots (7-2 on net) in the first half, while Earlville posted a 12-7 advantage (6-5 on net) in the final 40 minutes and led 7-5 in corner kicks for the contest.
"In the second half, the first 10 minutes or so was even, but the final 30 minutes I felt we were the better team, and I'm proud of my guys for that," said Heiden. "That all being said, the biggest key tonight was that Somonauk played a smarter brand of soccer than we did from start to finish. You also can't spot a very good team like Somonauk a three-goal lead and expect good things to happen."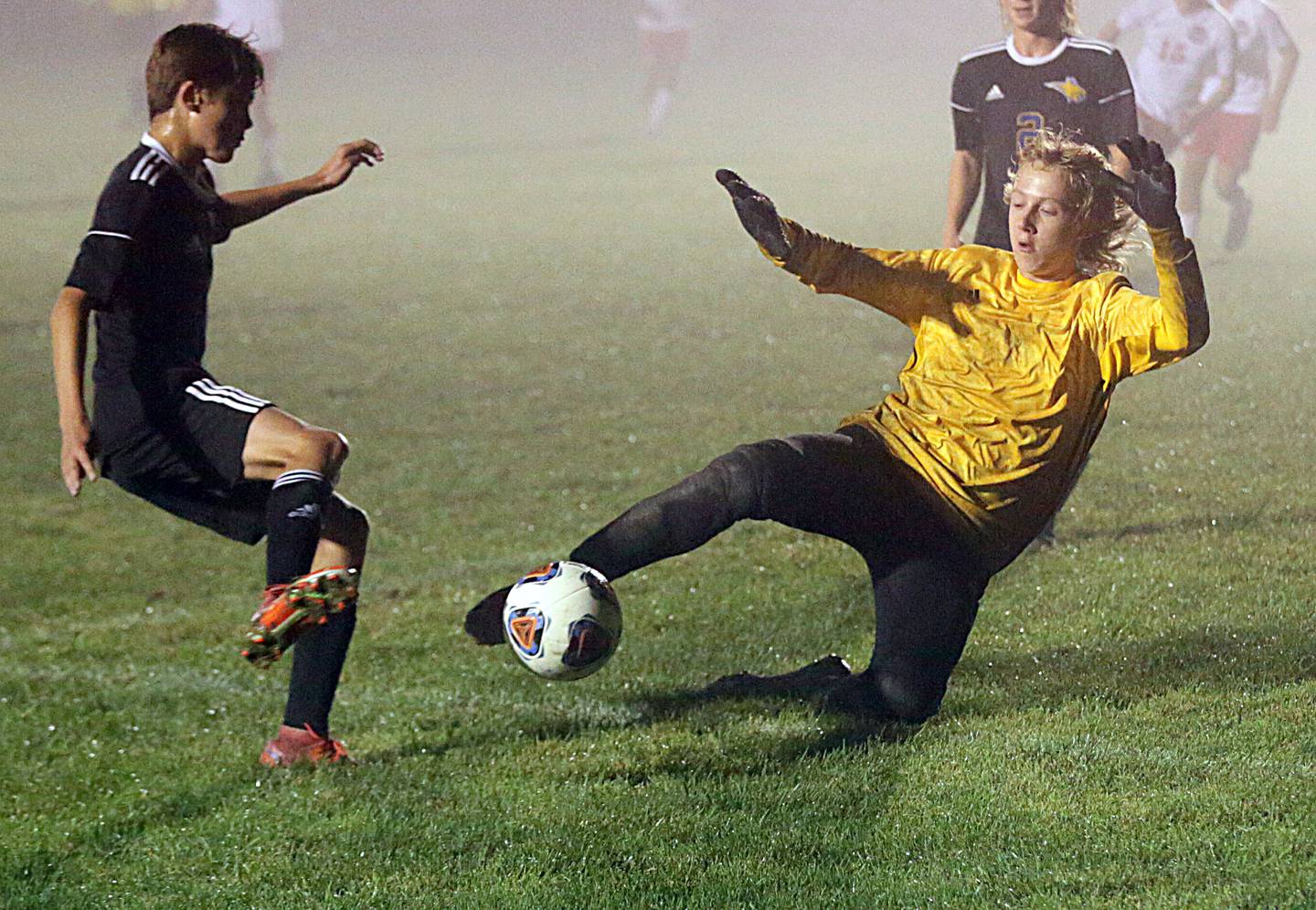 The Red Raiders broke the shutout in the 66th minute when Browder scored his fourth goal of the year on a 10-yard header past Eade (seven saves) from the right side of the penalty box.
"Hats off to Earlville. Larry is a coach I hugely respect, one that knows the game so well, and we talk all the time," said Liechty. "It's always fun to play against a rival. We were fortunate enough to get the result we were looking for today, and maybe we will see them again next week in the regional championship game. That would be another fun and competitive game for sure."