STREATOR – The 4-1 final score doesn't properly convey how closely contested and evenly matched Tuesday's meeting of old North Central Illinois Conference rivals Mendota and Streator was on the SHS tennis courts.
The individual match scores, however, tell the story much better.
Mendota bested Streator in four of five matches, with three of those five – a 7-5, 2-6, 11-9 win at No. 1 singles for Mendota's Alex Stremlau over Claire Vogel; a 2-6, 6-4, 11-9 No. 2 singles victory for Streator's Lucy Zavada over Jackie Cortez; and a 6-4, 6-8, 10-6 triumph at No. 1 doubles by the Trojans team of KayLee Barkman and Alexis Finley past the Bulldogs' Syria Zuniga and Charlie Bourell – going to third-set tiebreakers.
"When you have to win two tiebreakers to win the match and have three tiebreakers overall, that's an evenly matched match," Trojans coach Shawn LeRette said. "It was a nice night after the rain disappeared, and we came out and played some nice tennis."
The No. 1 singles, No. 2 singles and No. 1 doubles matches played out right next to each other, although on slightly different timelines.
Streator's Zavada – celebrating her senior night alongside classmates Vogel and doubles players Ebony Pickens, Brianna Janke and Svetlana Mishalkova – was the first to win her tiebreaker, fighting back after dropping the opening set and trailing 8-4 in the race-to-10 third set to claim victory in her final home match.
"I just really, really wanted to win since this was my last match on this court, my senior night," Zavada said. "My mindset (at the end, winning seven of the last eight volleys) just turned to, 'I really want this.' ...
"It's bittersweet. I'll never play on that court again, but I'm happy I won."
As Zavada and Cortez were finishing, Stremlau and Vogel were just beginning their own rubber set on the court immediately to the east. Streator's ace led that tiebreaker, 8-6, but it would prove to be Vogel's final advantage as Cortez won five of the final six points to claim the victory.
As they were finishing , the No. 1 doubles match was going to a third set, as well. There, Barkman and Finley retook control late to turn away the Zuniga and Bourell comeback bid.
"We did seem very evenly matched," Barkman said. "[Streator] had some really nice spot hits … but my partner, Alexis, had some amazing serves and amazing saves. It's definitely not a one-person game."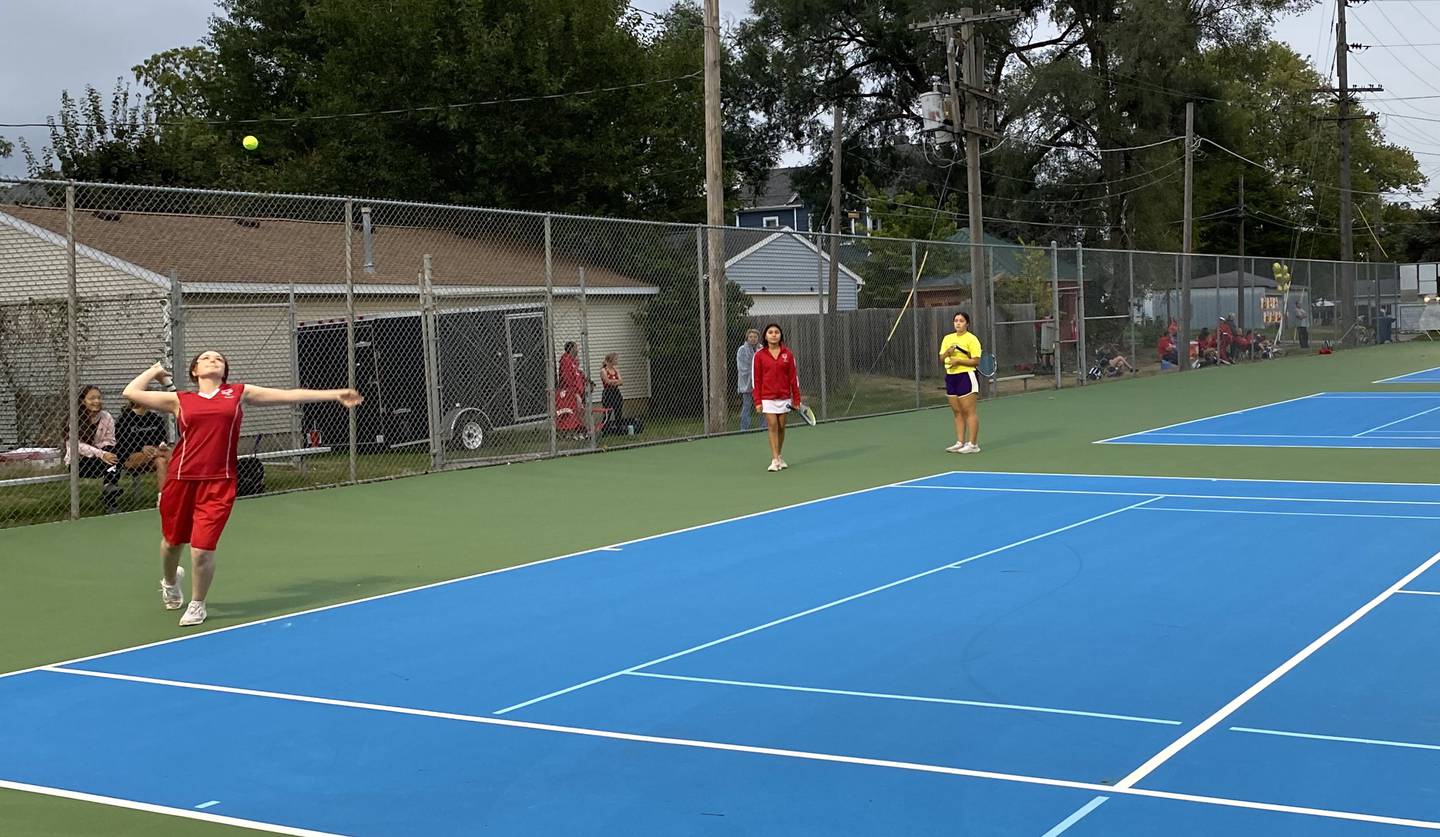 The other two matches – although also competitive – were not quite as long.
Mendota notched wins in both, with the No. 2 doubles team of Zoe Finley and Lizzy Bresley topping Streator's Pickens and Janke, 6-1, 6-3; while at No. 3 it was Talya Schwaegerman and Isabelle Escatel defeating Mishalkova and Mina James, 6-4, 6-4.
"I feel really good for Lucy being a senior and coming back in her second set to get to a tiebreak and then winning her match," SHS coach Kaye Tallier said. "It was great to have our senior Svetlana back on the court after an absence for a while, it was great the way we fought back (at No. 1 singles and doubles), and it was nice Mendota brought as many girls as they did so everyone could get a match and the spectators here got to see how the program is working – not just because of our numbers, but because we've been successful.
"I thought the girls did well to get themselves in some tiebreaks and stay in their matches."