SENECA – The intense crowd in the bleachers and equally intense play on the court made Tuesday night's Tri-County Conference girls volleyball showdown between visiting Marquette Academy and Seneca a memorable one.
Especially, in the end, for the host Fighting Irish.
Seneca dropped a back-and-forth opening set to the Crusaders but seemingly got stronger as the night wore on – and wear on it did, with the final point not scored until 8:59 p.m. – en route to a 23-25, 25-19, 25-12 victory.
"I was really impressed with how Marquette got on the floor those first two sets," Seneca coach Noah Champene said, "and it took us a little while to get going. But once we did, that third set I think we showed a lot of poise and courage coming back and hanging in.
"I liked the comeback, and I was impressed with the effort, especially in the third set. It was a good win, a conference win against our rival, but at the same time, like I told the girls, we don't want this to be the highlight of our season."
The three-set triumph lifts the Irish to 7-3 overall, 3-0 in the TCC.
Marquette falls to 11-2 overall, 1-2 in conference play.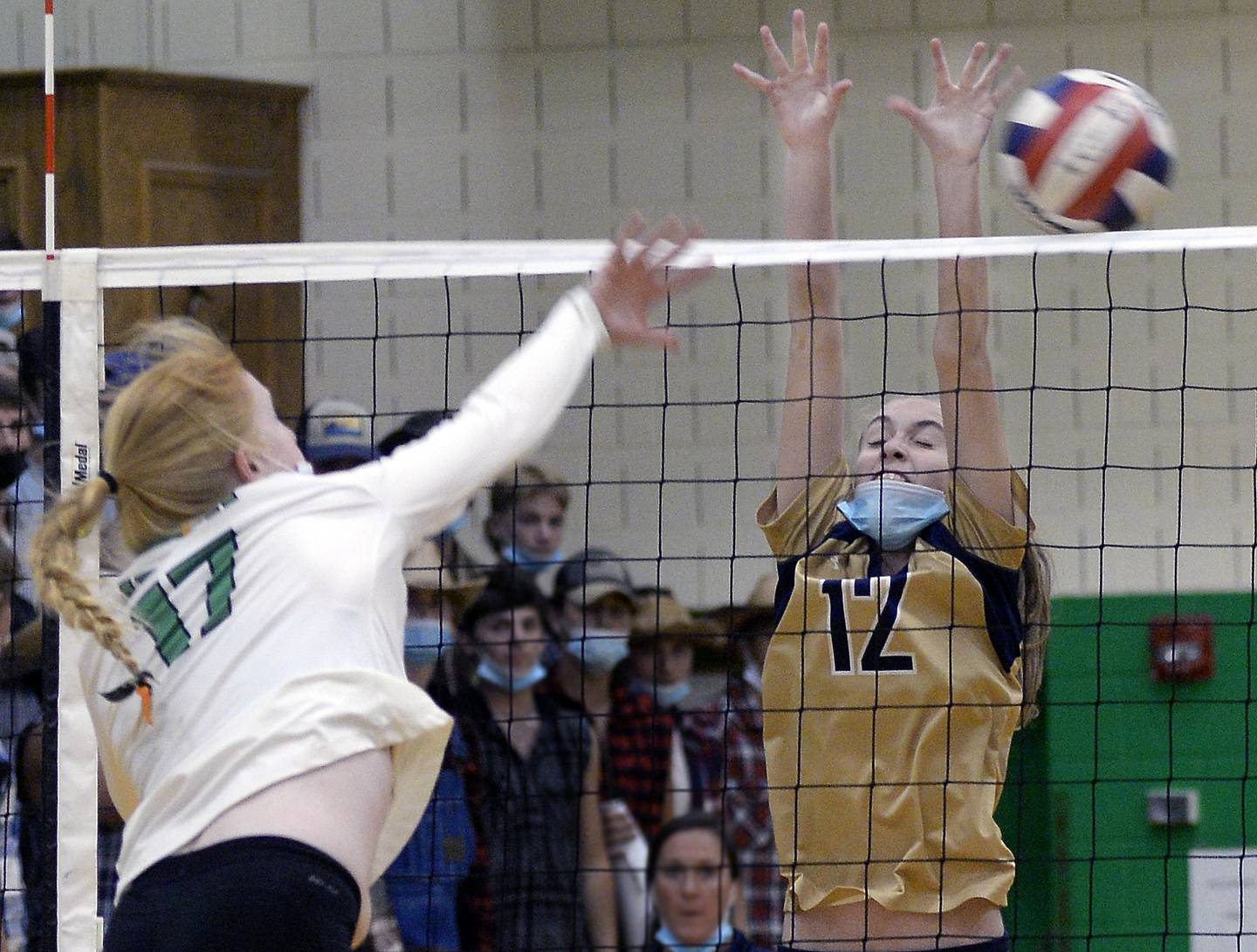 "We get into those tight situations, and our youth shows," said Marquette coach Mindy McConnaughhay, whose roster features only one senior. "They get a little timid, a little nervous, and when half your team can't drive, you expect that sometimes.
"But I just said to them, that's not an excuse anymore. You're all seasoned now, and we've got to do better. We can't show up for one set and decide that's enough."
The Crusaders received 24 assists and 14 digs from Kaylee Killelea; eight kills, 10 digs and two aces from Makayla Backos; seven kills and a stuff block from Mary Lechtenberg; six kills and 13 digs from Lindsey Kaufmann; and a four-kill, two-block, 16-dig performance from Eva McCallum.
A lot of those Crusaders statistics were built up in the opening set, one that saw Marquette break a 15-15 tie with a Kaufmann kill to take the advantage late, then pull away from a 23-23 knotting on a McCallum block followed by a set-winning Backos kill down the center of the court.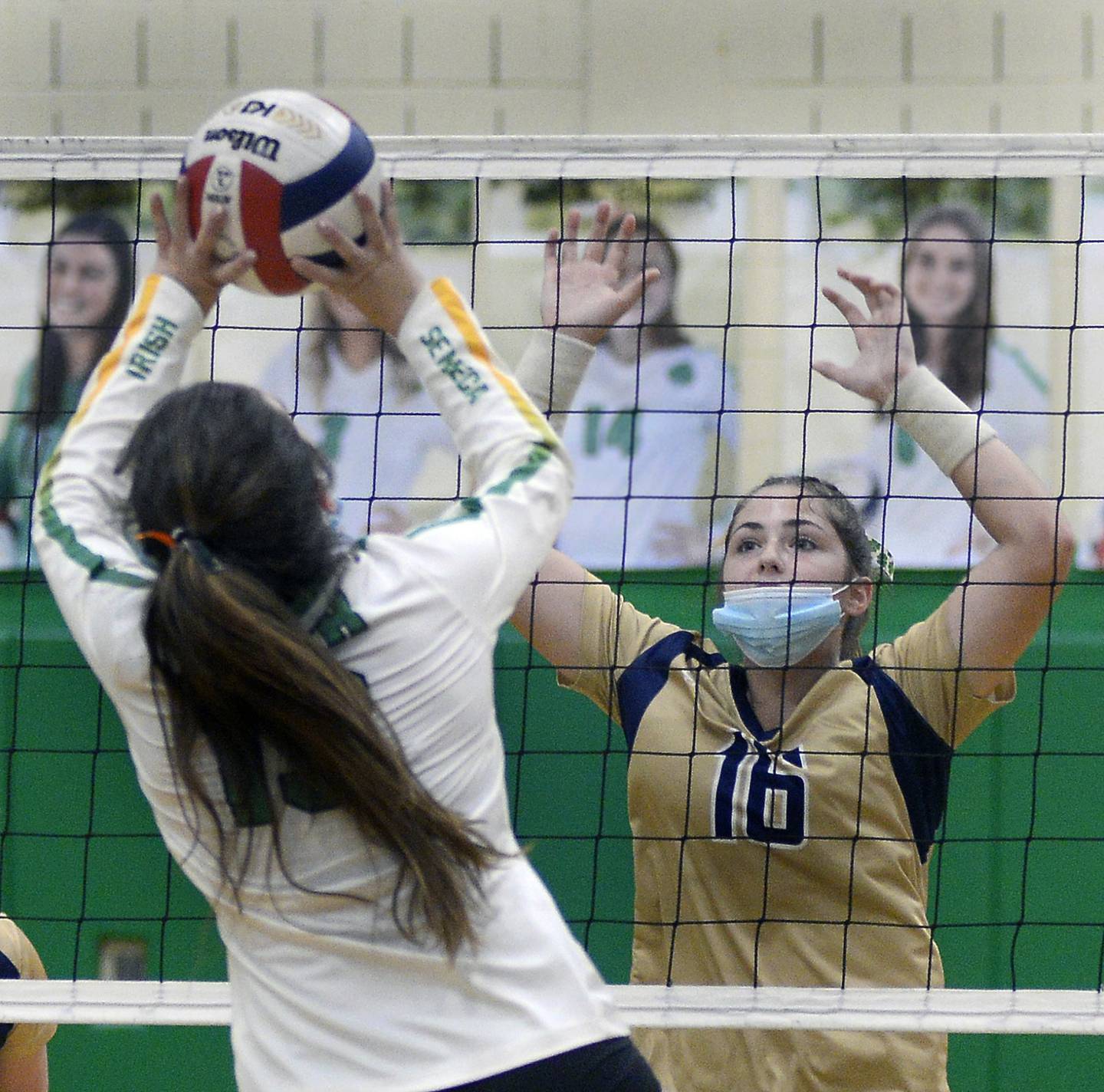 Marquette's only lead the rest of the night, however, was 1-0 at the start of the second set, as Seneca led throughout the middle game despite repeated Crusaders rallies. The Irish couldn't shake the visitors, however, until a Caitlyn O'Boyle kill set up a three-point Madi Mino service run – those points coming on an Emma Smith kill followed by back-to-back Mino aces.
The third set, anticlimactically, offered no such drama. The Fighting Irish scored the rubber game's first three points and pushed their advantage into double digits as early as 17-7 on the scoreboard. A Zoe Hougas kill off an Addie Eltrevoog assist ended the three-set showdown.
Smith (seven kills, four stuff blocks), Sophie Cato (nine kills, one block), Zoe Hougas (six kills), Eltrevoog (12 assists), Mino (three aces, nine assists), libero Taylor Draves (21 digs), Neely Hougas (11 digs) and Callee Bauer (nine digs) led the winning Irish attack in front of an intense, postseason-type crowd.
"Those first two sets were well played on both sides, super high energy, super fun," Champene said. "Both sides were into it."
"I love it," McConnaughhay said. "It's always fun, regardless of if it's here or at our place. Us and Seneca is always a bloodbath. Fans get into it, the kids get into it, and it's a lot of fun.
"Tonight was a great atmosphere."