CHARLESTON — Having the entire IHSA Boys State Track and Field Meet on a single day with no prelims apparently didn't agree with all of the local participants, but there were still some stellar performances earning medals at Eastern Illinois University's O'Brien Stadium on Thursday afternoon.
Fieldcrest's Mason Stoeger capped his standout season in the 1600-meter run by earning a sixth-place medal, while Seneca's Carson Collet earned a ninth-place medal in the pole vault to lead those performances.
Stoeger, coming off a showing at the very competitive El Paso-Gridley Sectional that had him seeded ninth in the 1600 going into the day, moved up through the pack and finished sixth overall with a time of 4 minutes, 27.35 seconds. That was a little short of his goal — to catch the Fieldcrest mark of 4:24 set by 2006 3200-meter state champion Brian Peterson — but that time did get him on the medal stand.
"The race didn't suit my strengths," said Stoeger. "I usually go out a bit harder than the way this one started in, so the first half was slow in my opinion. But it definitely played into the strengths of the kids that beat me because they just had better kicks than I did. That's what it came down to, whoever ran the last lap fastest. My time I ignored because of how slowly we went out. It was a very strategic race (with no prelim, running for time over a place) … But I'm happy with my day.
"I didn't care for the (new format) they used this year. With a single class going in one day, it feels rushed. And there are kids running the two-mile, then running the mile half an hour later … Hopefully, it will go back to the old way next year and I'll get top five and that school record."
Collet, who carried into Charleston the ninth-best sectional effort at sectional, recorded a personal best vault of 12-8 ¼ to remain a solid ninth place on the day. Later in the day, the Fighting Irish standout also finished 18th in the triple jump with a leap of 12.19 meters.
"I did my best (in the pole vault) and medaled, so I'm very happy with that," said Collet. "The weather was great and that really helped today."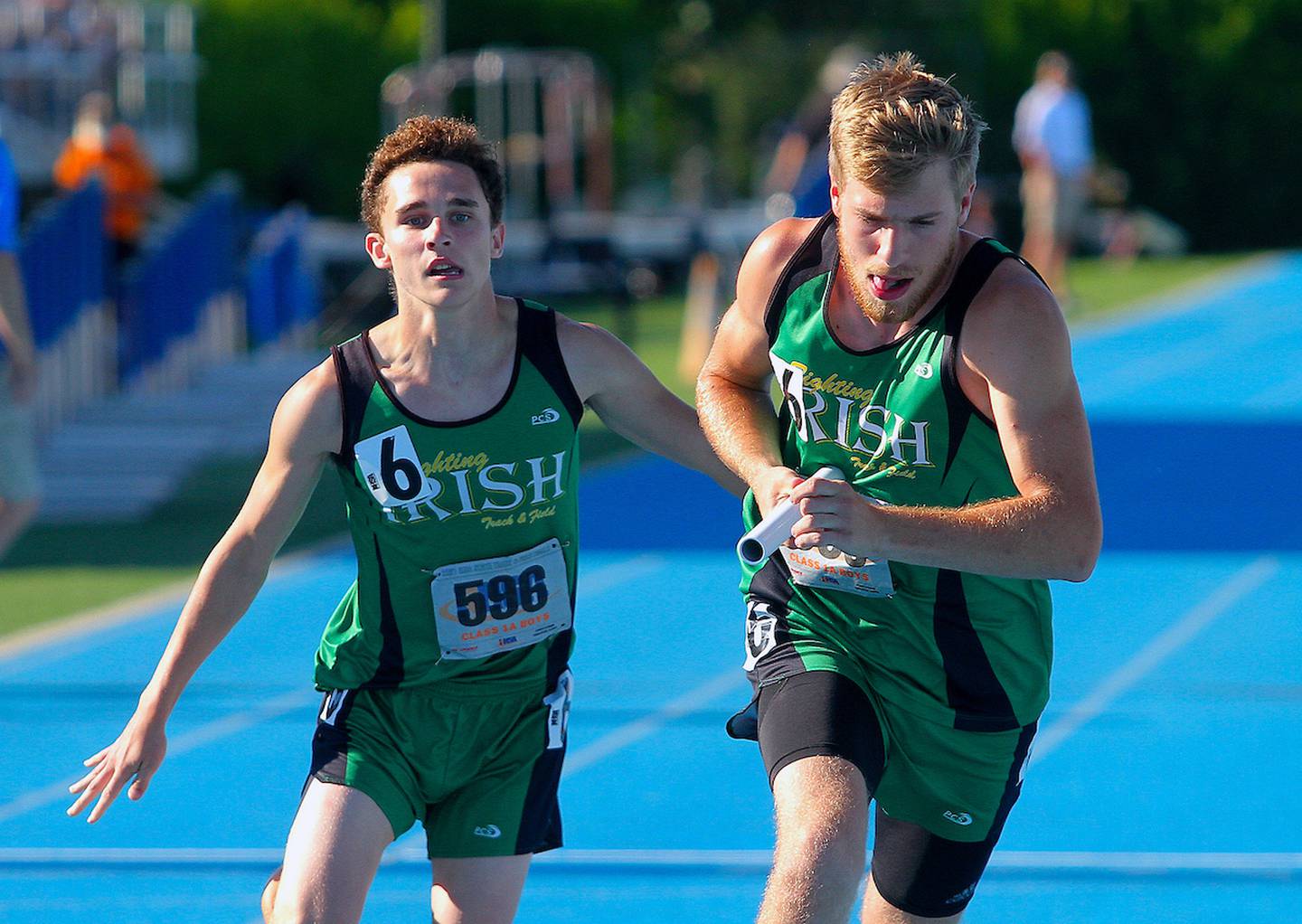 The rest of the athletes from The Times area didn't fare as well, but represented their schools and the area very well.
Flanagan-Cornell/Woodland's Kyle Uhl found the competition in the 1A shot put a little tough, but still came up with a toss of 15.07 meters to place 11th overall.
Also for FCW, Phoenix Cooper had a solid throw of 39.58 meters in the discus, earning 15th place on the day.
The best finish of any of Seneca's four relays came in the 400 relay, with the 11th place earned by Kolya Cato, Chase Hauch, Trey Hauch and Ryan McCauley and their 44.41 seconds.
The Irish 800 relay of Given Sigel, the Hauchs and McCauley placed 14th with a time of 1:33.65. Also, the 1600 relay of Billy Glasscock, Trey Hauch, Wilson Widman and Collet was 22nd in the event with a 3:40.33 clocking, while the 3200-meter foursome of Chris Poyner, Spencer DeGraaf, Brady Danek and Glasscock ended up 23rd in 8:57.53.
Individually for Seneca, Sigel was also a candidate in the 100 high hurdles and finished 15th with a time of 16.32 seconds. The Irish's Nathan Grant participated in the high jump, but did not clear the opening height.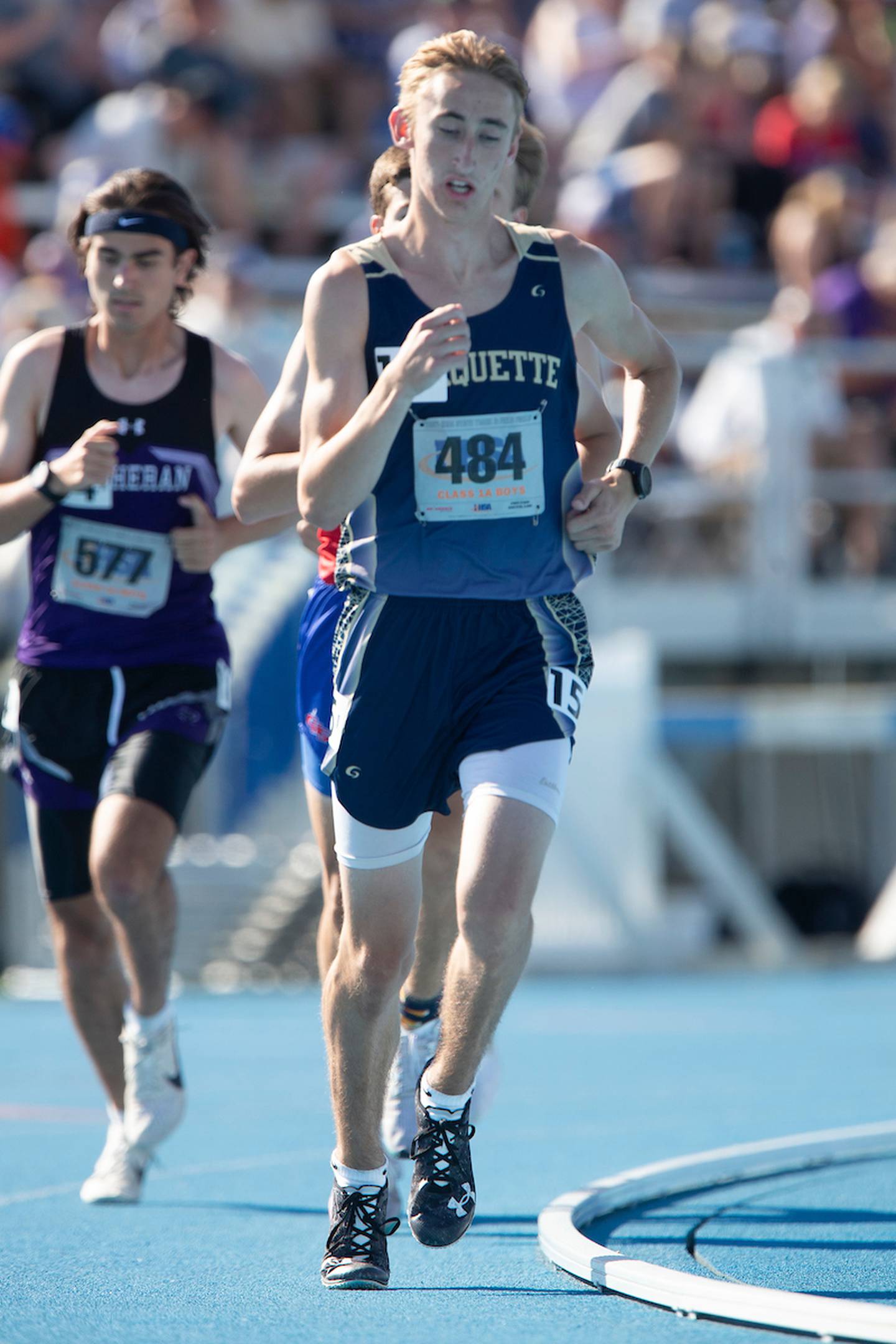 Marquette Academy senior Lucas Hoffman was happy with his solid effort in the 800, where he rallied from the back of the pack to as close to the lead as third in his heat. When the heats were combined, he finished 23rd with a clocking of 2:04.24.
But in the 1600, his signature race, an old injury suffered at the Tri-County Conference meet three weeks ago caused his back and leg to tighten up. He managed an uncharacteristic time of 4:57.36, good for 28th place.
"The 800 I was happy with," Hoffman said. "I think I fell back to close to last place after the first lap, but got close. But in the mile, I was really hurting … It would have been nice to be fully healthy for my first time at state, but we're happy to even have a season. I'm happy with my season."
Newark High School's lone participant, Steve Martin, captured 19th place in the 400 meter dash, posting a time of 52.49.