MORRIS – With Saturday's weather fit for ice skating, Morris Mayor Chris Brown donned his skates, took the inaugural trip around the new ice rink at Goold Park, and performed the official ribbon-cutting.
Before he cut the ribbon, Brown addressed the crowd of more than 50 people.
"I just want to thank everybody, mainly the aldermen and everybody else who helped get behind this," Brown said. "Things that are hard are never easy, and this was a really great feat for our community. The best part of it is that this wasn't paid for with a single taxpayer dollar. All the sponsors and the money we received from the electric aggregation went to this rink. That's pretty much a community effort, as far as I'm concerned.
"That's what Morris is all about. That's what I have always felt my entire life. We live in one of the best communities in the entire United States, and it's for reasons just like this. I thought this was a great way, not only to give back to the community, but the kids, and it's been a citywide effort between Public Works. Ayers Electric has put in a lot of time to get this ready for everyone to use by the holidays. It's been a citywide effort from everybody getting this done.
"It wouldn't be possible without all those who helped donate and sponsor the rink. I can't say enough. This is a pretty exciting day. Let's have fun."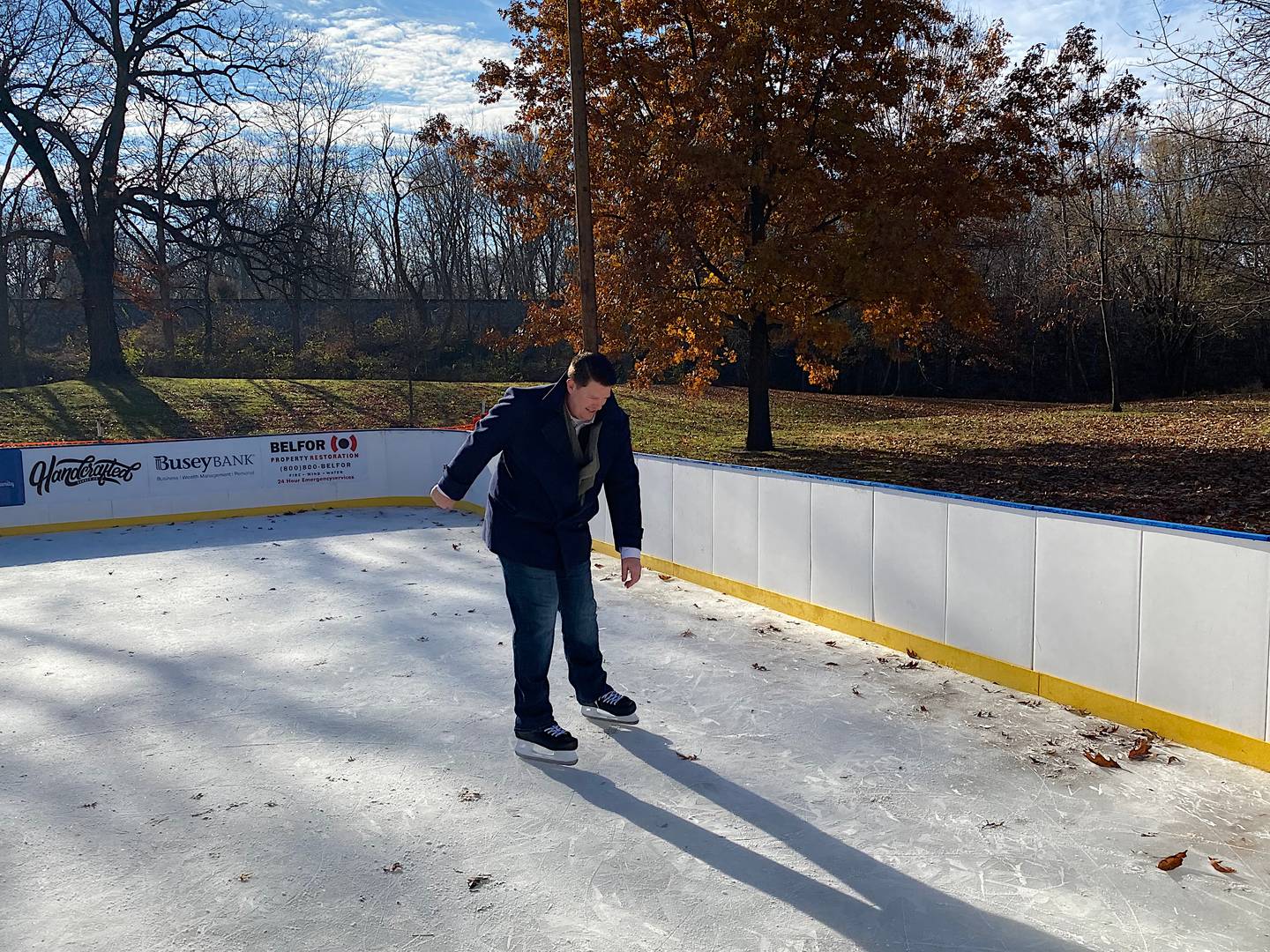 The rink, located near the band shell in lower Goold Park, will be open during park hours, 6 a.m. to 10 p.m., Sunday through Saturday. Hockey will be allowed from 8 to 10 p.m. Monday through Thursday and on 8 to 10 a.m. Saturday and Sunday and only during those hours. Other rules for the rink include:
• Skates are required while on the ice.
• Helmets and protective safety gear are strongly recommended for all on-ice activities.
• Skating that endangers or interferes with other skaters' safety or pleasure is prohibited.
• Do not sit, stand or leave articles on the sideboards.
• Keep all food and beverage containers off the ice. Glass containers are strictly prohibited.
• Please be courteous and share the ice.
There will be no skate rentals, at least for the first year. Skaters must bring their own.
Brown also said that celebration lighting, similar to that what has been on Liberty Street, will be put over the skating rink, once the lights are delivered. He said they are on back order, but hopes they will be delivered soon. There also is a speaker system installed that will play holiday music while the rink is open.
Alderman Sarah Mettille, who is the chair of the Parks & Annexation Committee, was excited to see the rink open.
"I hope this is the first of many improvements we can make to our parks," she said. "We have a lot of things in the works. We need to improve all of our parks. We are prioritizing which ones need it the most. All of them are in need of some upgrading.
"We hope that some of the money that comes from sponsors will be able to go toward upgrading the other parks."
Mettille said that the first park that she is targeting for improvement is Goodwill Park.