OTTAWA – The Ottawa Pirates didn't strike first in Saturday's championship game of the Class 3A Ottawa Regional.
Morris did that, plating a run in the top of the first inning thanks to a triple from designated player Elaina Vidales immediately followed by an Ella Davis RBI single right up the middle.
What the Pirates did do was answer quickly and then hold Morris right there, the winning formula of a 5-1 regional championship victory at King Field.
"I think to bounce right back and tie it the next inning was huge," Pirates coach Adam Lewis said. "It lets you settle into your game, and also lets you [have more options] from an offensive perspective.
"I'm extremely proud of the team today. Morris is really, really good ... and I was really happy at a lot of the small-ball execution and baserunning things that we've been working on all year and weren't always the best at early in the year.
"That's what got us a lead, and that's what got us a cushion at the end."
Ottawa (25-5) advances to the Class 3A Lemont Sectional, facing Marian Catholic (21-10) at 4:30 p.m. Tuesday. The other teams in the sectional – Joliet Catholic and host Lemont – face off in the other semifinal Wednesday. All ticketing for the sectional will be done digitally.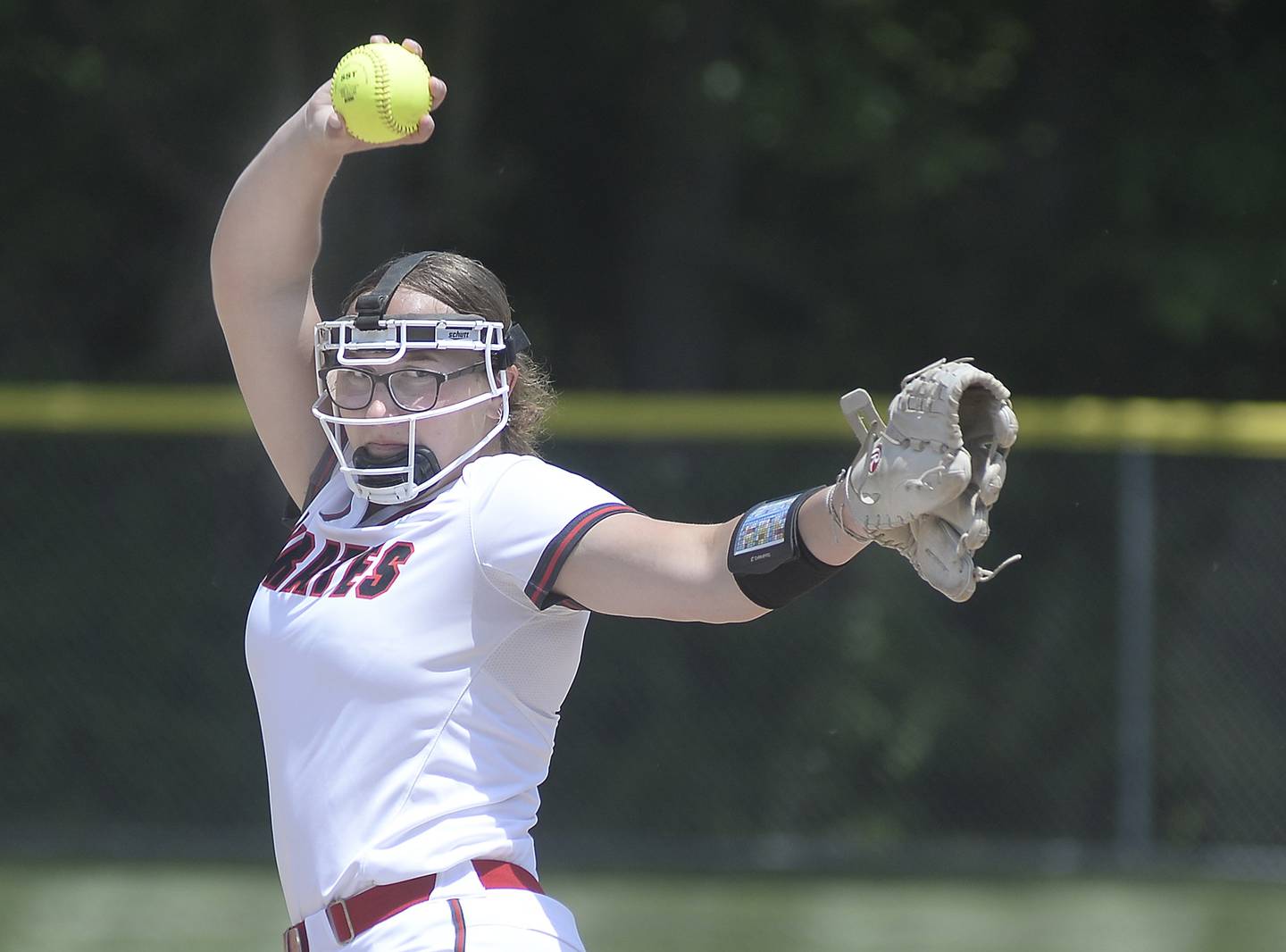 Morris (23-12) sees its season come to an end with a third loss in three games with the Pirates.
"We had a great season and fought down to the last out, like we've been doing," Morris coach Jennifer Bamonte said. "Credit Ottawa. They outplayed us today, and I'd rather lose to a team that beat us than beat ourselves.
"We wanted to be aggressive [early] ... but I had a feeling one run was not going to last today. We had to keep that momentum going throughout, and we just couldn't."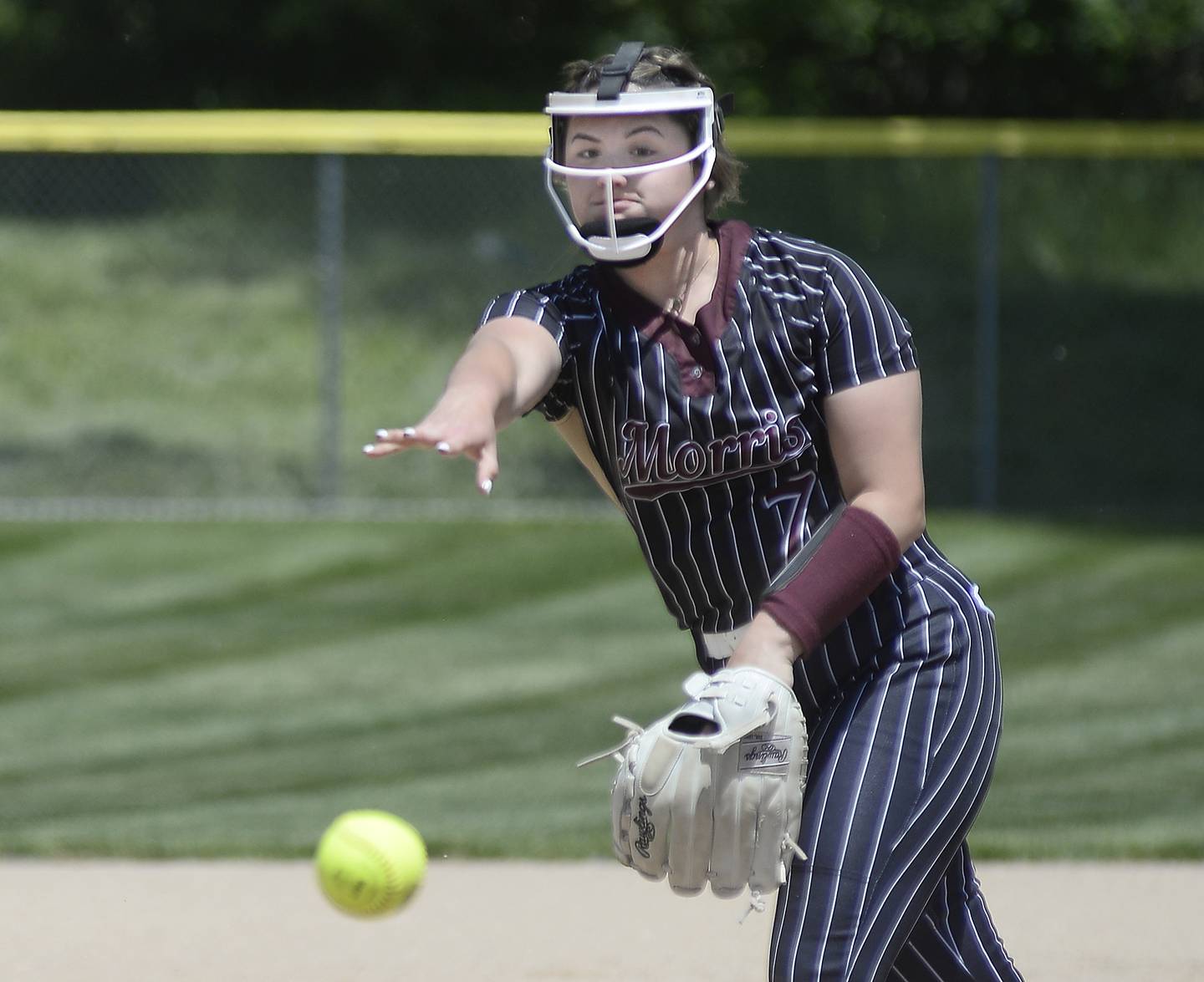 Things did get off to a nice start for Morris. Following Vidales and Davis' back-to-back hits to go ahead 1-0, Davis (6 IP, 3 ER, 5 H, 0 BB, 7 K) took the circle and pitched a scoreless bottom of the first aided by a great inning-ending double play when second baseman Marie Ferguson ranged back to bring in a looping liner in shallow right field and fired to first to double off the Ottawa baserunner.
That first inning proved to be the exception rather than the rule, however. Pirates ace McKenzie Oslanzi (7 IP, 1 ER, 4 H, 0 BB, 10 K) worked a 1-2-3 visitors' second, and Ottawa tied the game in the bottom half thanks to a leadoff double to left from cleanup batter Ryleigh Stehl and Maura Condon's RBI groundout.
"I just went to the plate and said, 'Hit the ball,' because I've struggled against this pitcher," Stehl said. "I told myself I was not going to get out. We needed a run, so I was going to do the best I could to get on base and score for us.
"It was my last time playing a game on this field, so I just went and put my all out there."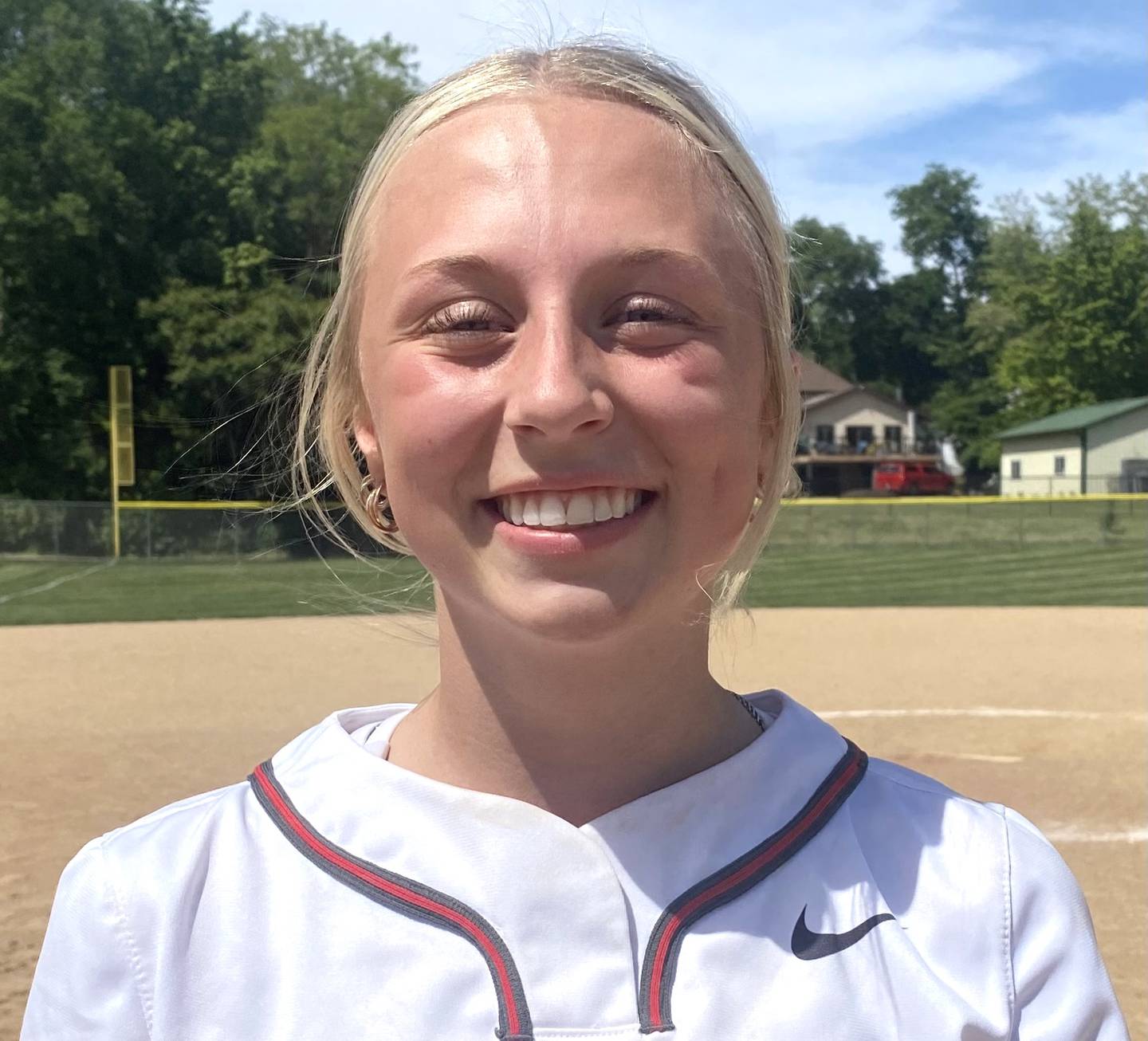 Oslanzi set down Morris in order again in the third. The Pirates then took the lead in the home half, thanks to pinch hitter Grace Carroll getting hit by a pitch and attempting to steal second when Oslanzi lined a base hit to left. The cross country standout Carroll raced all the way home on the de facto hit-and-run, Oslanzi took second on the throw, and her courtesy runner, Addy Miller, soon came in to score on a Kendall Lowery RBI hit.
There at 3-1 the score remained until the sixth, when Ottawa added what proved to be a couple of significant insurance runs.
Stehl reached on an error, Condon was hit by a pitch, and the duo and batter Aubrey Sullivan executed a picture-perfect fake-bunt/double-steal, drawing Morris third baseman Karson Dransfeldt in with the bunt attempt and then taking the vacant base behind her.
"That was my call," Stehl said with an enormous smile. "I asked, 'Can we please do it one last time, I want to steal one last base here,' and [Coach Lewis] had trust in me."
Morris shortstop Addison Stacy saved at least one run by racing over and blocking the throw to third like a catcher, but Stehl and Condon soon scored anyway on a wild pitch and a Sullivan infield single to put Ottawa up 5-1.
Morris managed to get the tying run on deck in the seventh, but not to the plate. Oslanzi finished off the complete game with her 10th strikeout and secured the Pirates' third regional title in the past five years.
Oslanzi for Ottawa and Davis for Morris contributed two hits apiece.