OSWEGO – Sidney Hamaker played middle for an AAU national runner-up in club and will play middle collegiately at Long Beach State.
So she's essentially in an unfamiliar position at Oswego.
But the 6-foot-2 junior does not exactly look like a fish out of water at outside hitter. Certainly not to her coach.
"You have to understand she's playing a position for us that she doesn't play in club. This is a huge change for her," first-year Oswego coach Gary Mosley said. "She's a middle blocker for club, and she's a pin for us. But you wouldn't be able to tell, especially the way she passes."
Hamaker showcased her all-around game Tuesday in Oswego's season-opening match. She had two kills and two aces during a service run that turned the tide in the first set, and the Panthers went on to a 25-19, 25-21 win over visiting Rosary.
"I think we passed really well, and we served really well. That's two of the biggest parts of the game that helped," Hamaker said. "We served really tough at them, got them out of system, which helped us out a lot."
Fellow junior Mia Jurkovic had nine kills, Hamaker eight kills, and a third returning junior from last year's 18-18 team, Ava Flanigan, led the Panthers in assists, 16 in the second set alone. Clare McEniry had 10 kills for Rosary (0-2).
Hamaker's kill midway through the first set tied it at 14-14, and sparked a 7-1 run that gave the Panthers control of things. She put down a huge back-row kill on the next point to give the Panthers the lead for good in the set, and added two aces on serve. Riley Borrowman's block finished off the run for a 20-14 lead.
"I was looking to serve one girl in particular," Hamaker said. "I kept going at her, and it was working."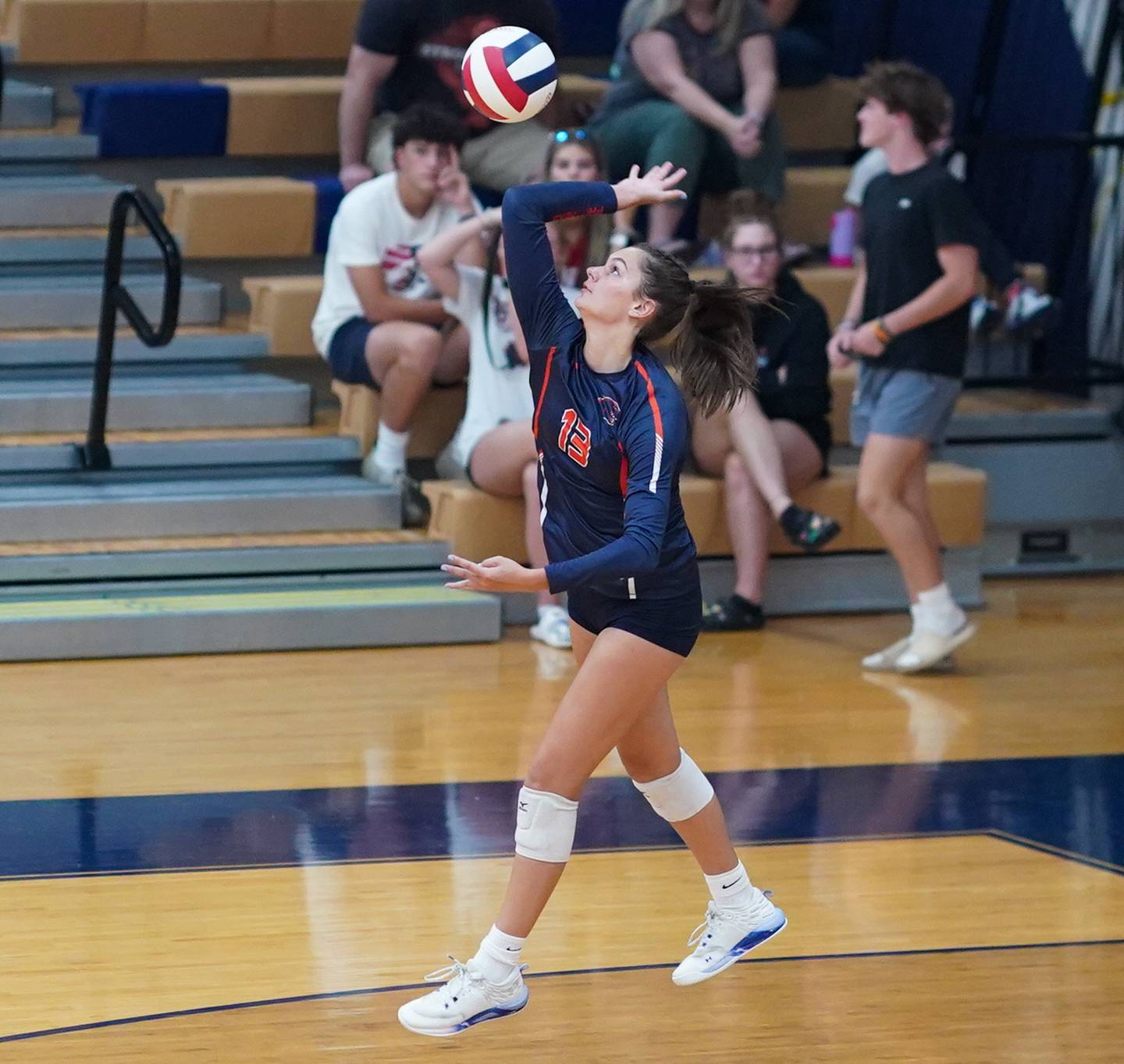 Hamaker has worked out quite well for Oswego at the pin.
She smashed 324 kills as a sophomore in her second varsity season, but Hamaker's other skills on the court impress Mosley.
"I haven't seen her numbers, but I thought she passed well," Mosley said. "I told her that they were going to come after her, because they know she's a middle, and she responded to that. She put a couple balls up, and they went away from her.
"She's been working her tail off in practice, too. She's so coachable. She makes it happen. For a true middle to pass the way she did, you can't ask for more."
Hamaker, who took second at AAU nationals with Sports Performance 18 Elite and committed to Long Beach State in July, said the move to outside isn't a minor adjustment.
"It's adjusting to the higher sets, not being one-on-one all the time," Hamaker said. "In the middle you usually just have one blocker to worry about, but outside you constantly have two on you. You have to be creative, finding different ways to score even when you have multiple blockers at you."
Hamaker indeed commands plenty of attention, which makes it nice to have a girl like Jurkovic around.
Jurkovic had back-to-back kills to close out the first set and had a key kill after Rosary had drawn even at 19-19 in the second set.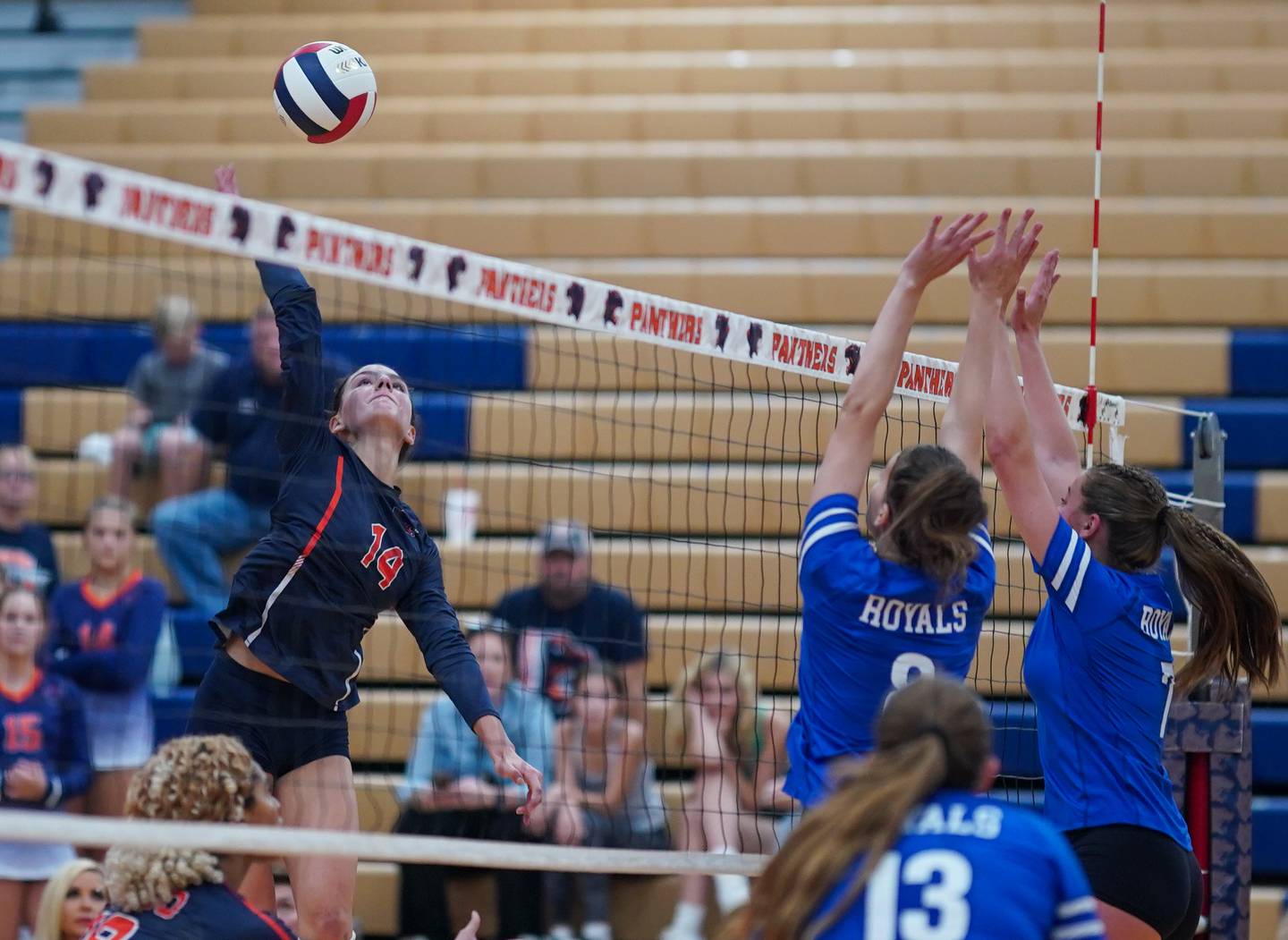 "I think people forget about Mia,because everybody focuses on Sid. She really came through," Mosley said. "She is very, very consistent for us out of the back row, she gets us moving in system which is an underrated thing people don't look at. They hone in so hard on Sid, and they forget about her. She's very fundamentally sound."
Rosary, which trailed 15-9 in the second set after Hamaker's big smash out of the back row, rallied with kills by McEniry, Reese Gilla and Lily Caruso.
But the Royals struggled in the middle parts of both sets.
"We made the pushes at the end of the sets. It's the in-between where we need to clean it up a little bit," Rosary coach Francisco Martinez said. "We had the lead in the first set, and we had three missed serves in a row to give them the opportunity to get back into. Granted, Oswego is a good team.
"We know we're capable. I's putting that piece together in the in-between game so we can overcome instead of digging ourselves those holes."