BOLINGBROOK – Ben Oosterbaan has a word for hitters like Yorkville's Kam Yearsley – tough lefty, crowding the plate.
"Usually my kryptonite," Oosterbaan said.
Oosterbaan's source of strength is his slider.
Hinsdale Central's senior right-hander and Michigan recruit called on it for the 11th pitch of an at-bat against Yearsley. It came with the tying runs on and two outs in the seventh inning Thursday.
"Basically at the end I just said, 'I'll give you my best, which is my slider, versus his best swing. Either you're going to hit it or not,' " Oosterbaan said. "Grip it as hard as I could and try to make it as nasty as possible, because I knew Charlie [Bergin] would catch it."
Oosterbaan let fly a hard-breaking slider toward the knees. Yearsley, who had remained alive by stubbornly fouling off five pitches to run the count full, swung over it. It sealed eighth-seeded Hinsdale Central's 2-0 win over ninth-seeded Yorkville in the Class 4A Bolingbrook Regional semifinal.
Oosterbaan, pitching with traffic on the bases throughout, scattered eight hits and a walk while striking out seven in outdueling Yorkville's Simon Skroch, a Minnesota commit, in a dandy of a pitching matchup between Big Ten recruits.
It lived up to Oosterbaan's expectations.
"For sure I was thinking about it all week," Oosterbaan said. "Could be the last high school game with your brothers. I just wanted to compete as much as I could and give the team the best I could."
Gavin Vande Lune's two-run homer in the second accounted for the only runs for Hinsdale Central (19-14), which advanced to face No. 1 seed Downers Grove North in Saturday's regional final. The Trojans swept all three games with the Red Devils during the conference season.
Hinsdale Central needed its ace at his best to get there.
Starting with the first inning when Yorkville's Nate Harris and Yearsley singled with one out, the Foxes (15-18) had runners on base in six of seven innings.
Oosterbaan bore down each time. He retired all 10 batters he faced with runners in scoring position, with inning-ending strikeouts in the fifth, sixth and seventh with a runner on second.
"I just try to stay neutral in my thinking in those situations," Oosterbaan said. "If something happens that's bad, I recognize that it's bad – but it's not going to affect the next batter. Even if there is a guy on third, no outs, I still have faith that I can get the next three outs.
"I don't want to give them anything easy, any free runs. My defense played such a great game."
Oosterbaan used his changeup for the first time to strike out Yearsley with a runner on second in the fifth, but his out pitch is that slider that has multiple permutations. He used it to effect to retire eight straight batters between the third and fifth.
"Definitely my go-to pitch. I feel comfortable throwing it in any count," Oosterbaan said. "I can shape it different ways, basically the way I grip it. On a lefty, I try to get more on top of it; on a righty more on the side. That's what I did."
Yorkville's seventh inning was tailor-made for a rally. No. 9 hitter Sebastian Westphal singled up the middle with one out, and Daniel Rodriguez followed with an infield single in the hole.
But Oosterbaan followed by getting Harris, 2-for-2 with a double and walk up to that point, to pop up to short right field, then won the marathon at-bat with the equally dangerous Yearsley.
"Credit to the bottom of the order in general. We saw that coming two innings away that we needed the bottom of the order to do something to get the big guys up," Yorkville coach Tom Cerven said. "They grinded, got on base. If I got Nate Harris and Kam Yearsley with the chance to drive in runs, I'll take that every day."
Cerven, unfortunately, had seen this movie before.
"That's the way our season has been. We unfortunately didn't get that big hit when we quite needed to," he said. "We barreled a lot of balls today."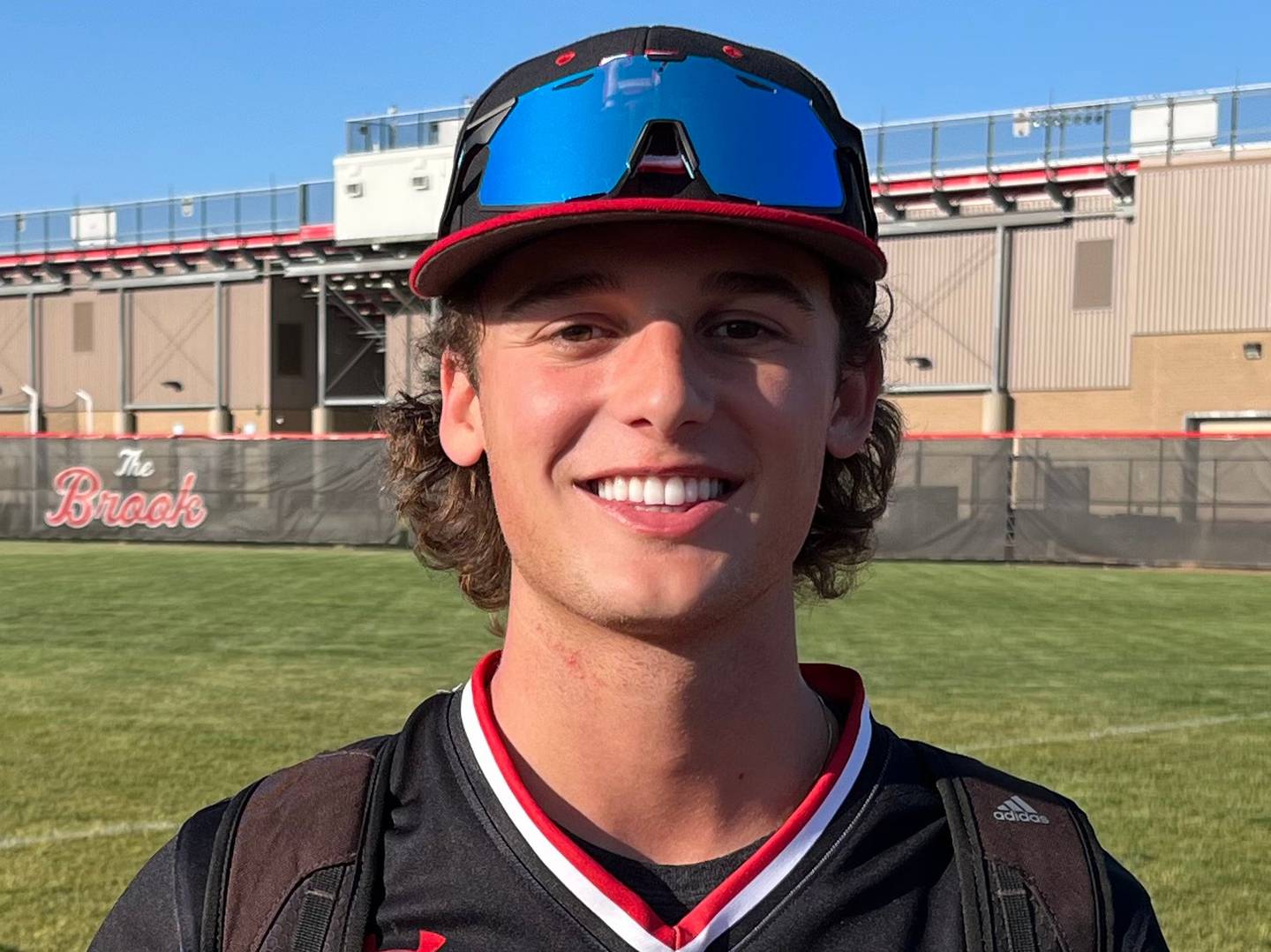 Vande Lune, meanwhile, was an unlikely offensive hero.
With a runner on first and two out in the second, he turned on a Skroch fastball for a two-run home run down the left-field line. It was Vande Lune's first home run since 13U "if you're not counting inside-the-park homers."
"It's been a while. It was a great feeling, electric," Vande Lune said. "It was a 1-0 count, I knew the kid had a pretty good fastball, so I was thinking fastball. Right away I thought, 'Ooh, I got a good piece of that one,' haven't hit a home run in a while, so I was sprinting down to first base."
Cerven lamented a dropped tag on a stolen-base attempt, extending the inning. Skroch struck out seven, scattering seven hits, a walk and a hit better.
"Simon, that was by far his best game of the year," Cerven said. "It's a shame that we gave them four outs that inning and the kid ran into a fastball."