Michael Hilker was the last one out of the gym.
When Yorkville's senior pitcher reflects on his breakthrough spring season, he refers to quiet fall and winter nights working on his craft.
Last session at the Elite Sports Performance complex, 9:30 p.m., nobody catching him, just Hilker and his pitching coach, he threw to a black target on the wall with a strike zone outlined in white.
"A lot of reps, a lot of bullpen sessions, I wasn't even throwing to a catcher at all, just throwing to a mat or a target on the wall," Hilker said. "Just working on hitting the same spots I want to hit consistently. It was about throwing to the target."
All those repetitions, those solitary late-night throws, fueled Hilker's rise from a good high school pitcher to the ace of a historic Yorkville team.
Hilker posted an 8-1 record this spring with a 1.61 earned run average and 86 strikeouts over 61 innings. His consistency was unmatched. Hilker gave up two or fewer earned runs in every start except at Minooka, when a 25 mph wind was blowing out to center field.
With Hilker leading an exceptional Foxes' pitching staff, Yorkville posted a 29-8 record and won its first Southwest Prairie Conference baseball championship. Hilker, who will play collegiately at Wisconsin-Whitewater, is the Record Newspapers Player of the Year.
"He was a guy we could throw out every Monday knowing we'd be in really good shape to win," Yorkville coach Tom Cerven said. "Even though we struggled at times offensively, we knew there was a strong possibility the opponent would get little to nothing off of him. His demeanor, the way he went out and executed the game plan on the mound, was something all our kids could learn from."
Hilker had a very good junior season, a springboard to this year. He went 3-0 with a 2.42 ERA and 44 strikeouts over 37 2/3 innings. He threw a shutout in the 2021 sectional semifinal, leading Yorkville to its first sectional final since 2002.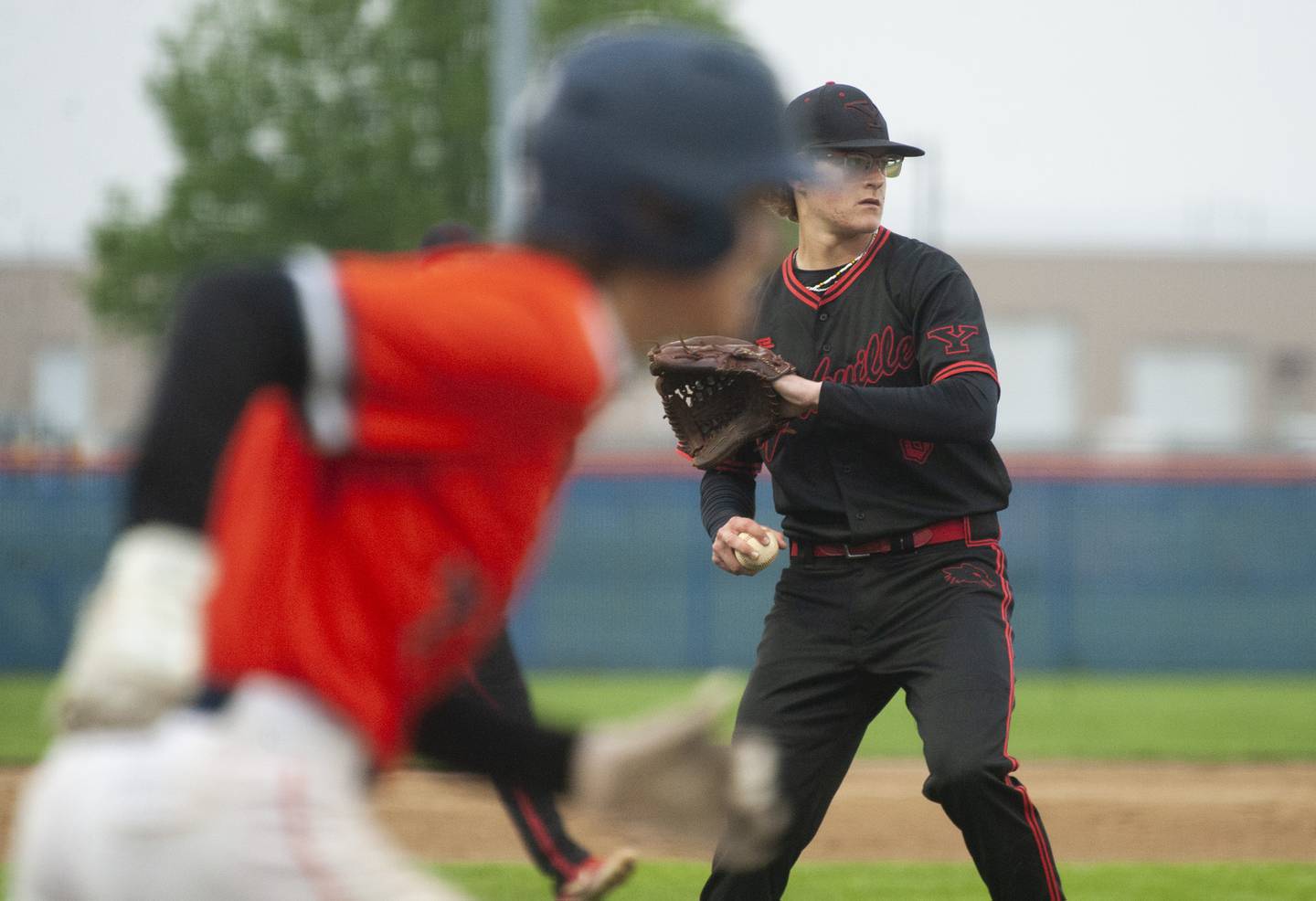 He was far from content.
Determined to become a more efficient pitcher, to keep his pitch counts low and throw deeper into games, Hilker spent the time between high school seasons getting his arm ready to throw strikes. He got in the weight room to work to throw the ball harder, get the spin rate on his fastball up and generate more swings and misses.
Hilker credits his pitching coach with the ESP travel program, Mike Trimarco, for putting in the time to help mold an improved pitcher.
"If there was any tweaks, he was there to help," Hilker said. "If I was pulling front side, he would be there to correct those things and tell me what I was doing. A lot of time I was not throwing as hard as I could, just working on my mechanics, being able to repeat my delivery over and over. Coach would say it's tedious, but I loved being there, getting reps and building my arm strength."
Cerven, Yorkville's sophomore coach before this season, saw potential brewing in Hilker as a sophomore during practices before the pandemic canceled the 2020 season.
"I mentioned to coaches at the time that I think this kid will turn into something," Cerven said. "It wasn't anything that we as a coaching staff did. It was him understanding what his body was capable of doing. Once he was able to control both sides of the plate he became a different pitcher."
Hilker said his breaking ball was a big pitch for him this year, and he threw his changeup less. He threw his fastball more, felt the ball coming out of his hand better and rising more.
"Velocity and spin rate definitely felt better – a lot of that is due to being able to replicate my mechanics and throw strikes consistently and often," Hilker said. "Huge thanks to my defense, too, being able to lock it down.
"It was a mental thing for me, going into every game never looking to give up any runs. Everything opponents get was going to be earned. That's another thing that kept my pitch count low, was challenging guys. The goal was to never give up anything."