SHABBONA – Newark senior Megan Williams wasn't in the lineup Sept. 14 because of illness when the Norsemen lost in two sets to an accomplished Earlville team during a Little Ten Conference regular-season matchup.
But during the championship match of the 47th annual LTC Tournament, Williams was a hard-hitting dynamo. She blasted down a whopping 24 kills to go with eight key service points and a pair of aces as the No. 1-seeded Norsemen rallied back twice – first after a one-set deficit – and then from down seven in the final set to come away with a scintillating 20-25, 25-16, 25-21 victory over the No. 2-seeded Raiders, who seemingly had the match in the bag once again.
"It was hard for me to realize that I wasn't going to play the first time we went up against Earlville," Williams said. "They were so tough again tonight, and I got some great sets from [sophomore setter] Lauren [Ulrich], and we were able to find a way to win tonight even down one set and then down by a lot in the final game.
"This kept our great tradition alive in this event, and I couldn't be happier that I was able to have such a great match."
[ Photos: Little Ten Conference volleyball tournament championship ]
In fact, Newark (20-5) now has won 24 LTC Tourney crowns dating to the inception of the event in 1976, including 18 of the past 21 and the past five in a row for an unprecedented reign of dominance over the past two-plus decades.
"We take tremendous pride in how we've performed and all the championships we've won at this tournament, especially since coach [Tonya] Grayson took over the program [in 2001]," said Newark assistant coach P.J. McKinney, who was subbing for Grayson, who had to miss the title tilt because of an injury. "To know we've now won 18 of the past 21 since coach Grayson has been head coach and have never missed a championship match during that time is just amazing. Credit to her, all the girls tonight and especially to Earlville, which has a great team that really put us to the test in this one."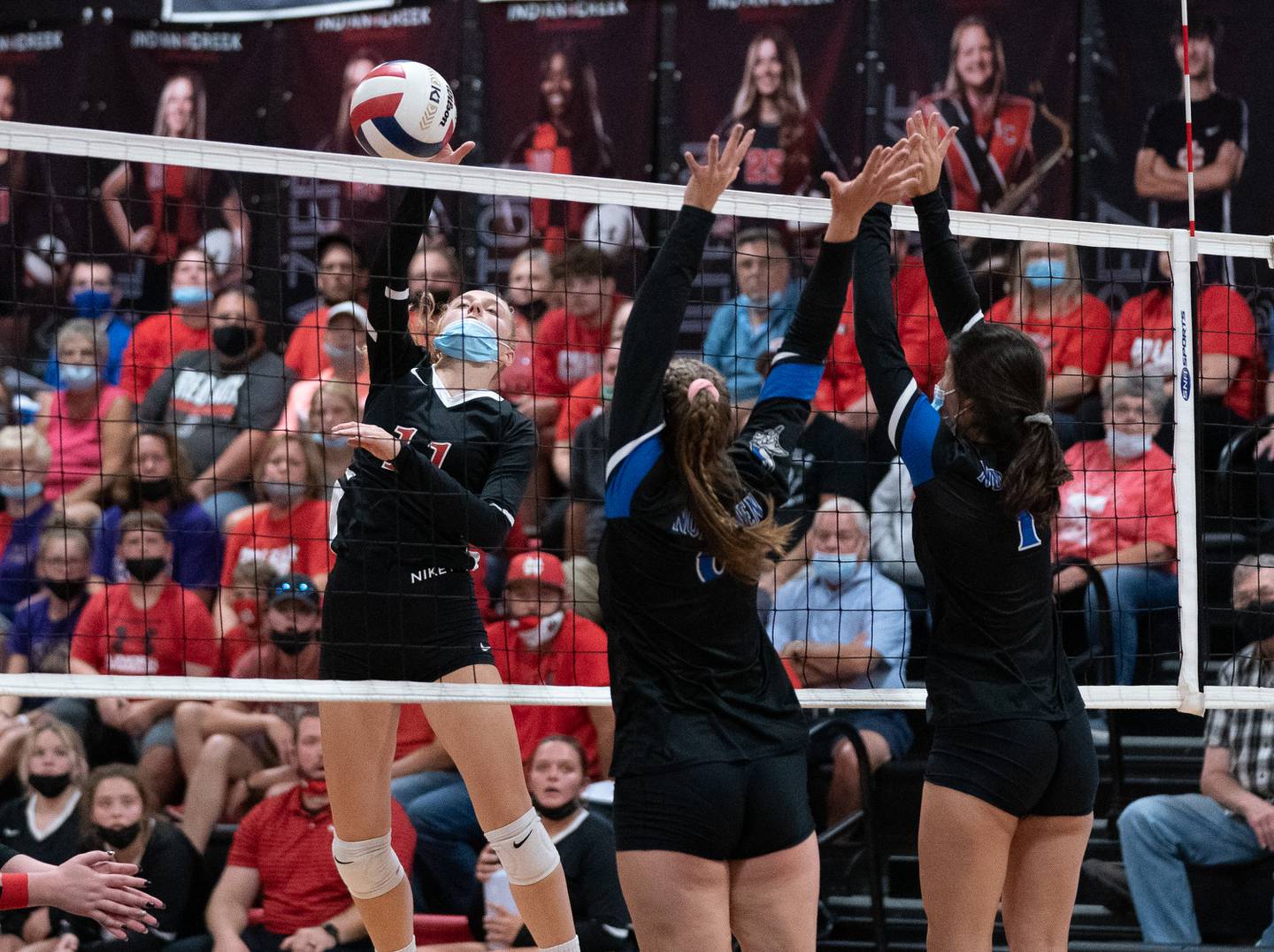 The Raiders (17-5) got off to a blazing start after an eight-point service run by sophomore Mady Olson (10 points, two aces) to grab an early 10-2 lead.
They extended that margin to 15-5 before Newark started to gain some traction in a big way. A 15-6 Newark run followed three kills apiece from Williams and senior Kellie Snyder (10 digs, six kills, two aces) to help cut the gap to a point at 21-20.
But Earlville scored the final four points of the set behind a left-side dagger from sophomore Nevaeh Sansone (five kills) to go up 1-0 in the match.
"We felt pretty good after that first set with a solid effort communicating well and getting to a lot of balls," veteran Earlville coach Tonya Scherer said. "After a strong start to the second game we lost a little bit of our momentum but I still thought we'd be OK."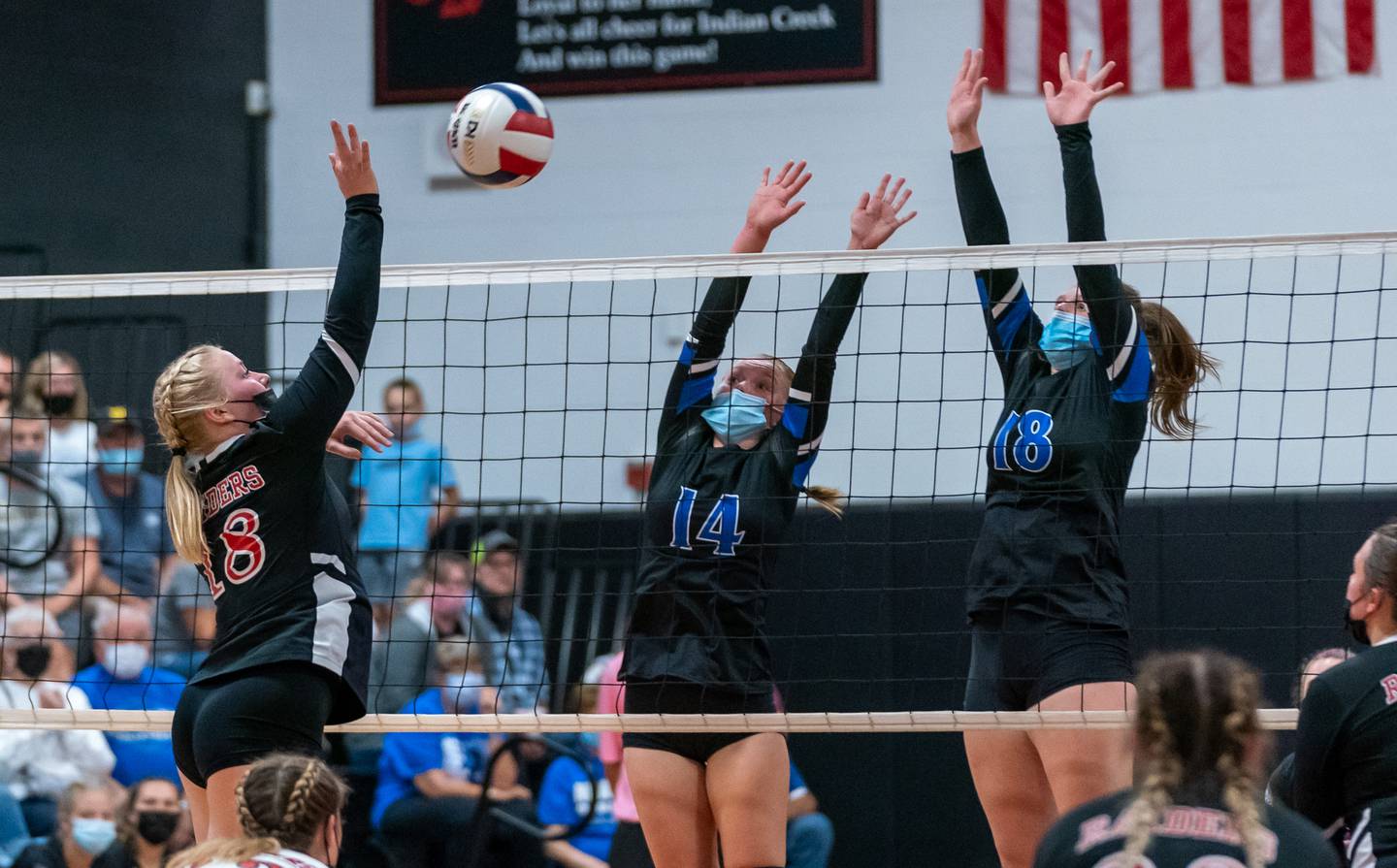 During the second set, the Raiders led 10-9 before the Norsemen went on an 11-2 run to lead 20-12 after senior K.J. Friestad (eight points, two aces, five kills, two stuff blocks) registered six straight service points and eventually put away set point on a middle winner to give her team a decisive nine-point second game victory to even the match 1-1 as Williams' kill total ballooned to 15.
"Megan was a beast tonight, and all I wanted to do was contribute to what she did," Friestad said. "To get that kill off a great set from Lauren [Ulrich] was amazing, and I knew I helped us even things up."
Throughout the opening minutes of the deciding third set, both teams fought neck-and-neck, with Earlville owning a slim 11-10 lead after four left-side kills from senior Brynn Guelde (14 kills, 13 digs).
The Raiders briefly took command of the match from there, going on a 7-1 run off the serving of senior setter Emma Benson (10 points, three aces, 26 assists) to take what seemed like an insurmountable lead at 18-11 after three straight middle daggers form senior Liz Browder (six kills).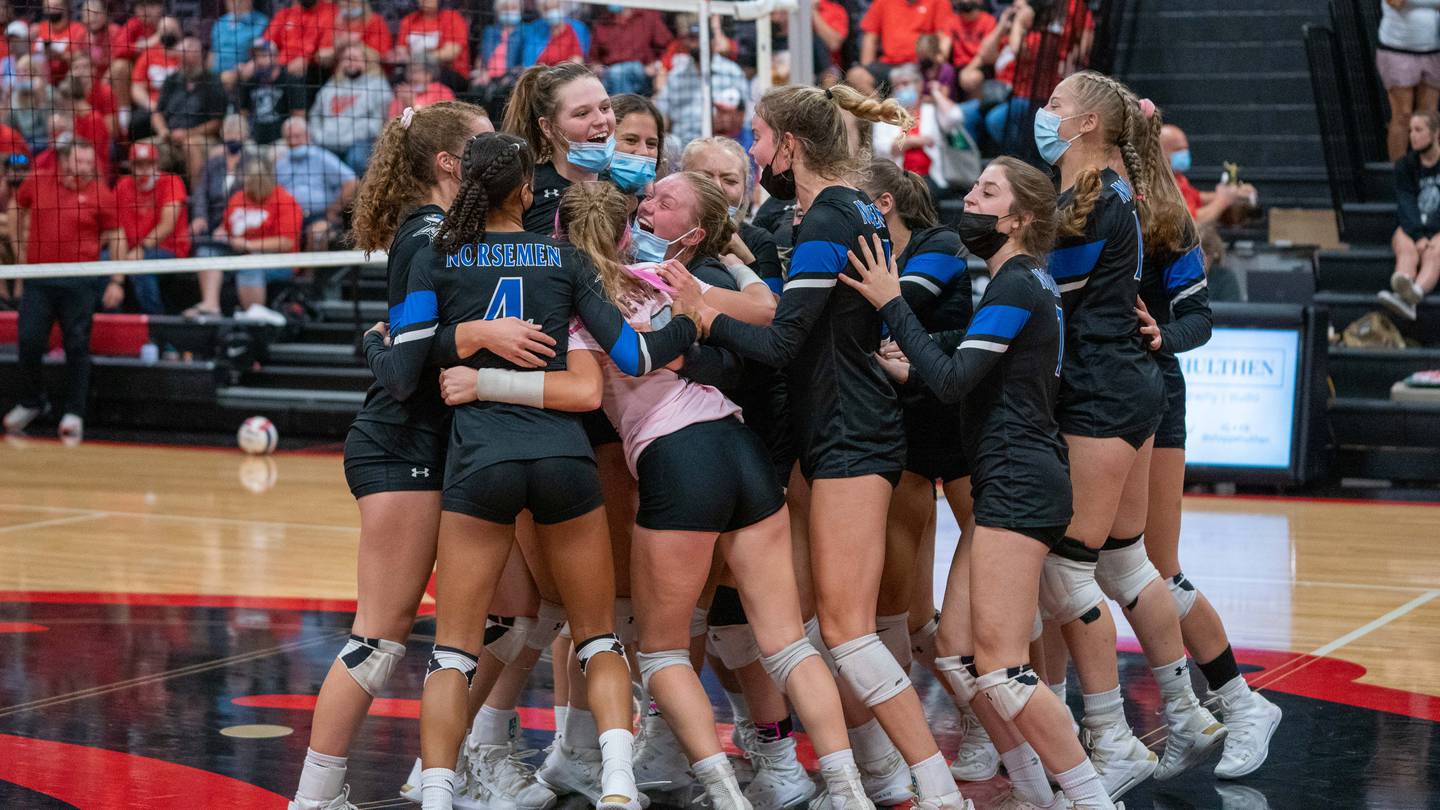 But McKinney burned his last pair of timeouts, and the Norsemen responded in a big way, embarking on an amazing 14-3 rally. Williams nailed down five kills off the deft hands of Ulrich (32 assists) and produced three straight service points, including two aces. Newark closed the set in style when Snyder buried match point into the Earlville backcourt before the Norsemen celebration ensued.
"I wasn't sure who I wanted to go to with the set,either Lindsey [Hatteberg, seven kills] or Kellie," Ulrich said. "Since I didn't have Megan as an option, I went to Kellie because she was so tough at the net tonight. I guess I made a good choice either way."
"We got in a bad rotation near the end, so give Newark credit," Scherer said. "[Williams] is a great player, and this was a great championship match. I'm very proud of our girls for playing so well."