CHARLESTON — Megan Williams fiddled with her jewelry on her neck and wrist, glanced over to the high jump pit and then set on a course to make history.
The Newark senior has left a lasting legacy in the tiny village located in Kendall County. She established herself as one of the best athletes in school history by helping lead Newark to back-to-back state titles in volleyball in her first two years of high school.
She scored the championship winning kill in each of Newark's state volleyball titles.
Williams also earned Newark's first state medal in girls track, placing seventh in the Class 1A 100-meter high hurdles in 2019.
She had just one last major individual hurdle to add to her illustrious career — winning Newark's first state individual track championship.
And she did it in typical Williams-like flair — in memorable and record-breaking fashion.
On her final long jump attempt, Williams soared to a personal record best of 5.66 meters to win the state title in Class 1A on Saturday morning at the indoor track at Eastern Illinois University.
She doubled her historical achievement by adding the state championship in the triple jump (11.28 meters). Williams earned third place in the 100 hurdles in a time of 15.06, but her day also had enough room for one final medal.
She joined teammates Addison Ness, Lindsey Hatteberg and Kiara Wesseh to notch a second-place medal in the 4x200 relay in a time of 1 minute, 45.24 seconds to cap a stellar individual and team season for the Norsemen.
Led by Williams, Newark took second place as a team for its first state trophy. Tuscola (57) took first place, followed by Newark (54).
A few minutes after Williams started the day by winning the long jump title, Wesseh placed second in the high jump (1.69) to add to a memorable day. Both events were forced to compete indoors due to the threat of rain and lightning.
After setting a new personal record and winning the event on her third attempt, Williams casually walked over to talk to a few people near the long jump pit.
"I felt really calm in my last jump, knew that I was already in second place and just wanted to put it all on the line," Williams said. "I left on a good note if that was my last jump.
"I feel like it hasn't hit me yet that I won, but I'm definitely excited and it means a lot. I really want to represent Dr. Schutt (Newark coach Jeff Schutt) and the program he's built. I owe it all to him, and without him, I would've even know how to long jump."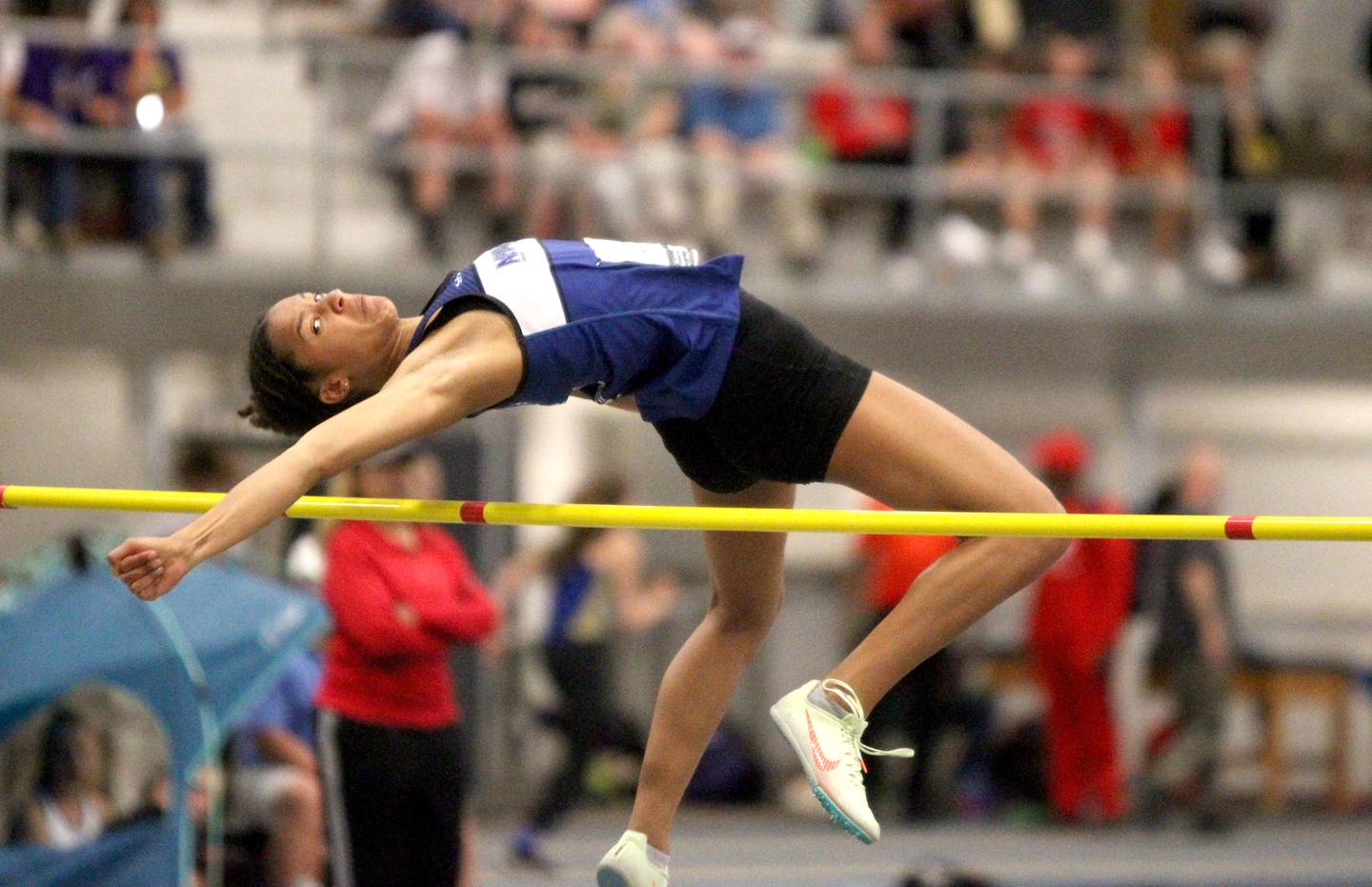 Williams, who entered the state meet seeded third in the long jump, said she benefitted from competing in the crowded indoor field house. She started competing in track in fifth grade, but didn't learn long jump and triple jump until her freshman year.
"The last time I did indoor track was my freshman year, but I liked having my coaches around," she said. "I was jumping indoors better, and think it helped me get past my mental block from the first day when I didn't so as well. I felt more consistent with my steps indoors than outdoors.
"I wished I could've jumped farther on my triple jump, but I still feel good. It was a lot of fun to do a multitude of different events."
Williams said her pair of first-place state medals hopefully serves as a motivator for her teammates. She said she's not sure about her college volleyball choice after recently decommitting from Division II Colorado Christian.
"I'm not sure if I want to do sports right now, but still going through that process," Williams said. "I've taken high school more just to have fun. I'm not sure what my plans are after high school, but I just wanted to do really well."
She definitely had some fun, as did Wesseh.
Wesseh walked away with a state medal before the three-class state finals was delayed due to lightning. She placed second in the high jump (1.69 meters), with Indian Creek's Brooke Probst winning the state title (1.72). Wesseh took third in the 100-meter dash (12.79) and sixth in the 100 hurdles (15.75) to leave Charleston with three individual medals and a relay medal.
With Williams and Wesseh competing 70 feet apart from each other and vying for the program's first state title at the same time, it led to some harrowing moments.
"I kind of started out rough, just missing a lot more lower heights than I normally do," Wesseh said. "My coach told me to accelerate the curve, and that really helped and gave me more confidence. It felt more like a state environment with so many people surrounding us. I was super excited to hear Megan won. I'm very thankful for second place."
Wesseh said she wasn't overly bothered by the two-hour weather delay and rolling-schedule, which included ending in a driving rainstorm. Wesseh said she's excited to be following in Williams' footsteps.
"It's very cool to look up to Megan, just super fun to watch her, but I'm very grateful that I have two more years to grow," Wessah said. "I was happy how I did in the relays. I'm pleased with all of them. My goal is to continue to get better."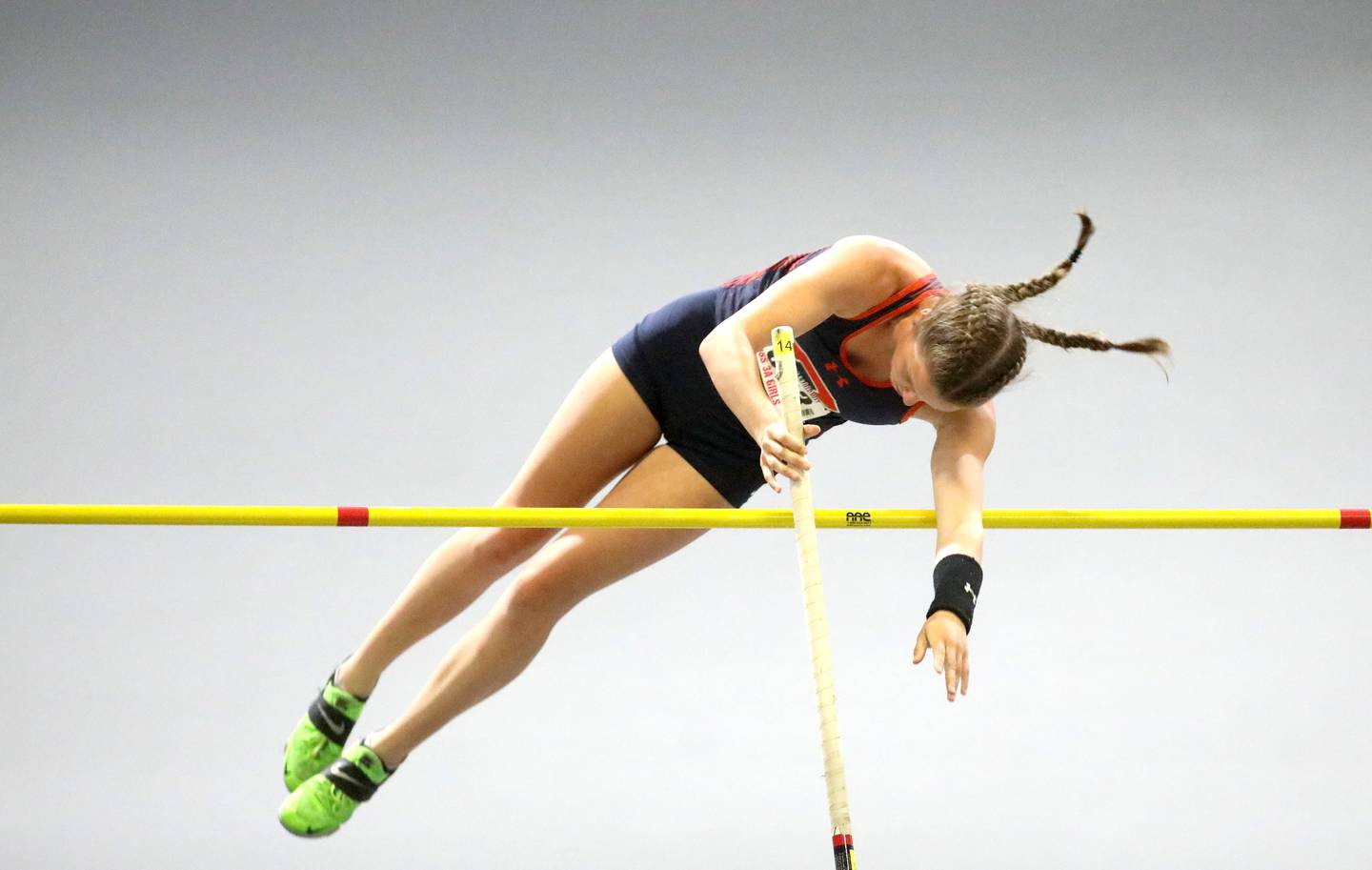 Sandwich junior Claire Allen fell short of topping last season's Class 2A second-place finish in the shot put, earning a sixth-place medal (11.79). Still, Allen bounced back to notch another second-place medal, taking runner-up honors in the discus (39.82).
"I've been pretty off with the shot the past few days," Allen said. "My last throw was my best throw in the shot. It got me to the podium. My goal next year is to place as high as I can. I've built something at Sandwich, from track, basketball and volleyball. I'm just trying to make some more."
In Class 3A, Yorkville freshman Courtney Clabough managed a third-place medal in the discus (40.13) and fourth-place effort in the shot put (12.76). Oswego's Emma Ponx gained a seventh-place medal in the pole vault (3.30) and Audra Soderlind earned a ninth-place medal in the 3,200 run with a school record time of 10:40.51. Yorkville's 4x800 relay team of Anna Hunter, Maggie Hunter, Allegra Triner and Katie Melzer took fourth in 9:23.74.
Oswego East's 4x800 relay team of Ana Barroso, Angeles Mendoza, Madison Zarembski and Sydney Williams clocked a ninth-place showing of 9:32.62, while Kenna Nord took 10th in the triple jump (11.18).