Claire Allen admitted that she didn't have particularly high expectations for her first high school track and field season.
That changed in a hurry.
Allen, who finished her sophomore year at Sandwich last month, broke the school record in discus at her first high school meet. She broke the shot put record at her second meet. Allen didn't stop breaking records all season, all the way to state.
"I thought I did a lot better than I was going to do," Allen said. "I expected myself to do good at most of the meets, I knew some of the girls throwing, but the more I worked the farther I got. It made me think that I could do a lot."
She ended up doing a lot. And it could be just the start of big things.
Allen last month broke her own school record in the shot put, her effort of 12.47 meters took second place at the Class 2A state meet in Charleston. It was the second-highest finish by a Sandwich girl at state. Mandy Gacek was the 1998 Class 1A state triple jump champion. Allen was fourth in the discus with a throw of 40.68 meters.
For her achievements, Claire Allen is the Record Newspapers Girls Track and Field Athlete of the Year.
"[State] was exactly what I expected," Allen said. "I knew everybody would be good and I had to push myself more than I normally do. I was facing all seniors and I placed second and fourth. It made me think I can do even better next year."
Indeed, Allen had the best finish in either throwing event among underclassmen at state.
Sandwich coach Dusty Behringer noted the unique nature of Allen's achievement. While younger sprinters frequently do well at state, Behringer said that in shot put and discus it's usually the older athletes that do the best.
"I would call her year, for a typical athlete, a one-of-a-kind year, but she is a sophomore and she can repeat this, especially with the events she is in," Behringer said. "Her doing what she did, top five in two different throwing events is really unheard of. I told [Sandwich throws] coach [Ian] Stewart 'you right now have the No. 1-rated shot and discus thrower in the state,' with every else graduating. To sum up her season, it's a one-of-a-kind season. But for her, it is only going to get better."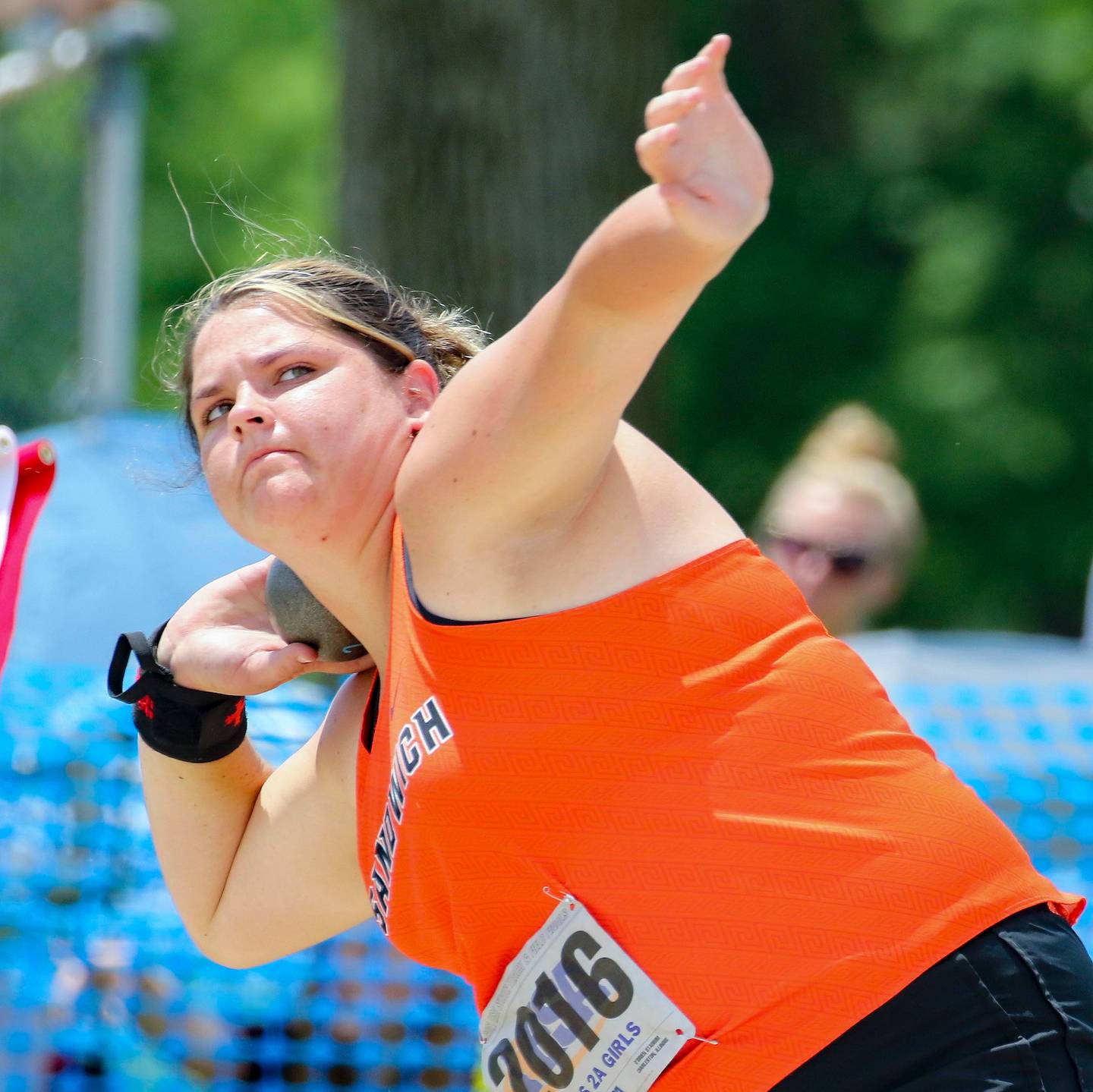 It was quite an athletic school year for Allen in this most unusual school year with the COVID-19 pandemic.
An all-area player on Sandwich's girls basketball team, she set the school record for free-throw percentage at 82.9%. She was honorable mention all-area in volleyball. She is unable to play softball in high school because it conflicts with track, but she has played on the Redhawks travel team out of Newark since she was 8 years old and currently play for the team this summer.
Track, and specifically throwing, is where Allen's bread is buttered.
Allen's dad, Andy, threw both shot and discus in high school at Oswego and then at the College of DuPage, well enough to qualify for JUCO nationals. Claire made the podium in state track and field in both seventh and eighth grade, taking third in the state in shot and fifth in discus as an eighth grader.
Behringer teaches in the middle school at Sandwich, so he keeps close tabs on those young athletes. He said that Allen was throwing distances that his high school kids were as a middle schooler.
"I knew coming in that she was something special," he said. "Last year, we had one indoor meet in Sycamore, and she competed at the varsity level and I think she won it. I knew how good she was. What she did in middle school, coupled with her dad who had thrown shot put and discus in college and they got their personal help. It's not a surprise to me that she did what she did with her potential and the work she put in."
While Allen's personality is not especially outgoing, Behringer said that there is indeed a competitive fire that burns hot.
"She's very competitive; she doesn't like to lose at anything," Behringer said. "She could break the school record and get second place in discus and not be happy."
Allen, in fact, is far from content after a spectacular debut season.
She's throwing every other day while she has volleyball practice and games, and plays softball. She also has been working with former Sandwich thrower Maddie Robinson.
"I know I can do better next year, and I'm pushing myself to do better," Allen said. "She [Robinson] was a good thrower and it's good to learn from her. It's exciting, knowing that I can always do better."
Record Newspapers Girls Track and Field All-Area team
Faith Adams, Oswego East; Claire Allen, Sandwich; Ana Barroso, Oswego East; Rebecca Corbett, Oswego; Kjersten Friestad, Newark; Margaret Hunter, Yorkville; Brooke Kala, Newark; Kenna Nord, Oswego East; Emma Ponx, Oswego; Ariana Rivera, Oswego East; Audra Soderlind, Oswego; Kiara Wesseh, Newark; Megan Williams, Newark; Ella Vacek, Oswego East; Madison Zarembski, Oswego East