Anya Gulbrandsen has played almost every position in the front six in her three years at Oswego East, so change is nothing new to her.
Still, it requires time to acclimate.
The Wolves junior and Wisconsin recruit encountered that adjustment period midway through this season when she volunteered to move from center midfielder to forward to help spark a stagnant offense. It was a shift in position and mindset.
"It was hard, honestly," Gulbrandsen said. "On my club team, I'm more of a passer. I at times found myself in the box looking for someone to pass to, and I'm supposed to score. It was a shift, for sure, but good for me. I might need to take on that role for college."
College can wait, of course. Gulbrandsen continued to make history at Oswego East this spring. A year after leading the Wolves to their first-ever regional championship, Gulbrandsen broke Oswego East's school record with 30 goals. She also had eight assists for the 12-7-2 Wolves, who took second in the Southwest Prairie Conference and reached a regional final.
Gulbrandsen is the Record Newspapers Girls Soccer Player for the Year for the second straight season.
Oswego East coach Juan Leal said that Gulbrandsen's move was a game-changer, as she's been since she first put on a Wolves' jersey.
"We were in a little slump, not able to score goals, and she approached me and said, 'Can I try out forward,?' " Leal said. "We rolled with it, and she went on a tear after that. She worked hard up top and buried goals whenever she got the opportunity.
"It opened everything up for us."
Teams had to keep their eye on Gulbrandsen, giving her center midfielders room to find her. It was a new-look Wolves' attack this year, with two freshman midfielders in Ashley Gumm and Catie Sloan. A third freshman midfielder, Gabby McPhee, was sidelined with a broken arm.
"She just brought a whole new dimension to our offense with how quick, how fast and how incredibly intelligent she is," Leal said. "She's willing to take on defenders one-on-one. Any time she needed to score, she somehow found a way to will her way through."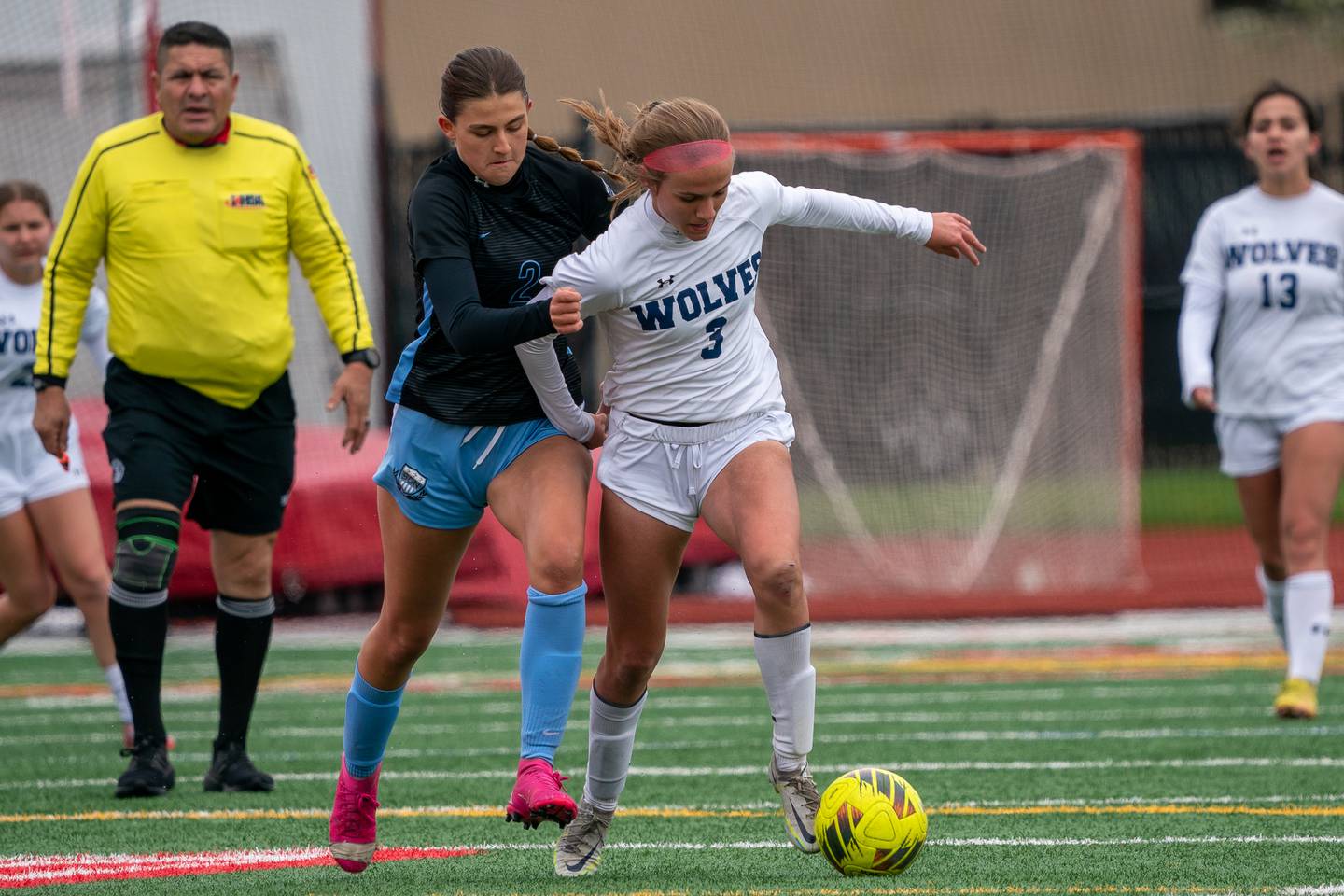 Gulbrandsen sees the move as beneficial both to her and to Oswego East moving forward.
"The thing that made it really good is I moved out of the middle and it opened up a spot in the middle, and two freshmen were playing in there," Gulbrandsen said. "It was cool to watch them play and super beneficial for the next few years. It created a new way for us to create chances. The last few years I've been more on the passing end. It created a new dynamic."
Leal has watched Gulbrandsen grow from the 12th or 13th girl off the bench as a freshman to starring on the outside, on the middle and on the attack. Gulbrandsen scored 17 goals and had 10 assists as a sophomore for a conference and regional champion.
"She is one of those girls that no matter where you play her, she'll learn it and help you to the best of her ability," Leal said. "She is willing to take on challenges and has helped us win a lot of games, and a lot of it is because of her versatility. She wants to learn and she wants to get better. That is how she is at practice. She is very critical of herself, a hardworking young lady."
Leal has witnessed the multiple sides of Gulbrandsen's personality that add up to a special teammate.
As fierce of a competitor as she is, perhaps a reflection of being the kid sister of two brothers, Gulbrandsen is also funny, tender and warm-hearted. And quick to deflect credit for her successes. After scoring four goals in a regional semifinal, Gulbrandsen immediately gave an assist to her teammates for making it possible.
"She is very humble. She never takes all the credit," Leal said. "I've heard that from her teachers, too, which is awesome. She is willing to share the spotlight."
"To look back on the season, yes I have achieved that [the scoring record], but the cool thing about soccer, that was kind of my job to score," Gulbrandsen said. "I played in front of players like Emma [Rosenthal] creating those chances, the freshmen doing their job creating those chances. Most of my goals, I've said it a thousand times, it would have been bad if I hadn't put it in.
"The goals are just numbers on a stat sheet. There's so much more behind it."