Anna Johnson said Oswego planned to go out for pizza after Monday's game, regardless of the outcome.
But it surely tasted a little better this way.
For the first time this season, the Panthers celebrated a win. A postgame meal at Pizza Pro's in DeKalb followed Oswego's 44-40 win over Hinsdale South at the DeKalb MLK Tournament.
"It felt really good," said Johnson, an Oswego junior. "We have been working and waiting on that for a while. Every year we've been trying to push on the skills that we already have, improve on that. Really glad that we were able to get that one. Yea, being able to get a win made the pizza that much more enjoyable."
Oswego coach John Carlson thought the Panthers (1-18) played pretty well on Saturday in a 53-46 loss to Dundee-Crown. Riley Borrowman, one of three sophomores on Oswego's varsity, scored 17 points in that game. Kaisje Pryor, another sophomore, was sidelined for 10 games in the middle of the season and was reinjured in the second game of the tournament.
"We played pretty good defense, the girls were doing a good job on the help side, making good passes. We've had a little bit of an Achilles heel trying to make the next pass," Carlson said. "We didn't turn the ball over as much in the second half. We did a really good job defensively and put some points on the board."
Carlson anticipated that this season could be a bit of an uphill climb, a contrast to recent Oswego seasons. Oswego is just two seasons removed from its second consecutive regional championship, but most of the core from those teams graduated. Talented guard Mia Moore, a part of the 2019-2020 regional champion, transferred to East Aurora over the summer for her junior year.
"I think we kind of knew it would be more of an uphill battle," Carlson said. "Not as many kids are playing competitive basketball outside of the team."
Johnson is one Oswego multi-sport athlete being counted on to fill a much bigger role this season.
An All-Area soccer player last spring who scored 24 goals for Oswego's soccer team last season, Johnson played JV basketball her freshman and sophomore years, with minutes on JV and varsity as a sophomore. A forward in soccer, she's a busy girl this time of year balancing her basketball commitments and work with her Galaxy club soccer team.
"This year I've been asked to step up a lot more," Johnson said. "I had a role on varsity since I was a freshman but this year I'm completely on the team. With only three seniors we kind of have a younger group. I'm providing a leadership role and playing a lot more."
The Panthers had several one-sided losses early in the season against a difficult schedule, but they appear to have turned the corner some in the last few weeks. Oswego lost to Minooka 35-31 the week after Christmas, a big improvement over their first meeting. Carlson said Oswego's defense has been pretty solid and shooting has improved but turnovers continue to be an issue. The Panthers are scoring just a tick over 30 points per game.
"Probably since Christmas we have played better basketball as a whole," Carlson said. "We're trying to get four quarters out of them. The team shooting has been better, but sometimes we fall back against pressure. Teams get us there. When teams press us we're not able to do a good job against that. We've played decent defense. We hold teams in the 30s but only score in the 20s."
Johnson felt a mental break around Christmas was helpful to the Panthers. She's seen a noticeable difference in practice.
"People are putting more effort in in practice and that is carrying over to the games," Johnson said. "There's a desire to get wins. I don't think anyone wanted that zero."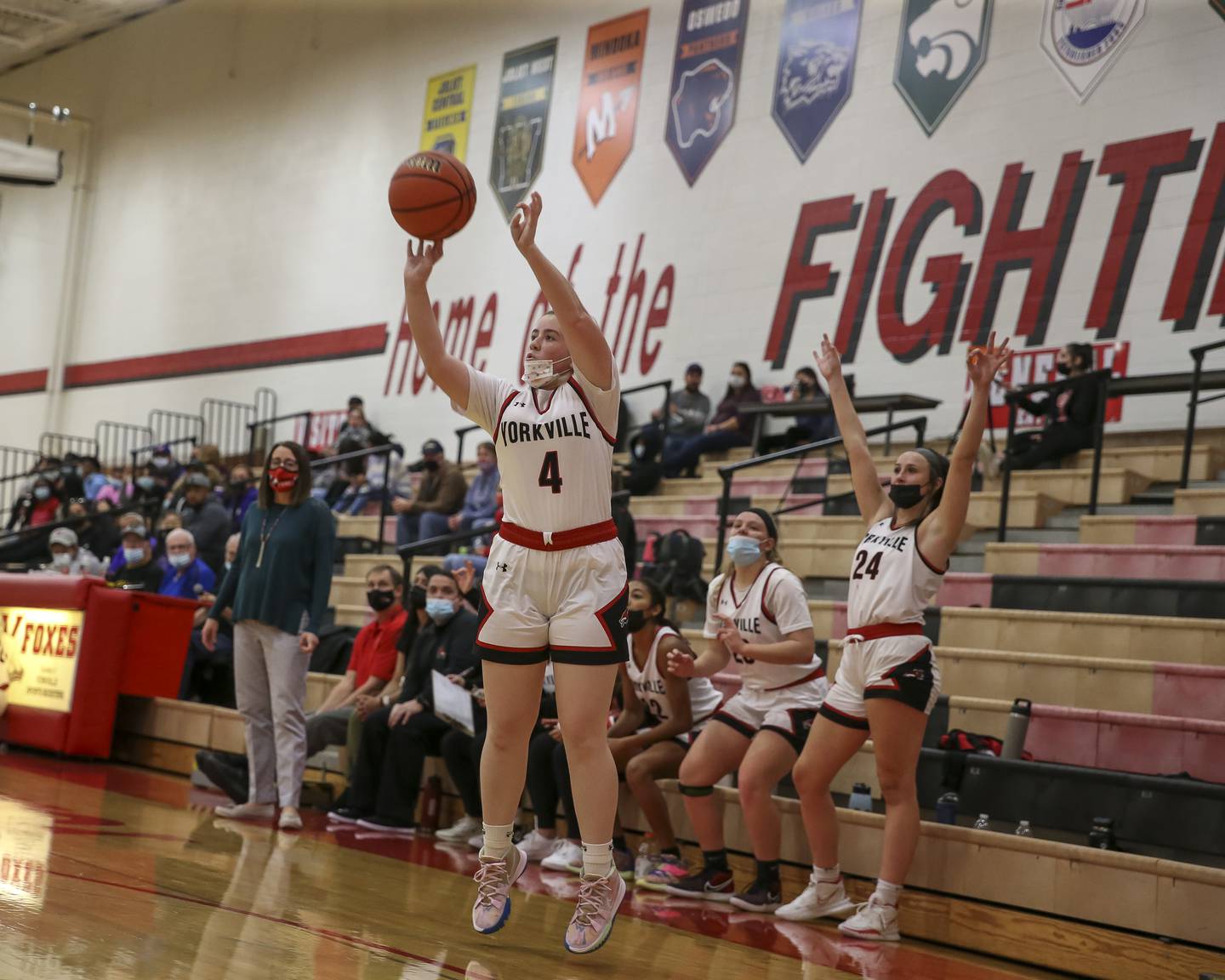 Foxes' fantastic finish
Yorkville's fantastic finish in last weekend's 55-53 win over Plainfield Central is a textbook example of the theory that sometimes it's best for coaches to just let players play.
After Abby Pool hit two free throws to tie it, Plainfield Central ran a sidelines out of play lob for its best player, who missed a shot. Yorkville's Lainey Gussman grabbed the defensive rebound with six or seconds left and passed it ahead to Alex Stewart. Stewart relayed it to Pool, who dribbled length of the court, and got the buzzer-beater off from between the free throw line and the top of the key with a half-second left.
"I did have a timeout left, but more often than not I error on the side of let them play it out, especially in that situation," Yorkville coach Kim Wensits said. "There were only two seconds left when she got to halfcourt, but better to let the transition game run out."
Wensits praised every player for doing their part to make Pool's big shot possible. A similar situation transpired the week before against Sandwich.
"There was a point at the end of the third quarter where Lainey got a rebound, or had a steal, with about three seconds left and it was one of the best court awareness I've ever seen," Wensits said. "She got her dribbles down and got a layup off and we talked about it in film. I can't tell you how many times in coaching I've seen people get a steal and just chuck up a halfcourt shot. Incredible court awareness."
The Foxes, for better or worse, have been at both ends of big finishes such as that this season.
"It was an exact reverse of our West Aurora game," Wensits said. "We had the lead, didnt' get the free throws, and they came back and made a shot to force overtime. It was the exact reverse. We got a shot to win it at the event, nice from that standpoint. A close game went our way."