Mia Natividad believes her best golf is still ahead of her, which is saying something.
She had quite the past four years.
Four-time conference champ, state runner-up as a junior, the Yorkville senior made a verbal commitment earlier this year to join her older sister, Kait, at Toledo.
Over the summer, her future coach at Toledo came to watch Natividad play. She said Natividad needed to be more aggressive off the tee.
"During the high school season and some of my junior tournaments played at a shorter yardage I would not hit driver. Going into the season I was more aggressive hitting driver, and I think that is what brought me to my [nine-hole record) 32 this season," Natividad said. "I was able to reach all the par 5s in two. I picked up a lot of distance over the last year. And this year I put it to use."
Indeed, Natividad capped off a stellar four-year career at Yorkville in fine fashion.
She won the Southwest Prairie Conference tournament championship for the fourth consecutive year, tied for fourth at regionals and shot a 75 at sectionals for ninth place. A year after taking second at state, Natividad settled for a tie for 30th – but was content with her 10-over score of 154 over two days.
She is the Record Newspapers Player of the Year.
"Obviously I wish I would have played better at state, but overall it was a decent round and sometimes that happens," Natividad said. "I didn't play bad at all, I was hitting the ball pretty decent. It was a good way to end my high school career."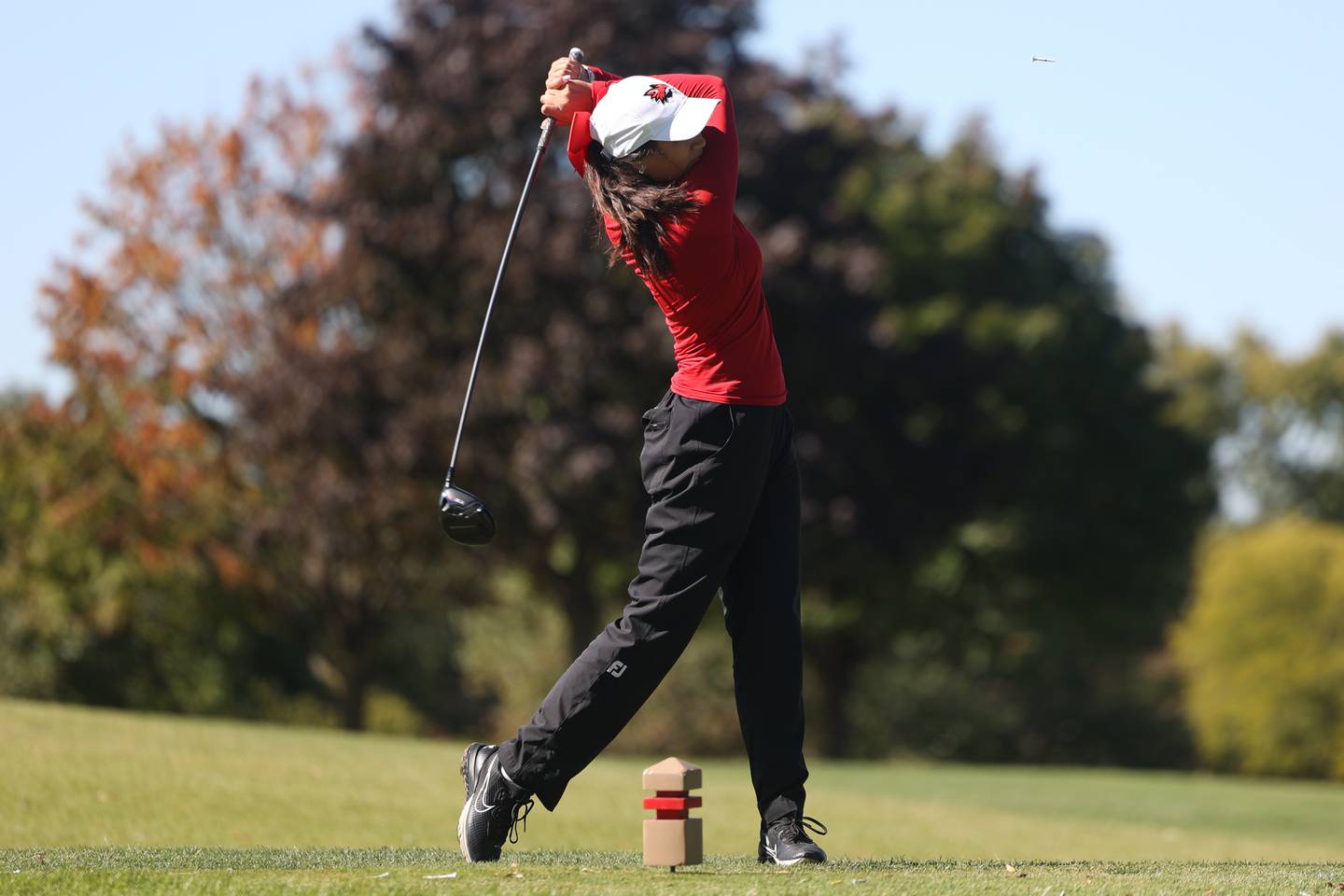 Even before the friendly advice from her future coach at Toledo, Natividad put in the work to gain distance off the tee.
She worked out a lot, and did speed training. That allowed her to pick up about eight miles an hour more with the driver.
"I think I would carry around 205 yards last year and now I'm around 230-235," Natividad said. "That will give me more wedges and more short irons and make par 5s more gettable. The courses that I play at, the distances are generally pretty short compared to how far I hit it. Before I was comfortable hitting wood off the tee, I know it would go straight. My coach was telling me I can hit a bad shot with any club, might as well take a risk. It might not work out, but I can pick up a few strokes."
Yorkville golf will look a lot different next year without a Natividad leading the way. The two sisters have put Yorkville golf on the statewide map with their collective achievements.
"I had never really thought about that. It's crazy," Natividad said. "Either my sister or I have been on the team for seven years. My coaches have said that the program is growing and everything. It will be interesting to see the growth the next few years without either of us."
Natividad, for her part, looks forward to the next chapter of her life. She plans on studying finance at Toledo, noting their business school's 90% placement for interns. She feels confident she can build a career after college, and continue to build her golf game during her four years there.
"I think my best golf is ahead of me," she said. "I'm really excited to play with a more competitive field and excited to play with my sister and still see if I can pick up even more distance. I'm looking forward to it."