CHANNAHON – Audra Soderlind wanted to avoid playing catch-up running in slippery conditions Friday at Community Park in Channahon, so she came up with a logical solution.
She ran from the front.
Soderlind, an Oswego junior, set the pace early in the Southwest Prairie Conference varsity girls race. She maintained the lead throughout and went on to a seven-second win in the race that featured runners from both of the conference's two divisions.
"I did want to go out hard," said Soderlind, clocked in 17 minutes, 54.6 seconds over the 3-mile course. "I knew the time wasn't necessarily going to reflect the effort, but getting out to the front pack was important. It's always harder to play catch-up in these tougher conditions so I was really trying to get out hard."
Minooka, with four of the top 10 runners, took the team title with 38 points, followed by Oswego East (62), Yorkville (63) and Oswego (94).
Joliet West's Marcellus Mines won the boys race in 14:53.7. Oswego, with five of the top 11 runners, easily out-distanced Minooka, 41-79, for the boys team title, with Plainfield South (87) third and Plainfield North (89) fourth.
Soderlind was second last year in the SPC West race when the divisions were split because of COVID-19 restrictions. This season, she's already won the Joliet Central Invite and the Racine Horlick Invitational and was second at the Sterling Invitational.
Her time Friday was slower than other races, including her 17:24.8 PR at the Richard Spring Invitational, but Soderlind was satisfied, all things considered.
"I feel pretty good about my time considering the conditions," she said. "There was a little bit of a collision between athletes during the race, and I think the start was a little rough – I saw a couple teammates slip – so you have to keep your train of thought and don't lose focus and take a wrong step. I just wanted to run a controlled race. It was going to be harder to run a faster first mile with the conditions, so just run a nicely paced race."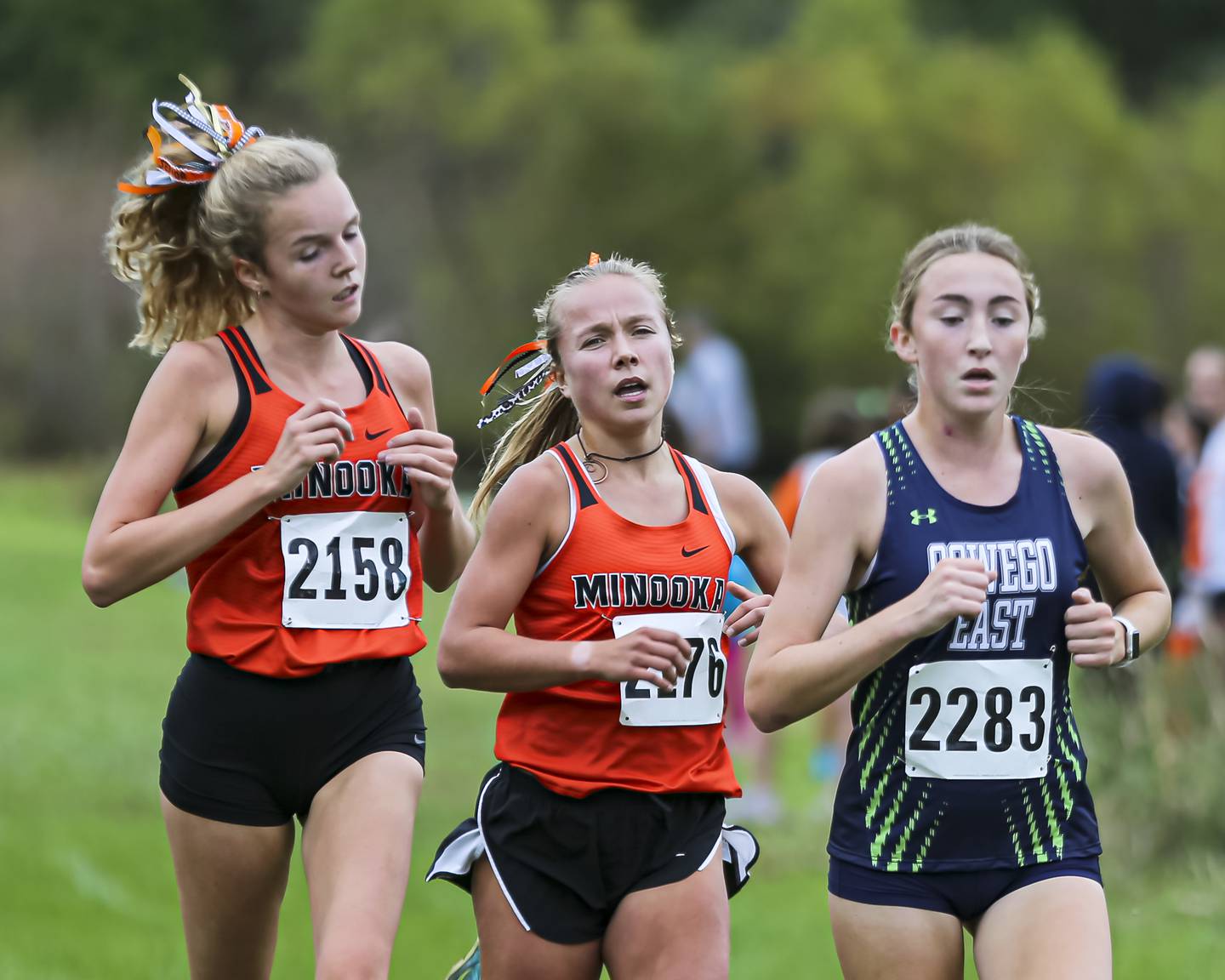 Minooka, coming off a runner-up finish at Naperville North's Twilight Invitational, had another impressive showing with four girls within 32 seconds of each other. Gabriella McCollom was second in 18:01.5, with teammate Audrey Boles (18:02.0) right behind in third, followed by Gabrielle Kics (sixth, 18:20.3) and Jocelyn Host (eighth, 18:33.7).
"We knew going in that we weren't going to be the only girls upfront from our team, that there would be a few other girls that had equally a chance to do what we did," McCollom said. "We've kind of been interchangeable throughout the whole season, realizing that anyone could do it and realizing that we all could do it. That really helps a lot."
"Going into it I knew that we had a shot at the championship, but you never know with other teams and where they are at," Boles said. "I'm so happy with how it turned out."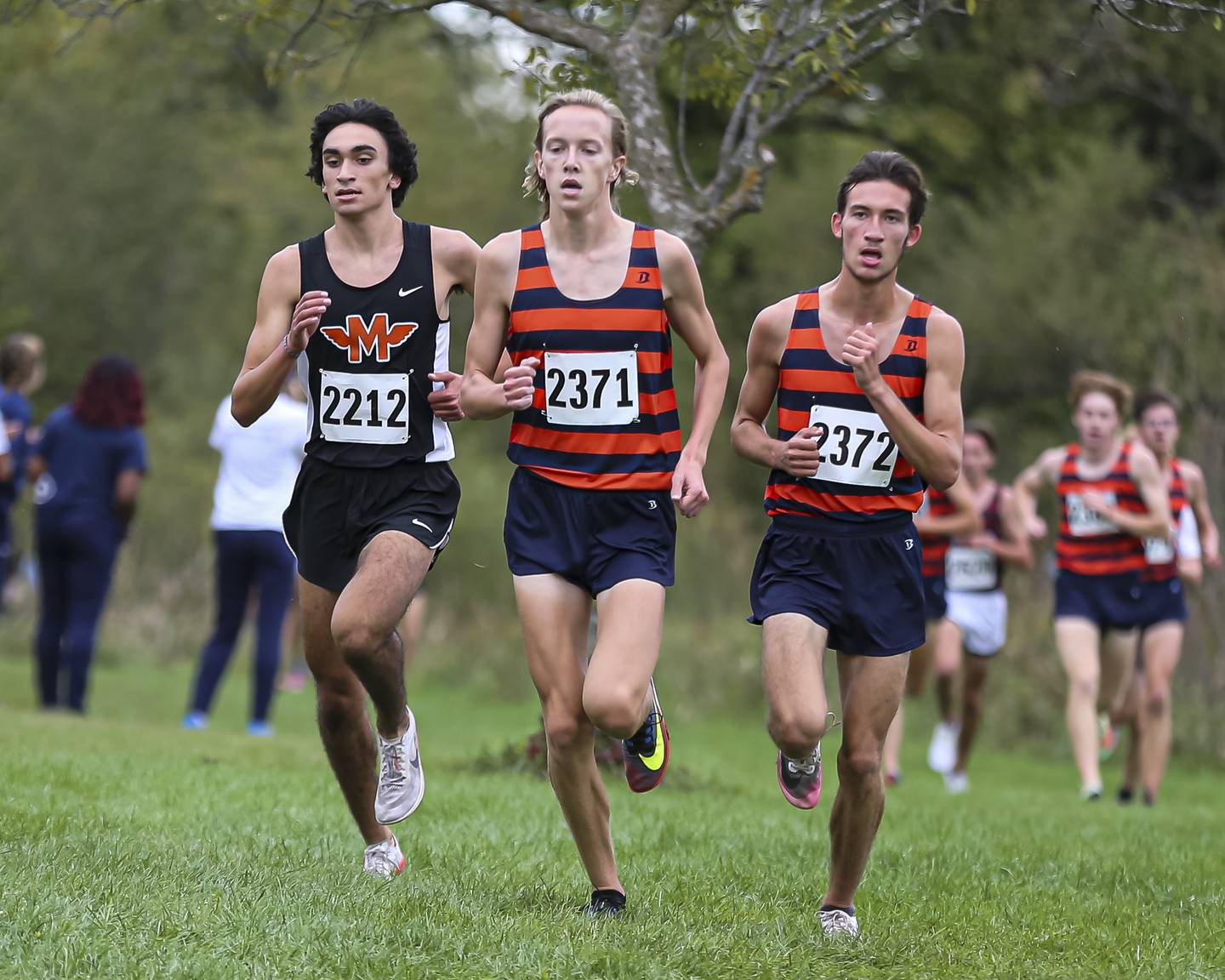 The Oswego boys team already had five first-place finishes on its ledger coming in this fall, most recently the Sterling Invitational, and ran away with the proceedings Oct. 15 at the conference meet.
Ethan Forsell, fourth in 15:08.9, paced the pack of Panthers, followed closely by Benjamin Huey (seventh, 15:18.9), Balin Doud (ninth, 15:32.4) and Benjamin Forsell (10th, 15:33.4).
Oswego posed for a team selfie near the finish line, but already is looking ahead to the next three weeks.
"This is step one. This isn't our focus," Ethan Forsell said. "Conference is nice but our goals are high."
It's easy to see why, as Oswego's top seven runners all were within 45 seconds of each other and broke 16 minutes.
"I like to lead my team in the first mile and do what I can, but I can feel where my team is," Forsell said. "I can feel the presence of my teammates behind me. It's a good feeling."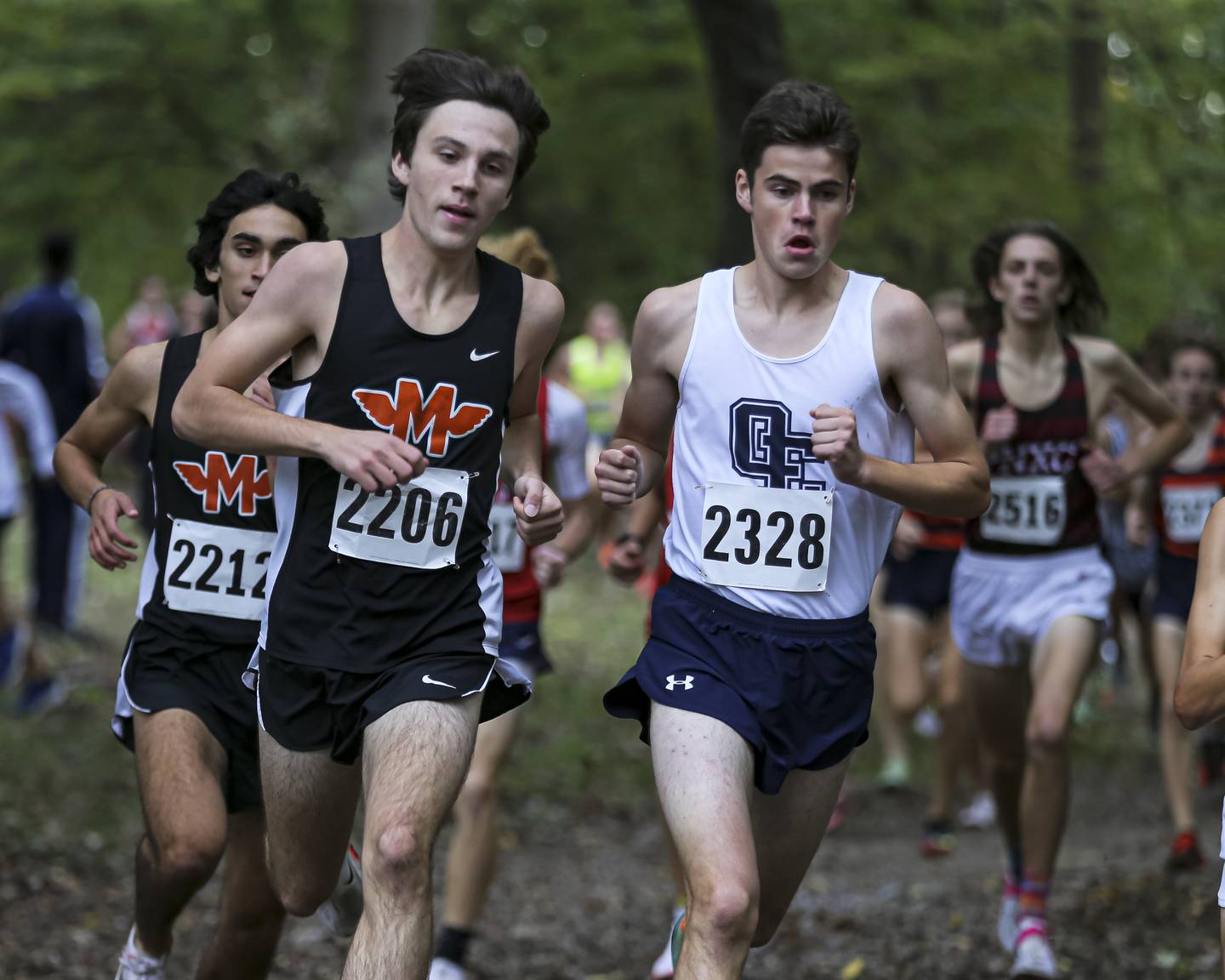 Mines, a Joliet West sophomore, also was feeling good. Mines won the SPC East race as a freshman and ran away with a 10-second win in 14:53.7.
"I was shooting for sub-15 minutes, somewhere around there," said Mines, who ran a 14:31.2 in Peoria two weeks ago. "My time was slow for the course – it's pretty good for the course. I went out hard and just noticed after the first 800 meters guys were breathing really hard. I knew if I stretched out my lead it would kill them mentally."
Oswego East's Parker Nold was second in 15:03.7, followed by Plainfield North's Oliver Burns in 15:06.4.
The Oswego East girls just beat out defending SPC West champion Yorkville for second place. Morgan Dick, fourth with a time of 18:09.0, paced the Wolves, with Angeles Mendoza seventh in 18:29.1.
"We executed as well as we have all season," Dick said. "We've really been trying to get our pack closer together and we did a job of executing that today. It was a really good meet for us."
Anna Hunter, fifth in 18:13.2, paced Yorkville's runners.