On the way out of Plano along Route 34, there's a spot for Mexican food that stays simple but throws you an expected twist to even well-known plates.
Patrona Cantina Grille sits among the highway prairie grass in a small business center at 6500 Route 34. A small patio on the sidewalk, Aztecan art on the walls and Telemundo news playing, the restaurant rings of many small Mexican eateries across the Chicago suburbs.
Yet plenty stands out.
Like many a restaurant fan, I immediately noticed the $5 daily drink specials. Apart from those, the menu included margaritas, daiquiris and piña coladas, along with a variety of proper Mexican drinks you can't always get at nearby spots – Palomas, Micheladas and flaming tequila shots.
As for the food, diners can expect many Tex-Mex staples. Although some might go for the enchiladas, fajitas and tacos, the menu can veer more authentic with its grilled meats, chicken molé and lengua en salsa.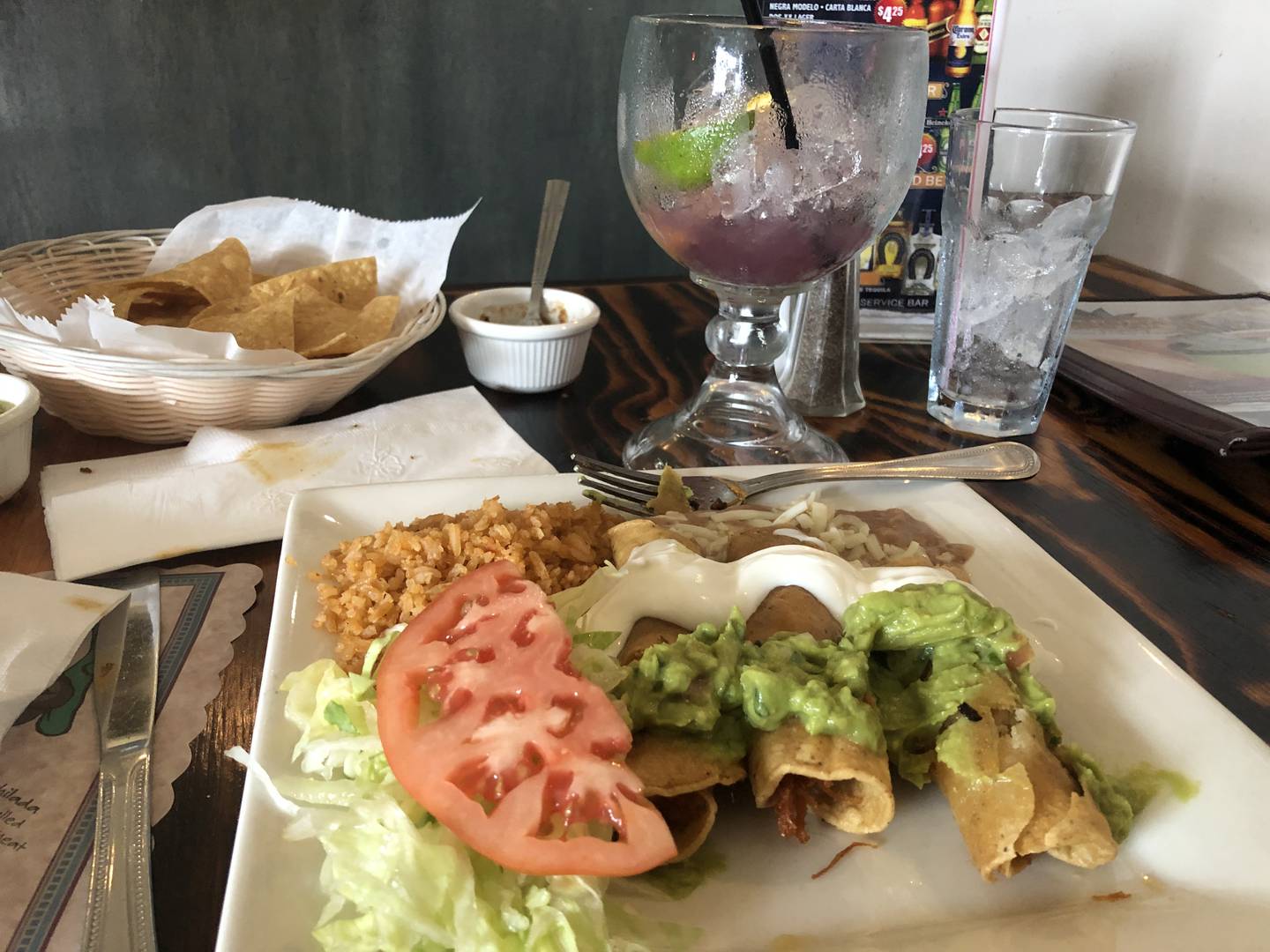 For my meal, I started with red sangria and queso fundido. The sangria was more like a grape-flavored margarita, which is all right. It was still refreshing. But the twists I've been talking about came with the queso fundido. Served in a fried tortilla bowl, the thick cheese was mixed in with chorizo and mushrooms. Although listed as an appetizer, I could have settled for this as my entire meal.
But I pressed forward anyway. Next, I ordered chicken flautas. Not a disappointment, the chicken on the ends came nicely crisped and the flauta trio was topped with tasty crema and guacamole. And despite feeling like a brick was in my stomach, I finished the side of rice and refried beans, as well.
All told, Patrona Cantina Grille makes for an ideal lunch or dinner in Plano, quick or relaxed, well decorated, classic and tasty,
Patrona Cantina Grille, located at 6500 Route 34 in Plano, is open from noon to 9 p.m. Sunday through Wednesday, and noon to 10 p.m. Thursday through Saturday. The phone number is 630-273-2029. Visit https://patronacantinagrille.com/ for information.
• The Mystery Diner is an employee of Shaw Media. The diner's identity is not revealed to the restaurant staff before or during the meal. The Mystery Diner visits a restaurant and then reports on the experience. If the Mystery Diner cannot recommend the establishment, we will not publish a story.