A love and spirit for Ireland has a home on the banks of the Fox River in Montgomery. Better yet, some of the village's history comes on the side for good measure.
Restaurantgoers got a sneak preview of the new Danny Boy's at Gray's Mill this past weekend, with multiple tastings offering a dry run of the establishment's cocktails and fare. In short, the place had a polished finesse for what an Irish restaurant should be. With a Tuesday, July 20, opening coming soon, the multistoried pub, beer garden and banquet hall is about to be a big addition for life on the river.
This should come as no surprise with old hand Phil Cullen at the wheel. The owner of Ballydoyle and Empire Burgers & Brew, Cullen bought the Gray's Mill property last year after a previous barbecue restaurant closed down.
A proud descendant of Ireland, Cullen has converted Gray's Mill into a three-in-one destination. The main two floors of the building have been named Foundry Hall, an event space of fine wood and river views that already has hosted its first wedding.
The basement houses the pub Danny Boy's, which leads into Baum's Biergarten on the patio, a German-themed bar nestled right on the river.
"With a place like this, it has to have all those components to really contribute to the success," Cullen told guests at one of the weekend tastings.
For the Mystery Diner, the pub/beer garden combo truly lives up to the aesthetic and history of Gray's Mill. The inside nails the rustic charm of real pubs, throwing aside the gimmicks found in a lot of Irish bars. There are intimate wooden tables, high-top chairs of red leather and a long, immaculate bar, where you could nurse a solo pint or throw a raucous party.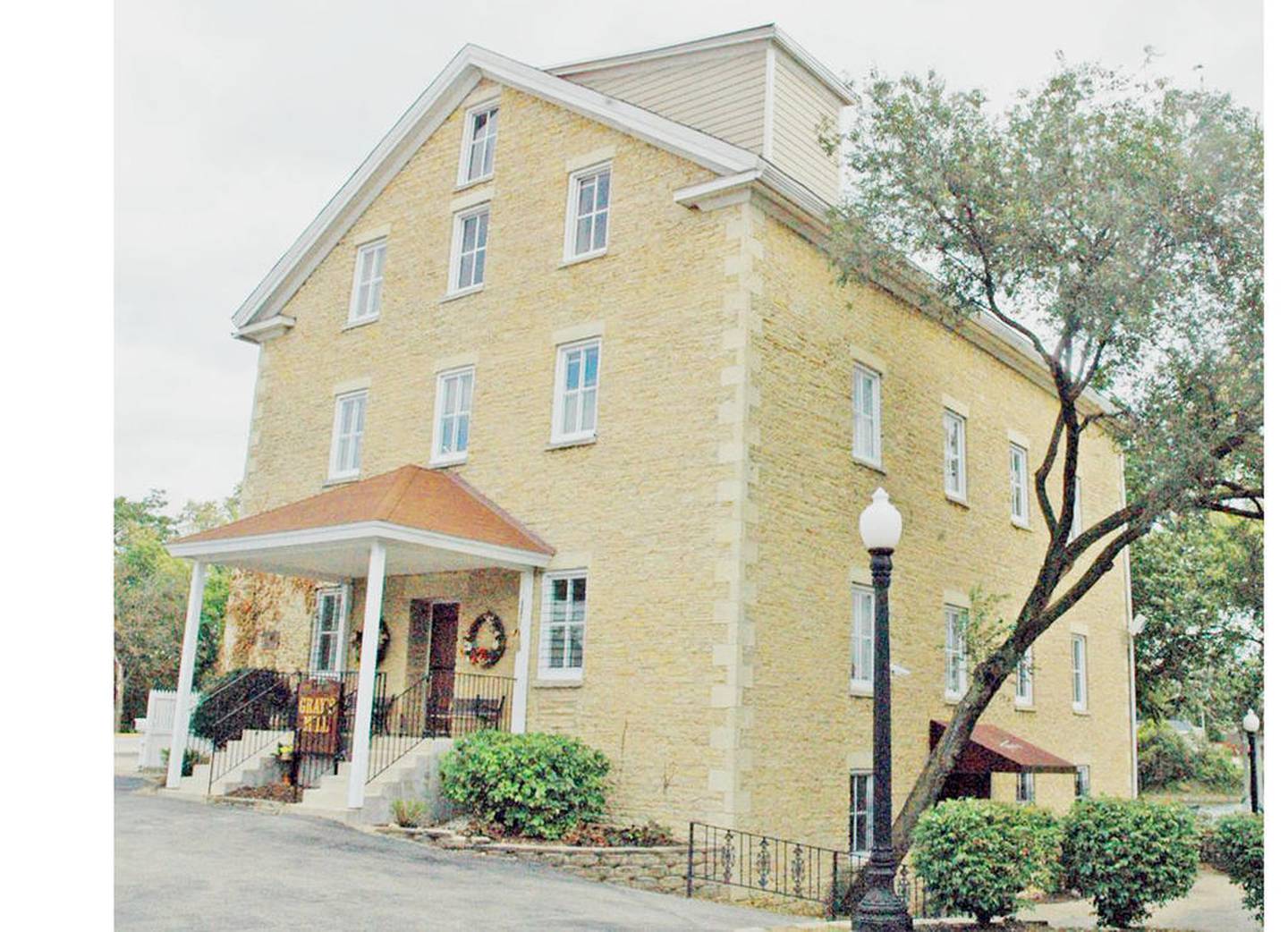 The beer garden serves as a nice contrast, with a gorgeous view so close to the river that you could cast a line from your seat. Simple patio seating and rows of daisies then lead up to 3-inch-thick wood tables, two overhangs and a brass beer tap.
As for the food and drinks, (although it was just a tasting) the menu features authentic, delicious fare this writer has never seen in an Irish bar. Before the food arrived, the Mystery Diner and their plus-one started with a chocolate martini and French 75 (careful with this one). Quite boozy. Simple presentation but the bartender really knows how to make a cocktail.
Next came a four-course tasting that began with beer bread and cheddar bread, served with an eggplant spread and house-made pickling. The flaky cheese bread, apparently a Belarusian recipe, was worth the visit by itself.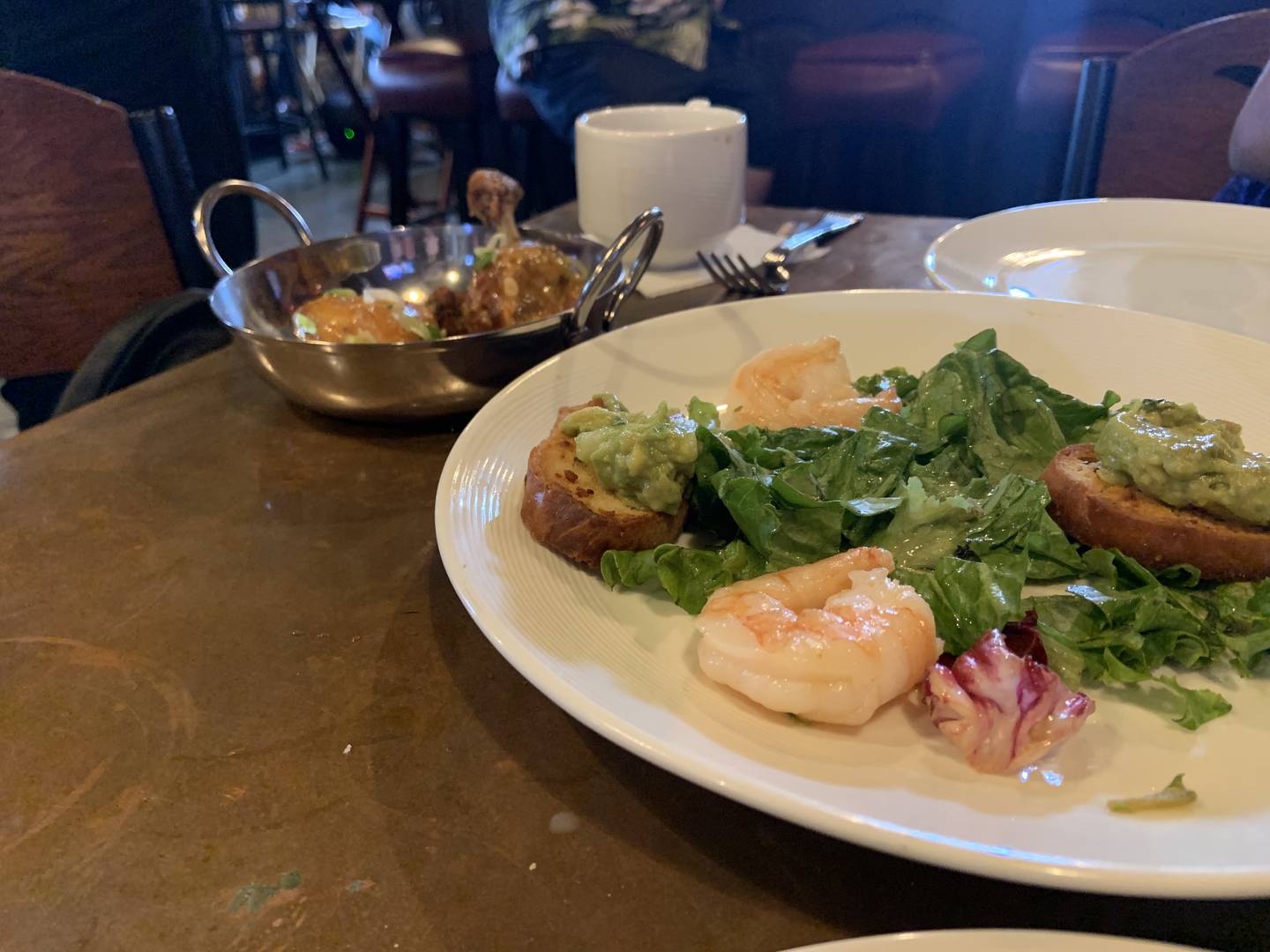 The next course consisted of garlic shrimp and my favorite dish of the whole tasting: lollipop chicken legs. Literally a stick of bone with a ball of meat at the end, the sauce on the chicken was the height of flavor, a mix of mayo, sour cream and pesto that could have passed for gravy.
Rounding out the tasting were a hamburger, onion rings, chicken dumplings and mac 'n' cheese. First off, this was pub food at its finest. The burger was served on an onion roll, a superb detail. The mac had a fine-tuned Parmesan crisp and huge shells, while the chicken dumplings, although bite-sized, got rounded out by some sweet jelly.
How I ate 90% of this Dublin-sized meal still amazes me. I even finished coffee and dessert, a chewy strudel with strawberries baked in.
The Mystery Diner's verdict: The new Gray's Mill Estate delivers on a big bet downtown Montgomery sorely needs. A lot of moving parts but not too complicated, I hope residents soon can enjoy a relaxed, riverside cocktail for many years to come.
While Cullen plans for a July 20 opening, he emphasized that the new restaurant is hard-pressed for staff in this post-pandemic job market. So be understanding of your local restaurants. And after a good Irish toast at Danny Boy's, make sure you tip at least 20%.
Located at 211 River St. in Montgomery, you can call Gray Mill's Estate at 630-896-6455. Visit graysmillestate.com.
• The Mystery Diner is an employee at Shaw Media. The diner's identity is not revealed to the restaurant staff before or during the meal. The Mystery Diner visits a restaurant and then reports on the experience. If the Mystery Diner cannot recommend the establishment, we will not publish a story.