YORKVILLE – Hundreds of children and their parents flocked to the Yorkville Storywalk on Sept. 20 to read a book, meet friends and celebrate the community.
They lined up for each child to receive a punch card for visits to tables operated by the sponsoring organizations, including the Yorkville Education Foundation, the Yorkville Public Library, the Yorkville Junior Women's Club and the Yorkville School District Y115 librarians.
Then it was on to read author Cale Atkinson's children's book "Sir Simon: Super Scarer," which is mounted two pages at a time on the 24 stations that line the pathway around the circular Junior Women's Club Park located in the Heartland Circle neighborhood.
Atkinson's illustrated book about a friendly ghost was the popular choice of Yorkville residents in an on-line survey.
"We were excited for the new story," said Kara Corsiglia, who was with son Elliot, 7, and daughter Olivia, 5, both students at Grande Reserve Elementary School.
Little more than halfway into the two-hour late-afternoon event, more than 400 of the punch cards, good for drawings and prizes, had been distributed to the children.
"It's a great family activity," said Caitlin Wilson, who brought daughter Elodie Wilson and friend Ashlynn Liss, both seven-year-old second-graders at Grande Reserve, to enjoy the event. "We love the library," Wilson said.
Librarians from both the Yorkville Public Library and the school district engaged with children and parents, fielding questions and promoting literacy.
"There is a great passion for literacy in Yorkville," said Nicole Martinez, librarian for both Yorkville Grade School and Bristol Grade School.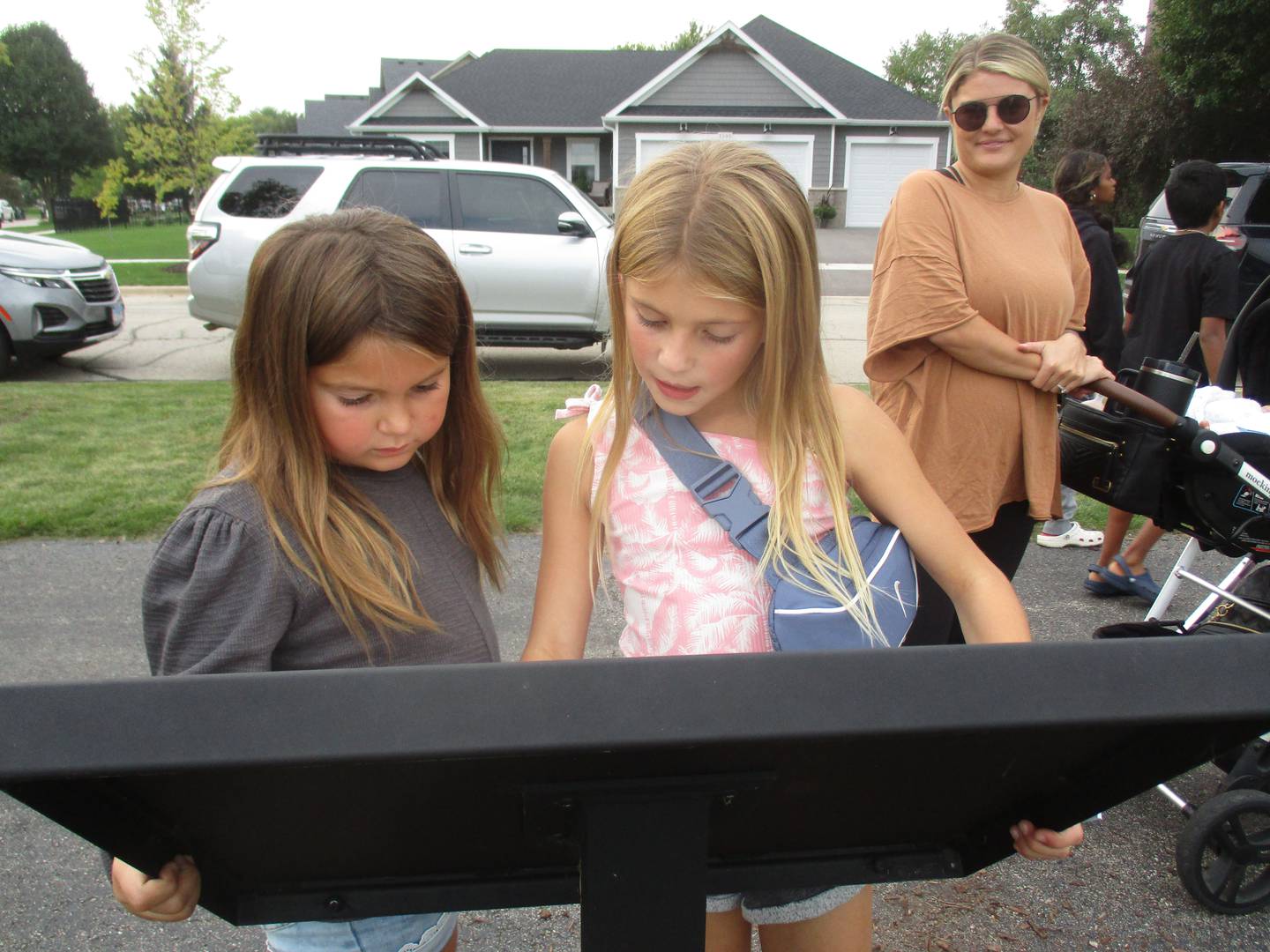 Key to organizing the event was Yorkville School District Y115 Book Ambassador Steph McHugh, who works with all of the schools in the district to promote literacy.
McHugh noted that the event was attracting not only District Y115 students, but children who attend private schools or are being home-schooled.
"We're really making this a community," McHugh said.
"Steph McHugh and all of the school district librarians do such a great job of getting literacy into the hands of our students and the community," Bristol Grade School Principal Victor Perez said. "It's amazing how they make books come alive."
Children and their parents walked about a third of a mile around the park to read the book.
The laminated book pages are mounted on panels supported by steel posts cemented into the ground. The story boards are about 3 feet from the ground, placing them at eye level for young readers.