Walking into the newly opened Market 96 neighborhood dispensary in Oswego is like walking into a neighborhood market.
"We want all of our guests to feel valued and welcome."

—  Market 96 supervisor Jay Williams
"That was our whole plan," said Jay Williams, who is one of the supervisors at Market 96. "We wanted to bring a different and more welcoming experience for the guests."
Market 96 held a ribbon cutting ceremony and open house on Sept. 14 at its new marijuana dispensary at 1144 Douglas Road in Oswego in the Mason Square shopping center.
Market 96 is Oswego's first marijuana dispensary. Another dispensary, Cloud 9, is set to open in a former fast food restaurant at 2420 Route 30 in the Townes Crossing shopping center.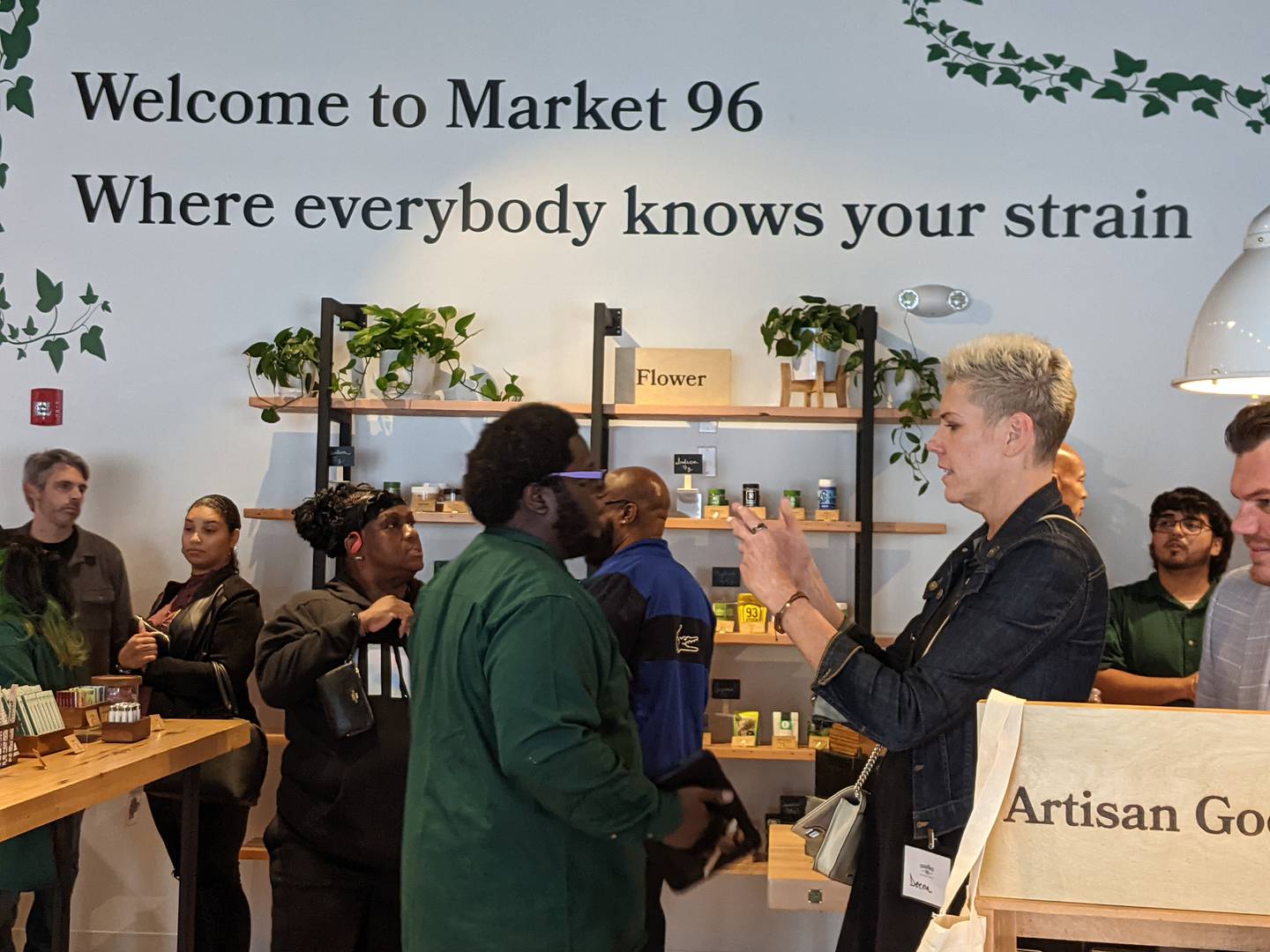 "Those are the only two that are going to be allowed in Oswego," Williams said. "Oswego is a small enough community that I think two would support them very well."
Selling recreational marijuana became legal in Illinois in January 2020. This is Market 96′s first dispensary in Illinois.
The name Market 96 name pays tribute to the first state-level cannabis legalization in the U.S. in 1996. Williams said it decided to open a dispensary in Oswego because it is an "underserved community for the cannabis market right now."
Market 96 plans to open five more dispensaries in Illinois. Williams said what sets Market 96 dispensary apart from other dispensaries is the way it treats its customers.
"We want all of our guests to feel valued and welcome," he said. "And we want to educate and we want to provide a different experience than what you're getting in your typical dispensary in Illinois. We're more about being hands-on with the guests. We want to educate you, we want to make you feel comfortable and we want to make sure you're getting the product that you need and the product that you want."
He noted Market 96 is also doing a lot of community outreach and volunteer work.
"Our whole crew did a couple of shifts at Feed My Starving Children in Aurora," Williams said. "That was a really fun experience."
Feed My Starving Children is a nonprofit organization empowering volunteers to pack meals for the malnourished in almost 70 countries.
One has to be at least 21 years old and show a valid government-issued identification card to enter the dispensary.
"It's no different really than if you're going to go buy a beer or buy a pack of cigarettes," Williams said. "You have to show that ID to prove that you are of age."
In addition, the products can't be used on the property.
The dispensary has been open for about a week. Market 96 Oswego general manager Anthony Walker said business has good.
"We've had a lot of support from the community," he said. "This is something they've never really seen before. We've had a few repeat customers already. So far it's going really well."
Oswego Village Administrator Dan Di Santo said he thinks the dispensary is a wonderful addition to the community.
"They said they want to be involved in the community and be a neighborhood business," he said. "Just the name itself, Market 96, they want it to be like a market when you walk in. We're excited. Congratulations to them."
More information about Market 96 is at its website, market-96.com.